Common Sense Home Recipes and Kitchen Tips
These are all the recipes and kitchen tips articles on the Common Sense Home website, featuring everything from main dishes to canning recipes to personal care items. We cook most of our meals at home, and preserve quite a bit of produce from the garden, so our kitchen is always busy.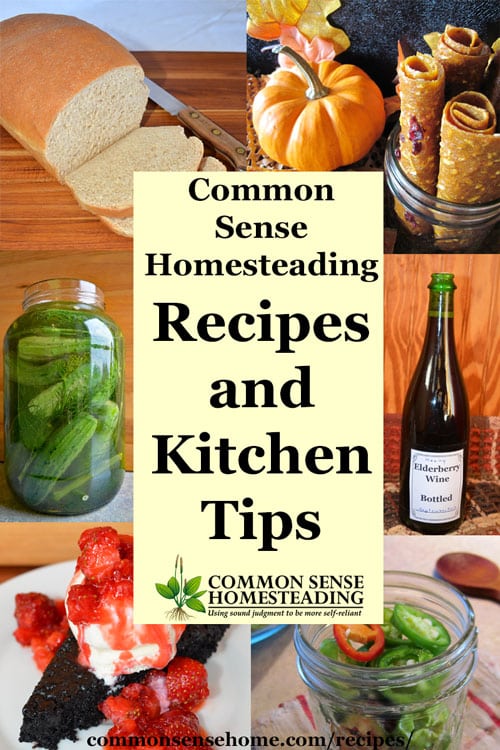 Many of the recipes are family favorites handed down from my mother and grandmother. Please leave a comment if you have a recipe request for the site, or let me know which types of recipes are your favorites.
Shares, Pins and Likes always appreciated to help spread the word about the website!
Canning and Preserving Recipes and Guides
The canning and preserving recipes are sorted by food type. Most of the canning recipes may be processed in a water bath canner because they either have a low pH, added sugar, or both.
Preserving Guides
Botulism – Causes, Symptoms, Treatment, Tips for Safe Home Canning
How to Can Food at Home – Quick Guide to Safe Home Canning
Altitude Adjustments for Canning (Includes Printable Chart)
Canning Headspace – Guidelines, Chart & Troubleshooting
Home Food Preservation – 10 Ways to Preserve Food at Home
Home Food Drying – 6 Things You Need to Know to Dehydrate Food at Home
Root Cellars 101- Root Cellar Design, Use and Mistakes to Avoid
Build Your Own Walk In Cooler with a CoolBot Controller and A/C Unit
Home Grain Mills – Comparison of Manual Grain Grinders for the Home
Pomona's Universal Pectin – How to Use it (& Why You Should)
Freeze Drying
Home Freeze Drying – The Good, The Bad and The Ugly
5 Best Freeze Dried Foods – Long Term Quality Food Storage
11 Freeze Drying Mistakes to Avoid for Best Storage Quality
Harvest Right Freeze Dryer – Cost Analysis and Optimizing Load Size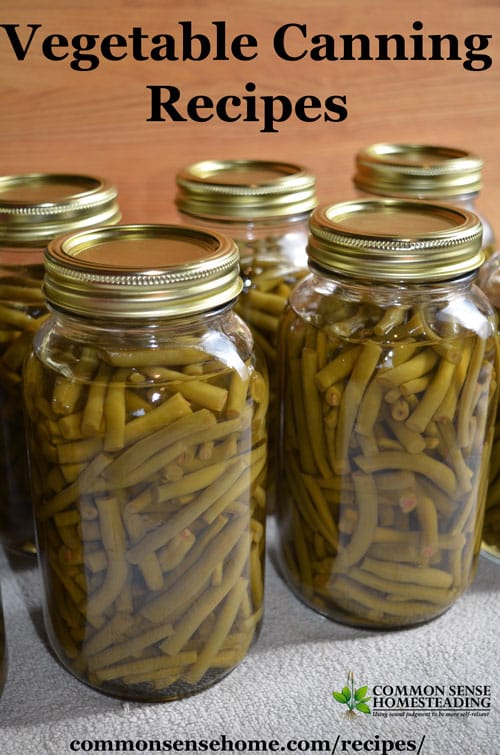 Vegetables
My boys treat tomato products as their own food group, so each year we put up several hundred pounds of tomatoes in one form or another. I freeze or freeze dry our low acid vegetables, or can them pickled.
How to Freeze Corn (on the Cob or Off)
Easy Horseradish Sauce with Fresh Horseradish Root – Hot or Cream Style
Pickle Relish Sweetened With Honey
How to Freeze Green Beans – With or Without Blanching
Pickled Dilly Beans with Garlic and Cayenne Pepper
Rhubarb-B-Q Sauce and Rhubarb-Orange Compote
25+ Asparagus Recipes + 4 Ways to Store Asparagus
Tomatoes
Botanically a fruit, most commonly used as a vegetable, we process more pounds of tomatoes than any other garden crop. Since we have so many tomato preservation recipes on the site, I decided to give them their very own section.
Spaghetti Sauce for Canning (with Fresh or Frozen Tomatoes)
Home Canned Salsa Recipe – Plus 10 Tips for Safe Salsa Canning
Tomato Soup – Easy Recipe for Canning or Freezing
How to Can Tomatoes in a Canner or Large Pot
Pickled Cherry Tomatoes for Canning, Plus More Cherry Tomato Ideas
Fruits
Fruits are very easy to preserve. They can be frozen, freeze dried, dehydrated, canned or made into preserves. Some of my favorite fruit storage recipes include different spices and flavorings, or a mix of fruits. As long as you follow safe food preservation guidelines, the only limit to flavors is your imagination.
Homemade Fruit Leather – Works with a Variety of Fruits
Dehydrating Apples for Easy Homemade Apple Chips
5 Ways to Preserve Peaches, Plus the Easiest Way to Peel Peaches
9 Ways to Preserve Pears, Plus Tips to Prevent Browning
Dehydrating Pears (With Tips for Prep and Storage)
12 Ways to Preserve Strawberries – Plus Tips to Keep Berries Fresh Longer
Preserve Apples for Year Round Use 17 Easy and Creative Ways
Spiced Crabapples and Honey Cinnamon Crabapples
Apple Scrap Vinegar – Get More Out of Your Apple Harvest
Jams and Jellies
Jams, jellies and spreads are also very easy to preserve. Many of these recipes are low sugar, and could be stored as freezer jams. My freezer space is typically reserved for selected veggies and bulk meat purchases from local providers, so I can my jams. Ten minutes in a boiling water bath canner and you're done. (In case you remember the days of home canning requiring a layer of wax, don't worry. That's no longer recommended.) If you don't have a water bath canner, you can use a large pot as described in the post "How to Can Food at Home – Quick Guide to Safe Home Canning".
Full Listing of All Our Jam, Jelly and Spread Recipes with Photos
Apple Blossom Jelly – A Great Use for Flowering Crab Apples
Brandied Cinnamon Apple Preserves
Apple Currant Spread – Low Sugar with a Touch of Cinnamon
Low Sugar Apricot Jam Recipe – Sweeten with Sugar or Honey
Blueberry Jam – Easy, Small Batch, Low Sugar and Very Blueberry
Blueberry Peach Jam – Low Sugar, Small Batch Recipe
Blueberry Pear Jam – Sweet, Luscious Pears and Ripe, Juicy Blueberries
Cherry Preserves – Chocolate Cherry and Cherry Vanilla
Corn Cob Jelly 2 Ways – Traditional or Less Sugar
Cranberry-Pear Jam – Traditional and Low-Sugar
Currant Almond Jelly with No Added Pectin
Dandelion Jelly – An Easy Flower Jelly Recipe with Less Sugar
Elderberry Jelly Recipes – Low Sugar and Sure-Jell Options
Mulberry Jam – Use Fresh or Frozen Berries
Orange Marmalade Recipe (Quick Cooking, Low Sugar)
Peach Jam Recipes – Peach Vanilla and Fuzzy Navel – Freezer Jam Option
Peach Raspberry Jam – "Blushing" Peach Jam is a Wonderful Summer Treat
Plum Jam with Walnuts and Rum – Small Batch, Low Sugar
Spiced Plum Preserves – Sweetened with Honey
Queen Anne's Lace Jelly with Currants – You Won't Believe the Flavor
Rhuberry Spread – Naturally Sweetened Strawberry-Rhubarb Jam
Rose Hip Jelly from Wild or Garden Roses
Strawberry Jam – 5 Easy Recipes
Strawberry Vanilla Preserves (Small Batch, Low Sugar)
Striped Jelly – Makes a One of a Kind Homemade Gift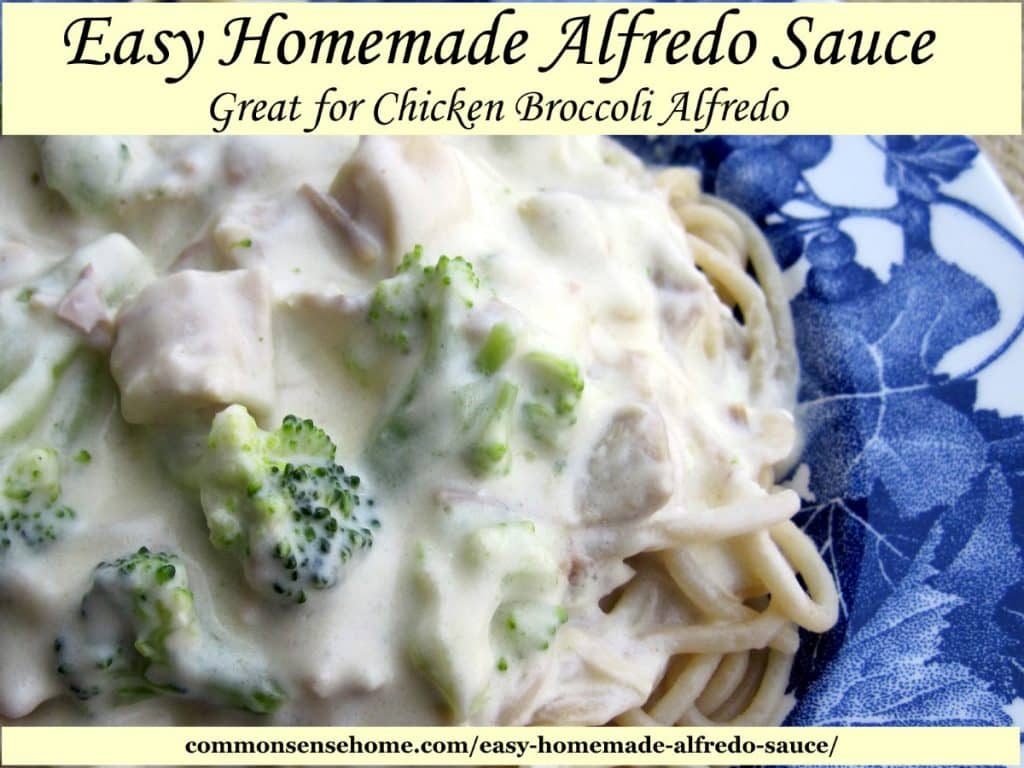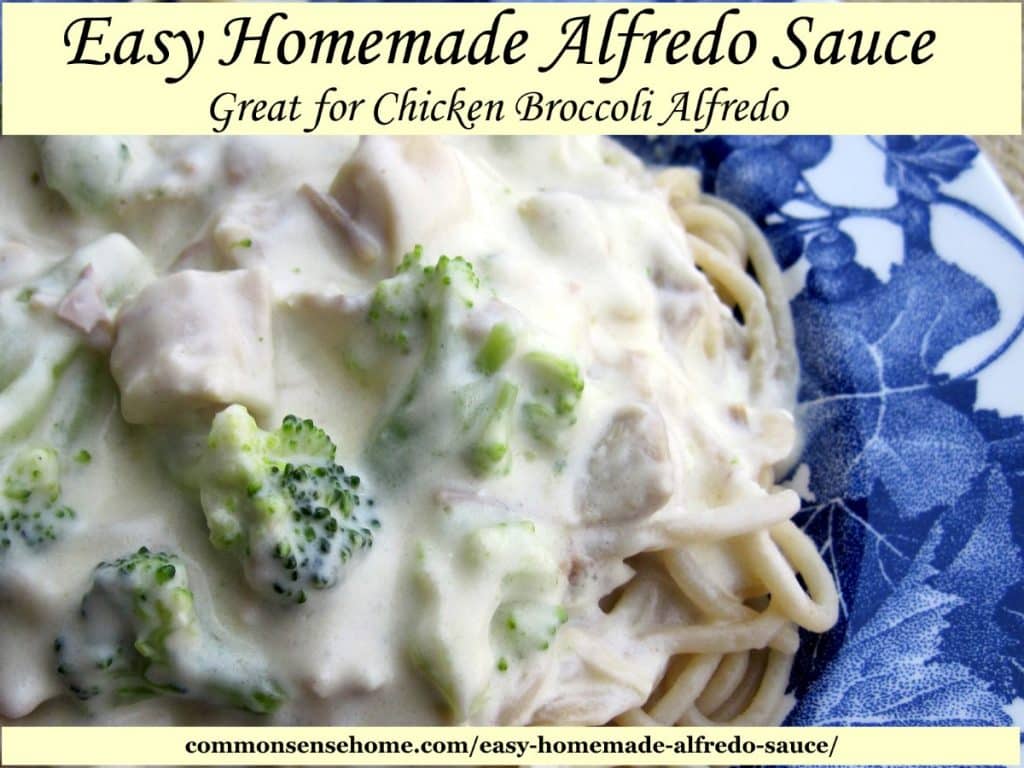 Main Dish recipes
More often than not, my main dishes and side dishes are put together for most meals without a recipe. I do have a few favorites written down for more consistent results, some of which I have shared here.
Easy Homemade Alfredo Sauce – Great for Chicken Broccoli Alfredo
Dutch Oven Pot Roast for the Stove or Campfire Cooking
Easy Chicken Pot Pie Recipe with Homemade Pie Crust
Easy Cheese Quiche Recipe with Fresh, Frozen or Freeze Dried Veggies
Fried Rice the will have them asking for seconds (and leftovers)
Ground Beef and Wild Rice Casserole
Potato Pancakes Like Grandma Used to Make
Sloppy Joes with Homemade Buns
Quesadillas – Savory or Sweet, Plus a Homemade Tortilla Recipe
Schmaltz – How to Render Chicken Fat, and What to Do With It
Bean and Lentil Recipes – More than 66 Recipes from Soups to Dessert
Side Dish recipes
Vegetables
Roasted Asparagus with Parmesan Recipe
Broccoli, Bacon and Cheese Salad
Creamy Cucumber Salad with Sour Cream Dressing
Easy Cheesy Zucchini Casserole Recipe (Quick to Mix)
Potatoes/Starches
Haluski – Cabbage and noodles
Fruits
Easy Homemade Cranberry Sauce with 7 Flavor Variations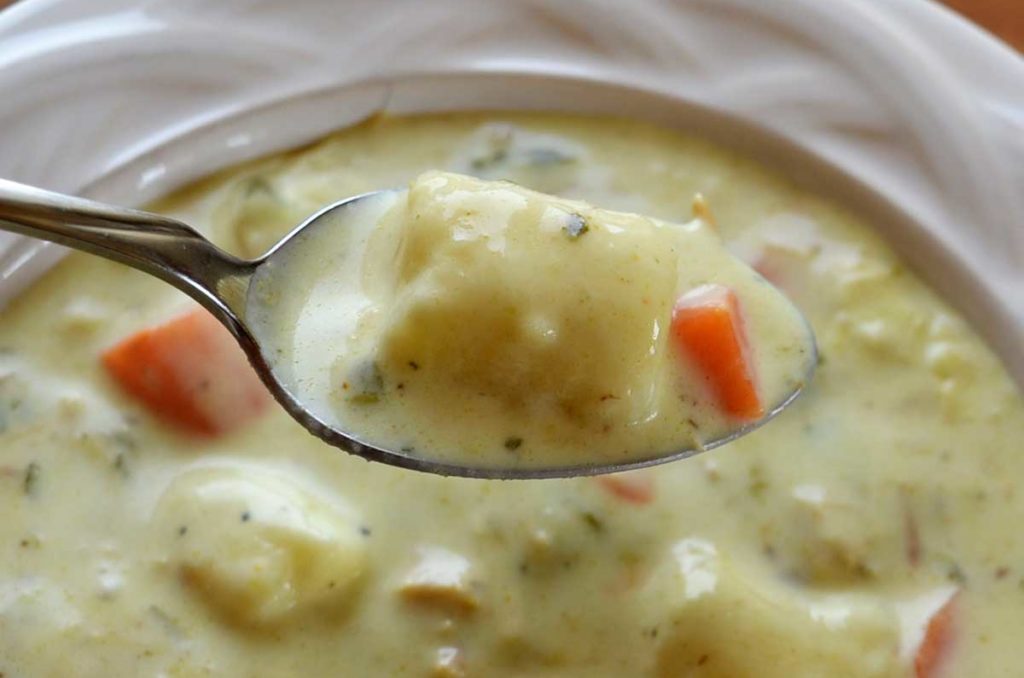 Soup and Stew recipes
A good bowl of soup is a wonderful thing. Cooking the bony bits of critters into broth is also a very economical source of protein to stretch your budget. Many of my favorite soup recipes remake a bit of leftovers into a whole new meal. Others take advantage of seasonal produce.
How to Make Homemade Chicken Broth for Great Flavor and More Nutrition – How to make a proper chicken bone broth, the foundation for most of my soup and stew recipes, and basic chicken soup
Beef Stock Recipe – How to Make Stock from Scratch – another foundational recipe
Chicken and Gnocchi Soup, Olive Garden Style
Cream of Mushroom Soup (Includes Gluten Free, Dairy Free Options)
Toscana Soup, Olive Garden Style
Broccoli Cheese Soup with a Surprise Ingredient
Cheese Soup in Homemade Bread Bowls
Bread and Cracker recipes
Bread has been called the "staff of life" because it is so widely used for sustenance. I come from a long line of bakers. My mom's first job as a teen was doing the weekly baking for a neighbor, and we had a family catering business for nine years where everything was baked from scratch. Commercial baked goods often use preservatives and other ingredients I try to avoid. In your own kitchen, you control what goes in the mix.
Yeast Breads
Our Favorite Easy Homemade Bread Recipe
Potato Bread using Leftover Mashed Potatoes
Never Buy Bread Again – 14 Homemade Bread Recipes
For additional bread baking tips, check out "Troubleshooting Tips to Help You Bake the Perfect Loaf of Bread".
Quick Breads
Brazilian Cheese Bread – Gluten Free
Pumpkin Muffins with Cream Cheese Swirl + a "Must See" Muffin Tips List
Always Moist Banana Bread Recipe (Easy, Great Flavor)
Mom's Best Zucchini Bread Recipe (Easy and Yummy!)
Crackers
Sourdough Crackers (Easy Recipe with 5 Flavor Options)
Homemade "Wheat Thin" Style Crackers with Soaked Flour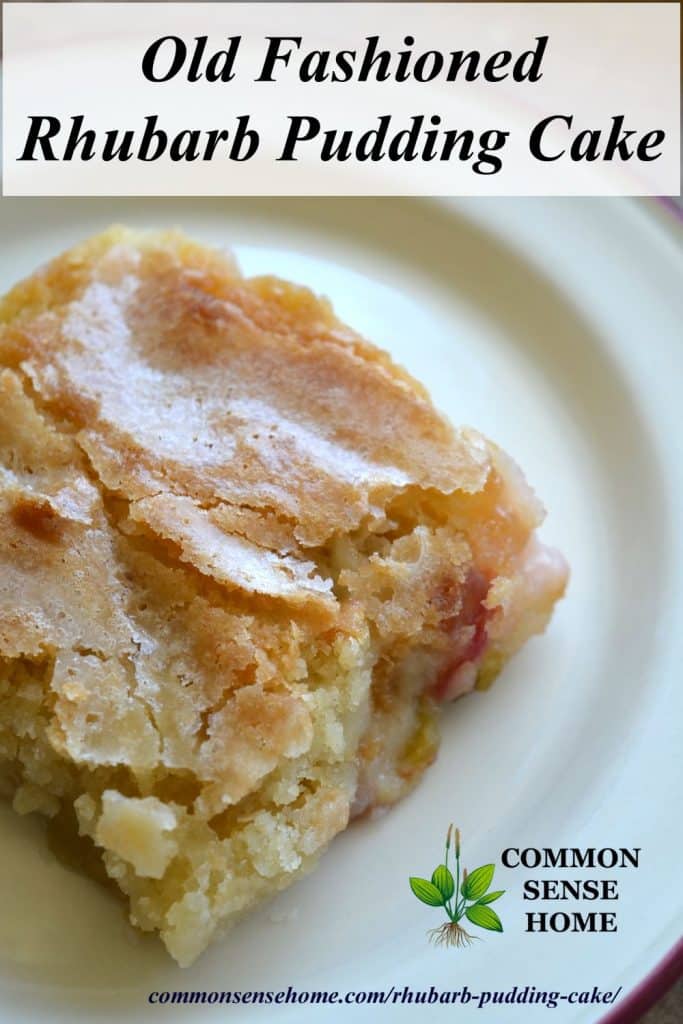 Sweets
My baking history also led to a lot of dessert preparation. In this section you'll find a mix of old and new. There are traditional family recipes handed down from my mother and grandmother, as well other familiar old time flavors. Over the years I've added lower sugar and gluten free options, too.
Edible Shot Glasses or Mini Serving Cups – Fun and Easy to Make
No Bake Cheesecake (Easy Recipe, Fun Serving Ideas)
Old Fashioned Chocolate Pudding – gluten free
Indian Pudding Recipe with Cranberries and Maple Syrup – gluten free
Fried Apples with Maple Cinnamon Glaze (No Refined Sugar)
Honey Caramel Corn – gluten free
Maple Popcorn – gluten free
Hungarian Nut Rolls – Sweet, Nut Filled Pastries – A Family Holiday Treat
Gram Irene's Homemade Cinnamon Rolls
Grandma Catherine's Polish Doughnuts
Bavarian Cream Bonnet – decorative Easter Brunch recipe – gluten free
Cakes
Easy Apple Cake with Caramel Topping
Chocolate Zucchini Cake Recipe (Swiss Roll Cake Style)
Mom's Best Chocolate Pudding Cake Recipe
Flourless Chocolate Cake with Chocolate Ganache (Gluten Free)
Strawberry Shortcake with Strawberry Whipped Cream
Old Fashioned Rhubarb Pudding Cake
Grandma Catherine's Carrot Cake with Cream Cheese Frosting
Cookies, Bars and Brownies
Caramel Apple Cookies (Made with Fresh Apple Bits)
Chocolate Coffee Cookies (Reindeer Print Cookies)
Cranberry Cookies made with fresh cranberries and nuts
Sourdough Brownies – these are great for using up excess starter that is not completely active
Chocolate Chestnut Brownies -gluten free, grain free, dairy free, no refined sugar
Maple No Bake Cookies – easy drop cookies
Honey Sweetened No-Bake Chocolate Peanut Butter Bars
Cranberry Chestnut Bars – gluten free, grain free, dairy free
Easy Christmas Cookies – One Dough, Three Different Cookies
Maple Macaroons – Refined Sugar Free, Gluten Free, Delicious!
Chocolate Mint Sandwich Cookies
Chocolate Raspberry Granola Cookies
Pumpkin Oatmeal Cookies with Walnuts and Dried Cranberries
Maple Buttons – Thumbprint cookies with Maple Cream
Maple Leaf Cookies Made with Real Maple Syrup and Maple Glaze
Tigernut chocolate chip cookies – gluten free, nut free (tigernuts are tubers), paleo friendly
Family Favorite Christmas Cookies
Fudge and Truffles
Coconut Oil Fudge – Easy, Delicious, No Baking Required – gluten free
Easy Chocolate Truffles – gluten free
Chocolate chip cookie dough truffles made with almond flour and coconut oil – gluten free
Homemade Mounds or Almond Joy Bars with Coconut Oil – gluten free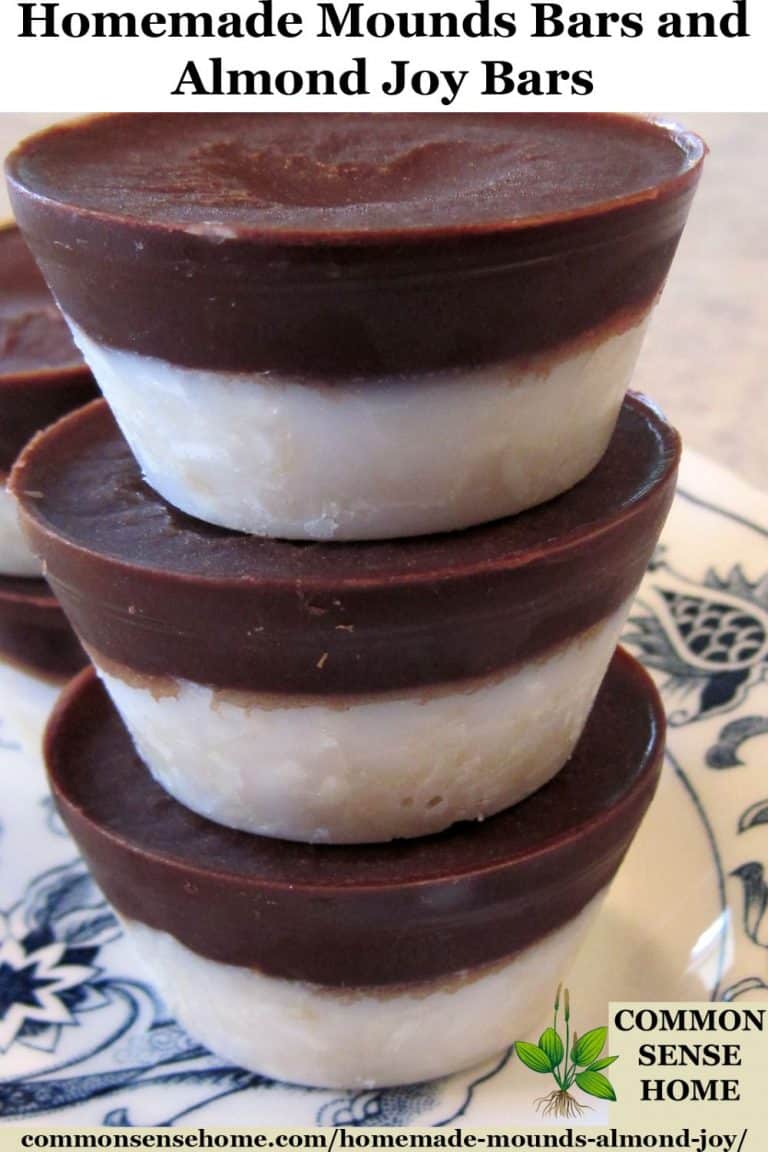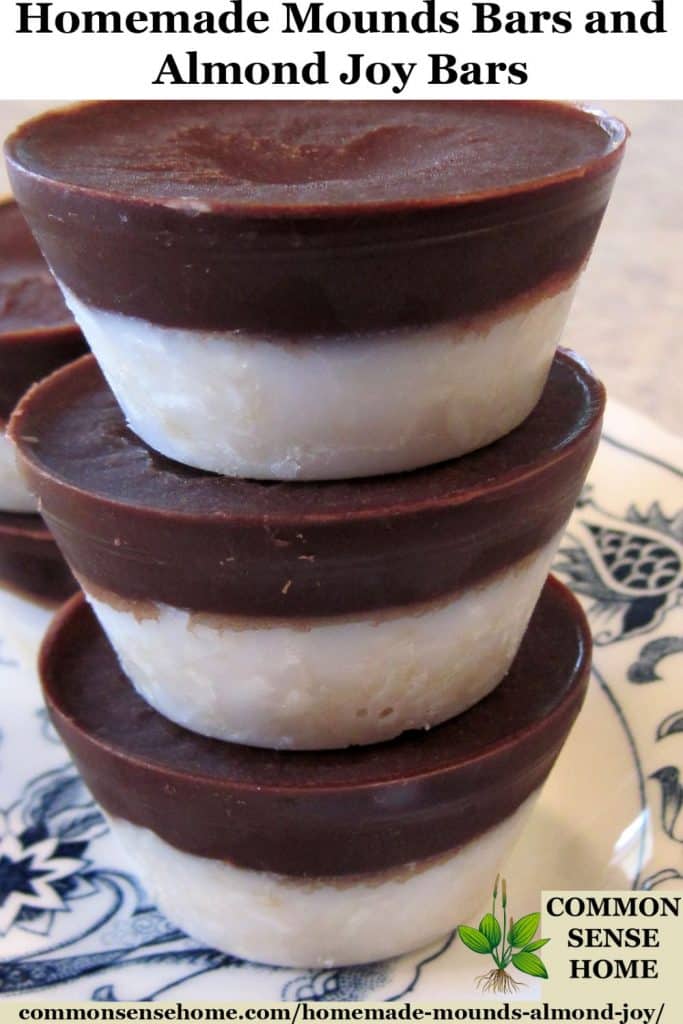 Pies, Crisps and Crumbles (includes the most popular recipe on the site)
Easy Peach Cobbler Recipe with Canned Peaches – our most popular recipe
Strawberry Rhubarb Crumble – Gluten Free, Quick and Easy
Easy Apple Crisp (without Oats)
Cranberry-Apple Pie to Brighten your Holiday Table!
Strawberry-raspberry pie with shortbread crust and whipped cream topping
Raspberry Cream pie – rich, sweet-tart, and delicious
Old Fashioned Rhubarb Custard Pie
Zapple Pie – Zucchini Apple Pie – So Good They Won't Believe it's Zucchini
Best Pie Crust Recipes Plus Tips for Perfect Pies Every Time – Nut Crust (gluten free), Coconut Crust (gluten free), Shortbread Crust, Mama's Pie Crust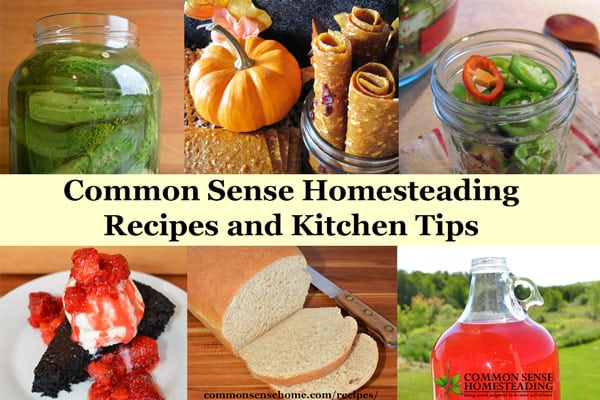 Breakfast Dishes
Eggs and leftovers are common in our kitchen for breakfast, but sometimes we dress things up a bit. It's fun and easy to whip out the waffle iron and crank out some big, beautiful waffles. (Plus, given the prices of waffles if you go out, you can cover the cost of the waffle iron in a couple of meals, and eat in your pajamas.)
Almond Flour Pancakes – Keto Friendly, Grain and Gluten Free
Pumpkin Spice Waffles with Maple Cinnamon Whipped Cream
Chocolate Raspberry Granola Cookies
Live Culture Foods/Probiotics/Ferments
Live culture foods have become big business in recent years, but you can make your own versions at home for pennies on the dollar. These probiotic foods and drinks use healthy bacteria for fermentation. When you eat them, they can aid digestion and improve gut health. This is more important then ever since so many of us are treated with antibiotics during our lifetimes.
Lacto-fermented Homemade Ketchup
How to Make Beet Kvass and Health Benefits of Beets
How to Make and Flavor Water Kefir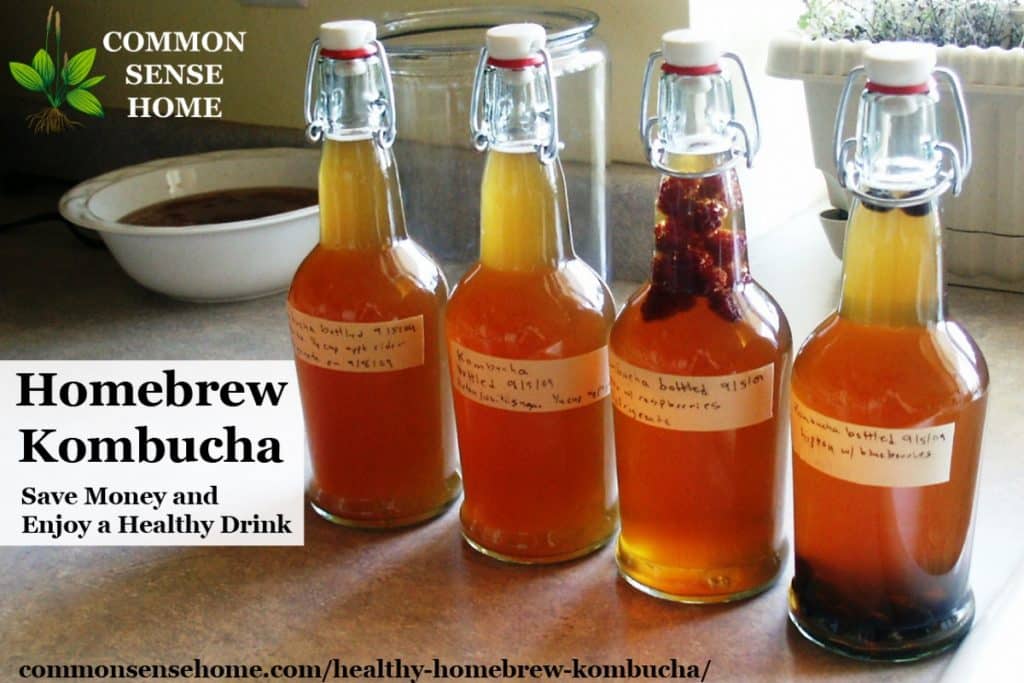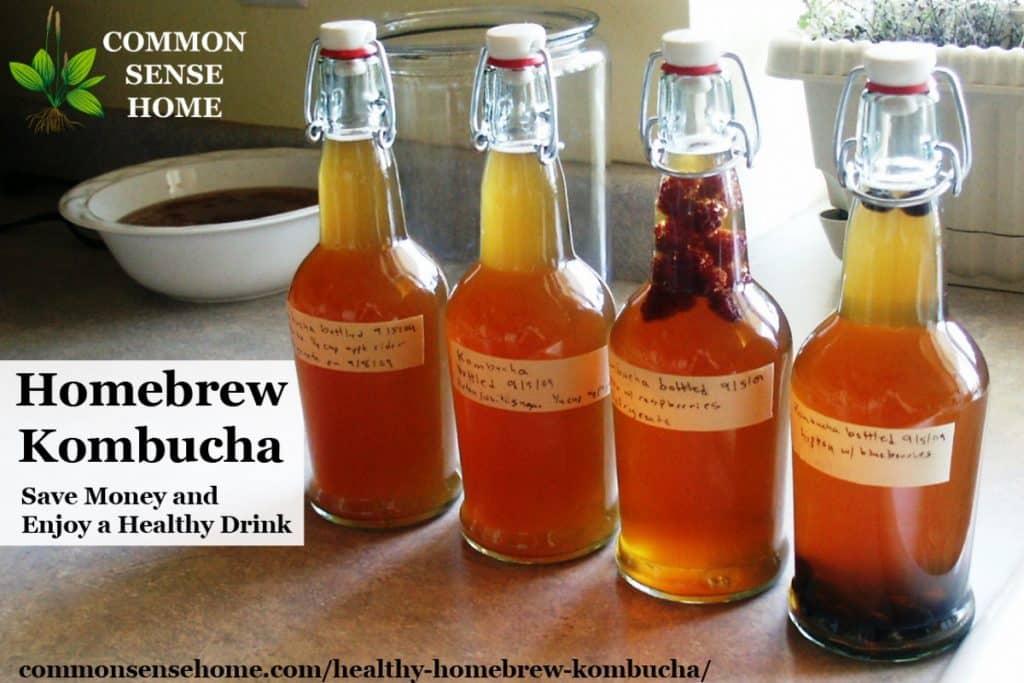 Kombucha
Kick the Soda Habit – Brew Your Own Kombucha
Water Kefir Versus Kombucha – What's the difference between water kefir and kombucha?
Flavoring Kombucha and Kombucha Testimonials – Tips for flavoring kombucha and stories about how people I know have been helped by kombucha
Kombucha Q and A and More Flavoring Ideas – More flavoring ideas and all the Q and A from the comments in a more readable format
How to Flavor Kombucha – Holiday Flavors – Fun seasonal flavor ideas.
Snack recipes
Sometimes a snack, sometimes turned into a meal, these recipes are easy to make. Choose your favorites – savory or sweet.
Pumpkin Leather – portable pumpkin pie
Zucchini Gummy Candies sweetened with fruit juice
Finger Jello Made with Fruit Juice and Gelatin
5 Awesome Apple Dip Recipes – Classic Caramel Cream, Chocolate Almond, Pistachio and Blue Cheese, Maple Bacon and Walnut Ricotta
Classic Deviled Eggs and Guacamole Devils
3 Ingredient Sandwich Spread or Dip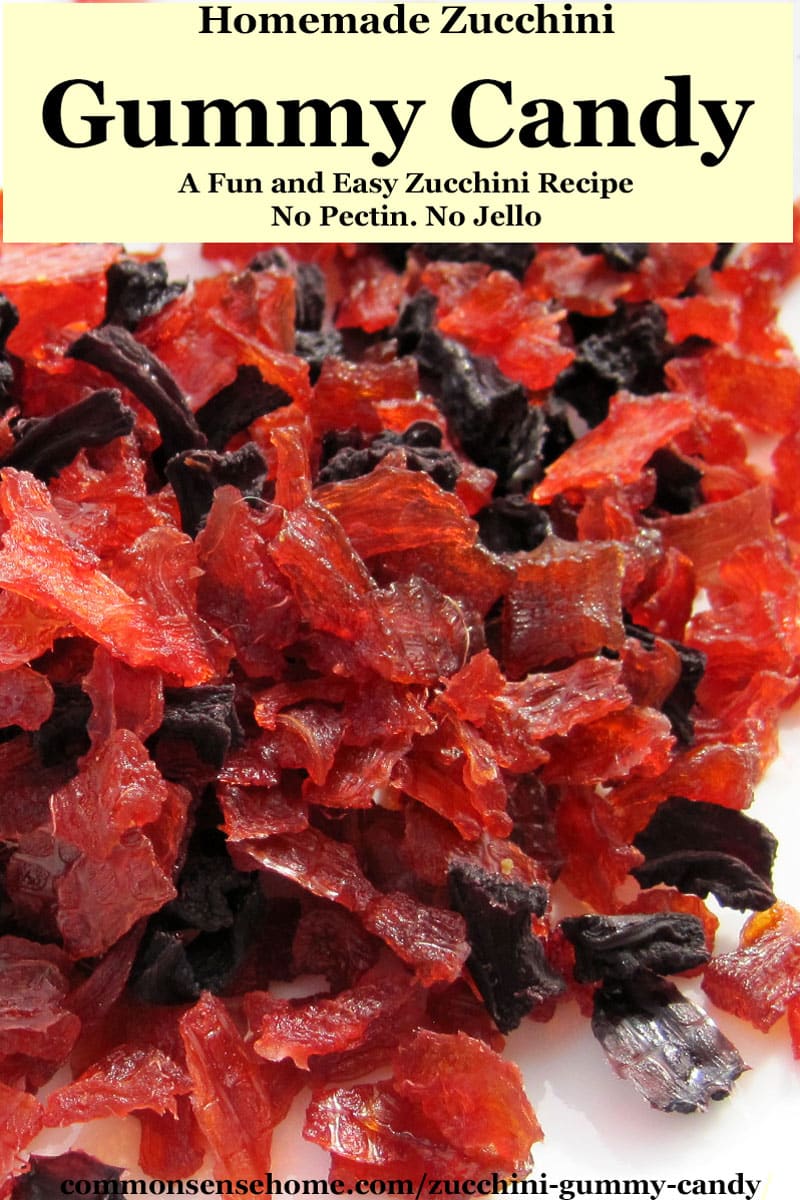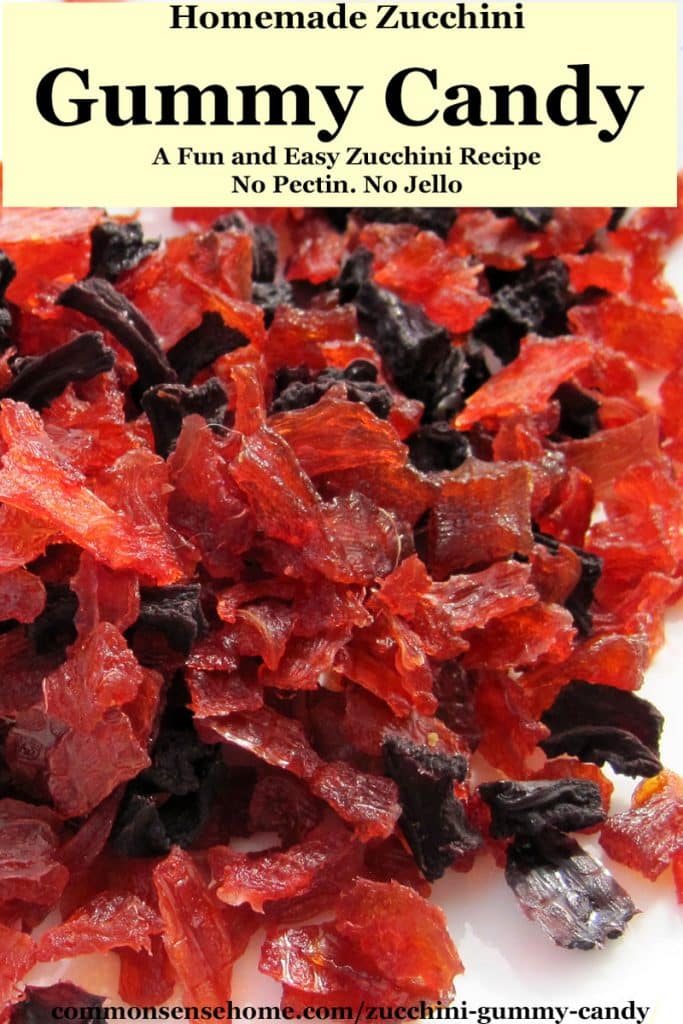 Cheeses
When we had a friend with a cow, I experimented with a variety of cheese recipes. These are some of our favorites.
Fresh Home Mozzarella Cheese in 30 Minutes plus ricotta
Easiest Homemade Cheese Ever – Fromage Blanc Soft Cheese
How to Make Large Curd Cottage Cheese
Drink recipes
Old and new, hot and cold – water is good, but sometimes it's nice to mix things up.
Honey-Sweetened Lemonade with Honey-Lemon Ice Cubes
Hot Cocoa – From Scratch Recipe, Double Chocolate
Best Eggnog recipes – 7 Ways to Love Your Nog
5 Amazing Spiced Apple Cider Drink Recipes + One for Adults Only
Easy, Delicious Wassail (It Smells Like Christmas!)
See also "Live Culture Foods"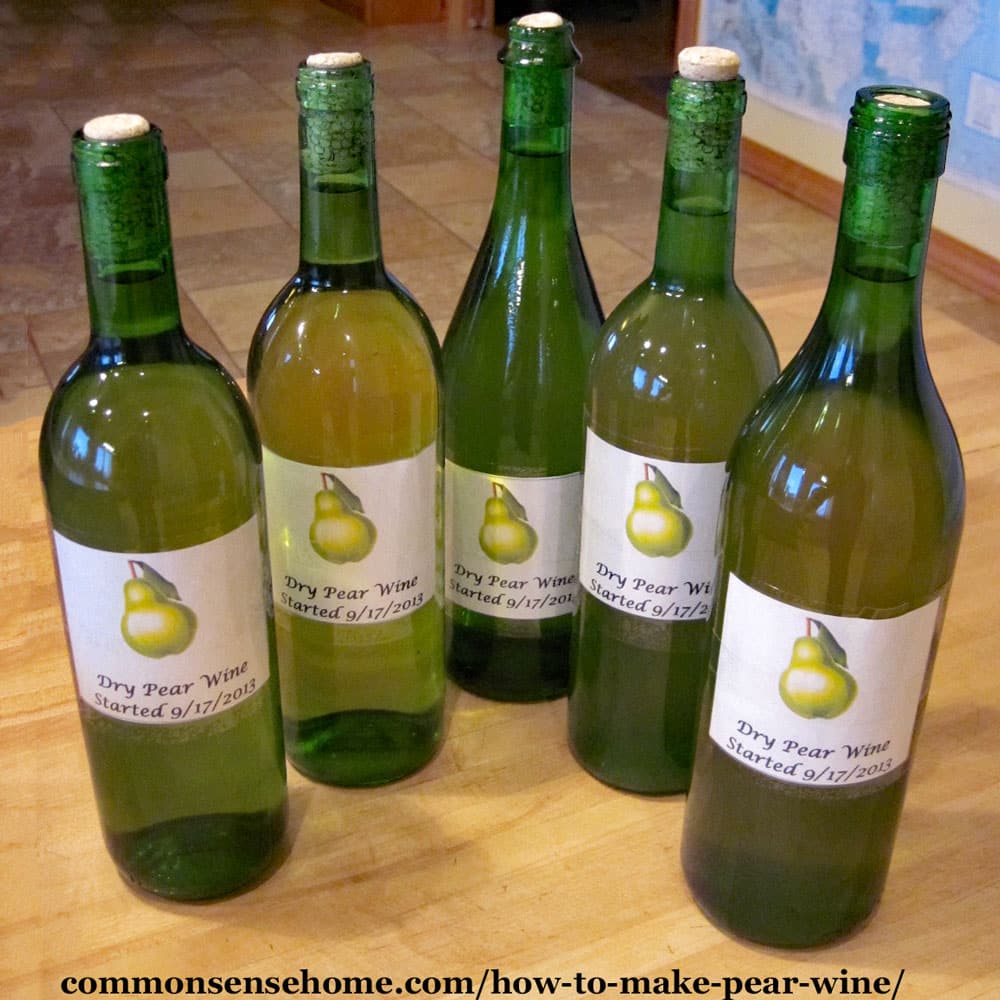 Wine, Beer and Hard Cider
We don't regularly imbibe fermented beverages, but when there's an excess of something fruity, wine is an easy preservation method. Many of our bottles are shared with friends or given as gifts.
Easy Strawberry Wine Recipe – Perfect for Beginners
Rhubarb Cherry Wine – Hot Pink Spring in a Bottle
Herbal and Personal Care Items
Given the level of questionable ingredients in so many items today, we switched to making homemade versions of products that we use regularly. It allows me to use ingredients that I trust, and we save money by buying raw materials in bulk or growing our own.
How to Make Elderberry Syrup with Fresh or Dried Elderberries
Immune Boosting Herbs in Finger Gelatin
Thieves Vinegar – Immune Booster and Germ Killer
How to Make Liquid Sweetener from Homegrown Stevia – Homemade Stevia Extract
How to Make Homemade Extracts – Vanilla, Lemon and Almond
Black Walnut Tincture – How to Make it and Use it Safely
Plantain "Medicine Leaf" Infusion
How to Make a Salve with Infused Oils
Easy, Non-toxic Homemade Deodorant
Super Easy Hard Lotion Bar Recipe
Make your Own Perfume with Essential Oils
Do It Yourself Laundry and Household Cleaners
DIY Cleaners Made with Essential Oils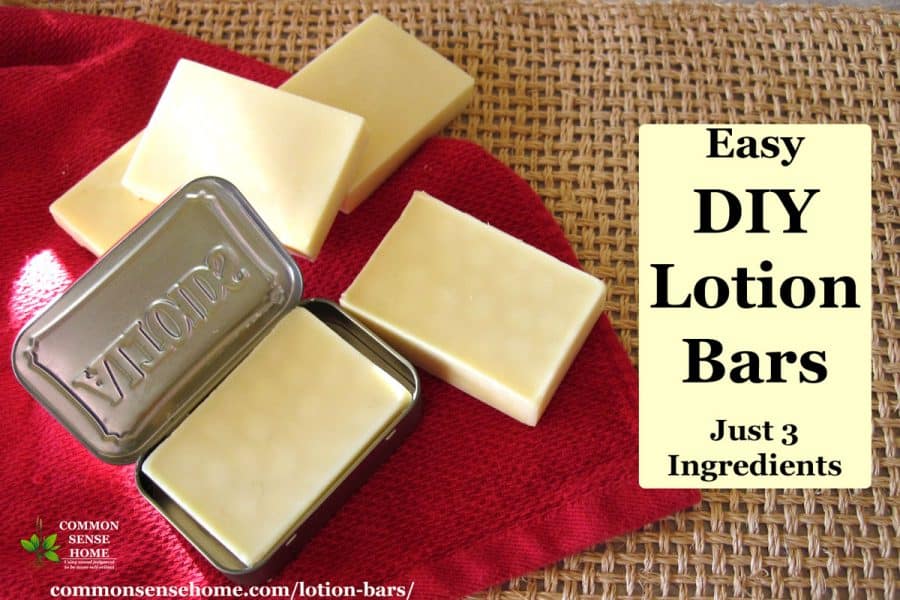 Stocking the Pantry
Best Non Perishable Foods (For Home Use or Donations)
Foods to Stock Up On (for Daily Use or Emergencies)
Long Shelf Life Foods – What Lasts Best (with Chart)
Kitchen Tips
Small things can be big time and money savers in the kitchen. We live out in the country, so I often make do with whatever is available. I also try to take good care of my kitchen tools so they last a long, long time.
12 Baking Tips for Great Results and a Stress Free Kitchen
E coli – What is it, and why so many recalls?
Protect Yourself from Salmonella and E coli Naturally
4 Reasons Wooden Cutting Boards are Best
7 Things You Should Never Do to Your Cutting Board
35+ Handy Kitchen Substitutions – Printable Cheat Sheet
12+ Easy Homemaking Tips for the Busy Homesteader
How to Pit Cherries Without a Cherry Pitter (Easy Video)
The Best Way to Use Up Extra Zucchini
Easy, No Sew Kitchen Scrubbies from Produce Bags
Why Do Onions Make You Cry? Plus 5 Tips to Keep You Tear Free
Working with Cast Iron
Cooking with Cast Iron – How and Why to Get Started
How to Season Cast Iron Cookware
How to Restore Cast Iron Cookware
Getting Started with Dutch Oven Cooking
Originally posted in 2012, last updated in 2019.