How to Cook Tender Beef Tongue – The Easy Way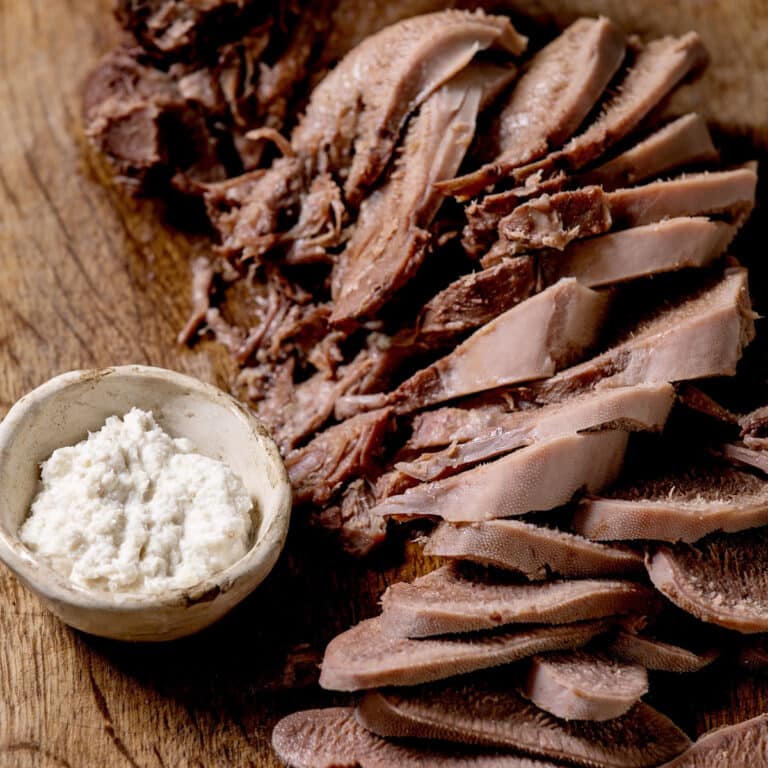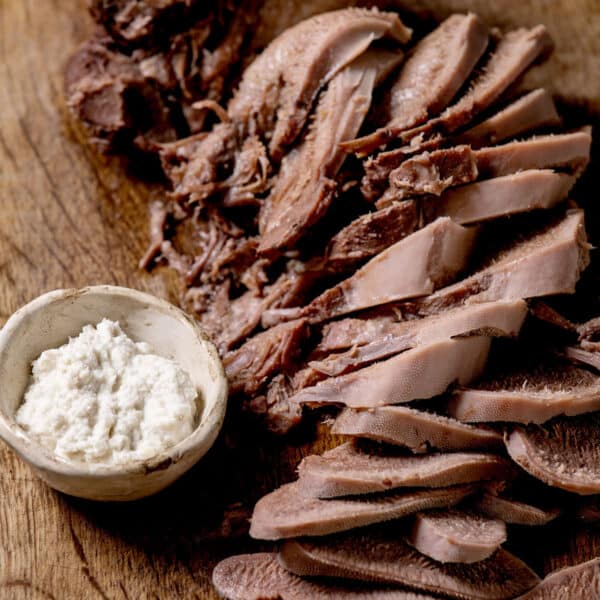 Cow tongue, beef tongue, ox tongue – no matter what you call it, learning how to cook beef tongue may seem intimidating, but it's surprisingly easy to do.
The simple cooking method that I like to use creates a tender, delicious cut of meat that can be served like a roast or sliced thin and used cold for sandwiches. Since we buy our beef in bulk from a local friend who raises grass-fed beef, it's important for us to be able to use up all the organ meats.
How to Cook Beef Tongue – Step by Step with Photos
The first time I cooked beef tongue, I had some help from my big sister, Lois. After all, what are big sisters for if not to help you eat strange things? When we pulled the tongue out of the freezer, it looked like this.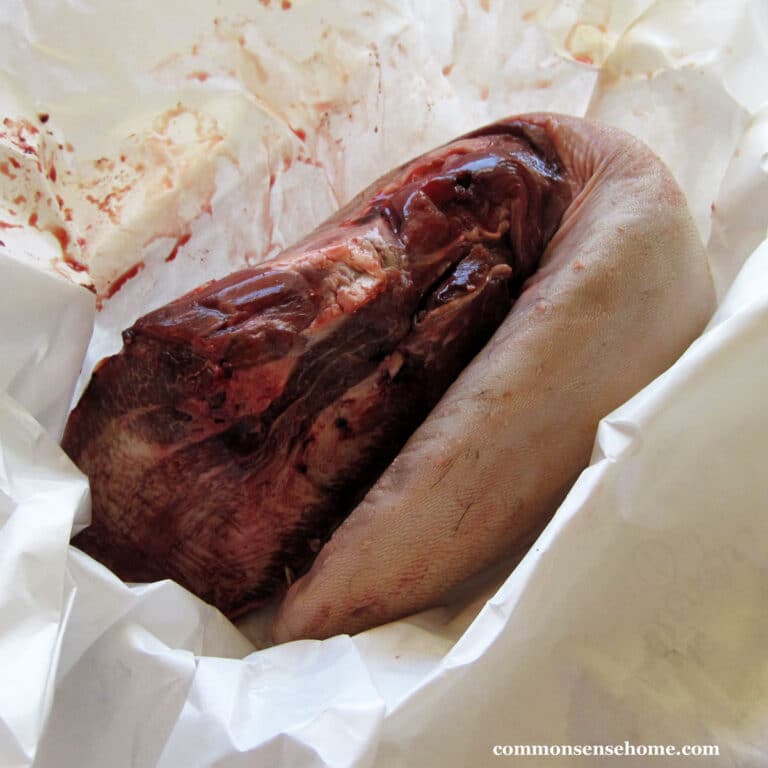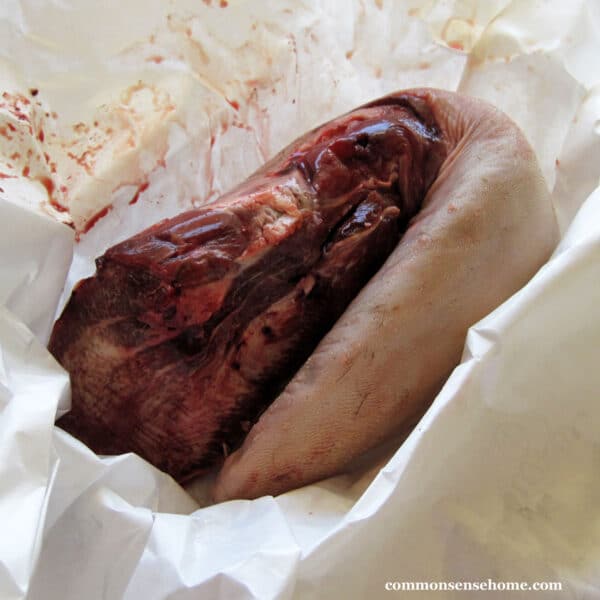 Cooking beef tongue couldn't be much more straightforward. The tongue doesn't have bones or connective tissue to deal with like other cuts. Mom always simmered it on the stove when we were kids, so that's what we did, too.
Just put it in a kettle or Dutch oven with about an inch of water over the top, and add plenty of aromatics – garlic scapes, onions, bay leaves, salt, pepper, and some celery.
Cover and simmer for 2-3 hours. When it finishes cooking, place the cooked tongue in an ice water bath to chill it enough to handle.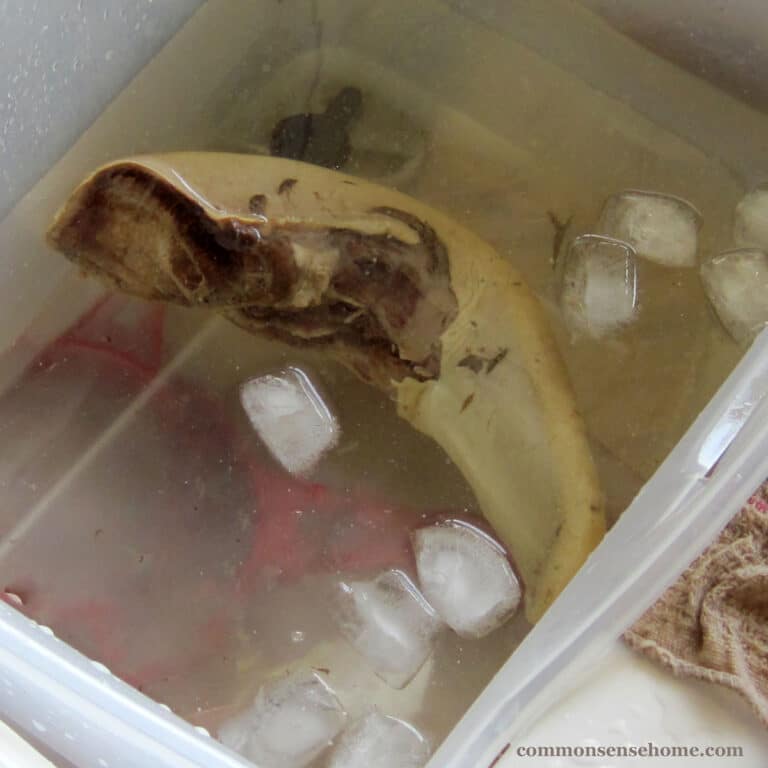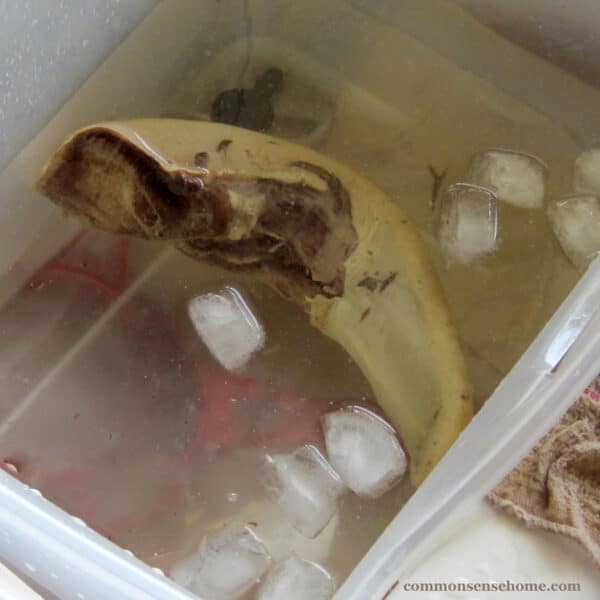 Once you can handle the tongue, peel off the skin. Don't let the meat cool too much, as the skin will stick. Trim with a small knife as needed.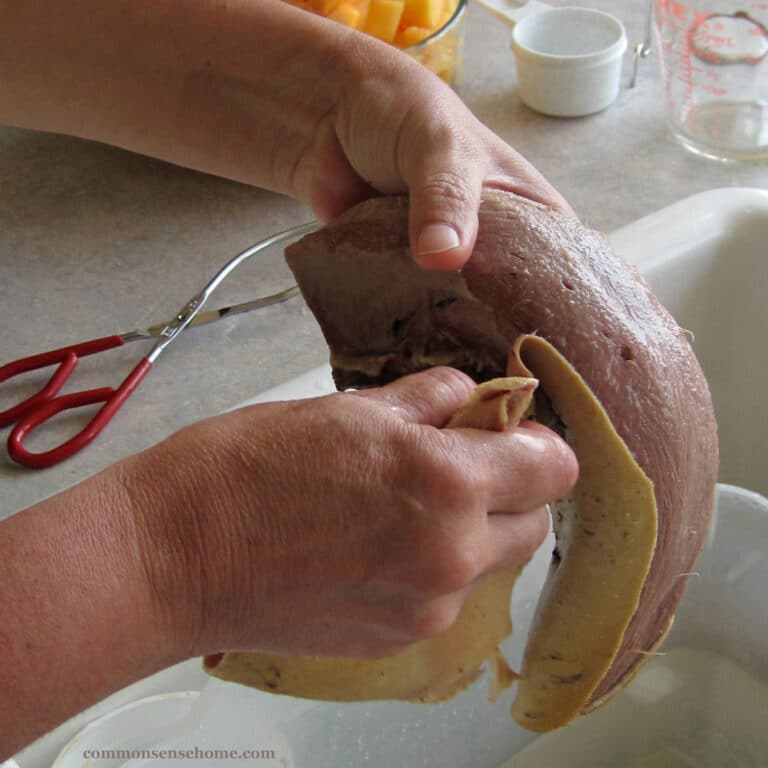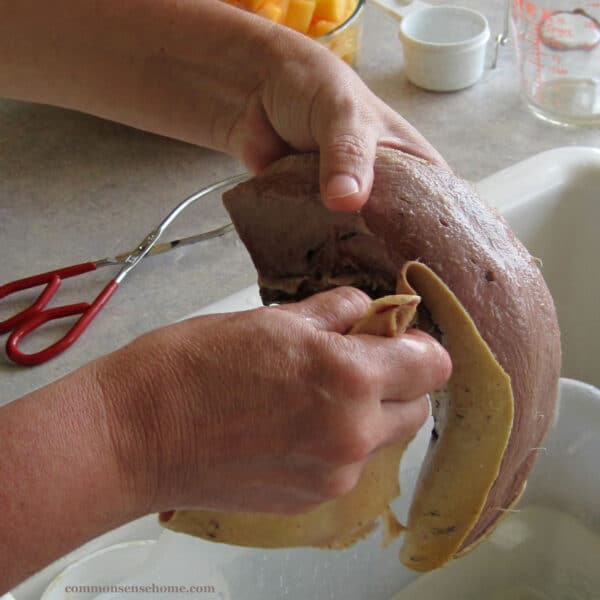 Now you have an excellent piece of meat.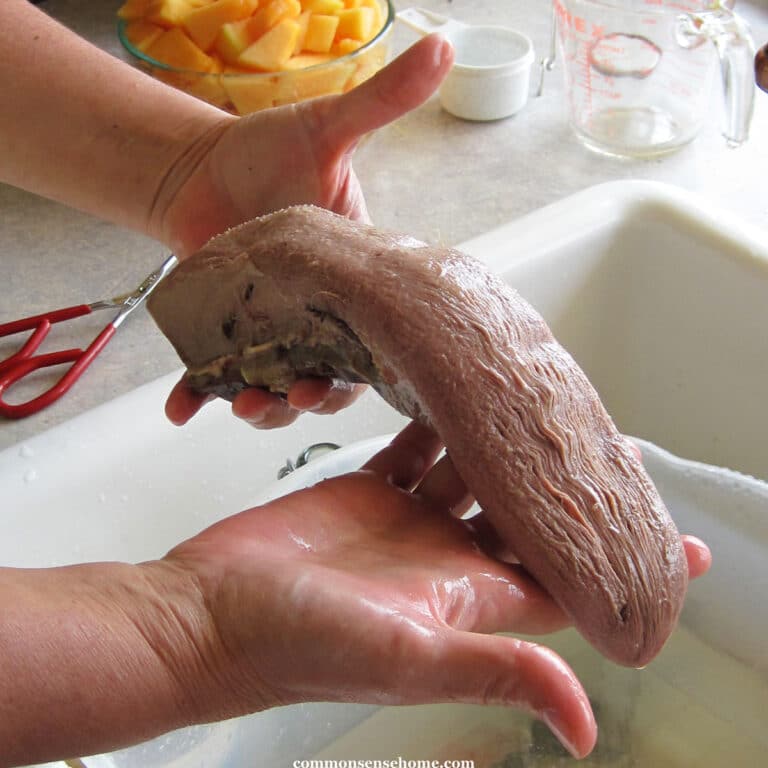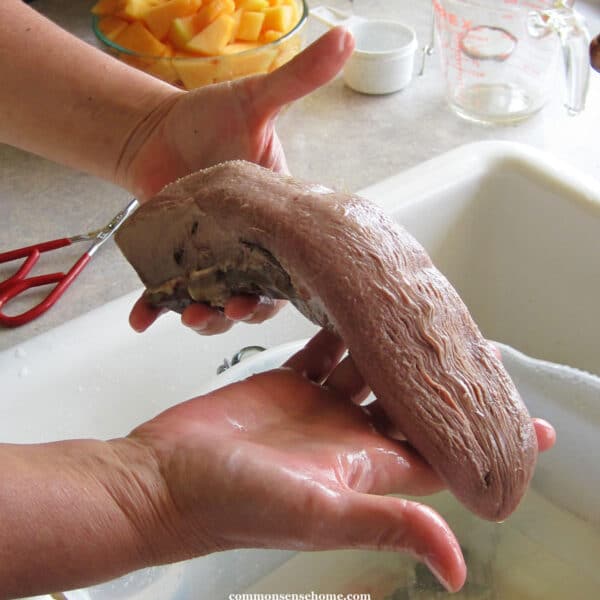 Slice thinly and serve with your choice of condiments. My brother Rich suggests horseradish. Get a recipe for homemade horseradish sauce here.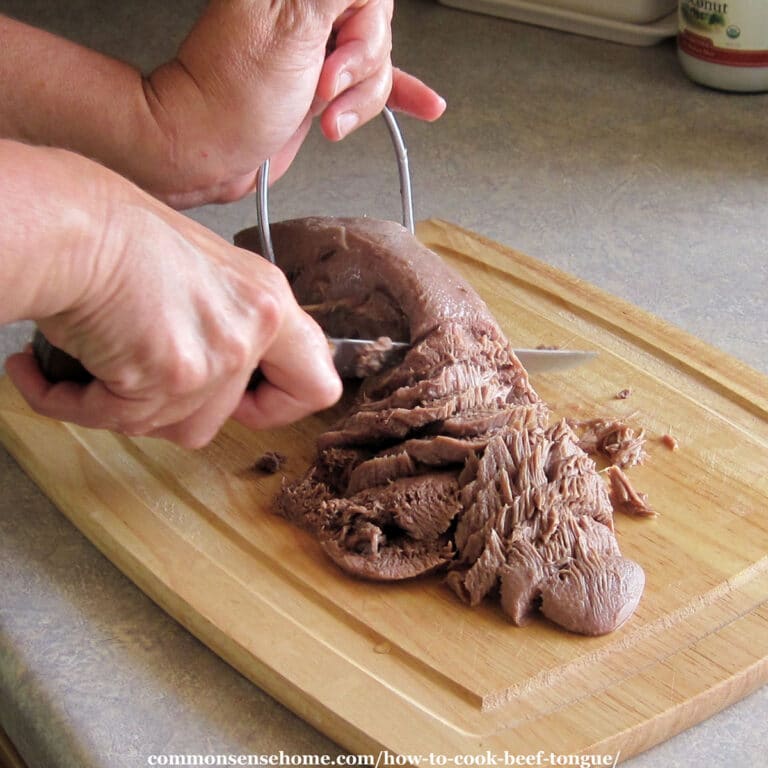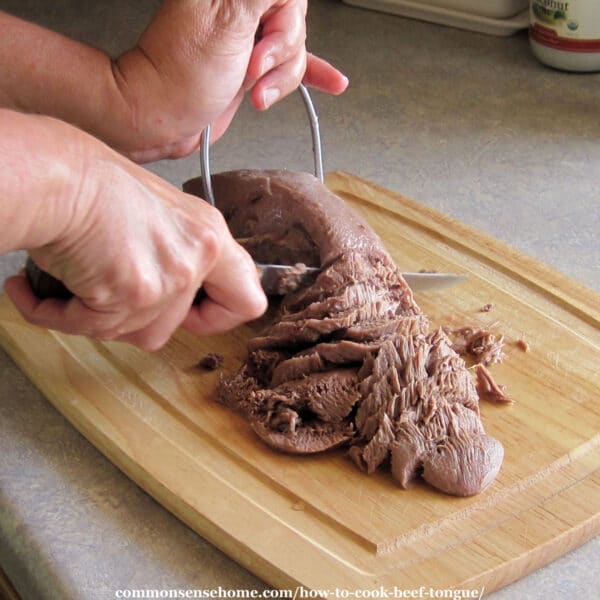 It's very tender and delicious. It melts in your mouth. The boys couldn't tell it wasn't a "regular" roast. I find it more tender than a regular rump roast.
Print
Beef Tongue Recipe
Slow simmered with aromatic spices, this easy beef tongue recipe can be served hot or cold.
Author:
Prep Time:

5 minutes

Cook Time:

3 hours

Total Time:

3 hours 5 minutes

Yield:

12 servings

Category:

main dish
cow tongue (normally around 3 pounds or 1.3kg)
seasoning- 1 onion, 3 cloves garlic or garlic scapes (or more), 3-4 bay leaves, celery, salt and pepper to taste, or other spices of your choice
Instructions
Wash the cow tongue.
Place the tongue in a large stock pot or Dutch oven with the seasonings and enough water to cover.
Cover and simmer the cow tongue for 2-3 hours (cook time).
Chill the tongue in an ice bath until just cool enough to handle and peel immediately.
Slice and serve hot or chill and serve cold.
Notes
Refrigerate leftovers in an airtight container and use within 2-3 days, or freeze for longer storage.
Keywords: beef tongue, cow tongue
How to use Beef Tongue?
Use cow tongue like any roast beef: straight with gravy and potatoes, in Chinese and Mexican dishes, topping for salads, casserole, stew, or as an excellent roast beef sandwich. Pair it with some salsa verde in lengua tacos!
Cow Tongue FAQs
What is cow tongue called?

Beef tongue is known as "lengua" in Spanish, "langue de boeuf," in French, and "lingua di manzo" in Italian. Whatever you call it, it's tender and flavorful qualities make it a favorite ingredient in various global culinary traditions.
Is beef tongue healthy to eat?

Beef tongue or cow tongue is a nutritious meat choice and can be a healthy addition to your diet. It is relatively lean and provides essential nutrients. Here's some nutritional information for beef tongue per 3-ounce (85-gram) cooked serving:

Calories: Approximately 150 calories
Protein: About 19 grams
Fat: Around 8 grams
Cholesterol: Approximately 70 milligrams
Iron: Provides a significant amount of iron, an essential mineral for red blood cell production.
Zinc: Contains zinc, which is vital for the immune system and overall health.
Vitamin B12: Rich in vitamin B12, which is important for nerve function and energy production.
Other B Vitamins: It also provides other B vitamins, like niacin and riboflavin.

It's important to note that the exact nutritional content varies depending on preparation and any additional ingredients used in the dish. Overall, beef tongue is a good source of high-quality protein and several essential nutrients.
What does cow tongue taste like?


Beef tongue or cow tongue has a distinctive flavor and texture. When properly cooked, it is tender and quite flavorful. The taste of beef tongue is often described as rich, beefy, and slightly sweet. You can crisp the texture up by sauteing it in a pan with oil or fat.

Whether it's stewed, grilled, or cooked in an Instant Pot, tongue adds a unique element to any meal. Proper cooking and seasoning are vital in bringing out the best in beef tongue and ensuring it is tender and delicious.
Do you peel a beef tongue before you cook it?

You definitely want to peel the tongue before serving, but I find it easiest to do right after cooking. The outer layer of the tongue is the "skin" or "membrane". The skin can be tough and not very palatable, so peeling it is an essential step to make the meat more tender and enjoyable.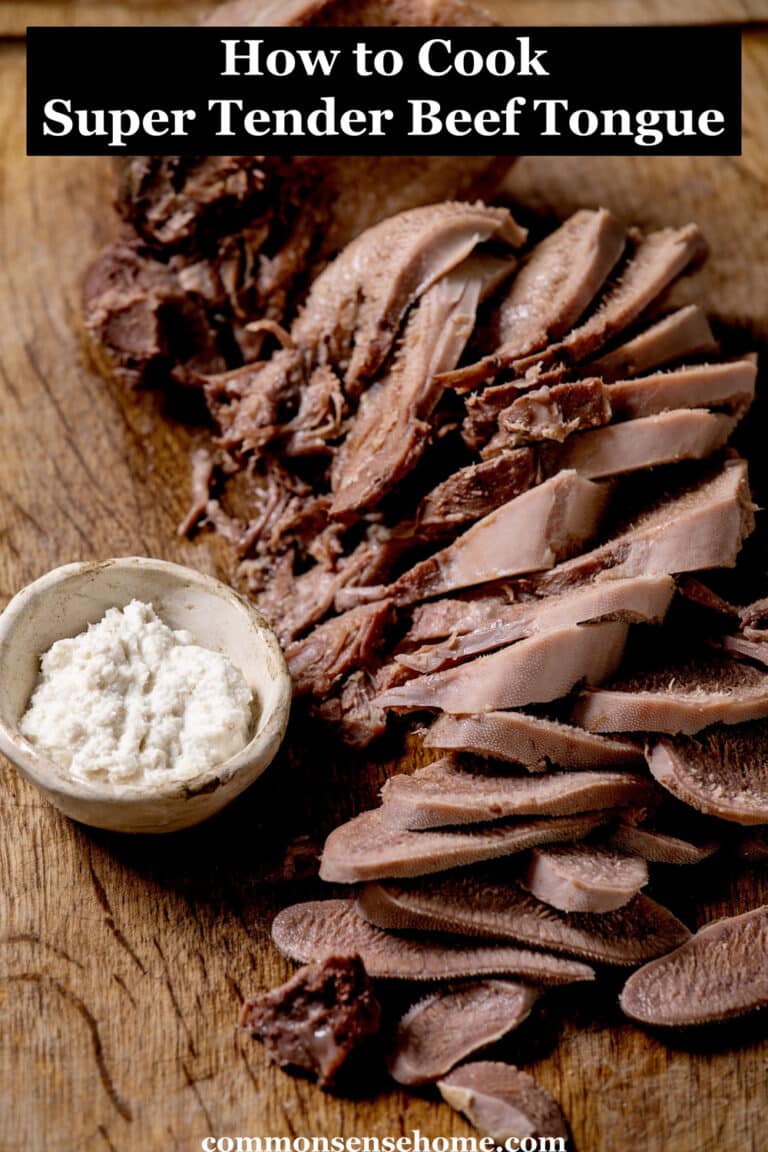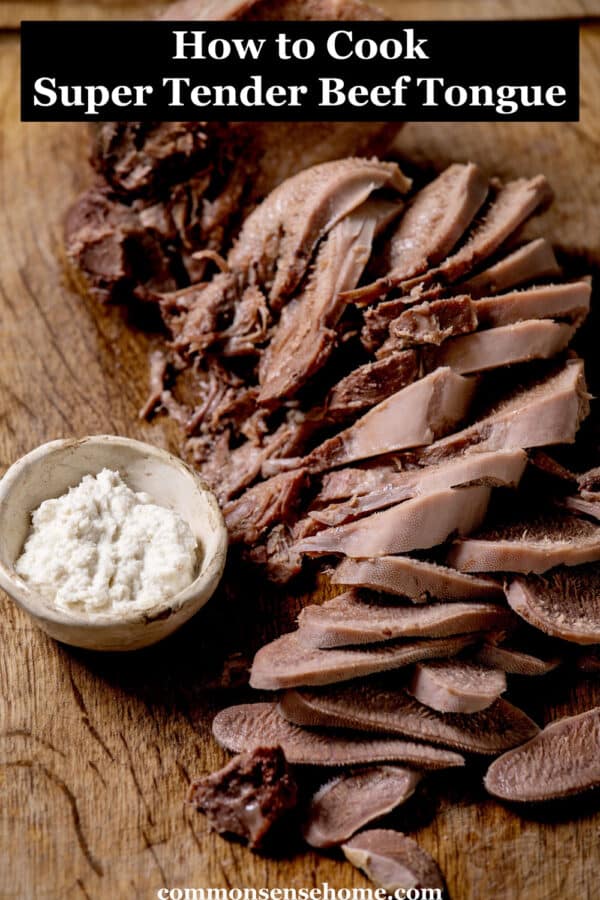 More Easy Homestyle Recipes
The Whole Beast: Nose to Tail Eating
Forgotten Skills of Cooking: The Time-Honored Ways are the Best - Over 700 Recipes Show You Why
Odd Bits: How to Cook the Rest of the Animal [A Cookbook]
The Whole Beast: Nose to Tail Eating
Forgotten Skills of Cooking: The Time-Honored Ways are the Best - Over 700 Recipes Show You Why
Odd Bits: How to Cook the Rest of the Animal [A Cookbook]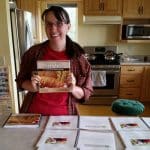 This article is written by Laurie Neverman. Laurie grew up in the kitchen, learning baking and home cooking from her momma. At age 15, she and her mom and two sisters created Irene's Custom Cakes & Catering, which was her summer job through most of high school and college.
Originally published in 2011, last updated in 2023.