How to Cook Beef Tongue – It's Easier Than You Might Think
Cow tongue, beef tongue, ox tongue – no matter what you call it, learning how to cook beef tongue may seem intimidating, but it's surprisingly easy to do.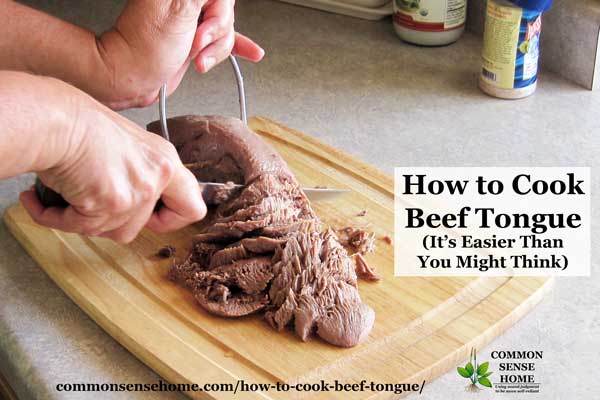 The simple cooking method that I like to use creates a tender, delicious cut of meat that can be served like a roast or sliced thin and used cold for sandwiches. Since we buy our beef in bulk from a local friend who raises grass-fed steers, it's important for us to be to be able to use up all the odd bits.
Cooking Cow Tongue – Quick Guide
Beef Tongue Recipe
What you need to cook a cow tongue:
cow tongue (normally around 3 pounds or 1.3kg)
seasoning- 1 onion, 3 cloves garlic or garlic scapes (or more), 3-4 bay leaves, celery, salt and pepper to taste, or other spices of your choice
stock pot with lid (6 – 8 quart)
Steps for cooking tongue:
Wash the cow tongue
Place the tongue in the stock pot with the seasonings and enough water to cover
Cover and simmer the cow tongue for 2-3 hours (cook time)
Chill the tongue in an ice bath until just cool enough to handle and peel immediately
Slice and serve hot or chill and serve cold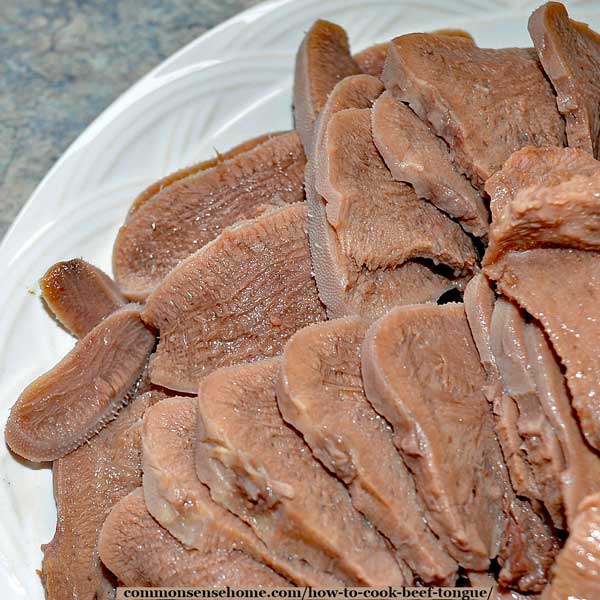 How to Cook Beef Tongue – Step by Step with Photos
The first time I cooked beef tongue, I had some help from my big sister, Lois. After all, what are big sisters for if not to help you eat strange things? When we pulled the tongue out of the freezer, it looked like this.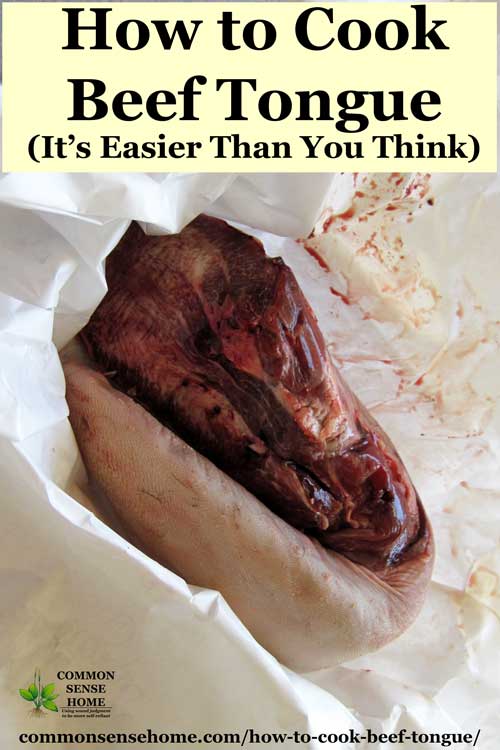 Lois gave it a good washing and held it up for a nice shot.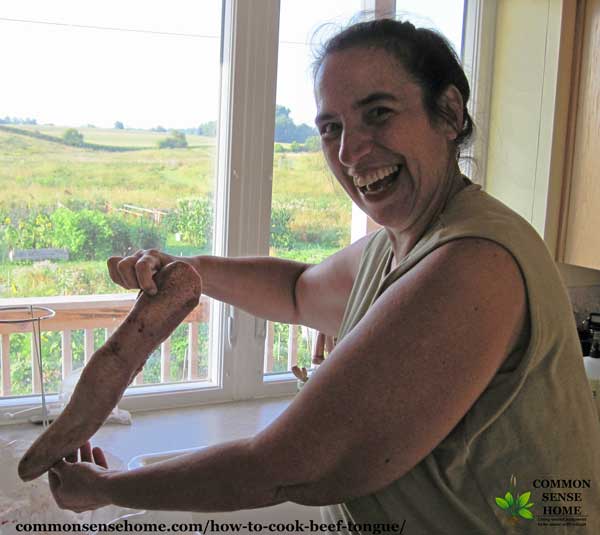 Cooking beef tongue couldn't be much simpler. The tongue doesn't have bones or connective tissue to deal with like other cuts. Mom always simmered it on the stove when we were kids, so that's what we did, too. We put it in a kettle with about an inch of water over the top, and added plenty of aromatics – garlic scapes, onions, bay leaves, salt, pepper, and some celery.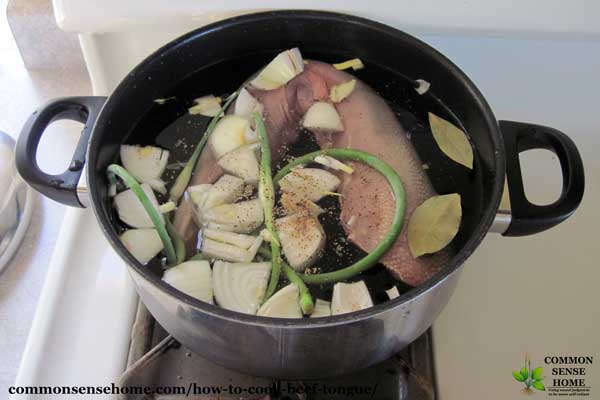 Cover and simmer for 2-3 hours. When the tongue finishes cooking, place it in an ice water bath to chill it enough to handle.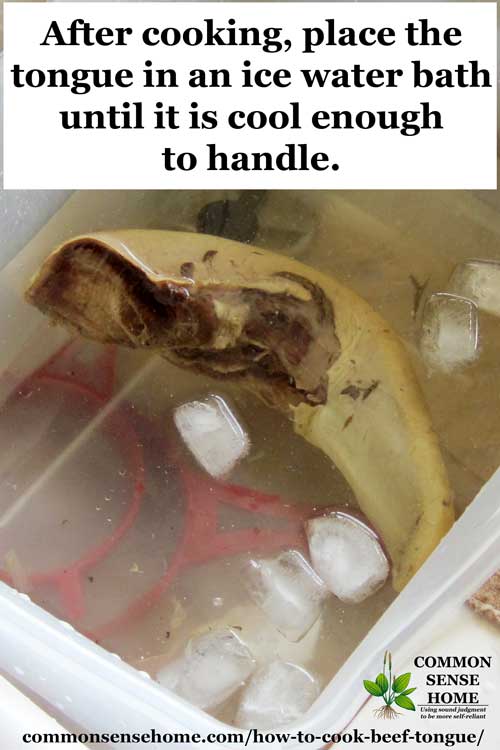 Once you can handle the tongue, peel off the skin. Don't let the meat cool too much, as the skin will stick. Trim with a knife as needed.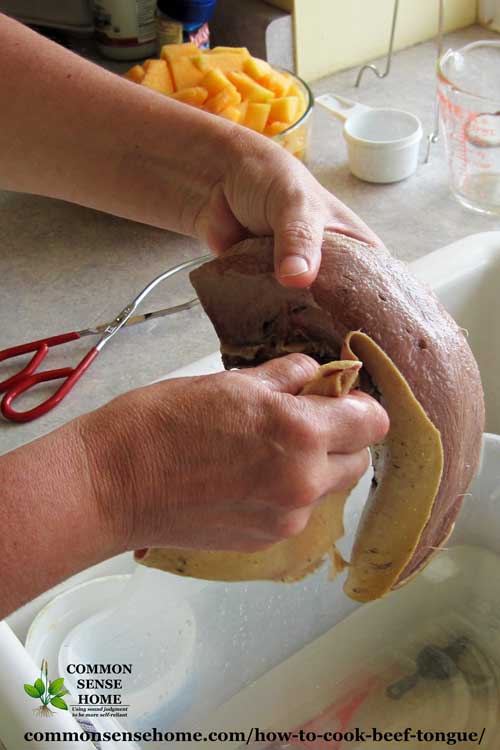 Now you have an excellent piece of meat.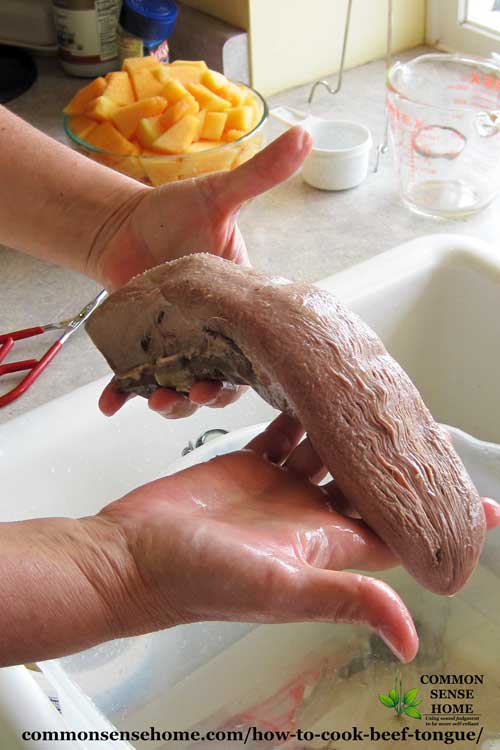 Slice thinly and serve with your choice of condiments. My brother Rich suggests horseradish. Get a recipe for homemade horseradish sauce here.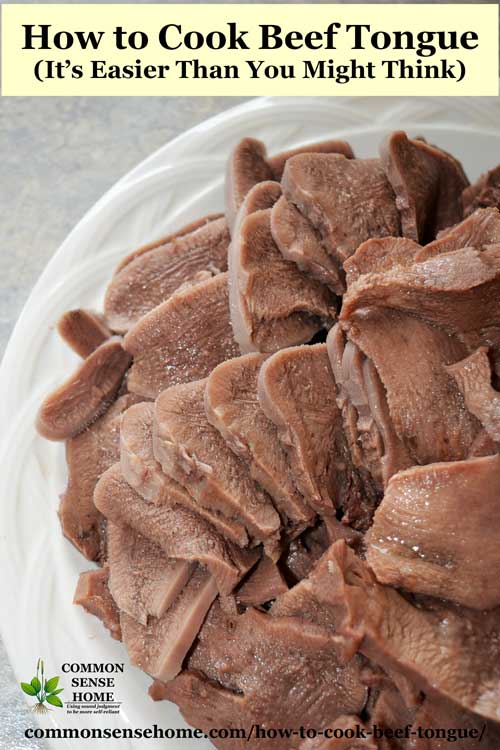 And that's it! It's very tender and delicious, melt in your mouth. The boys couldn't tell it wasn't "regular" roast. Personally, I found it to be more tender than the roast we had cooked the day before.
How to use Beef Tongue?
Use it like you would use any roast beef: straight with gravy and potatoes, in tacos, chinese and mexican dishes, topping for salads, casserole, stew or as an excellent roast beef sandwich.
So, what unusual meats have you enjoyed recently? I'd love to hear from you.
You may also enjoy:
Originally published in 2011, last updated in 2022.