Pumpkin Muffins with Cream Cheese Swirl + a "Must See" Muffin Tips List
What says "fall" better than pumpkin (or winter squash)? These pumpkin muffins team up cream cheese, pumpkin spice and maple syrup to make them extra yummy!
We also cover fun add-ons like streusel topping and chocolate chips, and adapting the recipe for mini muffins or loaves.
Finally, we'll cover troubleshooting tips to help you make perfect muffins every time.
Crafting the Best Pumpkin Muffins – Before you Start
Choosing the right ingredients and equipment makes it easier to create a quality product. Let's take a quick look at what goes into pumpkin muffin yumminess.
Pumpkin Puree
Use canned pumpkin puree or homemade pumpkin puree – your choice.
Canned pumpkin pie filling has sweetener and spices, so if you are stuck with using canned pie filling, reduce the sugar and spices in the recipe. Start with your puree warm or at room temperature.
Making homemade puree is easy and cheap, but if you're crunched for time, purchased will do.
If you need instructions, check out "How to Cook Pumpkin or Winter Squash – 3 Easy Methods". I personally prefer to use other winter squash for most of my "pumpkin" recipes, as it is sweeter and more dense.
Spices
Fresh is best with spices. The flavors and aroma fade with age. If your spices are more than a year old, it's time to replace them.
Cinnamon, nutmeg, ginger and cloves are some of the most common "pumpkin spice" ingredients, but feel free to try some of your favorites, like cardamom or allspice.
If you want to keep it simple, you may substitute 1 1/2 teaspoons "pumpkin pie spice" for the cinnamon, nutmeg and ginger.
This pumpkin muffin recipe has enough spices to add a wonderful aroma to your kitchen, but you can add a little more if you like more "zip" in your muffins.
Pumpkin Chocolate Chip Muffins
I like my pumpkin muffins naked, but I know some folks love adding a little chocolate to everything. If that's you, go ahead and mix in a half of cup of mini chocolate chips with the rest of the dry ingredients.
You can also try coconut, chopped nuts, raisins, dried cranberries or other mix ins. Just don't go too crazy, or the muffins won't fit in the muffin cups.
Streusel Topping
If you love pumpkin streusel muffins, simply combine 1/4 cup chopped walnuts and 2 teaspoons brown sugar. Sprinkle this mix over the tops of the muffin batter once it is in the muffin cups. Bake as normal.
More Pumpkin
What goes better with pumpkin muffins than more pumpkin?
The first time we tried this recipe, my friend, Julie, who rarely bakes, was in charge of the kitchen. She accidentally used one and 1/2 cup of pumpkin instead of one cup of pumpkin.
The muffin pans were quite full, and the muffins puffed up well over the top of the pan, but they were still delicious.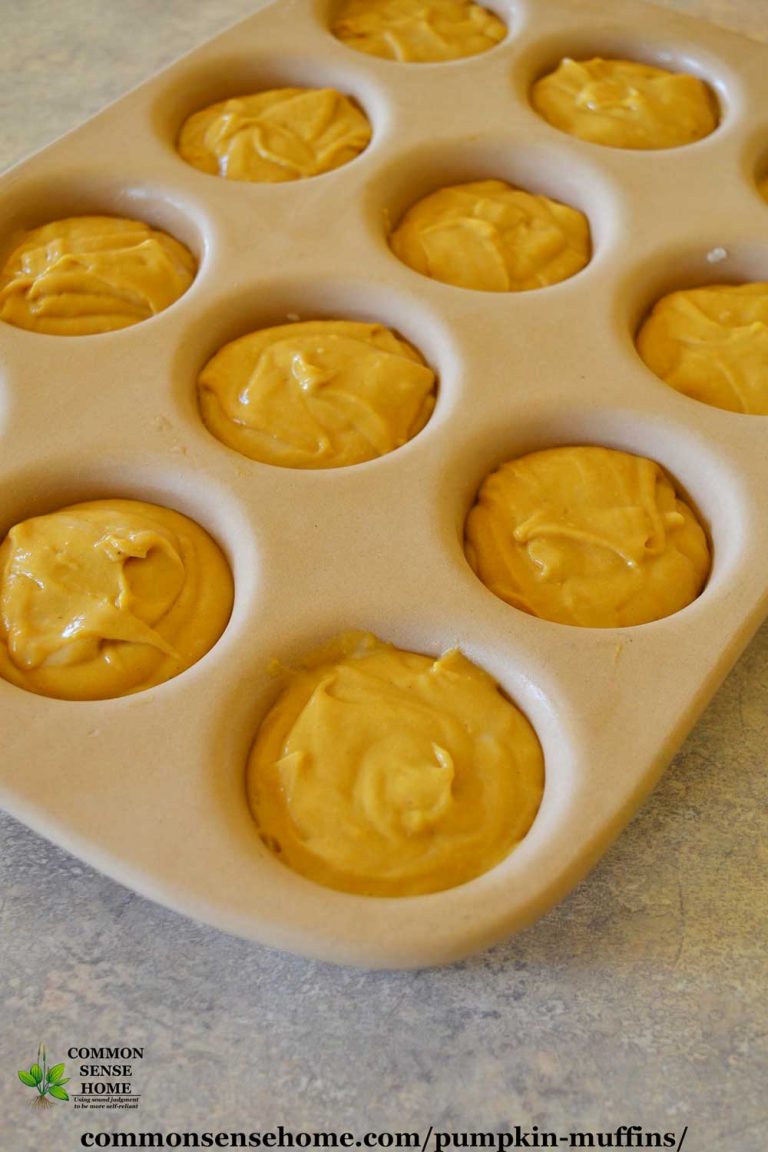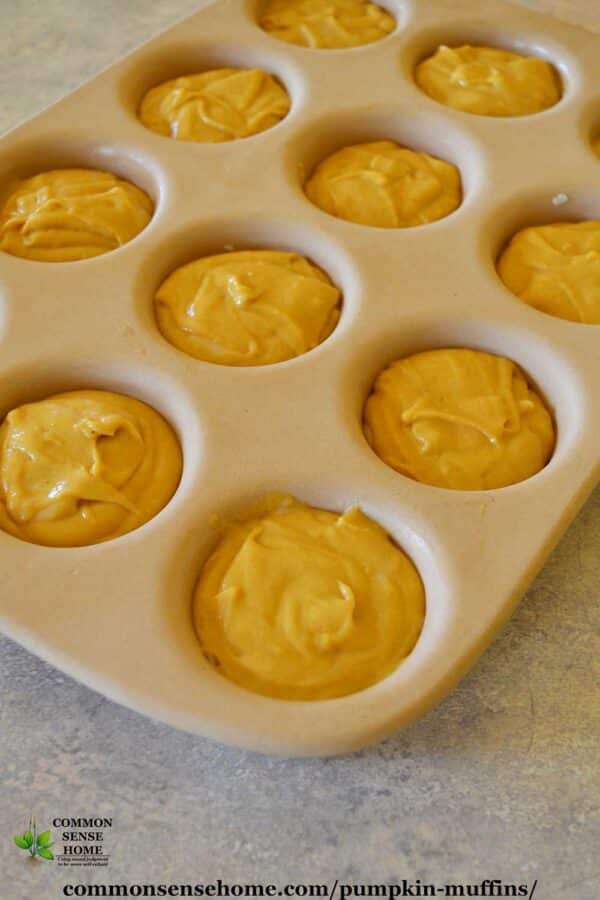 Muffin Pans
Paper liners or no paper liners? If I'm using metal muffin tins, I use paper liners, as my pans are old and not in great shape. With these muffins, you need to either grease the muffin tins or line them, so the muffin comes out clean.
I recently invested in a stoneware muffin pan, and when I use that, I skip the paper liners. I love the way the stoneware bakes evenly and forms a natural non-stick coating. The downsides are the weight and the cost.
Muffin recipes do typically take a few extra minutes in the stoneware muffin pan compared to a metal muffin tin (around 30 minutes).
Adapting the Recipe for Mini Pumpkin Muffins or Bread
Since this recipe makes 12 standard muffins, it will make around 36 mini pumpkin muffins. Keep the temperature the same, but reduce the baking time to 10-13 minutes.
Hold extra batter at room temp if you need to bake in more than one batch. Cool and clean pans in between batches of muffins.
To turn your pumpkin muffins into pumpkin quick bread, reduce oven temp to 350°F. Use two 9″x5″ loaf pans. Bake until a toothpick inserted into the center comes out clean, about 50-60 minutes.
If using streusel topping, tent the loaves with foil for the last 20 to 25 minutes to prevent the topping from getting too dark.
Gluten Free, Dairy Free
If you need to skip the gluten, try a gluten free flour blend such as Namaste, and increase the baking time by 5-10 minutes.
For dairy free, swap in coconut oil for the butter, and use 1 1/2 cup pumpkin puree. Skip the maple cream cheese swirl.
Print
Pumpkin Muffins with Cream Cheese Swirl
These easy pumpkin muffins team up cream cheese, pumpkin spice and maple syrup to make them extra yummy!
Author:
Prep Time:

10 minutes

Cook Time:

25 minutes

Total Time:

35 minutes

Yield:

12

muffins

1

x
Category:

Dessert

Method:

Baking

Cuisine:

American
2

cups

flour

3/4

cup

plus

2

tablespoons

packed brown sugar, divided

2 teaspoons

baking powder

1/2 teaspoon

baking soda

1/4 teaspoon

salt

1 teaspoon

cinnamon

1/4 teaspoon

nutmeg

1/4 teaspoon

ginger

2

eggs

1

cup

pumpkin puree

3/4

cup

milk

1/4

cup

butter, melted

3 Tablespoons

maple syrup, divided

3

ounces

cream cheese, softened
In a large bowl, combine flour, 3/4 cup brown sugar, baking powder, baking soda, salt, cinnamon, nutmeg and ginger. In a medium bowl, whisk together eggs, milk, melted butter and one tablespoon maple syrup. Stir wet ingredients into dry ingredients just until moistened.
For the maple cream cheese swirl – In a small bowl, beat cream cheese, 2 tablespoons brown sugar and 2 tablespoons maple syrup until smooth.
Grease 12 muffin cups or line with paper liners. Fill about 1/4 full with pumpkin batter. Gently stir maple cream cheese mix into pumpkin batter to swirl. Use the batter mix to fill muffin tins to 3/4 full.
Bake at 400°F for 20-25 minutes, or until toothpick inserted into the center comes out clean. Cool for 5-10 minutes in pan before removing from pan to finish cooling on wire rack. Cool to room temperature before storing in an airtight container. Use within 4 to 5 days, or freeze for up to 3 months.
Notes
You may substitute 1 1/2 teaspoons pumpkin pie spice for cinnamon, nutmeg and ginger.
Keywords: pumpkin, muffins, cream cheese, maple syrup
Adapted from the Wisconsin Maple Syrup Producers Association Wisconsin Maple Syrup Cookbook.
Muffin Troubleshooting Guide
Why does muffin recipe (pumpkin muffins or others) turn out great for one person and not for the next? It is just because someone is an awesome baker? Maybe, maybe not.
When our last stove went rogue, I had a hard time baking anything well, and I've been baking for decades. Baked goods were suddenly scorching on the outside while being left raw on the inside – even though I was using the same temperature settings.
I tried adjusting the temp, and even replacing the oven thermostat, but still got bad results – until we finally gave in and replaced the stove.
Different ingredients can also make a HUGE difference in end results.
One I bought the cheapest flour I could find on the store shelf to make salt dough for a homeschool project for the boys. My husband unknowingly grabbed the cheap flour out of the pantry that weekend to make cookies.
He couldn't figure out what he did wrong, as the cookies were running all over the pan. He had followed the recipe exactly. Everything else was the same – except the flour.
Different flours contain different moisture levels, and potentially different levels bran and germ. If you're using fresh ground wheat flour, it tends to be very moist compared commercial flour.
Very cheap flours tends to be powdery and spread out in the pan (as my husband found out).
In this section, we'll cover some of the most common muffin flops and how to fix them.
My Pumpkin Muffins are Hard as Baseballs
Try reducing the amount of flour by 1/4 cup or adding more liquid. As mentioned above, all flours are not the same.
Don't stir too long. Get your ingredients blended and then stop mixing. Hand mixing is best to help prevent tough muffins.
The Muffins Spread Out All Over the Top of the Muffin Tins
Your muffin pans might be too full. Fill muffin cups only 2/3 to 3/4 full, or as directed by your recipe.
Maybe there's too much liquid in the batter. Try using 1/8 to 1/4 cup less liquid the next time you make the recipe.
Did you preheat the oven? Putting your pumpkin muffins into a cold oven can lead to a "flat top muffin".
My Muffins are Tough and Soggy
Did you mix too much? Remember, too much mixing breaks down the gluten and makes the dough tough. Are you using a gluten free flour blend? Some work better than others.
Did you bake the muffin long enough? All ovens do not bake the same. Try increasing the temperature 25 degrees and reducing the baking time.
The Muffins Looked Great – and then They Collapsed in the Center
You may need more flour. Try increasing the flour by 1/4 cup. Note: If you are using farm eggs or different sized eggs from the grocery store, they can throw off the liquid/dry ingredient ratio.
My Muffins Didn't Brown Evenly
Where's your oven rack? Muffins baked too high in the oven may brown on tip before they are completely baked.
Those baked too low in the oven may burn on the bottom while the top is still raw. (If half the muffin sticks in your paper liner, try a higher rack.)
Bake muffins on the middle rack in the oven for even browning.
More Seasonal Recipes
Have you visited the Recipes and Kitchen Tips page? We have all our recipe and kitchen tips listed in one spot, organized by category to make it easy to find just what you need.
You can also grab your bread baking troubleshooting guide, free with your Common Sense Home subscription.
Some of my seasonal favorites include: