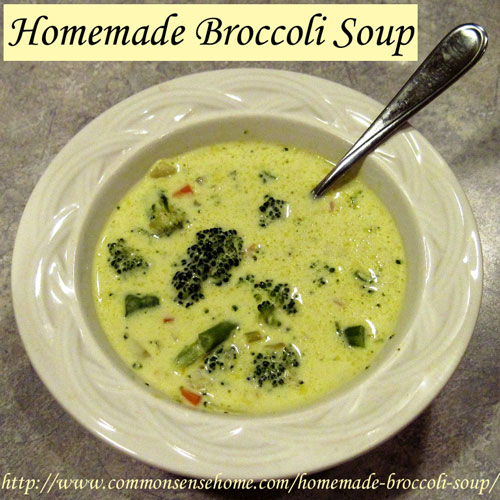 Broccoli has been coming in fast and furious from the garden, so I decided to whip up a batch of homemade broccoli soup for supper the other day.
Print
Homemade Broccoli Soup
Ingredients
1/4 cup butter
1 medium head broccoli, cut into florets
1 carrot, chopped
2 stalks celery, chopped
1/2 large onion or one medium onion, chopped
1/4 cup all-purpose flour
2 tablespoons cornstarch
4 cups chicken broth
2 cups heavy cream
1/2 teaspoon paprika
1/4 teaspoon black pepper
1/2 teaspoon curry powder
1/8 teaspoon turmeric
salt to taste
Instructions
In a large heavy kettle, melt butter or margarine. Add broccoli, carrots, celery, onion; cook over medium heat until vegetables are crisp tender, about 10 minutes, stirring occasionally. Do not brown. (Alternatively, you can add the broccoli later with the broth and simmer until tender. I've done it both ways.)

Stir in flour and cornstarch; cook, stirring constantly, about 3 minutes.

Add broth and cook, stirring, until slightly thickened (I prefer to cook it until quite thick).

Add cream, paprika, cayenne, curry and turmeric. Season to taste with salt. Serve piping hot. Do not allow to boil, or cream will curdle. Makes around six good sized servings.
My youngest is not a fan of broccoli, but when I told him the soup had bone broth in it, he perked right up. He said, "I like bone broth. It's yummy."
Pair this soup up with some fresh bread or a salad, and you've got a quick and nourishing meal.