Home Food Drying – 6 Things You Need to Know to Dehydrate Food at Home
Are you considering home food drying? Want an easy way to store and preserve food? Need a food storage method that doesn't take up much space and requires very little equipment? Want to make healthier snacks for your family to enjoy at home or on the go? Looking for portable food for camping or backpacking?
If you answered "yes" to any of these questions, you should learn about home food drying.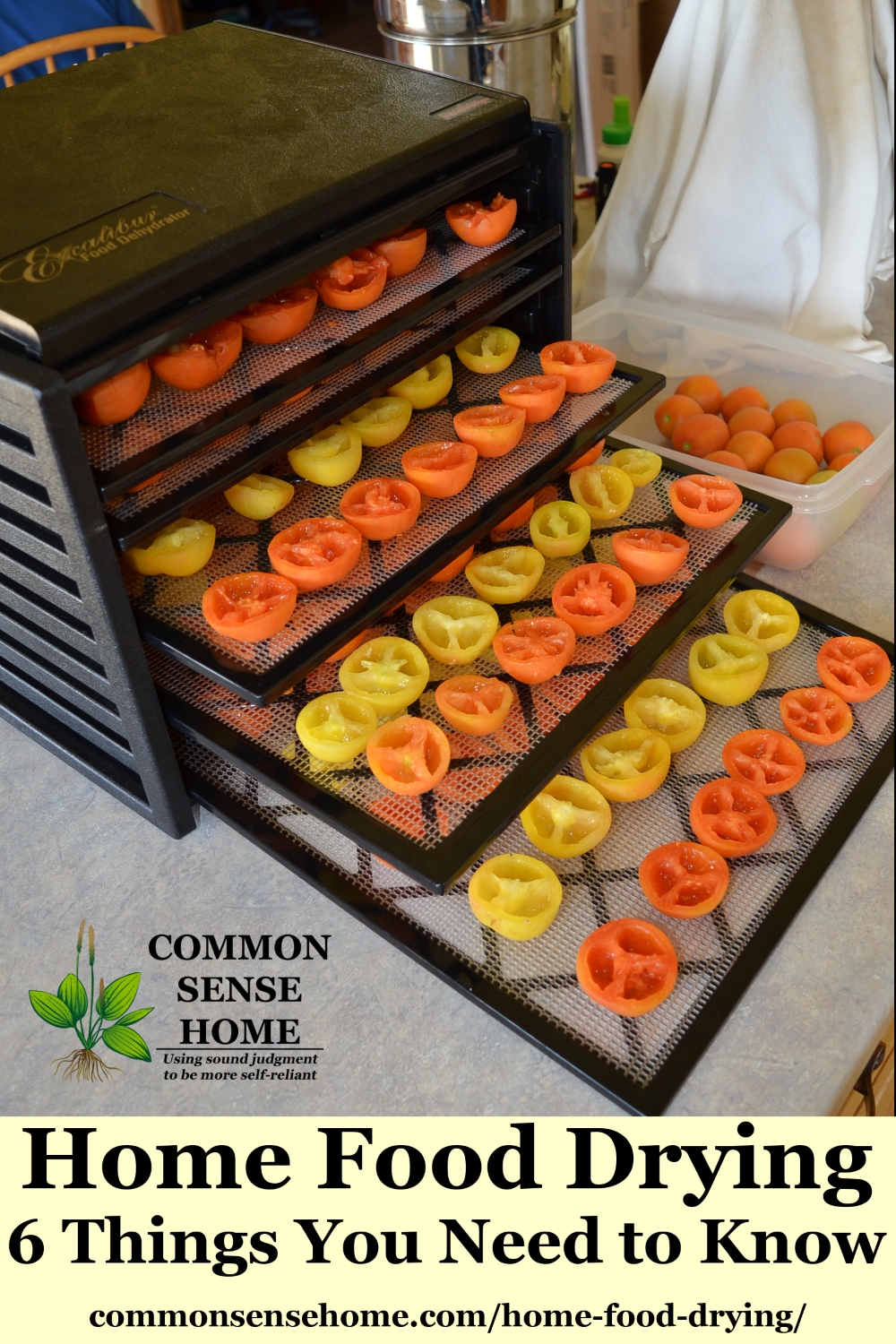 What Equipment Do I Need for Home Food Drying?
For home food drying, you will need:
Dehydrator or Drying Rack
Sharp knife and cutting board
Large, heavy duty pot
Blender or food processor (for "leathers")
Salad spinner (optional)
Specialty items such as cherry pitters and apples corers speed up processing, if you dehydrate a lot of those fruits.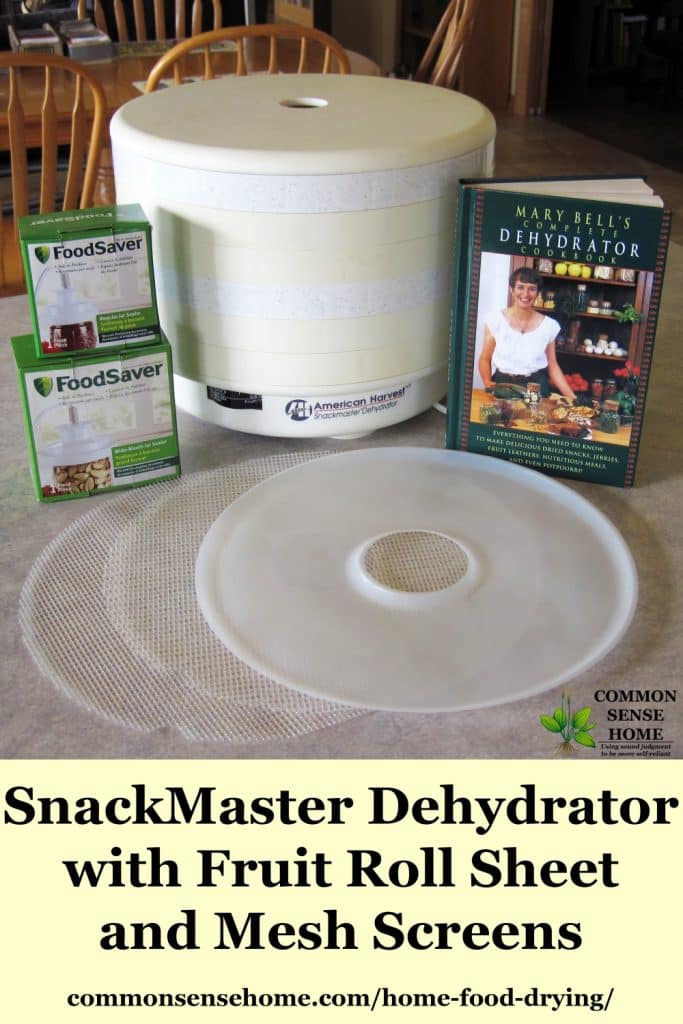 Methods of Drying
Commercial dehydrators give more consistent results and are easier to work with, giving you a better quality end product. Quick and uniform drying preserves color, flavor and texture.
Most commercial units also allow you to set your temperature, which is very helpful for optimal drying of different foods. For instance, herbs dry best at lower temperatures so that you don't drive off volatile oils, while meats are typically dried at higher temps.
If you purchase a commercial dehydrator, I highly recommend including the accessory sheets for fruits leather and fine mesh sheets in your purchase. They are so much easier to work with than improvised homemade options.
I have a Nesco Snackmaster Dehydrator that I use for small jobs , and a nine tray Excalibur that's my real workhorse for large volume dehydrating.
Some popular models of electric food dehydrator include:
Oven Drying – Not recommended for households with small children. An oven can be used if you can set the temperature low enough (down to 140°F), but it will use more energy than a commercial dehydrator or other home constructed options. (Use an oven thermometer to check the temp.)
To dehydrate food in an oven, set temp to warm and prop door open 2-6 inches. Place a fan near the oven door to improve air circulation. Use cooling racks on cookie sheets and space racks 2-3 inches apart.
Air Drying – As long as your humidity isn't too high, you may be able to air dry. (Think herb bundles hung from rafters.) Some folks rig up trays with covers (see an example of a non electric dehydrator) and hang them near a heat sources such as a wood stove.
Solar Drying – The Sun Oven can be used as a food dehydrator as well as an oven. You can also build your own solar food dryer.
Sharp Knife and Cutting Board
A sharp knife and cutting board is helpful for cutting fruits and vegetables into thinner pieces that will dry more quickly and evenly. A mandolin or food processor for cutting can speed up slicing, but isn't absolutely necessary.
Large, Heavy Duty Pot
A good sized, heavy duty pot is helpful for cooking down sauces and blanching fruits and veggies. A pot with a thick bottom allows you to simmer sauces slowly without burning.
Blanching (pretreating food by dipping them in boiling water) is recommended for many vegetables and some fruits.
Blender or Food Processor
For purees and "leathers", you'll need a blender or food processor. You can use just about any type of fruit to make fruit leather, but it should be pureed until smooth. (See How to Make Homemade Fruit Leather for more information.)
Salad Spinner
I like using my salad spinner to clean and dry herbs before loading them into the dehydrator.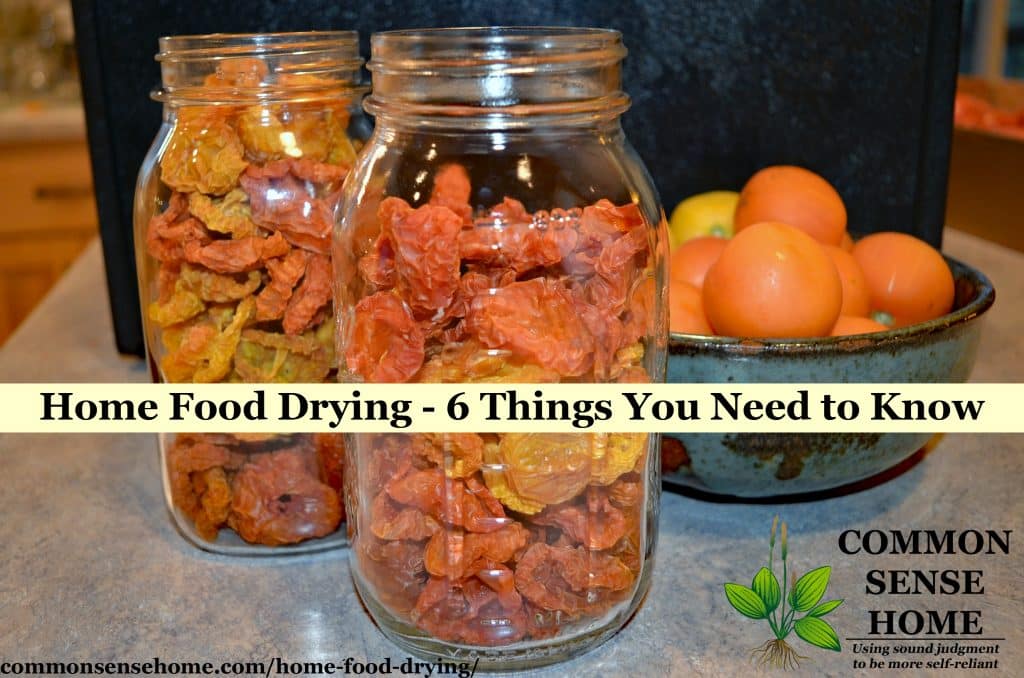 What Types of Food Can You Dehydrate?
Just about anything can be dried, from vegetables and fruit to meat and fish. Home dried herbs are a fraction of the cost of store bought herbs.
Natural fruit leathers are also quite expensive in the store, and are one of the simplest things to make in your dehydrator. You can use your dehydrator to make snacks for people and pets. You can also use it to dehydrate excess kefir grains or sourdough starter.
Home food drying works to preserve food by reducing the water content in food, making that food inhospitable to mold and bacteria. High fat foods don't tend to dry well and are more prone to spoilage.
Always use extra care when dehydrating any meat products. It's best to store dried meats in the fridge or freezer.
If you want to get into serious long term food storage, dried food for camping and quick meals, or specialty foods and crafts, I highly recommend investing in a recipe guide along with your food dehydrator.
Some well rated food drying guides include:
How do I Prepare Food for Dehydrating?
Generally, you want to slice or chop uniform pieces of food between 1/8 and 1/2 inch thick. Food that is too thick or irregularly shaped leads to non-uniform drying, which may cause spoilage.
Pretreating Foods for Home Food Drying
Blanching in water or steam helps slow down enzyme action and softens skins. This makes it easier for moisture to be driven out, and makes the product tastier when rehydrated. Many vegetables (but not all) are best blanched before dehydrating.
See Vegetable Dehydrating 101 for a printable list of vegetable blanching and drying times. Click here or on the image below to download a pdf of dried food prep and drying times guide.
Checking Fruit Skins – Skins naturally protect fruit to keep it from drying out, so they need to be "checked" (broken in some way) to speed drying.
You can blanch, poke holes, cook in syrup, slice or freeze and thaw to break the skin. Most of the time I slice and dip.
Some foods are pre-treated before drying to help to preserve color and flavor.
Fruit Dip – Fruits can be dipped in saltwater, and acidic liquid or something sweet to reduce oxidation. This keeps them from turning brown.
My favorite method is to use a couple of tablespoons of lemon juice in a bowl of water. It's inexpensive, easy and doesn't dramatically change the flavor of the fruit.
Many people also enjoy dipping sliced fruit in other acidic fruit juices, such as apple or banana slices in pineapple or orange juice. In the chart above, "acidic dip" means the fruits should be dipped to prevent browning.
Marinades are commonly used for meats such as jerky to enhance flavor and improve shelf life. (Check our our favorite jerky recipe here.)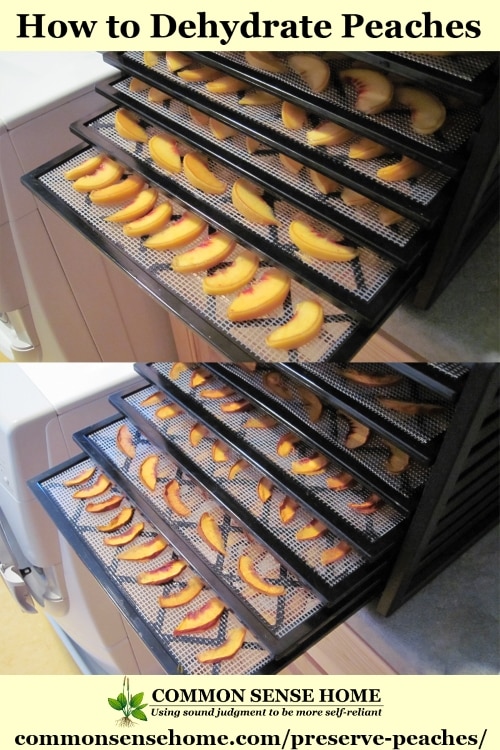 How Long Does it Take to Dry Food?
Home food drying time depends on the food and the drying conditions. Dehydration takes anywhere from a few hours to days, depending on what you are drying and how you are drying it.
Thinner items dry faster than thick items.
Higher sugar content increases drying time.
Fat increases drying time (and risk of spoilage).
High humidity increases drying time.
Units with fans dry faster than units without fans.
Air drying can go pretty slowly, but still works well in some situations.
Most of the time I load my dehydrator in the evening and let it dry overnight. A friend in South Carolina with a simple on/off dehydrator (no temp control) found that she couldn't dry thicker items before they grew mold due to the high humidity.
How Can I Tell if Home Dehydrated Food is Dry Enough?
Most foods will have a moisture content of around 20% when dried. Different foods will have different textures when dried, from brittle to leather-like to gummy.
As you work with dehydrating, you'll get a feeling for appropriate dryness. The texture of home dried foods may be different than commercially dried foods.
Remember, you're making your products without strange additives or deep frying or other commercial processes. Allow food to cool before packaging to prevent sweating in storage.
Conditioning Your Dehydrated Food
A good rule of thumb to test dryness is to lightly pack the product into a tightly sealed jar, and check for condensation on the lid. If you have condensation, you need to dry it more – it won't keep – or put it in the freezer or refrigerator.
There is also a product called the HYGROLID hygrometer, which is placed on top of a mason jar like a lid to read the relative humidity inside the jar. (I invested in one last season. It's pretty cool. 🙂 )
To condition your dried food (and evenly distribute any remaining moisture), shake the jar daily for about a week. Watch for moisture.
If any moisture shows up, dehydrate the food more. At the end of the week, repack food as desired for long term food storage or short term munching.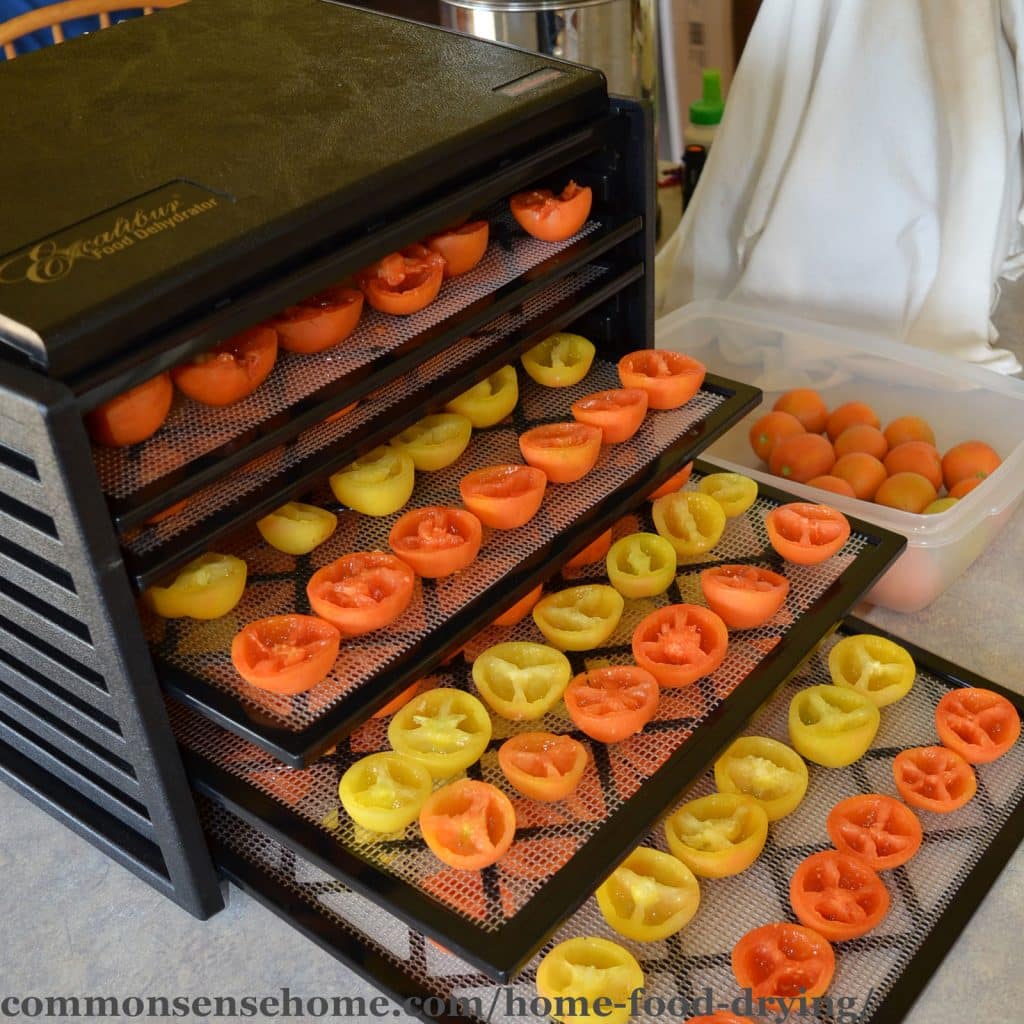 How do I Store Dehydrated Food and How Long Will it Keep?
I prefer to store dehydrated food in standard or wide mouthed mason jars. If I have a lot of a product (enough to fill multiple jars), I use the vacuum sealer attachment for my Foodsaver to seal the jars and extend shelf life even further.
I keep fruit, veggies and herbs in jars out of direct light (in the pantry). You can also use plastic bags or plastic jars, glass jars from other commercial products or Mylar bags.
Store dehydrated meat products in refrigerator or freezer.
Storage life depends on conditions. Dried food found on archaeological digs was still technically "edible", but definitely not a yummy.
Dehydrated produce and herbs should last around a year (from one season to the next) if properly stored. Dried meats are best used within 3-6 months. I've kept items longer, but flavor, color and nutrients diminish over time.
Below is an assortment of links from my blog and other other online resources to help you with home food drying.
Home Food Drying Recipes
Online Resources for Home Food Dehydrating
National Center for Home Food Preservation – How Do I Dry Foods?
Dehydrate2Store.com – Instructional videos, delicious recipes using dehydrated foods, pantry stocking with home food drying and more.
NESCO/American Harvest How To Dehydrate Guides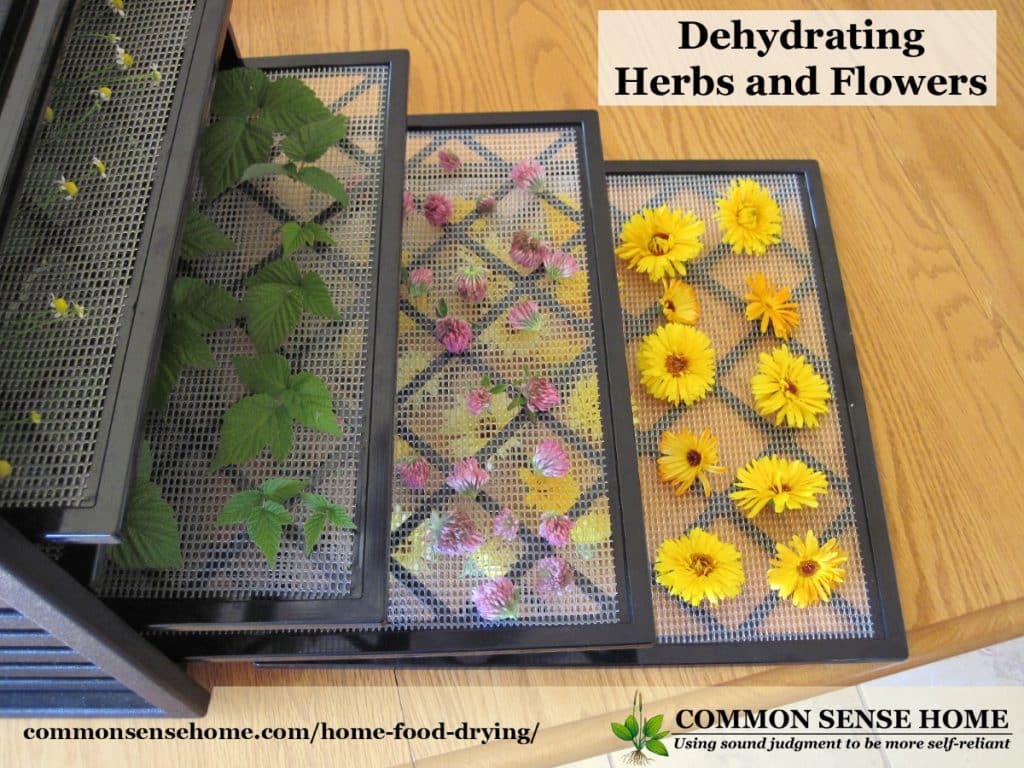 Home Food Dehydrators You Can Make Yourself
DIY Electric Dehydrators
Living Foods Dehydrators – Wooden dehydrators made in the USA, or buy the kit and make your own.
Box fan dehydrator – Alton Brown's box fan dehydrator made with a box fan, cellulose furnace filters and a bungie cord or two.
DIY Solar Dehydrators
Build It Solar – Solar Cooking and Food Drying – 10 different solar food dehydrator designs
Solar Fruit Dryer – PDF plans for a large solar fruit dryer
A note on sun dried fruits: Because they are dried outdoors, there's a greater risk that sun dried fruits might have insect infestations.
There are two ways to kill off insects and their eggs – freeze them or heat them.
To cold kill, place the dried food in a freeze safe container and put it in the freezer at 0°F or below for at least 48 hours. To heat kill, place food in a single layer on a shallow pan. Heat at 160°F for 30 minutes.
Is Home Food Drying Right for You?
Dehydrating is a simple method of food preservation. You can purchase a basic dehydrator fairly inexpensively and you're ready to rock and roll.
Prep time and difficulty for drying fruits and vegetables is minimal. The biggest concern is making sure that your food is dry enough that it won't spoil.
You also want to follow basic food safety guidelines to avoid potential contamination, since the food is not sterilized during drying.
For longer storage (up to 25 years or more), home freeze drying is a better choice. See "Dehydrator Versus Freeze Dryer – What's the Difference" for a comparison of dehydrating and freeze drying.
Do you dry food at home? What technique/equipment do you use?
Related posts you may find useful: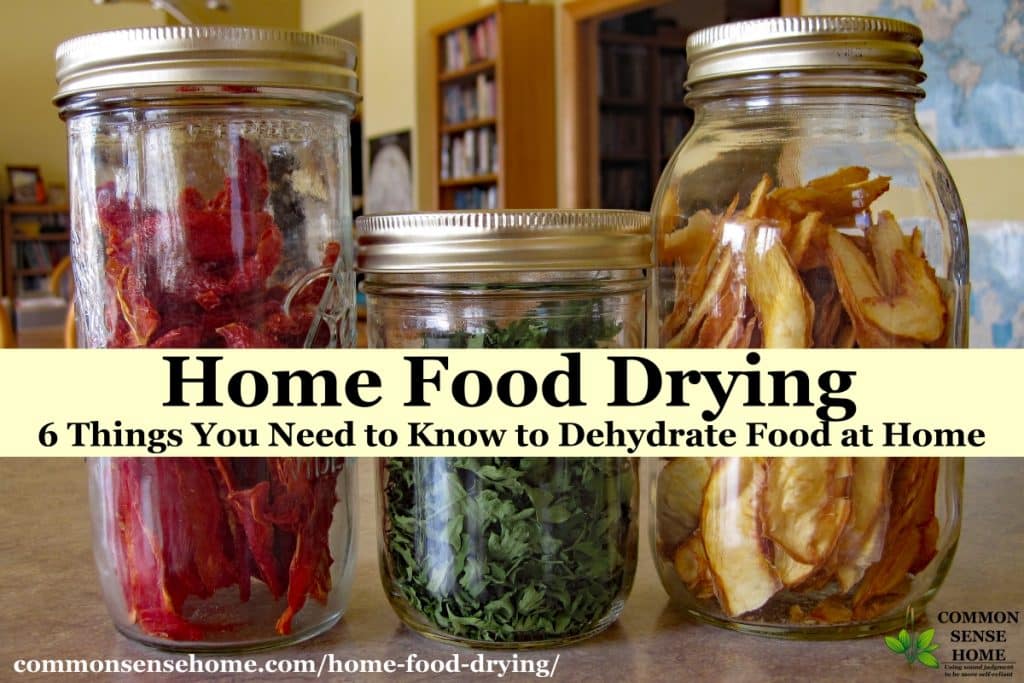 Originally published in 2012, last updated in 2018.