Strawberry Rhubarb Jam (Easy Recipe, Quick Cook, Less Sugar)
This easy strawberry rhubarb jam recipe cooks up quick and lets you taste the fruit instead of the sugar. Store it in the refrigerator, or process in a water bath canner for longer storage.
We enjoy this combination of strawberries and rhubarb on PB&J, toast, waffles, ice cream, in layer cakes and thumbprint cookies. Rhubarb is generally less expensive than strawberries, so this is a great way to get more jam for less money.
Strawberry Rhubarb Jam Ingredients
All you need is:
2 cups crushed strawberries (about a quart)
2 1/2 cups rhubarb, finely chopped (about a pound)
Pomona's Pectin and calcium water (both included in the box of Pomona's Pectin)
2 cups sugar
I use Pomona's Universal Pectin for all my low sugar jams, but you can substitute your low sugar pectin of choice. Pomona's pectin is great because it lets you make homemade jams and jellies with low or no sugar. One box makes several batches of jam or jelly.
How to Make the Jam
Before you start working with the fruit, prep your jars, and if needed, canning equipment. This recipe makes around 4-5 cups of strawberry rhubarb jam. If you can eat that much within 2 weeks, it's safe to keep it in the refrigerator. For longer storage, process in a water bath canner.
Don't have a canner? Learn how to use any large pot for canning here.
I run my jars through the dishwasher, and set my lids and rings to heat gently in water. (Do not boil the lids.) Fill your canner with hot water and start heating it to boiling while you prep the strawberry rhubarb jam.
Mix together two cups of sugar and 2 teaspoons of pectin powder.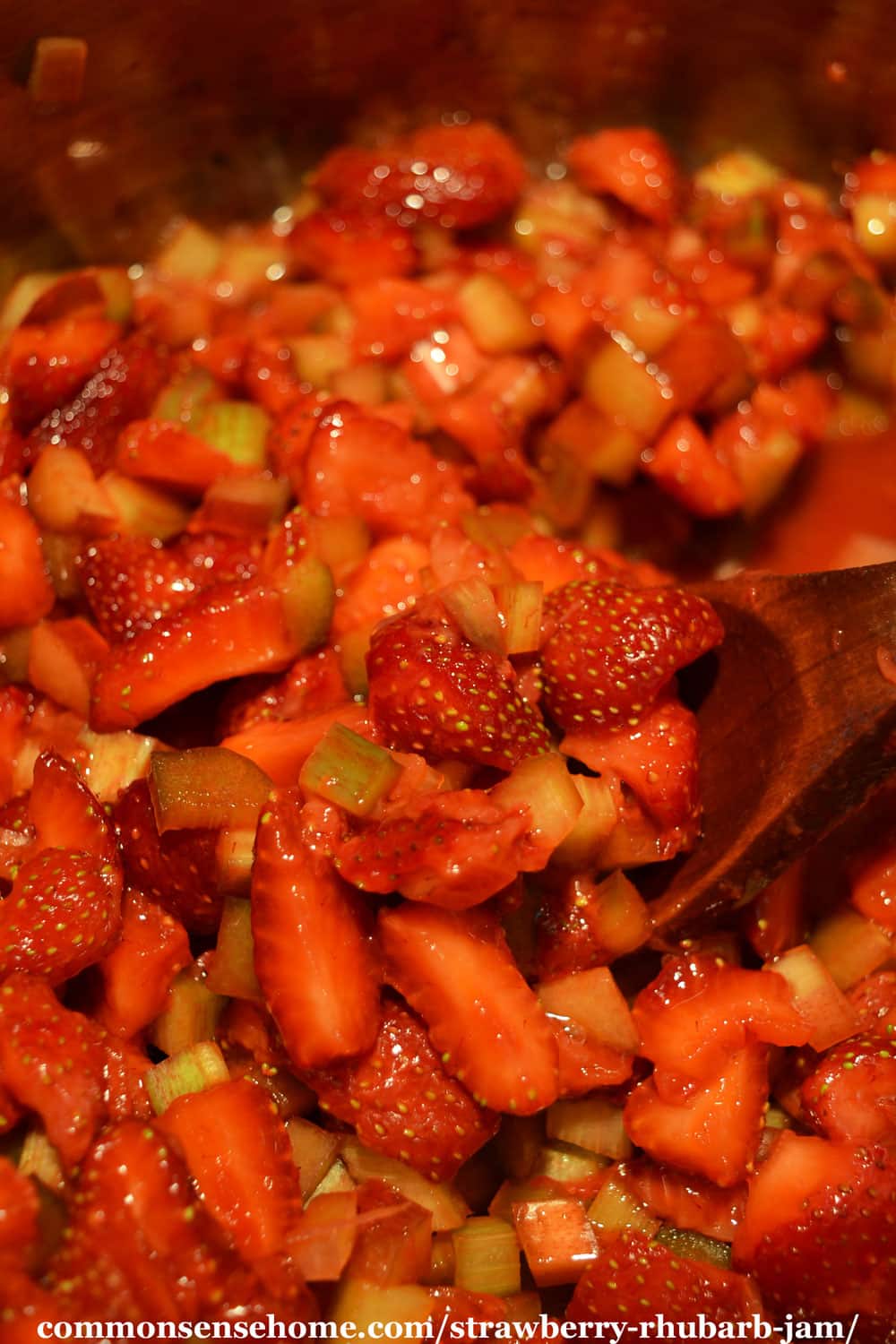 Finely chop or crush 2 cups of strawberries, and add them to a large stock pot. Finely chop 2 1/2 cups of rhubarb and add it to the strawberries. Add two teaspoons of calcium water to the fruit mix. Bring to a full rolling boil over medium high heat, stirring occasionally.
Add the pectin/sugar mix and return to a boil, stirring constantly. Boil for one minute, then remove from heat.
Ladle hot strawberry rhubarb jam into prepared jars, filling to within 1/4 inch of top. Wipe jar rims and threads. Cover with lids and screw bands. Tighten rings until snug.
Process for 10 minutes in a water bath canner. Turn off heat, let sit five minutes. Remove from canner and place on kitchen towel on counter top. After jars are cool, check seals.
What is calcium water?
Each box of Pomona's Universal pectin contains 2 packets:
To prepare the calcium water, simply mix 1/2 teaspoon of calcium powder with 1/2 cup of water. I mix mine in a one cup mason jar.
Store the calcium water in the refrigerator between uses. It lasts for several months. Discard the calcium water if it discolors or you see mold.
Do I have to use Fresh Strawberries and Fresh Rhubarb?
Nope! It's fine to use frozen rhubarb and strawberries. I often freeze fruit when it's hot outside during harvest time to make jam when it's cooler.
Why is my strawberry rhubarb jam runny?
If the fruit got a lot of water close to harvest, it may make the jam runny. If you wash your fruit by soaking it instead of rinsing, it may absorb water and make the jam runny.
This recipe makes a soft set jam, which spreads easily. It will thicken slightly as it cools. If you like a firmer jam, use 3-4 teaspoons calcium water and 3-4 teaspoons pectin.
(That's another great thing about using Pomona's pectin – you can adjust the recipes any way you like them.)
What's the pH of Strawberries and Rhubarb?
Strawberries have a pH of around 3.0 – 3.5. Rhubarb has a pH of 3.1 to 3.2. This makes strawberry rhubarb jam safe for canning in a boiling water bath, because the pH will easily be below 4.6. There's no need to add lemon juice.
Pectin sets up best when pH is between 2.8 and 3.5, but both strawberries and rhubarb are naturally low in pectin. Some recipes work around this by cooking the jam for a long time to thicken it. I prefer the fresher flavor of quick cooking jam.
How Can I Thicken my Jam without Pectin?
As noted above, both rhubarb and strawberries are low in pectin, so they don't gel quickly on their own. If you don't have pectin, you can cook your sugar and fruit over low heat, stirring occasionally, until it thickens.
Another option is to mix in a high pectin fruit, like apples or currants. The trick with these is that they generally need more sugar or more cooking time to thicken. I like using Pomona's pectin to help preserve the fresh fruit flavor.
See "The Science of Pectin" for more information.
Print Friendly Recipe
Print
Strawberry Rhubarb Jam
Make this strawberry rhubarb jam with fresh or frozen fruit. It cooks up quickly and uses less sugar than traditional recipes.
Author:
Prep Time:

15 minutes

Canning Time:

10 minutes

Cook Time:

10 minutes

Total Time:

35 minutes

Yield:

5 cups

1

x
Category:

Jam
4 1/2 cups

prepared fruit (about

1 quart

fully ripe strawberries, 1 pound rhubarb)

2 cups

sugar

2 teaspoons

Pomona's Universal Pectin

2 teaspoons

calcium water (included with Pomona's Pectin)
Stem and crush or chop strawberries. Measure 2 cups into 6- or 8- quart sauce pot. Finely chop rhubarb; do not peel. Measure 2 1/2 cups into the sauce pot with the berries. Add calcium water to fruit mix.
Prepare jars. Keep lids warm until ready to fill jars.
Measure sugar into separate bowl. Stir pectin into sugar.
Bring fruit mixture to full rolling boil on high heat, stirring constantly. Quickly stir in sugar/pectin mix. Return to full rolling roil and boil exactly one minute, stirring constantly. Remove from heat; skim off any foam with a metal spoon, if desired.
Ladle into prepared jars, filling to within 1/4 inch of top. Wipe jar rims and threads. Cover with lids and screw bands. Tighten rings until snug.
Process for 10 minutes in a water bath canner. Turn off heat, let sit five minutes. Remove from canner and place on kitchen towel on counter top. After jars are cool, check seals.
Keywords: strawberries, rhubarb, jams, spreads
More Jam and Jelly Recipes
We have over 30 different jam and jelly recipes on the site, from delicate flower jellies to rich preserves. They're all listed on the Recipes and Kitchen Tips page, including:
Rhuberry Spread – Naturally Sweetened Strawberry-Rhubarb Jam
Strawberry Vanilla Preserves (Small Batch, Low Sugar)
Cranberry-Pear Jam – Traditional and Low-Sugar
More Rhubarb Recipes
Old Fashioned Rhubarb Pudding Cake
Strawberry Rhubarb Crumble – Gluten Free, Quick and Easy
Originally published in 2009, last updated in 2021.