Dilly Beans – Quick and Easy (Store in Refrigerator)
These dilly beans are fermented with salt (like sauerkraut) to add a probiotic twist to this easy recipe. Try them for snacking, as a condiment with heavy meals, or in your Bloody Mary.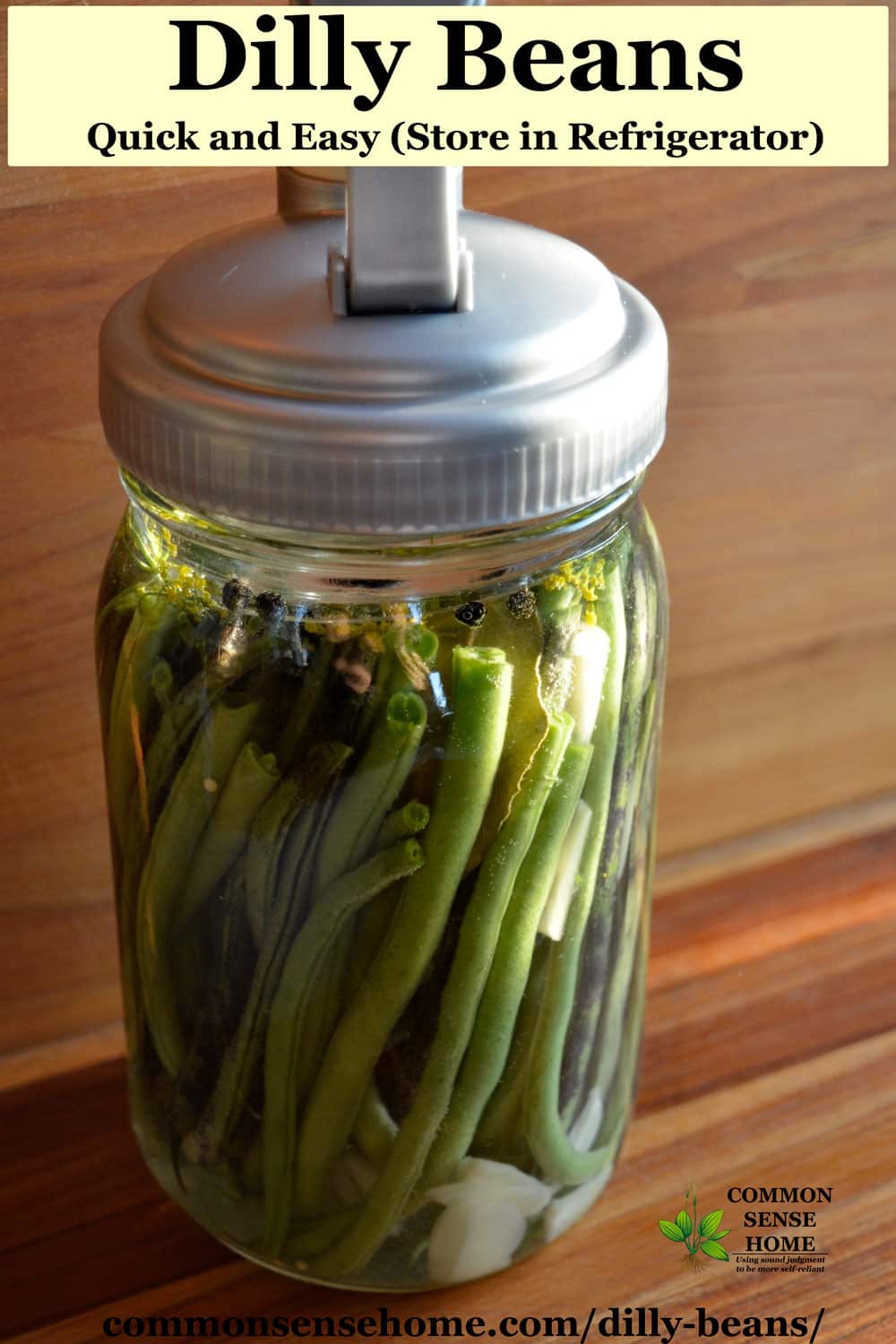 Note: If you're looking for a recipe for canning, check out "Pickled Green Beans", which is a vinegar pickle.
Tips for Making Dilly Beans
If you have it, fresh dill gives an extra pop of flavor, but dill seed is fine – and easier to keep on hand. Use 1 tablespoon dill seed or 3 heads of fresh dill per quart jar. Remember, you're looking for dill seed – the seed head of the dill – not dill weed – the leafy part of the dill.
Because this dilly bean recipe is fermented, we prep the brine at room temperature. That said, if you have trouble getting your salt to dissolve, go ahead and heat it gently in a small saucepan.
Fermentation weights are a worthwhile investment you plan to do fermenting on a regular basis. They make it so much easier to keep the vegetables below the brine. This 4 pack set of weights has easy grip handles and fits in wide mouth mason jars. (Photo below shows a close up on the set.)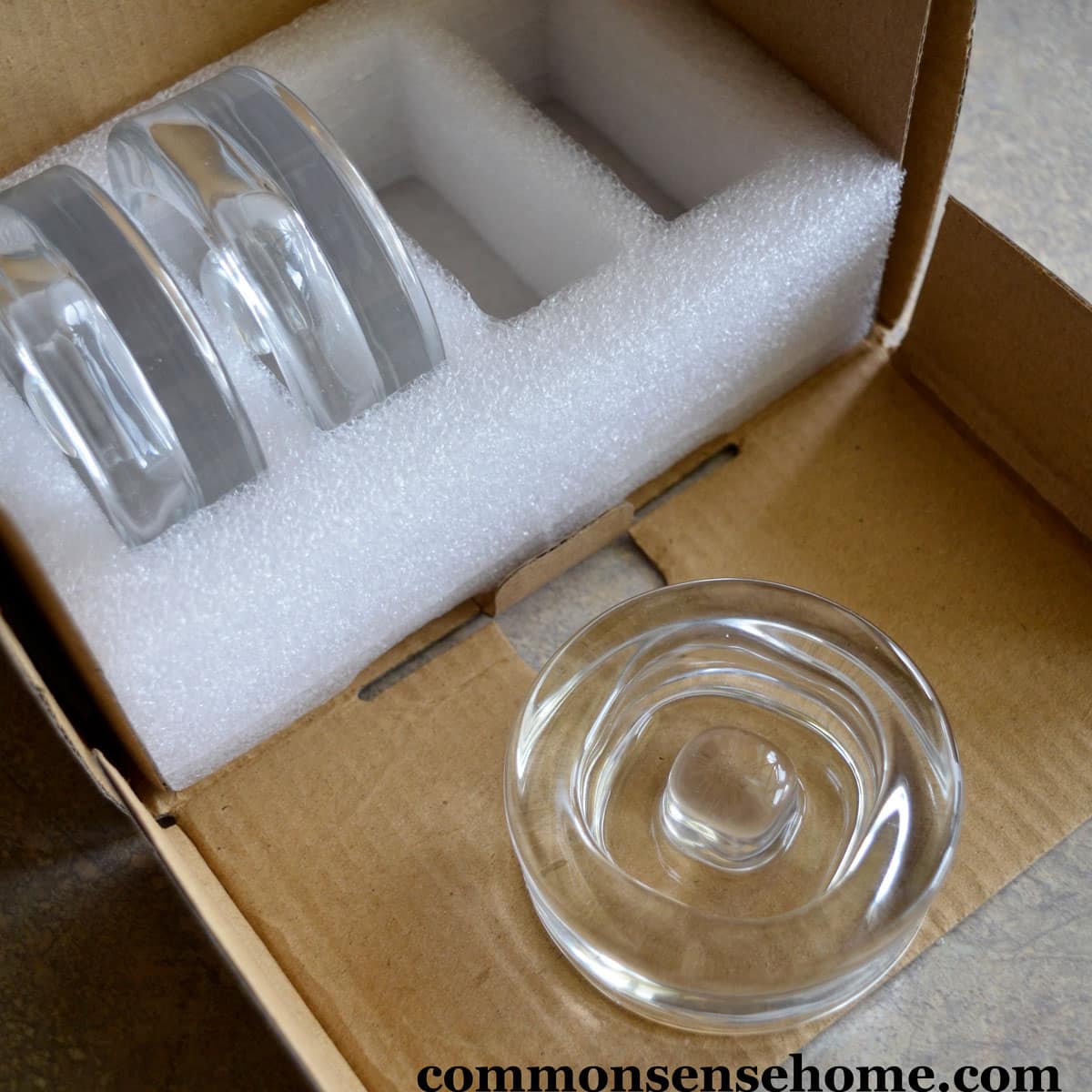 Airlocks are also helpful to keep your dilly beans protected during fermentation.
A quart jar works best because you can fit the whole beans once you wash and trim the ends, but you can use two pint jars. Smaller jars may ferment more quickly.
For spicy dilly beans, add 1/2 to 1 teaspoon of red pepper flakes.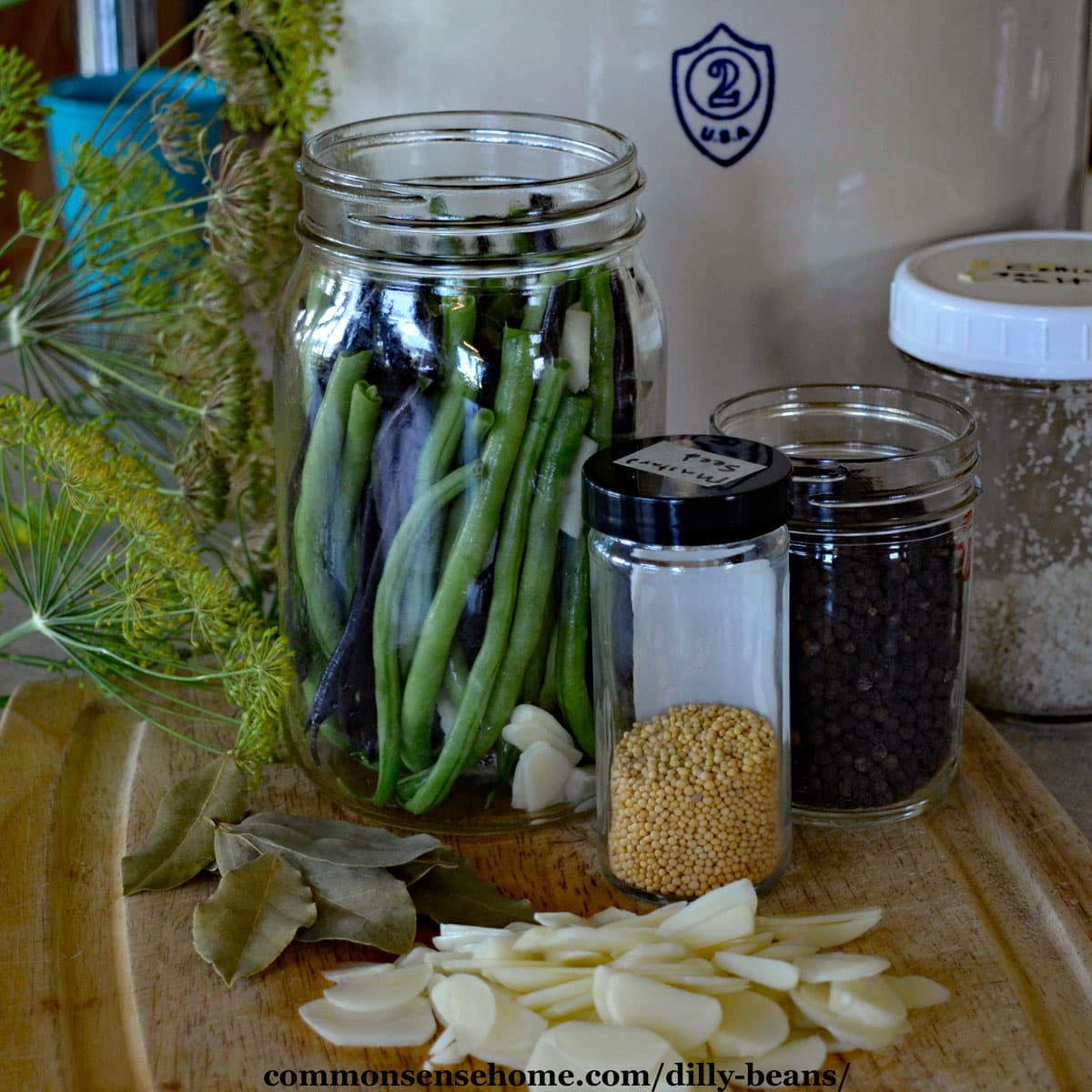 Print
Dilly Beans
These easy fermented dilly beans add a probiotic punch to any meal or snack
Author:
Prep Time:

20 minutes

Total Time:

20 minutes

Yield:

1 quart

1

x
1 quart

green beans, ends removed and beans trimmed to fit one each below rim of a quart jar

3

cloves garlic, sliced

1 Tablespoon

dill seed or

3

heads of fresh dill

2 teaspoons

pickling spice – or – 2 bay leaves, 1 teaspoon mustard seeds and a few peppercorns

3 tablespoons

fine grain sea salt – or – 4 1/2 tablespoons coarse grain sea salt

4 cups

water
Stack green beans upright in a wide mouth quart jar. Add garlic, dill and spices.
Mix salt and water in a separate jar or bowl until salt dissolves to form a brine.
Pour brine over beans, keeping the brine 1″ below the jar rim. Use a fermentation weight or regular size jar lid to hold the ingredients below the brine. Cover jar with lid or airlock.
Let beans sit at room temperature for 1 to 2 weeks. Transfer to cool storage.
Notes
In warmer temperatures, beans may have well developed flavor in as little as five days. Try a sample and see how you like the flavor.
You will likely have a little extra brine.
For spicy dilly beans, add 1/2 to 1 teaspoon of red pepper flakes.
What if my Fermented Dilly Beans Grow Mold?
The recipe is adapted from The Complete Idiot's Guide to Fermenting Foods by my friend, Wardeh Harmon. Wardeh's website, Traditional Cooking School by GNOWFGLINS, is a wealth of information on fermenting and other traditional food preps.
She hosts a weekly show on youtube called #AskWardee where she shares advice and troubleshooting tips. The episode below covers 5 Tips to Prevent Moldy Ferments.
Here are 5 tips to prevent mold during fermentation.
#1 — The Right Temperature
#2 — Start With Clean, Organic Foods
#3 — Clean Containers & Utensils
#4 — The Right Salt & The Right Amount Of It
#5 — Air-Tight Containers
"Below the brine, everything is fine."
Keep in mind that mold and other microorganisms are present everywhere. Temperatures above 72°F (22°C) increase the likelihood of mold growth.
If your dilly beans grow a light film of blue or white mold on the top, skim it off, clean the exposed glass and move the jar to the refrigerator. Below the brine, the acidity inhibits mold growth, and the beans should be fine.
More Pickling Recipes
More Green Bean Instructions