How to Make a Salve with Infused Oils – Easy DIY Skincare
In this post I'll show you how to make a salve with infused oils. Plantain leaf salve is good for insect bites and stings, removing slivers, hemorrhoids and winter dry skin.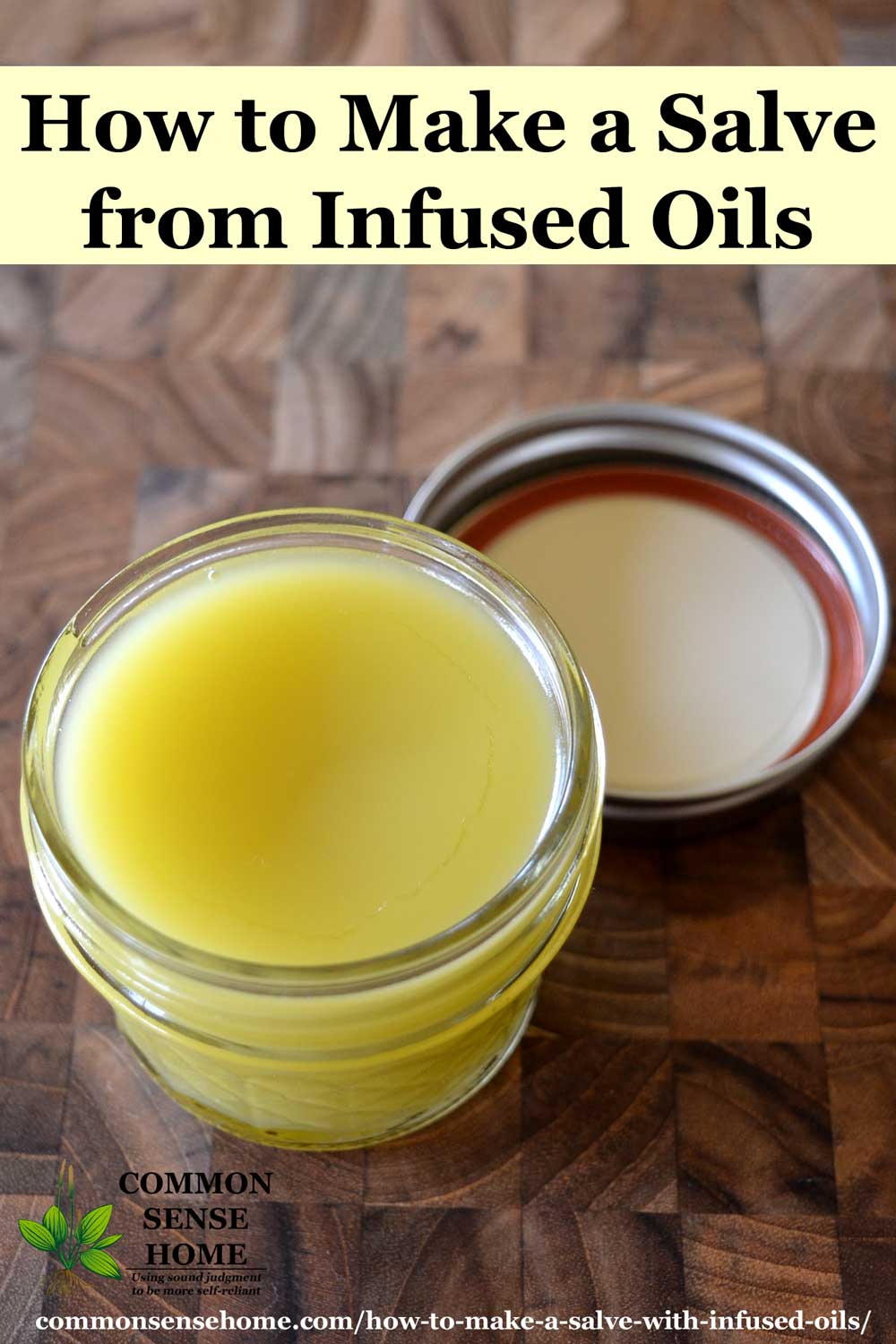 Plantain is a common lawn and garden weed. It has many medicinal properties, and can be used inside and out. Learn more in Broadleaf Plantain – Weekly Weeder #14.
The leaves themselves can be applied directly to the skin, but for ease of use and long term storage, I make herb infused oil.
How to Make an Herb Infused Oil
For more detailed instructions on how to combine herbs and oils to make an oil infusion, please see:
Grandma Called it Medicine Leaf (featuring a fresh plantain leaf infusion)
How to Infuse Herbs in Oil, Water,Vinegar, Alcohol, or Honey – includes instructions for dried herbs
Solar Infusions
I normally use a solar infusion for fresh plantain leaves.
To make a solar infusion, finely chop fresh herbs and fill a small mason jar or other small glass jar. Add enough olive oil of fractionated coconut oil to cover the herbs. (You can usually squeeze in about a cup of oil around your cup of herbs.)
Place in a sunny window and stir daily for 2-4 weeks. Strain the oil before use. Date and label and store in a cool, dark location.
Direct Heat Infusions
To make a salve with infused oils more quickly, you can used a direct heat infusion.
Place the fresh or dried herbs and oil in a double boiler, slow cooker or clean glass jar set in a pan of water. Use a ratio of roughly 4:1 – four parts oil to one part dried herbs.
Simmer the herb and oil mixture on low for about 4-6 hours. Strain and store or proceed with making the salve.
I reuse old extract jars for infused oil, but I also purchased some glass jars.
Oils are great for covering large areas (like when you get covered in mosquito bites or sunburned), but sometimes an ointment or salve is more convenient. For instance, to treat a single bite, or apply to hemorrhoids, or to pack in your purse – no spills!
Once you have an herbal infused oil, making herbal salves is quite simple.
These instructions are based on Healing Wise by Susun Weed. You can watch the video tutorial at top (make sure your ad blocker is off), or use the step by step directions below.
How to Make a Salve with Infused Oils
First, drain the plant material out of your oil. I use my Norpro Jelly Strainer.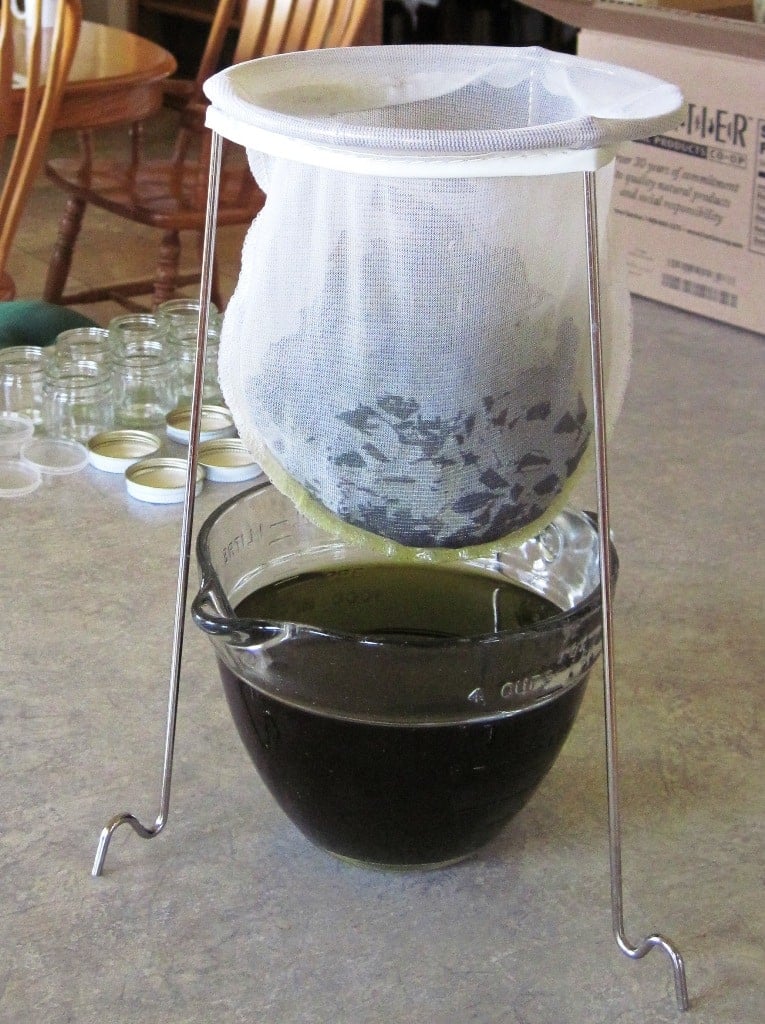 For each one ounce (30 ml) of infused oil, measure out one tablespoon (15 ml) of grated or granular beeswax. You can squeeze in a few drops of vitamin E oil to increase shelf life, but it's not essential.
Frontier has some very easy to use beeswax beads. They pack together more tightly than grated wax or pellets, so you should use a scant tablespoon. Here's a photo of the beeswax beads.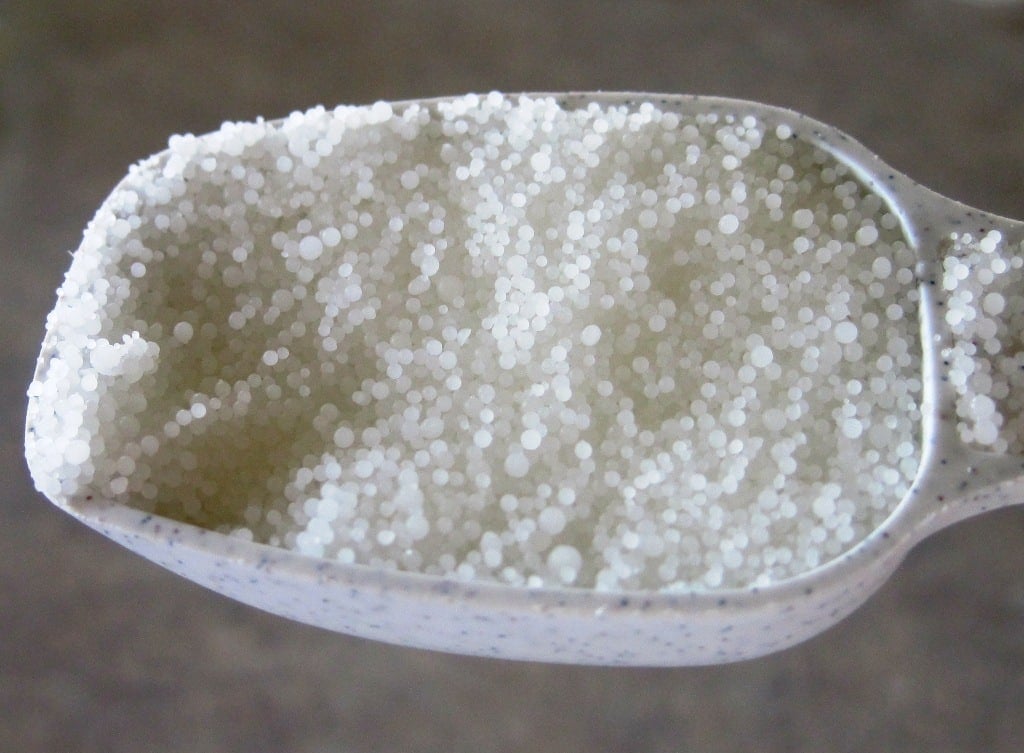 You can also grate bulk raw beeswax. Unbleached beeswax gives your salve a more golden color. (Get beeswax pellets here.)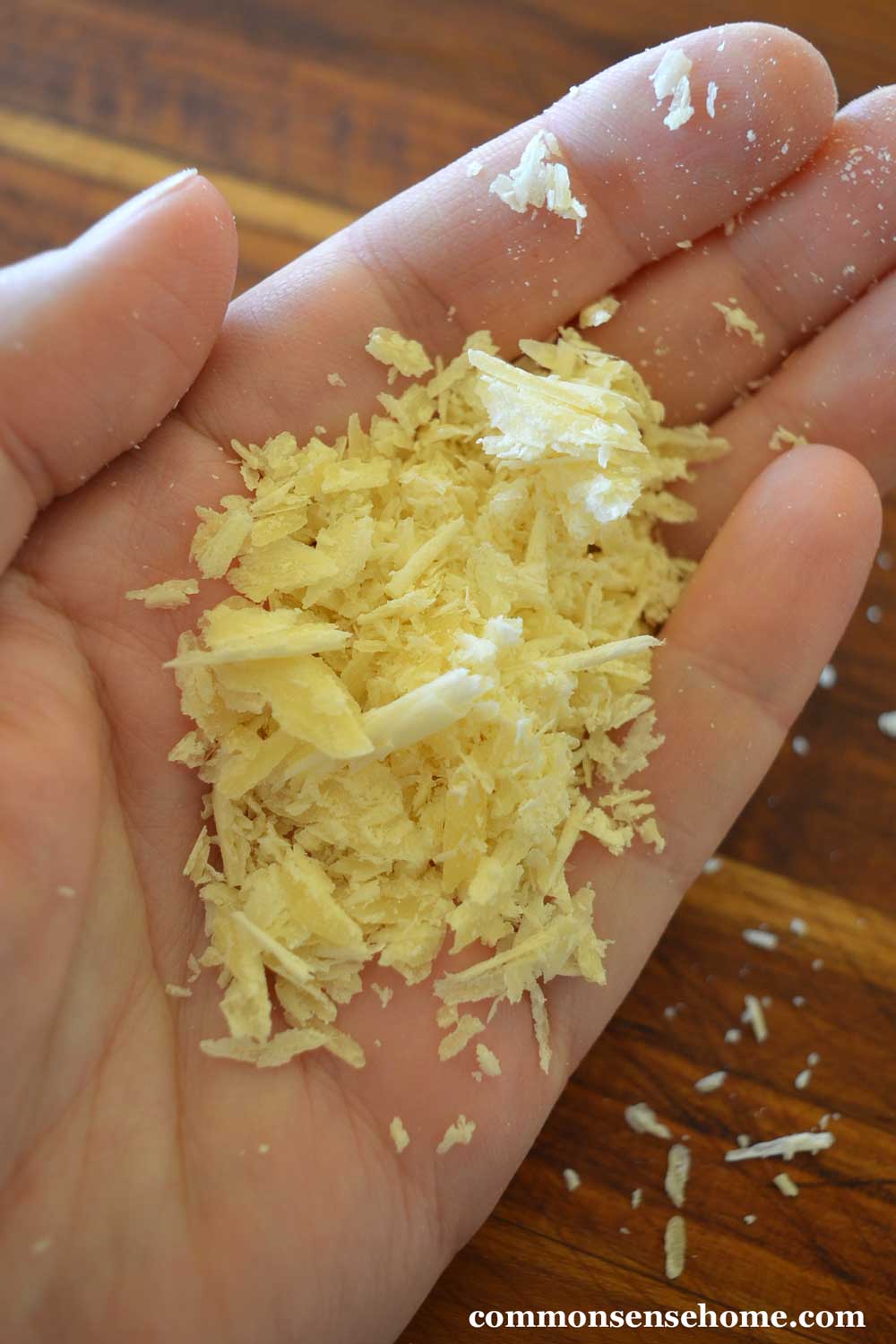 Combine the oil and beeswax in a heavy bottom pot, double boiler, or crock pot.
Place the pan on very low heat. I set the burner on my gas stove to its lowest setting.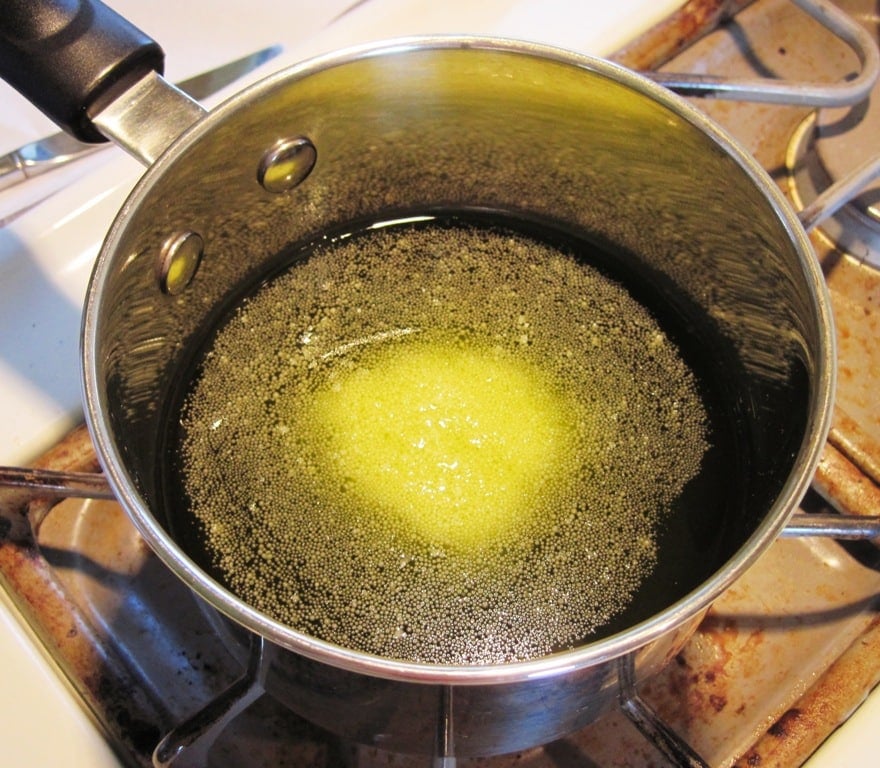 Stir constantly until the beeswax is totally melted. This happens very quickly if the wax pieces are small. I blinked and the beads were gone.
Pour the liquid into your containers and allow it to cool and solidify.
Containers for Your Infused Salve
I ordered both one ounce and two ounce containers.
The one ounce containers were plastic with flip tops, the 2 ounce were glass with metal caps. Below is all the finished salve and the extra bottles of oil I kept as oil.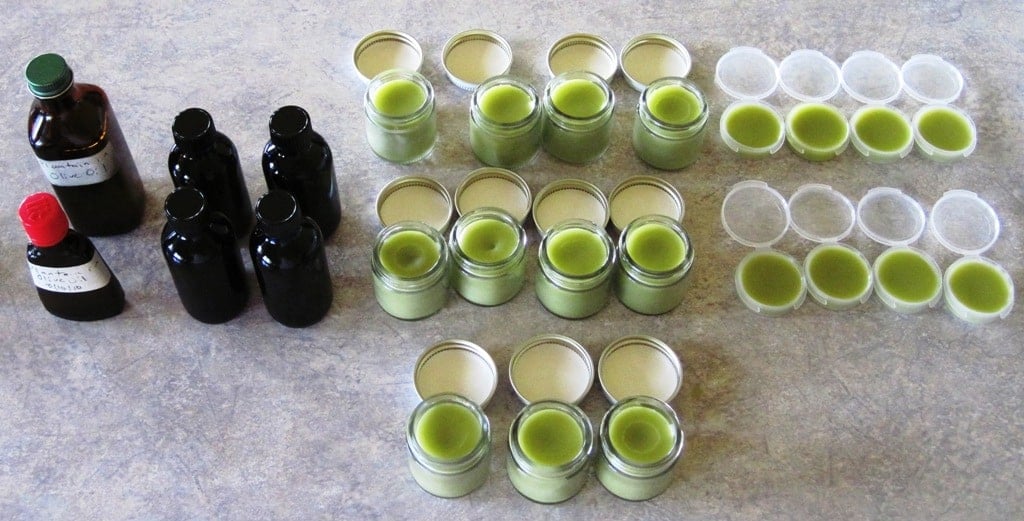 You can order containers online using the links below:
I sold some of these at the farmers market in 2010, and also gave some as gifts. It was a terribly wet year and the mosquitoes were out in full force, so the salve was pretty popular.
If you find the consistency of your salve to be too hard, remelt it and add more infused oil. If it is too soft, remelt and add more beeswax.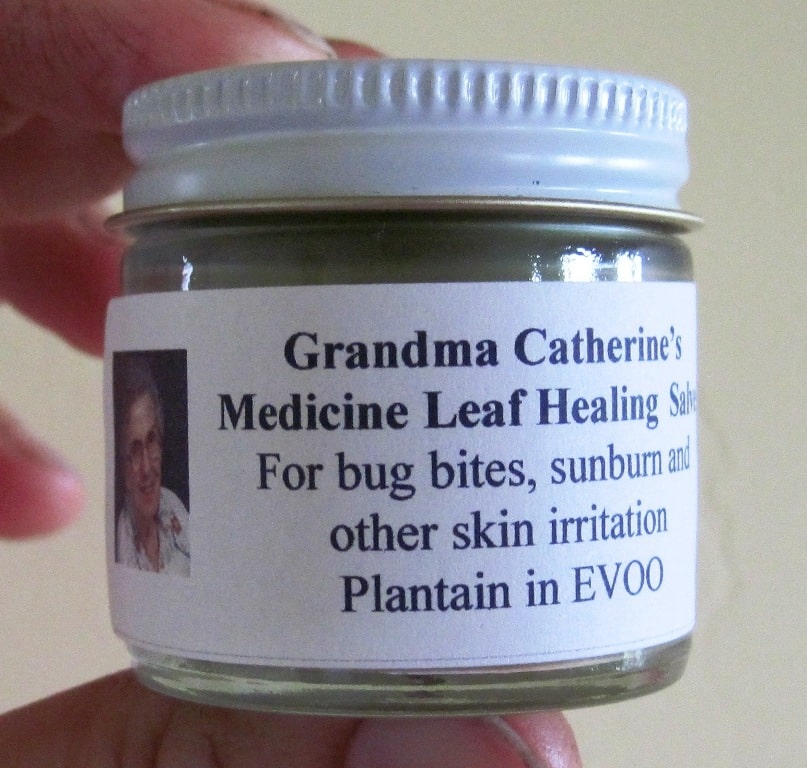 I made up labels with a picture of my grandmother on them, and named it Grandma Catherine's Medicine Leaf Healing Salve. I hope she'd approve.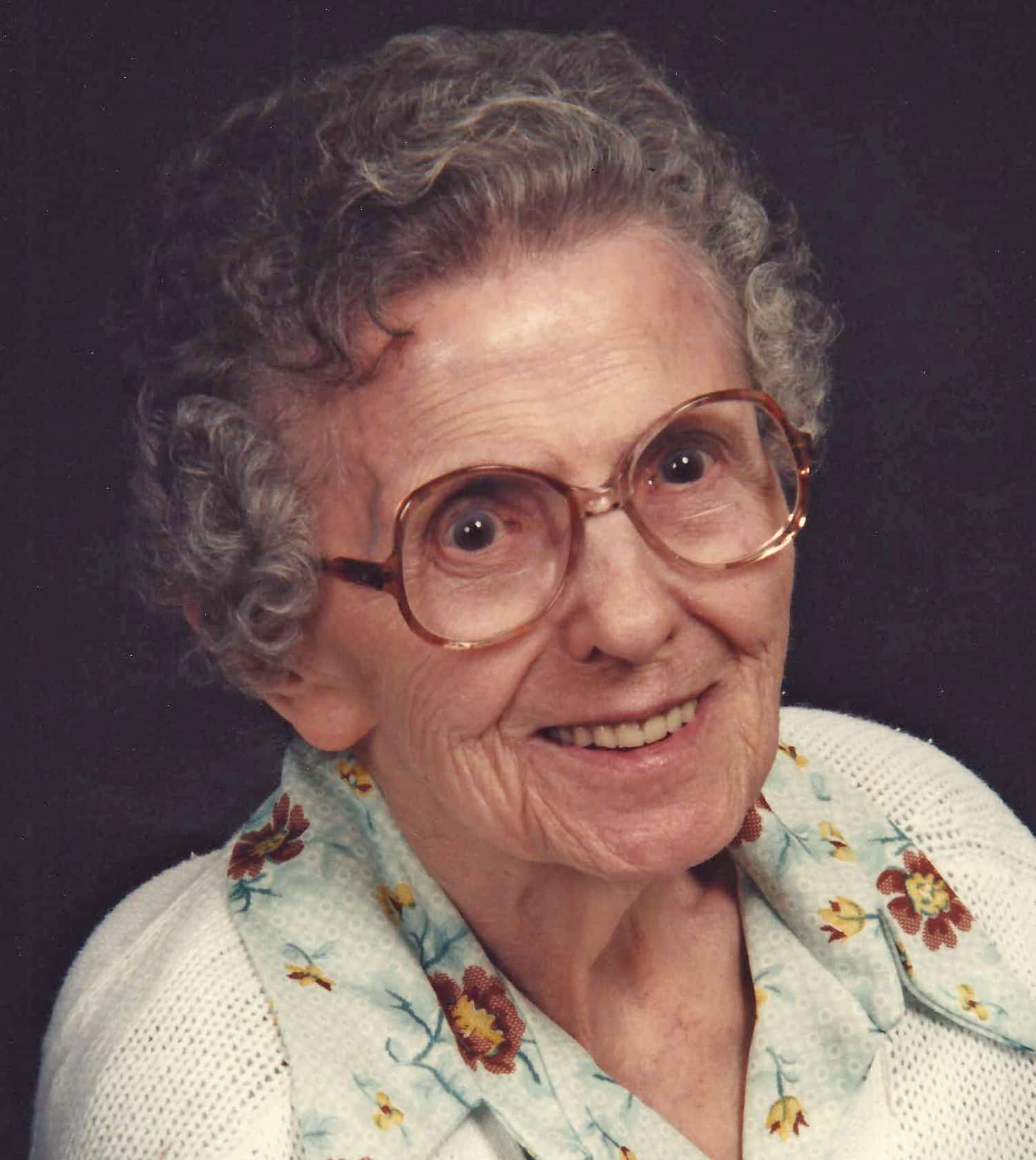 You can also use small (4 ounce) mason jars, or other containers with a tightly fitting lid.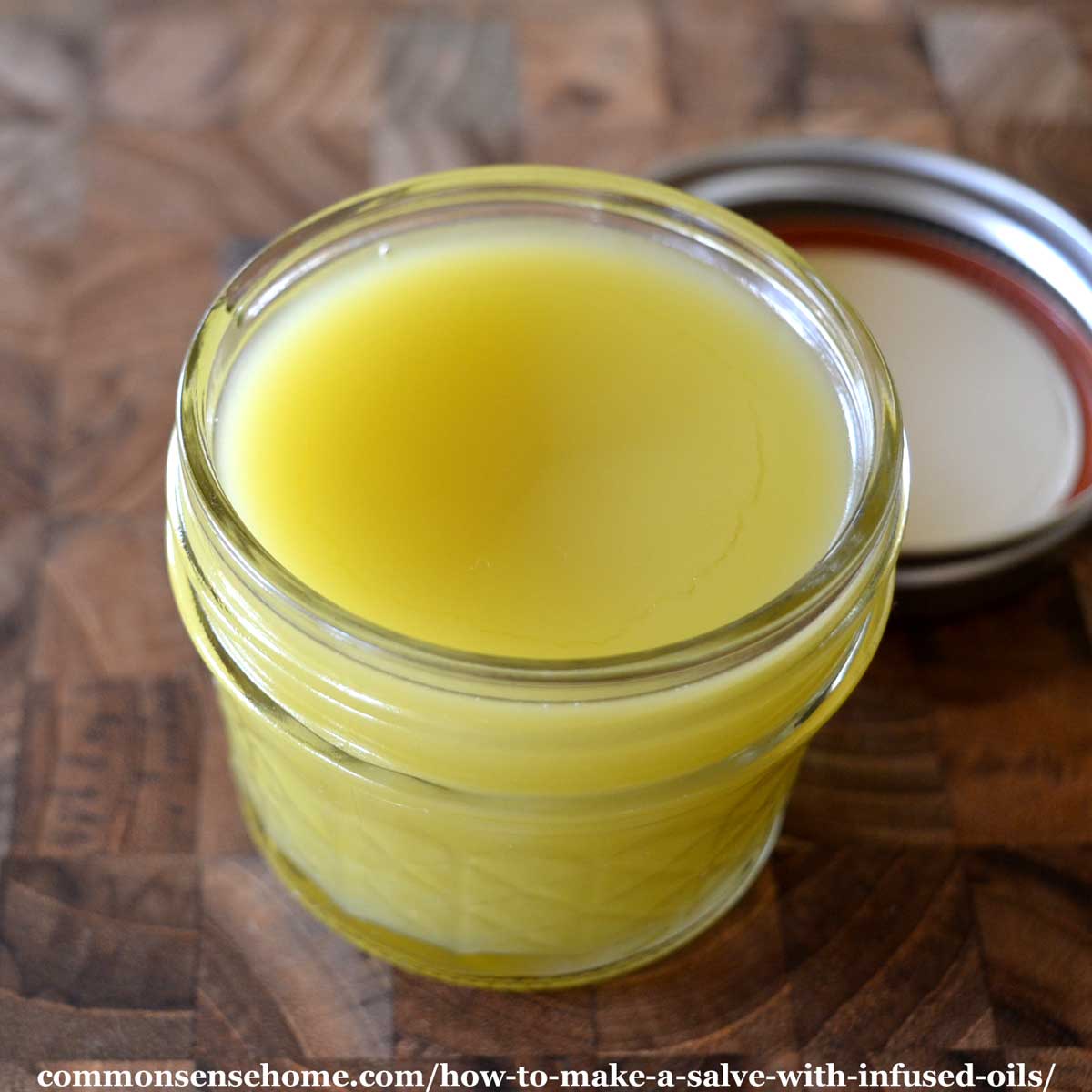 Want More Home Remedies and Herbal Info?
Check out the Home Remedies page and the Herbs and Wildcrafting page.
We have dozens of posts on the site to help you to learn about natural remedies and the medicine growing in your backyard.
You may also enjoy:
Originally published in 2011, last updated in 2020.