Natural Cleaners – How to Make Your Own Cleaning Products
Our recipes for natural cleaners can do more than clean, they can also save you a lot of money. They are easy to make and effective. If you can cook or follow a simple recipe, you can make your own natural cleaners.
Why Choose Natural Cleaners?
Any household cleaner should do two things:
One – clean the mess.
Two – kill bacteria and germs.
I'd like to add a third thing, but it's not necessarily a requirement. I also like it when things smell clean and fresh.
Cleaners should not cause breathing issues and asthma attacks, skin or eye irritations, damage brain function with neurotoxins, poison children, or contaminate our water and soil. Too many grocery store bought cleaners are filled with toxic ingredients.
Your cleaners shouldn't be making you and the planet sick in order to have a clean house. There's a better way to clean and I'll share how easy it is.
Natural Cleaner Ingredients
The best part about making your own natural cleaners is many of us already have most of the ingredients on hand, so there is little need to buy special equipment or supplies. These ingredients are biodegradable and don't contain petrochemicals or harmful toxins.
Shopping List
White vinegar
Castile Soap (We love Dr Bronner's)
Dish Soap (eco friendly)
Salt
Tea Tree Oil
Spray Bottle
Microfiber Cloths
Baking Soda
Essential Oils
Lemon Juice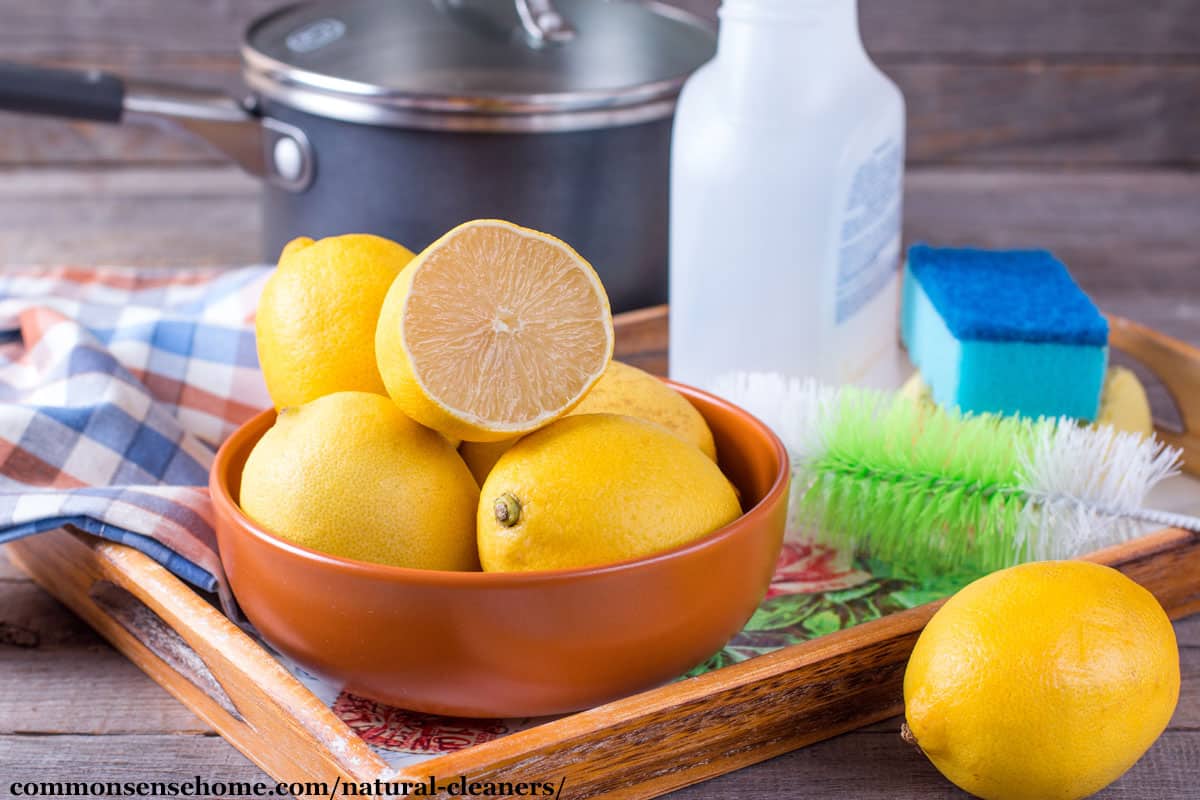 What the Ingredients Do
It's one thing for me to give you a recipe and say 'use this to clean this' but it's another thing to know the reason behind it.
I've found over the years that the 'reason' behind why I make everything from scratch is that it helps keep me motivated and gives me drive during the times in my life when I want to take shortcuts. It also helps me educate others who may be looking for eco-friendly alternatives and want to make their own natural cleaning products.
Vinegar can be used as a disinfectant and as a general cleaner. It kills odors, fungus, and breaks down grease. Some of the Pathogens vinegar can kill are nasty buggers such as E.coli, Salmonella, and Listeria monocytogenes.
Salt kills bacteria and is a wonderful ingredient to clean baked on foods or tough stains.
Lemon Juice and/or Citrus Essential Oils are antimicrobials and growth inhibitors to some bacteria.
Herbs and Essential Oils are known to have antimicrobial, antibacterial, antifungal, antiviral, and medicinal properties. When combined with vinegar, alcohol, or baking soda, they create a powerhouse natural cleaner.
How do I make a natural all-purpose cleaner?
Truth be told, you don't need ten different cleaners for your home. Your homemade natural kitchen cleaner will perform amazing in the kitchen and in the bathroom. Of course, don't tell the commercial cleaner industry that – they want to keep selling you multiple products.
One word of caution when using citrus oils… Citrus oils can eat plastic, so you may want to use a glass spray bottle for long term storage of cleaners that contain citrus oils. I use a 16 oz glass spray bottle for all of my cleaners.
In addition eating plastic over time, essential oils can remove varnish from wood. Be careful when using essential oils with wood surfaces.
All Purpose Cleaner Spray Recipe
This is a great natural cleaner for stainless steel and countertops.
Ingredients
¼ cup white vinegar
2 cup water
30 drops essential oil
Essential Oils To Try:
15 drops each lavender & lemon
10 drops each eucalyptus, peppermint, and wild orange
Directions
Add all ingredients to a spray bottle.
Shake thoroughly before spraying.
Spray on the surface, let stand for 5 mins
Wipe clean with a microfiber cloth or old cotton t-shirt.
Note: If you're concerned about vinegar residue on stainless steel, follow up with a damp cloth wipe down, then buff dry.
Glass Cleaner
This works great as a natural window cleaner, or for mirrors and other glass.
Ingredients
1/2 Cup White Distilled Vinegar
Distilled Water
1/2 Cup Rubbing Alcohol
4 Drops Essential of lavender essential oil and 4 Drops of Eucalyptus essential oil
Directions
Pour ingredients into a spray bottle.
Shake to blend.
Apply to the surface and wipe clean with a microfiber cloth or old cotton t-shirt.
Floor Cleaner
Ingredients
Directions
Combine all the ingredients in a large bucket.
Use a mop or rag to clean the floor.
Rinsing optional.
Toilet Bowl Cleaner
Here are three natural cleaner options for the toilet bowl. One is for general cleaning, one for stubborn stains, and one for hard water buildup.
Ingredients
1 ½ C white vinegar in a spray bottle
1 C baking soda
¼ C Salt (optional)
10 drops melaleuca (tea tree) essential oil
Directions
Mix baking soda and salt together.
Add the oils to the vinegar.
Spray the inside of the toilet bowl with the vinegar mixture
Sprinkle on the powder mixture. It should be fizzy; if it is not, spray a bit more vinegar.
Let the cleanser sit for 10-15 minutes before scrubbing with a brush.
Scrub with toilet brush
Flush the toilet and wipe the seat dry.
Overnight toilet cleaner: Sprinkle a cup or borax around the inside of the toilet. Spritz with vinegar and let rest overnight. Scrub with a toilet brush and flush.
For really tough toilet rings, try drywall sanding sheets. They buff off hard water rings so well your toilet may look like new.
Tile, Grout, and Tub Natural Cleaner
This natural cleaner is great for removing soap scum and mildew in the tub or shower.
Ingredients
Directions
Mix all the ingredients together. You can add more water depending on how thin or thick you want the mixture to be.
Paint the mixture on your tile grout with a foam craft brush (or your hand if you want to).
Let sit for 15 – 20 minutes.
Get it wet with a spray bottle,
Scrub with a scouring pad or stiff brush.
Wipe clean with a damp cloth.
Buff dry shower floor with dry towel.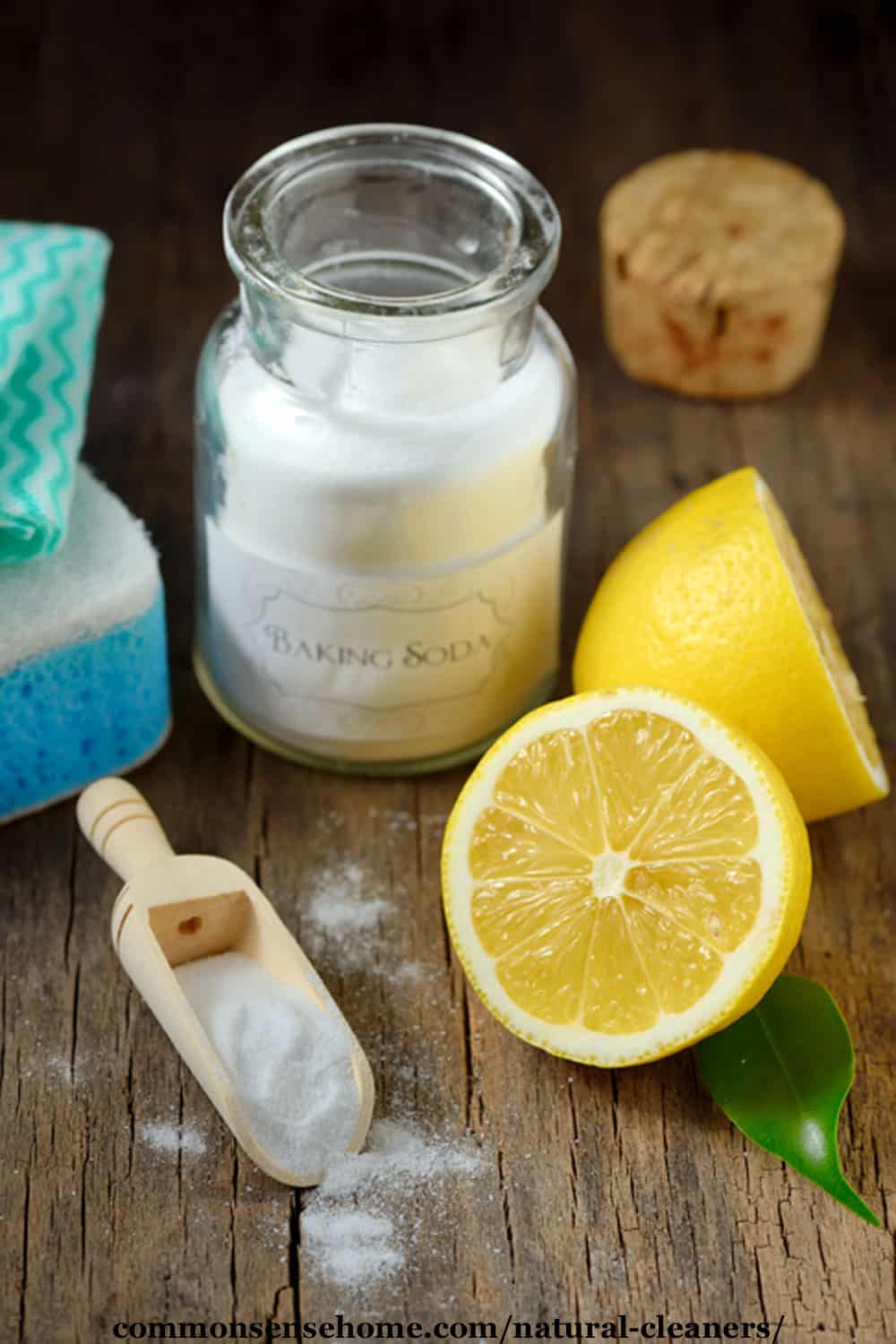 Microwave Cleaner
We don't have a microwave at our off grid cabin, but for those who do, this tip is for you – use steam.
Combine 1/2 cup lemon juice with one cup water in a microwave safe glass container. Place the container in the microwave and cook until it gets nice and steamy. Let sit until cooled, and then wipe down the inside of the microwave.
The steam helps to loosen the gook, and the citrus does double duty to fight bacteria and remove odors. You can use your no sew kitchen scrubbies made from produce bags to scrub off stuck food.
Garbage Disposal Cleaner
A garbage disposal is another thing we don't have in our kitchen, but they can be a major source of kitchen odors.
For a simple garbage disposal cleaner, run some citrus peels through the disposal with plenty of cold water. Contrary to some claims, ice cubes do not sharpen your disposal blades, but they can help clear stuck on debris.
If you don't have citrus peels, you can make ice cubes with lemon juice or vinegar and run them through the disposal to clean and freshen.
Carpet Freshener
Ingredients
1-2 C baking soda (depending on the area you'll be sprinkling it on)
15-30 drops essential oil
Directions
Mix in a container with a sprinkle top or one you can make holes in to create your own sprinkle top. We like to use old clean Parmesan cheese jars.
Sprinkle on the carpet.
Let sit on the carpet overnight
Vacuum as usual.
Essential Oils To Try:
Lemon
Peppermint
Lavender
Orange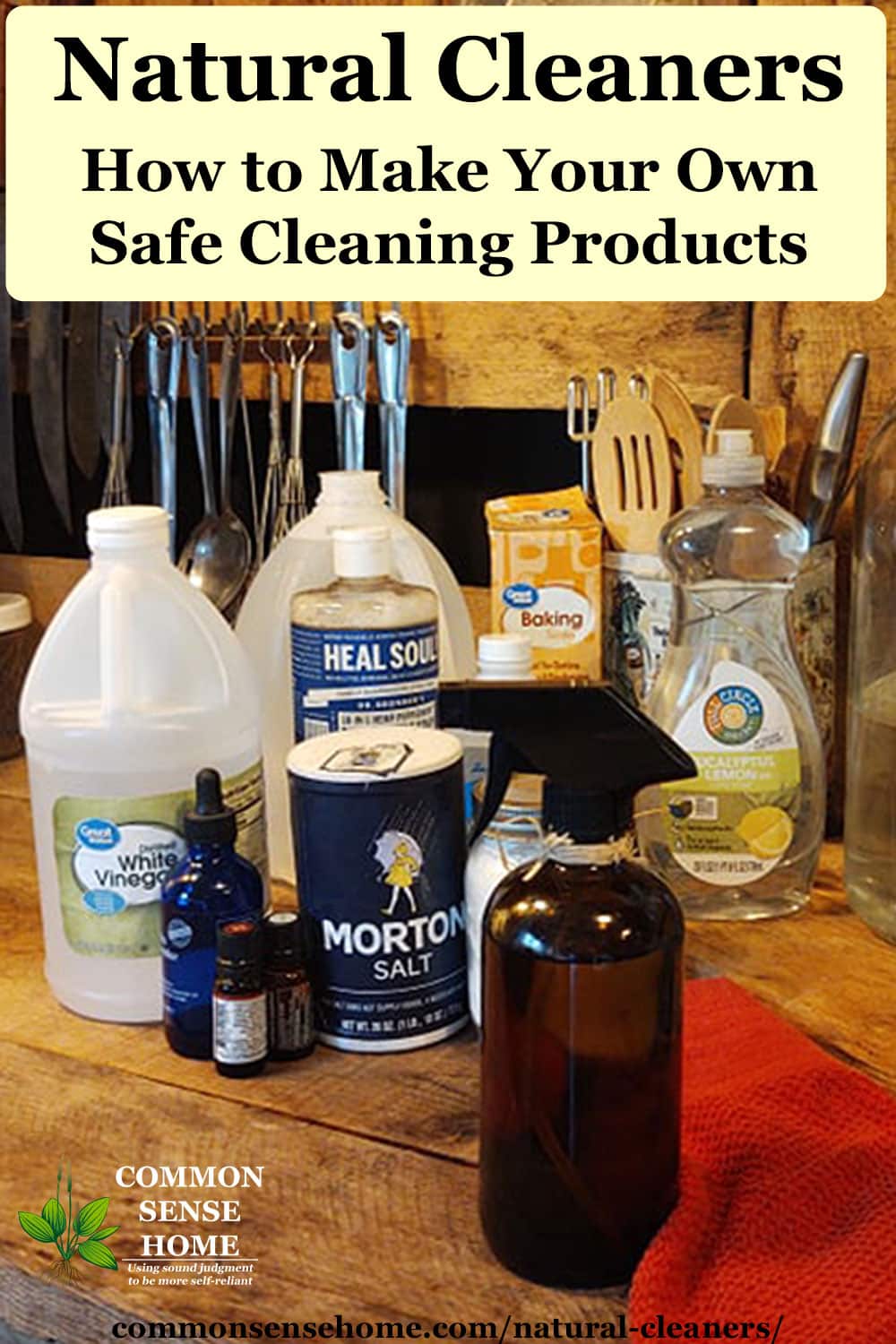 More Ideas for Cleaning Naturally
Be sure to visit the Green Home page for a full list of our eco friendly home tips, cleaning ideas, and safe pest deterrents, including:
Natural Stove Cleaners, Plus Tips for Removing Baked on Grime
Best Odor Eliminators for the Refrigerator, Freezer, Carpets, and More
6 Ways to Get the Musty Smell Out of Clothes and Towels
How to Remove Hard Water Buildup from Faucets and Showerheads
How to Get Rid of Fleas (Non-Toxic, Pet Safe Options)
Resources:
This post is by Amber Bradshaw of My Homestead Life. Amber and her family live off grid on forty-six acres in the Smoky Mountains in East Tennessee.
Originally published in 2013, last updated in 2021.