Apple Blossom Jelly – A Fun Way to Use Crab Apples
I decided to give apple blossom jelly a try to make use of the local crab apple trees, and ended up with a unique treat.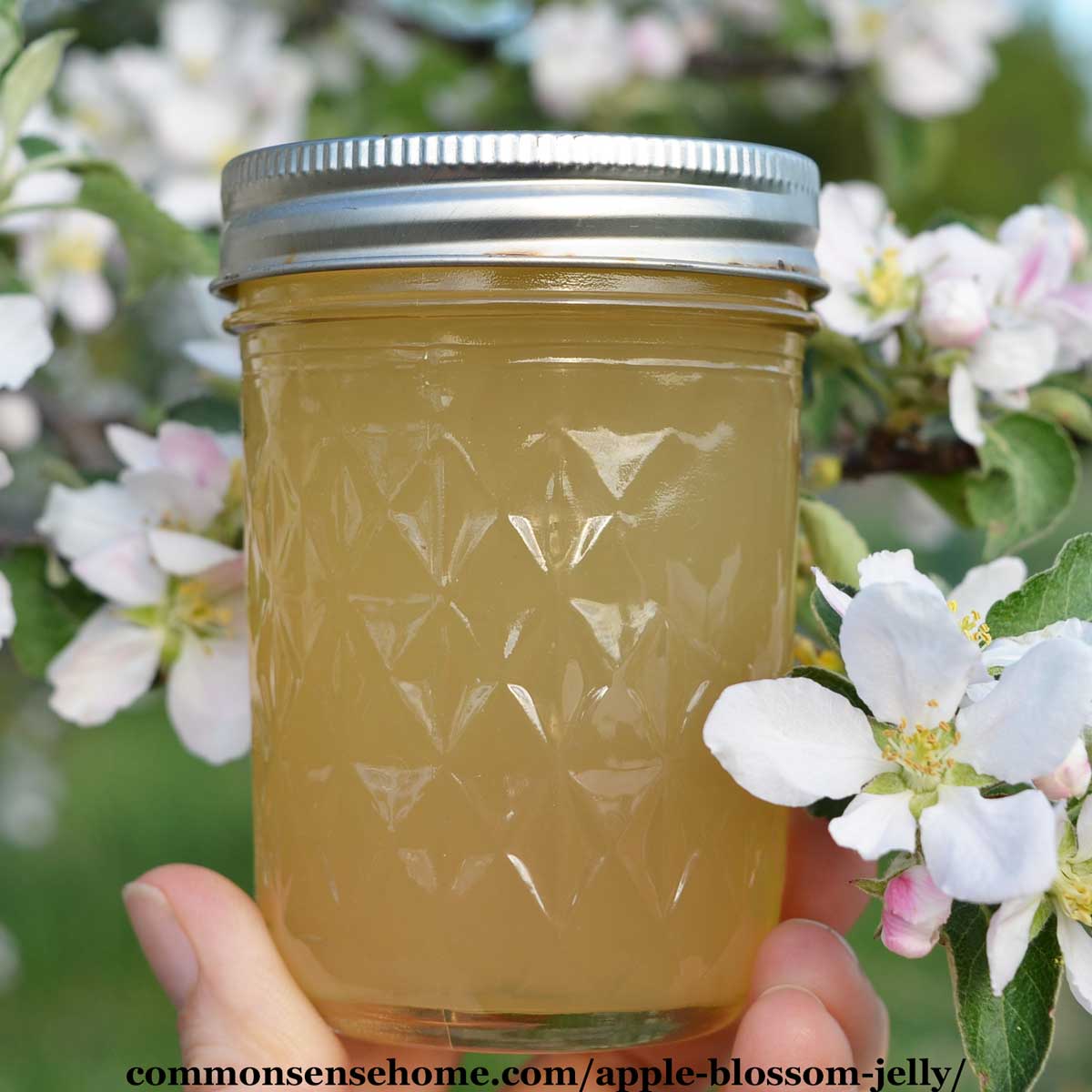 There are many wild apple trees in our area with small, bitter fruit. Since no one eats the fruit, blossom harvest doesn't cause a problem with apple harvest.
If you want to try apple blossom jelly, make sure your trees haven't been sprayed. (Watch out for nearby treated lawns.) You don't want herbicides or pesticides in your jelly.
If you want to harvest apple blossoms and apples from the same tree…
If you want to harvest petals and fruit from the same tree, wait until the blossoms start to drop. Once petals start falling, pollination is wrapping up and the blossoms will be gone in a couple of days anyway. Petals that are already falling off are also much easier to harvest.
How do I know my crab apples are safe to eat?
Assuming the trees haven't been sprayed, and you're sure it's an apple tree, they're safe to eat. The trick is that the apples might not taste very good.
The Surprisingly Sweet Secret of Crab Apples explains:
Given the seemingly infinite variety of crab apples growing in yards and parks all over, how do you know which ones to target for harvesting?

Simple: If you're positive it's a crab apple tree, pick one and bite into it. If you spit it out right away because it's acrid and impossibly tannic, skip that tree.

If it's sour but also has actual apple flavor and a crisp, not over-firm flesh, it's got potential. Dark red crab apples are pretty but usually more tannic.

Excerpt from "The Fruit Forager's Companion"
I can vouch for the dark red apples looking beautiful but tasting unpleasant. We've sampled fruit from many trees in our neighborhood, and the darkest fruit was easily the most bitter. Apple blossom jelly is a much better use of the tree than eating the fruit.
On the flip side, last year we found a wild apple tree that tasted almost identical to the yellow transparent tree my grandmother had years ago. The apples were small, but delicious.
If you find a tree with tasty fruit, try making easy apple jelly.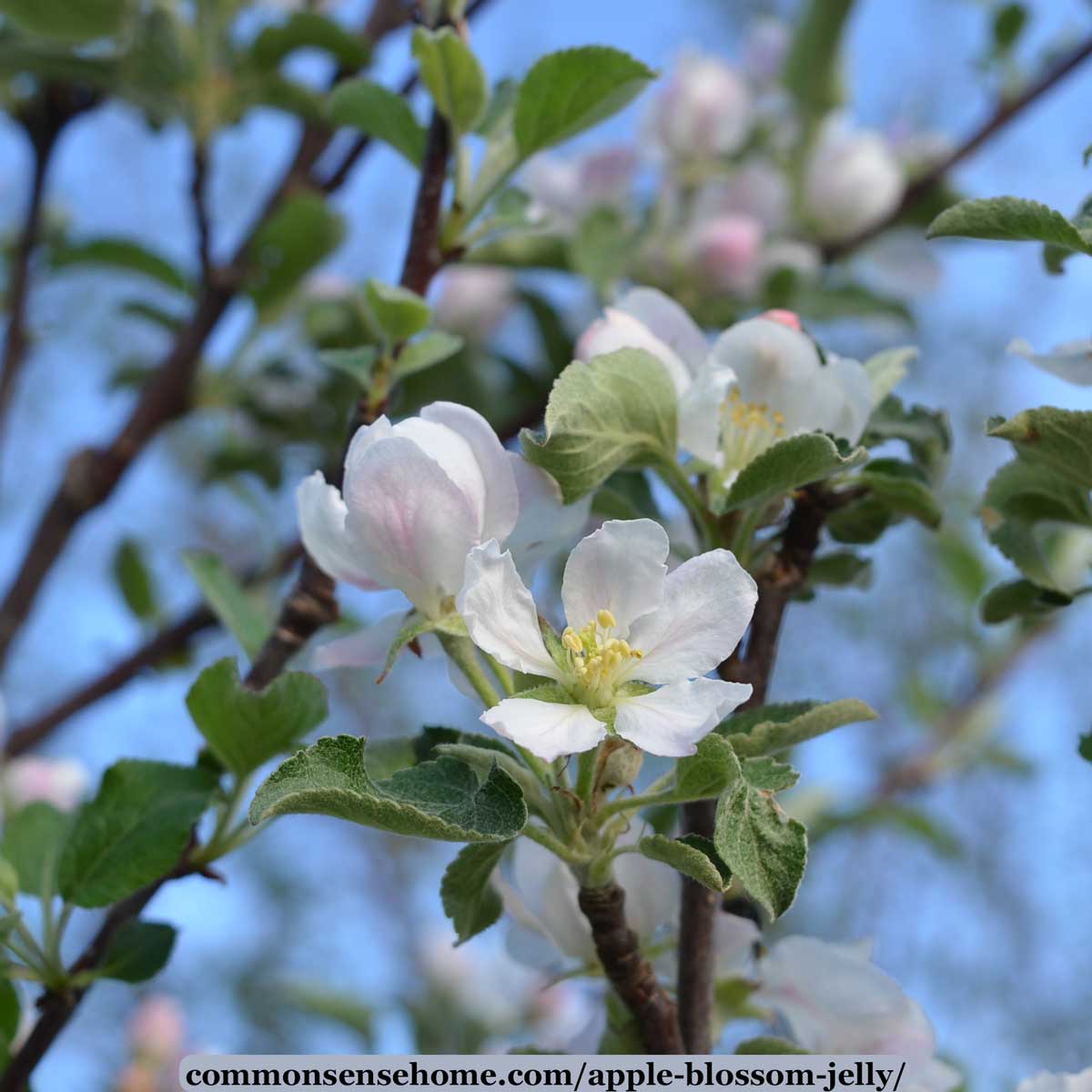 Apple Blossom Jelly Recipe
To make the jelly, you need:
4 cups (230 g) loosely packed, fresh apple blossom petals
4 1/4 cups (1 L) medium-hot water
1/2 cup (120 ml) bottled lemon juice
3 teaspoons (21.3 ml) calcium water (included with Pomona's Pectin, see note below)
1 cup (200 g) sugar
3 teaspoons (12.8 g) Pomona's Pectin Powder
If possible, pick petals in the late morning, after the dew clears. Gather in a large basin, then sort to remove any bugs or debris. Remember, you only want the petals, not the entire apple blossom.
Because the flavor of the flowers is so delicate, I don't recommend washing the petals.
Pour the hot water over the apple blossom petals and allow to steep, covered, for 20-30 minutes. Strain the tea and measure 4 cups of the liquid into a stockpot.
Add the lemon juice and calcium water to the blossom tea. Bring to a rolling boil and add sugar/pectin mixture.
Return to a boil, stirring to dissolve sugar and pectin. Cook one minute and then turn off heat.
Process for 10 minutes in a boiling water canner.
What is Calcium Water?
Calcium water is mixed up from a calcium powder packet included in each box of Pomona's Pectin. It allows jams and jellies to gel with little or no added sugar.
To make calcium water: Combine 1/2 teaspoon (1.5 g) of calcium powder with 1/2 cup (120 ml) water in a small jar with a lid.
You can make several batches of jam or jelly from each batch of calcium water, so one box of Pomona's Pectin goes a long way. Store calcium water in the refrigerator and it will last for several month – unless you make a lot of jam and jellies!
Buy Pomona's Pectin online, or check local stores that carry canning supplies.
What does apple blossom jelly taste like?
This surprised me, because the blossoms are so fragrant, but our apple blossom jelly has a delicate apple flavor.
Print
Apple Blossom Jelly
Use apple blossoms to create a delicate, apple flavored jelly.
Author:
Prep Time:

40 minutes

Cook Time:

10 minutes

Total Time:

50 minutes

Yield:

5 cups

1

x
Category:

Condiment
4 cup

s loosely packed apple blossom petals

4 1/4 cup

s medium-hot water

1/2 cup

bottled lemon juice

3teaspoon

s calcium water (included with Pomona's Pectin)

1 cup

  sugar

3 teaspoon

s Pomona's Pectin Powder
Prep your water bath canner, clean jars and two piece canning lids. Sterilize your jars.
Harvest apple blossom petals and sort, removing any dirt or debris.
Make an "apple blossom tea" by placing the flower petals in a heat-resistant bowl and covering them with the hot water. Place a cover over your bowl, and allow the petals to steep for 20-30 minutes.
Strain out the flower petals with a fine mesh strainer, cheesecloth or flour sack towel. Squeeze out as much liquid as possible. Compost the flower petals and save the apple blossom tea for the next step.
Measure 4 cups of apple blossom tea into a stockpot. (Add a little extra water if needed.) Add lemon juice and calcium water to the pot and mix well.
In a separate bowl, combine sugar and pectin. Mix thoroughly and set aside.
Bring flower water mixture to a full boil over high heat. Slowly add in pectin-sugar mix, stirring constantly. Continue stirring to dissolve pectin, and bring jelly back up to a full boil. Once a full boil is reached, turn off the heat.
Ladle finished apple blossom jelly into warm jars, leaving 1/4 inch of headspace. Wipe rims with a damp cloth. Cover jars with two piece lids and tighten finger tight. Place jars in canner with at least 1-2 inches of water covering the jars. Process jars for 10 minutes at a rolling boil.
Remove jars and place on a kitchen towel on the counter. Allow jars to cool completely, undisturbed, for 12 to 24 hours. Remove rings and check seals. Date and label jars and store in a cool, dry location, out of direct sunlight.
Notes
This recipe makes a soft-set jelly. If you prefer a firmer jelly, increase pectin and calcium water amounts to 4 teaspoons each.
Keywords: jelly, flower jelly, apple blossoms
More Jam and Jelly Recipes
If you like apple blossom jelly, you may want to explore more of our recipes. We have dozens of jam and jelly recipes on the site, including several flower jellies, all listed on the Recipes page.
They include:
For more on edible flowers, see the Edible Flowers List with Names and Pictures.
We also have fun flavor combinations like:
Have you made any flower jams or other crab apple recipes? Leave a comment and let me know.