Common Blue Violet – Identification, Use, Folklore
Common blue violets (Viola sororia) are perennial wildflowers native to North America. These bright little plants are also useful for food and medicine.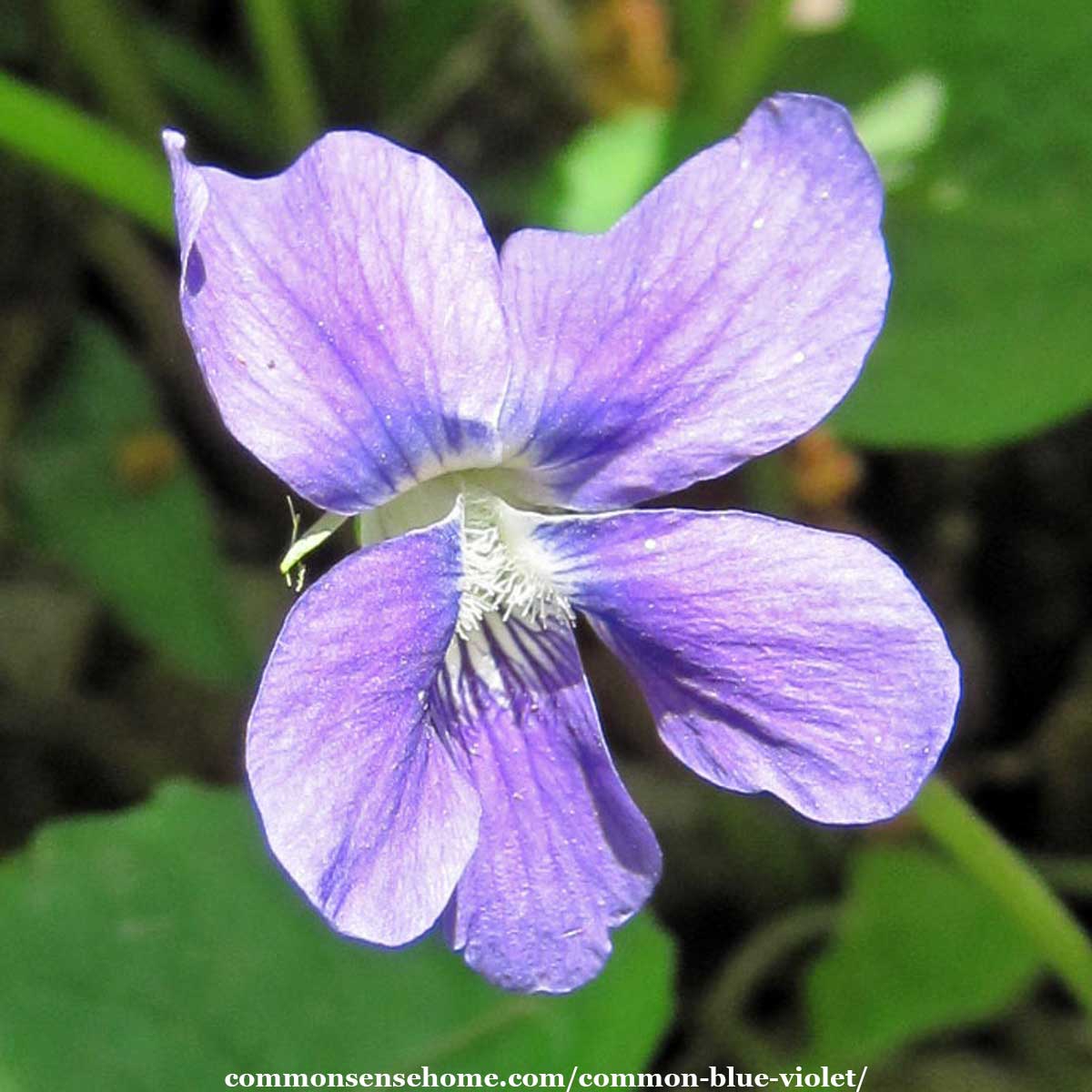 Common Blue Violet Identification
Blue violets bloom abundantly in springtime with flowers that that resemble miniature orchids. There are five dark blue/purple petals and white throats. Blue violet flowers emerge on flower stems separate from the leaves, and are about 1″ (2.5 cm) across. The blossoms have a delicate and distinctive fragrance.
Common violets are perennial, blooming in the spring/summer and dying back in fall/winter. They propagate mostly by underground runners, but also produce seeds – but not from the purple flowers.
Seeds set in autumn on small green flowers without petals that hide in the foliage (cleistogamous flowers). You won't damage your patch at all by harvesting the purple flowers. The cleistogamous flowers are self fertile, and produce seeds during the summer, which get ejected from the seed capsules.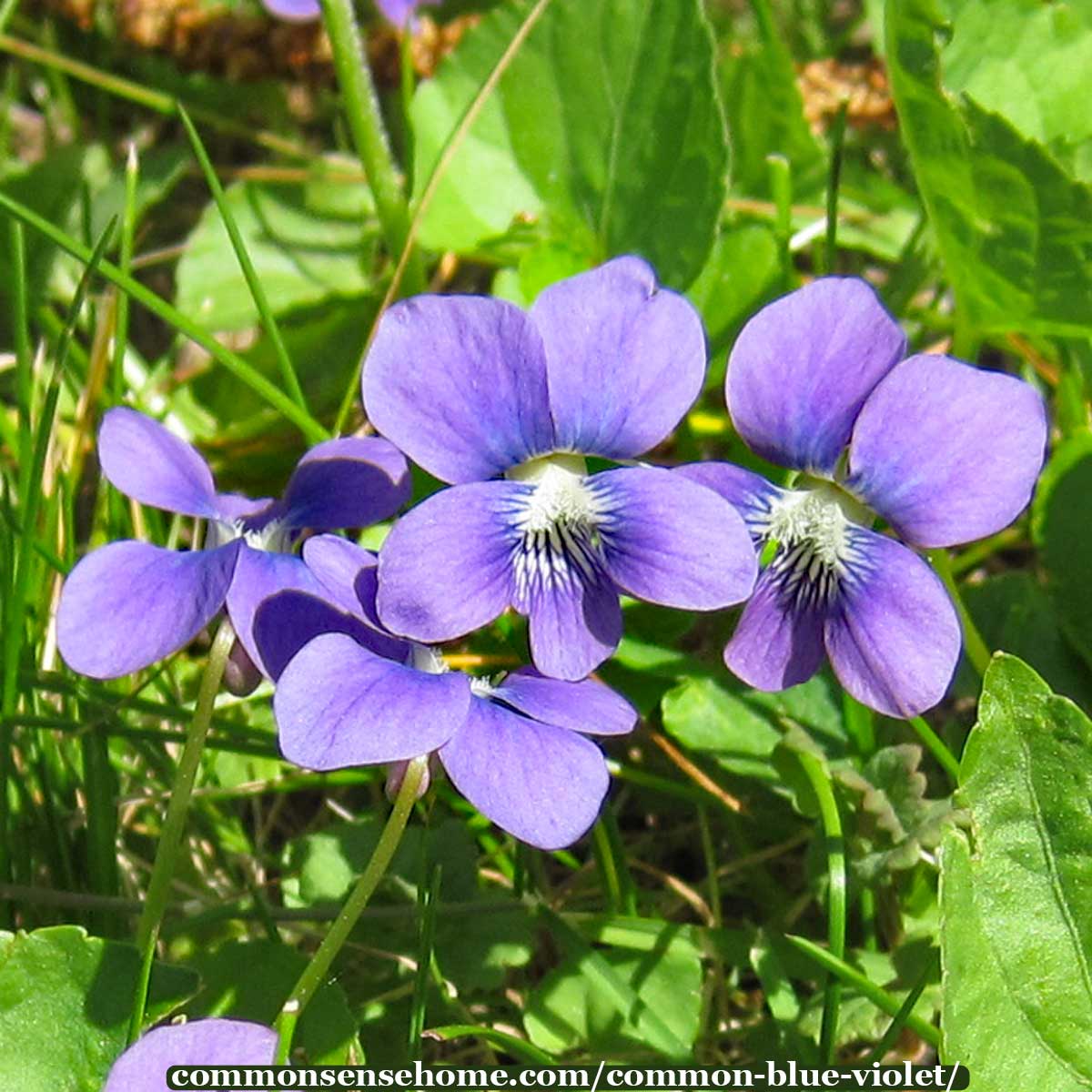 The heart shaped leaves curl slightly at the edges, but flatten as they age. The leaves are high on individual stalks rising from the base of the plant. They spread readily once established in a moist, shady area.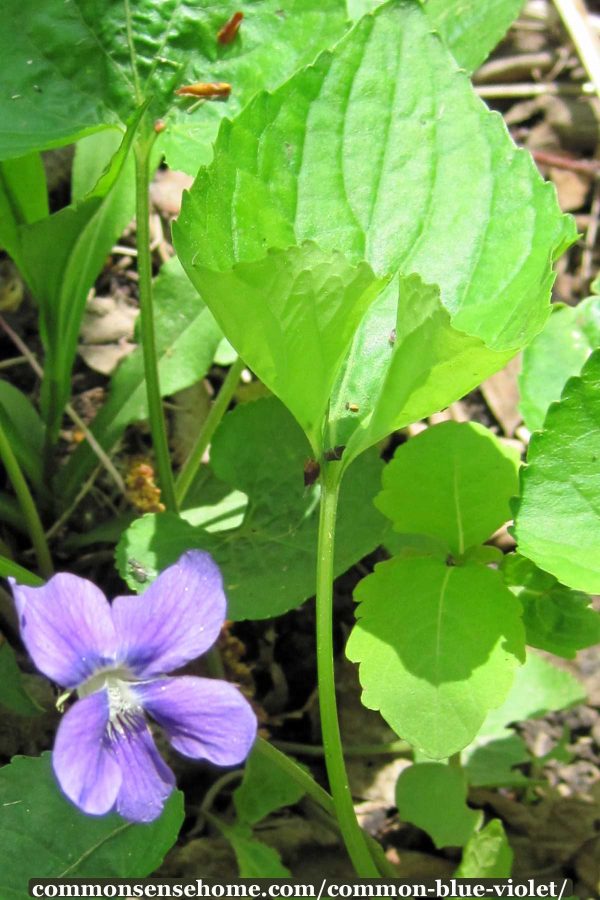 Where to find Common Blue Violets
Viola sororia is native to eastern North America, and can be found throughout most of the eastern United States and Canada. (source)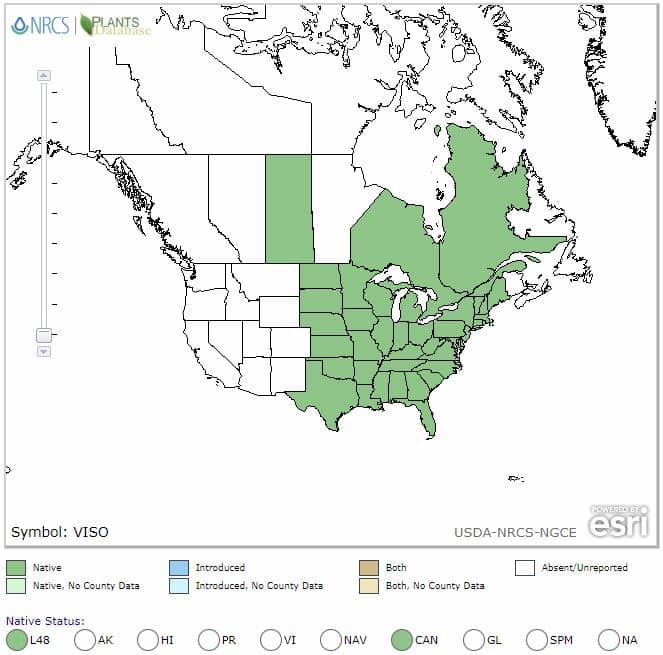 The range overlaps in some areas with viola odorata, which is native to Europe and Asia.
They are shade loving plants, and can be found in moist woods and gardens, or a partly shaded lawn. (The pictures for this post were taken in a friend's yard.) They prefer rich silty loam or clay soil that is high in organic matter.
Food Uses
Please make sure to properly identify any plants before consuming. It's best to harvest while the plants are blooming to make identification easier.
Both leaves and flowers of common blue violet are safe for human consumption. They are mild and somewhat bland. Large amounts of leaves or flowers may have a laxative effect, so enjoy in moderation.
Look for younger leaves that recently emerged for best flavor. When used in soups, the leaves are slightly mucilaginous, giving them the nickname of "wild okra" in some areas.
To make a simple violet vinegar for use in salad dressing, fill a small jar with blossoms (don't wash them) and cover with a good quality vinegar such as white wine vinegar, cider vinegar, or rice vinegar. Cover and let steep from 1-6 weeks before using. (The flavor becomes more pronounced as it ages.)
Healing Wise by Susun Weed gives a plethora of violet recipes from vinegar and syrup to soup and salad. Susun sings the praises of sweet violets, citing that 100 grams of fresh spring leaves contain 264mg of ascorbic acid (a component of vitamin C) and 20,000 IU of vitamin A, as well as an assortment of trace minerals.
If you want more recipes, Healing Wise is the book for you. It's a a whimsical exploration of seven common healing herbs and their uses. Samuel Thayer also has simple violet recipes in his book "Incredible Wild Edibles".
Remember, the darker the color of the flowers, the darker the infusion. If you're blessed with deep purple blossoms, you may want to try this beautiful violet jelly.
Print
Violet Jelly Recipe
A delicate floral jelly made with violet flowers.
Author:
Prep Time:

9 hours

Cook Time:

10 minutes

Total Time:

9 hours 10 minutes

Yield:

6 cups

1

x
Category:

jelly

Method:

canning

Cuisine:

American
2

c

. packed violet blossoms, no leaves, no stems

2

c

. boiling water

1/4

cup

lemon juice

4

cups

sugar
One

3 ounce

pouch Certo Liquid pectin
First, infuse the blossoms in the water. Place the blossoms in a heat resistant container and pour the boiling water over. Allow them to steep 8 hours or overnight.
When ready to can, sterilize six 8-ounce jars or 11 four ounce jars, keep hot. Heat lids and rings in hot water, keep warm but not boiling. Fill water bath canner and bring to boil.
Strain the flowers out of the water. Squeeze dry. You should have 1 3/4 cup infused water. Add more water if needed.
Place the flower infusion, lemon juice and sugar in a large heavy bottom pot. Bring to a rolling boil. Add pectin, return to boil. Boil for two minutes, stirring constantly.
Remove from heat. Ladle jam into sterilized jars leaving 1/4″ headspace. Wipe rims clean and screw on the lids. Process for 10 minutes in water bath canner (add 1 minute for every 1,000 feet above sea level). Makes around 6 half pint jars or 11 – 4 ounce jars.
Notes
Only deep purple blossoms will make a purple violet jelly. Light purple flowers will make jelly that is pale in color.
Although the recipe card gives the option to double or triple the recipe, single batches are recommended for best results.
Medicinal Use
Medicinally, Susun Weed recommends violets for treatment of cancers, for relief from various breast ailments, for headaches (the plants contain salicylic acid), for respiratory trouble and for wound healing. (Yes, all this this from a little blue flowered weed.)
Edible & Medicinal Wild Plants of the Midwest sites historical use of violets for respiratory issues, headaches, fevers, inflammation, and more.
Recent studies using viola species extracts for cancer treatment showed reduced metastasis and cancer cell death.
The Backyard Herbal Apothecary features simple violet preparations for internal and external use. Devon Young shares recipes for teas and infusions, syrups and creams. Healing Wise and The Backyard Herbal Apothecary are excellent compliments to each other.
Folklore
The Backyard Herbal Apothecary notes that in mythology, the Greek god Zeus created a field of violets for a lover he turned into a white heifer to avoid the wrath of Hera. In Roman mythology, Venus beat maidens blue and turned them into violets after her son, Cupid, said the maidens were more lovely than his mother.
Early Christians said that violets turned downward after the crucifixion, and viewed them as symbols of modesty and humility, while pagan cultures associated them with love and lust.
Most people have heard the simple children's rhyme,
Roses are red
Violets are blue
Sugar is sweet
And so are you
The name has also come back in fashion in recent years. (Everything old is new again.)
Wildlife Uses
The flowers are not popular with pollinators, but are sometimes visited by mason bees and pollinating flies. Fritillary butterfly caterpillars eat the leaves.
Mice and some birds, such as mourning doves, eat the seeds. Deer, rabbits, and livestock will eat the leaves, but it's not a preferred forage.
Other Names
Common Blue Violet is also known as Pansy, Heart's Ease, Jump-Up, Wild Pansy, Hens and Roosters, kiss-me-at-the-gate. Other names include purple violet, woolly blue violet, hooded violet, confederate violet, wood violet, and garden violet.
There are over 70 species of the family violaceae in the United States, and most have similar medicinal and food qualities. Some common species with purple flowers include Viola odorata (sweet), Viola papilionacea (wood) and Viola cucullata (marsh).
Note: These are a different species from African Violets (Saintpaulia ionantha), which have round, fuzzy leaves and are commonly grown as a specimen plant in the U.S.. Don't eat Saintpaulia ionantha!
State Flowers
Violets are the state flower for Illinois, Rhode Island, New Jersey, and Wisconsin:
Illinois (Purple violet – Viola)
New Jersey (Viola sororia)
Rhode Island (Viola)
Wisconsin (Wood violet – Viola papilionacea)
More Ways to Use Wild Plants
This post is #23 in the Weekly Weeder series, which is all about wild plants – how to identify and use them, where they grow, and how to get rid of them, if needed.
Other posts in the series include:
Also recommended:
Wildflowers Of Wisconsin is a helpful plant guide with great full color photos and descriptions for identifying wildflowers.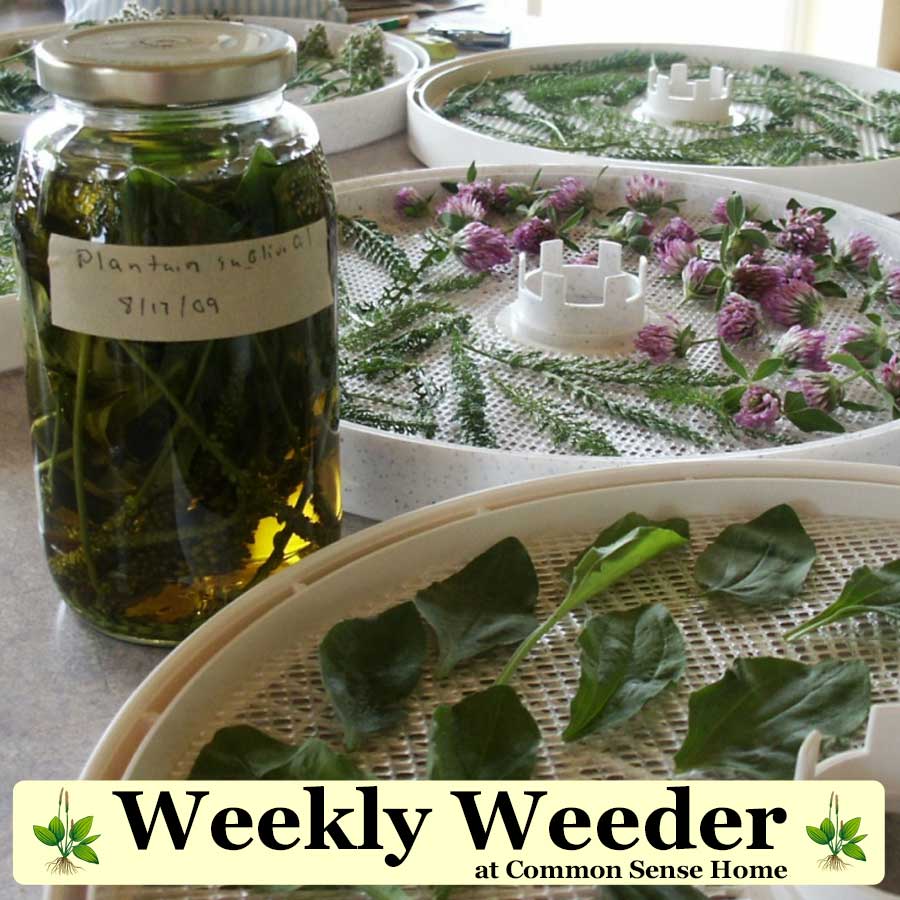 Originally published in 2012, updated in 2019.