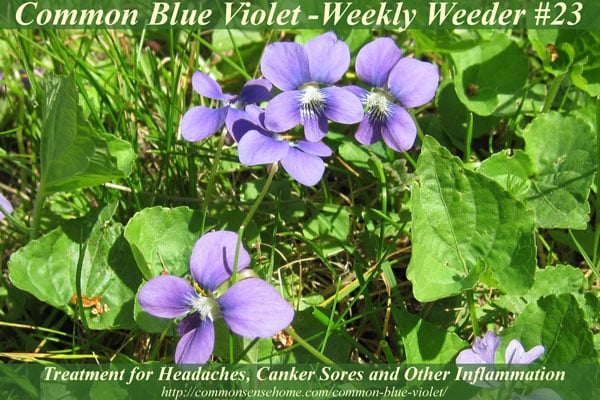 Today's featured plant is Common Blue Violet, Viola sororia sororia.
Common Blue Violet is also known as Purple Violet, Wood Violet, Sweet Violet, English Violet, Common Violet, Pansy, Heart's Ease, Jump-Up, Three Color Violet, Trinity Violet, Wild Pansy, Hens and Roosters, Butterfly Violet or Garden Violet. Note:  These are a different species from African Violets (Saintpaulia ionantha), which had round, fuzzy leaves and are more commonly grown as a specimen plant in the U.S.. Don't eat the African violets!
Range and Identification of Common Blue Violet
Common Blue Violet is native to eastern North America, and can be found throughout most of the eastern United States and Canada (see violet range map). It is a shade loving plant, and can be found in moist woods and gardens, or a partly shaded lawn. (The pictures for this post were taken in a friend's front yard.)
The plant is a perennial, blooming in the spring/summer and dying back in fall/winter. It propagates mostly by underground runners, but also produces seeds – but not from the purple flowers. Seeds are set in autumn on small green flowers that hide in the foliage – so feel free to harvest as many flowers as you want. You won't damage your violet patch at all. Illinois wildflowers states: "During the summer, cleistogamous flowers without petals produce seeds, which are flung outward by mechanical ejection from the three-parted seed capsules."
The  common violet blooms abundantly in springtime with flower that that resemble miniature orchids. There are five dark blue/purple petals and a white center. The flowers emerge on stalks separate from the leaves, and are about 1″ (2.5 cm) across. Leave are heart shaped, curling slightly at the edges, but flattening as they age. Each leaf stands on its own stalk rising from the base of the plant. They will readily spread once established in a moist, shady area. (See Wildflowers of Wisconsin for more information.)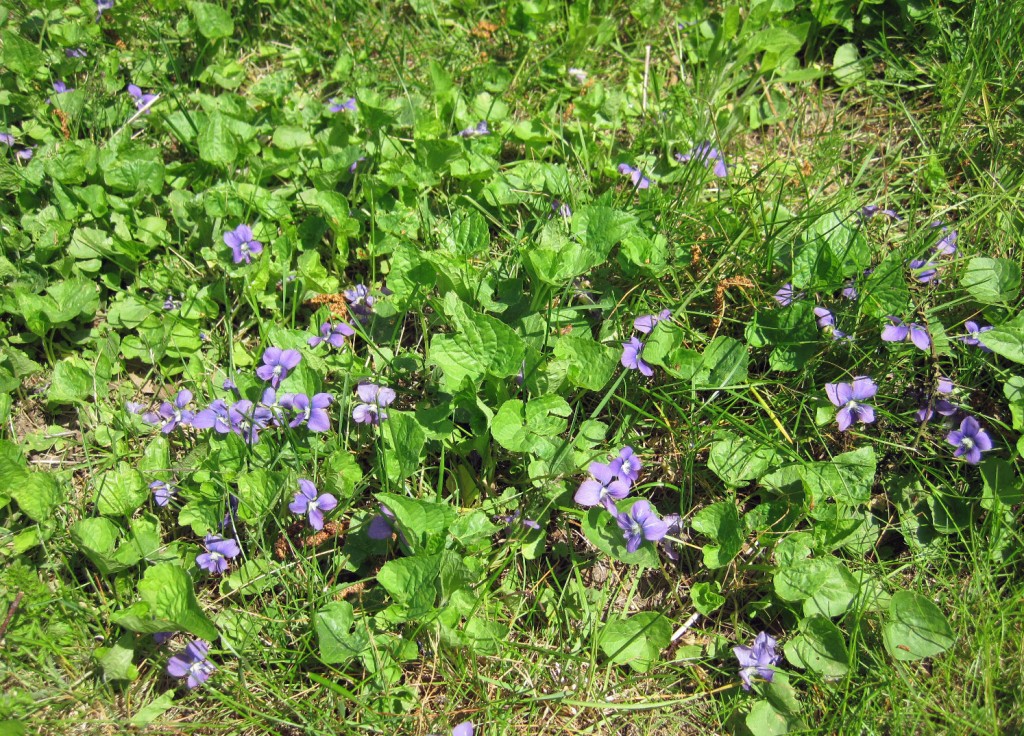 Common Blue Violet for Food
Illinois Wildflowers tells us which animals use the common violet for food:
The flowers are not often visited by insects (hence the need for cleistogamous flowers), but sometimes they attract bees (e.g., Mason, Halictid), skippers, Syrphid flies, and other insects. The Syrphid flies, however, feed only on stray pollen and are non-pollinating. The caterpillars of many Fritillary butterflies feed on the foliage. The seeds have soft appendages that attract ants, which are in part distributed by them. Various upland gamebirds and small mammals occasionally eat the seeds, including the Wild Turkey, Bobwhite, Mourning Dove, and White-Footed Mouse. Wild Turkeys also eat the leaves and fleshy roots of Viola spp. (Violets). Although it is not a preferred food source, mammalian herbivores occasionally eat the foliage of violets, including the White-Tailed Deer, Cottontail Rabbit, and livestock.
Both leaves and flowers are safe (and reasonably tasty) for human consumption. They are mild and somewhat bland.  Roots can be used medicinally with caution. Healing Wise by Susun Weed gives a plethora of violet recipes from violet vinegar and syrup to soup and salad. Susun sings the praises of sweet violets, citing that 100 grams of fresh spring leaves contain 264mg of ascorbic acid (a component of vitamin C) and 20,000 IU of vitamin A, as well as an assortment of trace minerals.
Print
Violet Jelly Recipe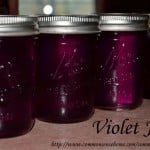 A delicate floral jelly made with violet flowers.
Ingredients
2 c. packed violet blossoms, no leaves, no stems
2 c. boiling water
1/4 cup lemon juice – fresh is great if you have it
4 cups sugar
One 3 ounce pouch Certo Liquid pectin
Instructions
First, infuse the blossoms in the water. Place the blossoms in a heat resistant container and pour the boiling water over. Allow them to steep 8 hours or overnight.
When ready to can, sterilize six 8-ounce jars or 11 four ounce jars, keep hot. Heat lids and rings in hot water, keep warm but not boiling. Fill water bath canner and bring to boil.
Strain the flowers out of the water. Squeeze dry. You should have 1 3/4 cup infused water. Add more water if needed.
Place the flower infusion, lemon juice and sugar in a large heavy bottom pot. Bring to a rolling boil. Add pectin, return to boil. Boil for two minutes, stirring constantly.
Remove from heat. Ladle jam into sterilized jars leaving 1/4″ headspace. Wipe rims clean and screw on the lids. Process for 10 minutes in water bath canner (add 1 minute for every 1,000 feet above sea level). Makes around 6 half pint jars or 11 – 4 ounce jars.
Notes
Only deep purple violets will make a purple violet jelly. Light purple violets will make jelly that is paler in color.
Common Blue Violet for Medicine
Medicinally, Susun Weed recommends violets for treatment of cancers, for relief from various breast ailments, for headaches (violets contain salicylic acid), for respiratory trouble and for wound healing. (Yes, all this this from a little blue flowered weed.)
You can make a simple violet vinegar for use in salad dressings by filling a small jar with violet blossoms (don't wash them) and covering with a good quality vinegar such as white wine vinegar, cider vinegar, or rice vinegar. Cover and let steep from 1-6 weeks before using. (Flavor will become more pronounced as it ages.)
Medicinal Herb Info describes the use of violets:
Garden violet is primarily an herb for respiratory problems. A tea made from the leaves is excellent as a soothing gargle, for sore gums, canker sores, good for inflammations, relieves pain of cancerous growths, as well as used as a poultice to the back of the neck for headache. A blood purifier, good for treating gout, colds, asthma, sores, ulcers, scrofula, pleurisy, syphilis, and difficult breathing due to gas and morbid matter in the stomach and bowels. The flowers lower blood pressure. Has been used to treat blemished skin, psoriasis, eczema, acne, and infants' cradle cap. A decoction of the rootstock makes a good expectorant. For inflamed mucous tissue in the mouth, rinse with a tea made from the rootstock or the whole plant. A tea or syrup made from the plant, especially the rootstock and the flowers, is a soothing remedy for coughs and whooping cough. Use it also as a calming agent for insomnia and hysterical or nervous problems. The flowers and the seeds can be used as a mild laxative. In large doses, the rootstock is emetic. Particularly used to soften hard lumps and counteract cancer, swollen glands.
Posts are for informational purposes only. Please make sure to properly identify any plants before consuming.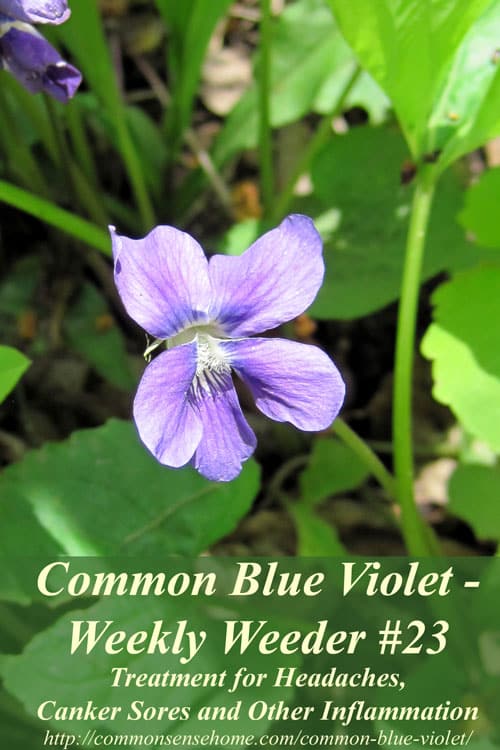 Please Like, Pin or otherwise share this post if you would like the Weekly Weeder series to continue.

  Don't forget to visit other posts in the Weekly Weeder series.
Mountain Rose Herbs stocks many of the herbs and plants featured on Wildcrafting Wednesday. They also carry an assortment of bottles, droppers and other supplies, plus some really soft organic cotton t-shirts.