Easy German Potato Salad (Plus 5 Tips to Pick the Best Potatoes)
This hot German potato salad recipe gives a healthy twist to a classic side dish. We also give tips to help you pick the best potatoes for potato salad to maximize flavor and nutrition.
5 Tips to Pick the Best Potatoes for Potato Salad
Choose waxy potatoes. Small fingering potatoes or new young potatoes hold their shape better during cooking. They also tend to have thinner skins, which makes peeling optional. Some good varieties include:

Purple Majesty
Mountain Rose
Ruby Crescent
Yukon Gold

Opt for potatoes that are smaller and roughly the same size to save prep time. They cook more quickly and you'll need to do less cutting.
Choose potatoes that are firm and in good condition, not wrinkly or sprouted. Avoid potatoes with a greenish tint to the skin. They've been exposed to light, producing a bitter chemical called solanine, which is mildly toxic.
Blue, purple and red potatoes give you more antioxidants than yellow or white potatoes. 50% of the antioxidant activity is in the skins, so if you trust your potatoes, scrub instead of peeling. (See #5.)
Potatoes commonly make the "Dirty Dozen" list of produce contaminated with pesticides, so choose organic potatoes to limit exposure. Growing your own potatoes is fairly straightforward. Shopping at the local farmers market may also reduce risk. Don't be afraid to ask if a grower sprays, and what they spray.
Store new/waxy potatoes in the refrigerator and use within one to two weeks for best quality.
Easy German Potato Salad Recipe
Back at the family catering business, we made a lot of potato salad. Most parties opted for cold salad, but at times we also did warm German potato salad.
Fun fact about potatoes – if you cook and chill potatoes for 24 hours, it transforms the starch in the potatoes, making them a low to moderate glycemic index food. Whether served cold or reheated, this treatment lowers blood sugar response by as much as 25%.
Beyond simply being tasty, the olive oil and bacon fat also lower the glycemic index of the potatoes, so they spike your blood sugar less. (Waxy potatoes also raise blood sugar less than starchy potatoes.)
Vinegar and a bit of sugar make a great sour/sweet combination, and the vinegar also lowers the glycemic index. If you don't have white wine or red wine vinegar, you can substitute apple cider vinegar.
The same goes for the shallot. If short on shallots, choose a mild red onion instead. Fresh is best on the parsley, to add brightness to the cooked potatoes. If you must use dry, reduce the amount to one tablespoon.
If working with a dryer fingerling potato, like Peruvian purple potatoes, go ahead and double the salad dressing ingredients (cooking water, oil, vinegar, sugar) to add more moisture.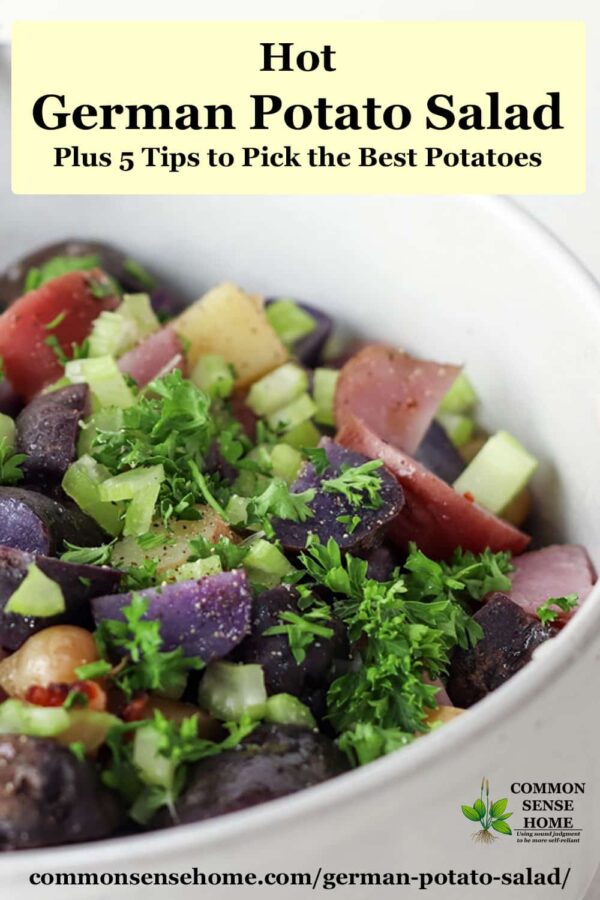 Print Friendly Recipe
Print
German Potato Salad
This easy potato salad recipe with celery, bacon and sweet.sour dressing is sure to brighten any gathering.
Prep Time:

10 minutes

Cook Time:

30 minutes

Total Time:

40 minutes

Yield:

6

servings

1

x
Category:

side dish

Method:

stove top

Cuisine:

German American
2

pounds

waxy potatoes, scrubbed, halved and sliced 1/4 inch thick

4

ounces

bacon, diced

1

shallot, minced

2 tablespoons

extra-virgin olive oil

5 tablespoons

white wine or red wine vinegar

1 teaspoon

sugar

2

celery stalks, diced

1/4

cup

minced fresh parsley
Salt and freshly ground pepper, to taste
Instructions
Combine the potatoes with 6 cups salted water in a medium saucepan.
Bring to a boil, then reduce the heat and simmer until the potatoes are tender, 5 to 10 minutes. Reserve 1/4 cup of the cooking liquid and drain. Transfer the potatoes to a large mixing bowl and keep warm.
Meanwhile, in a large skillet, cook the bacon over medium heat until brown and crisp, about 4 minutes. Remove the bacon with a slotted spoon and transfer to the bowl with the potatoes. Drain off all but 2 tablespoons of the bacon grease.
Add the shallot to the skillet and cook until slightly softened, about 3 minutes. Stir in the reserved cooking liquid, oil, vinegar and sugar. Bring to a boil. Pour the mixture over the potatoes and toss to coat.
Add the celery, parsley, and salt and pepper to taste. Mix well. Serve immediately.
Keywords: fingerling potatoes, new potatoes, hot salad
More More From Scratch Recipes
We have over 100 recipes and kitchen tips on the site, from snacks to desserts, all sorted by category on the Common Sense Recipes page.
They include recipes that are perfect for picnics and potlucks, such as: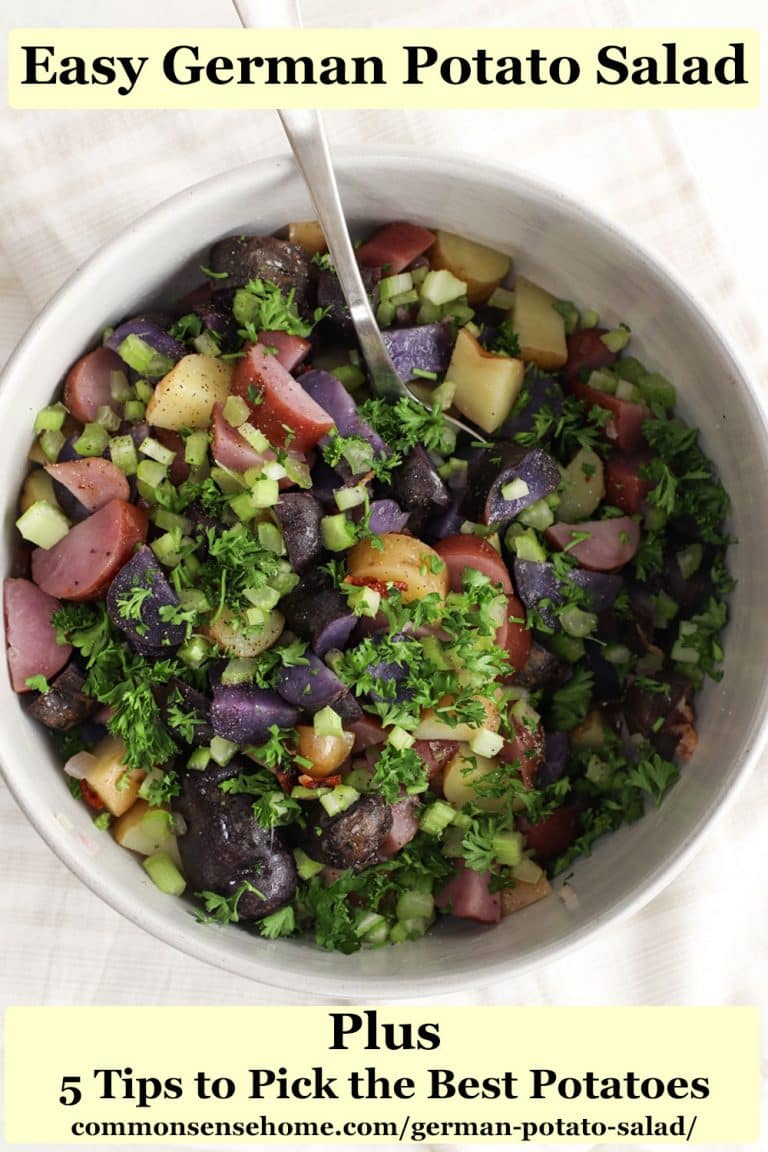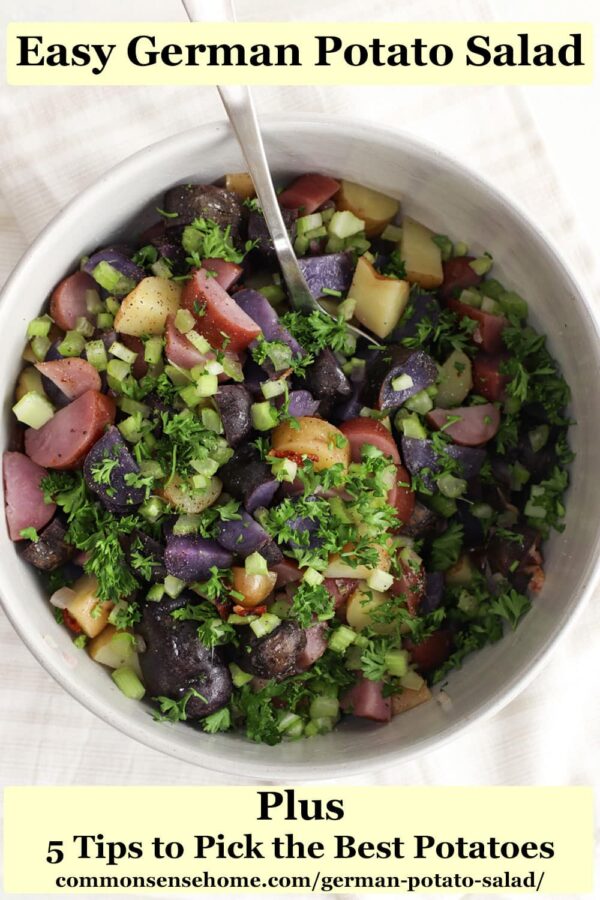 Originally published in 2009, last updated in 2019.