Betty's Buttermilk Rye Bread – Great for Sandwiches and More
This easy rye bread recipe makes a delicious loaf of bread with a tender crumb. The flavor is mild – great for sandwiches, toast, or butter and jam.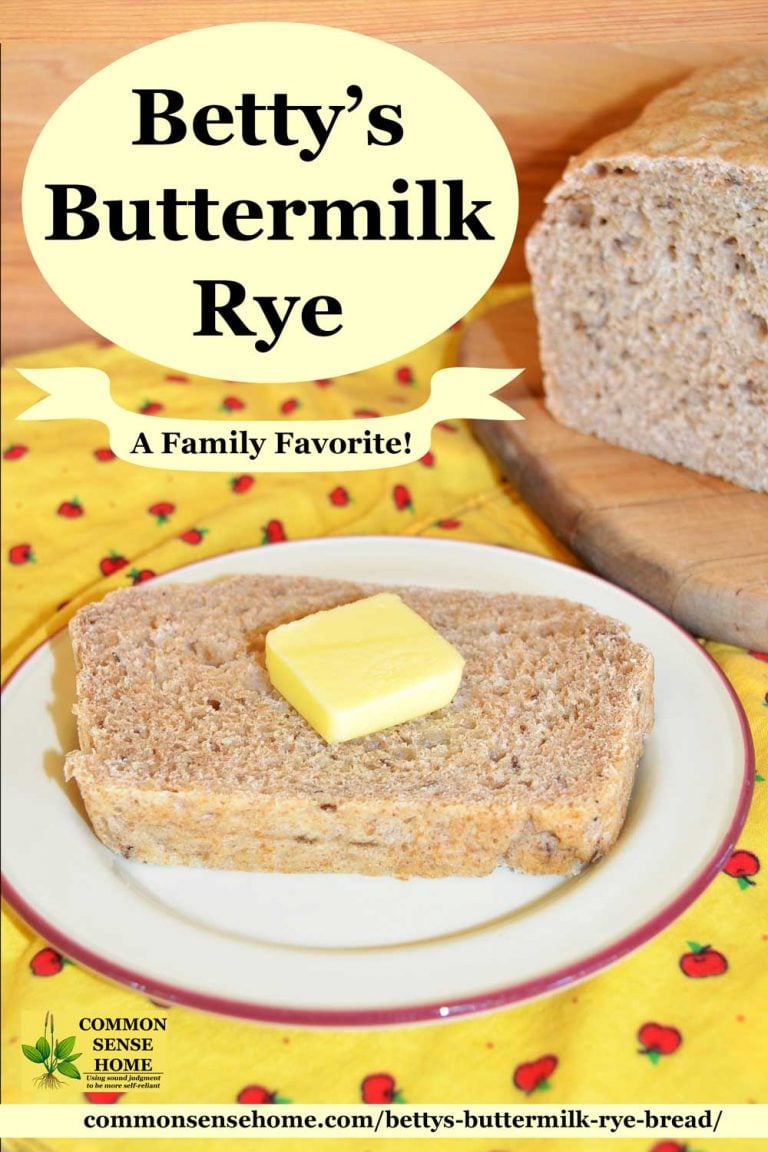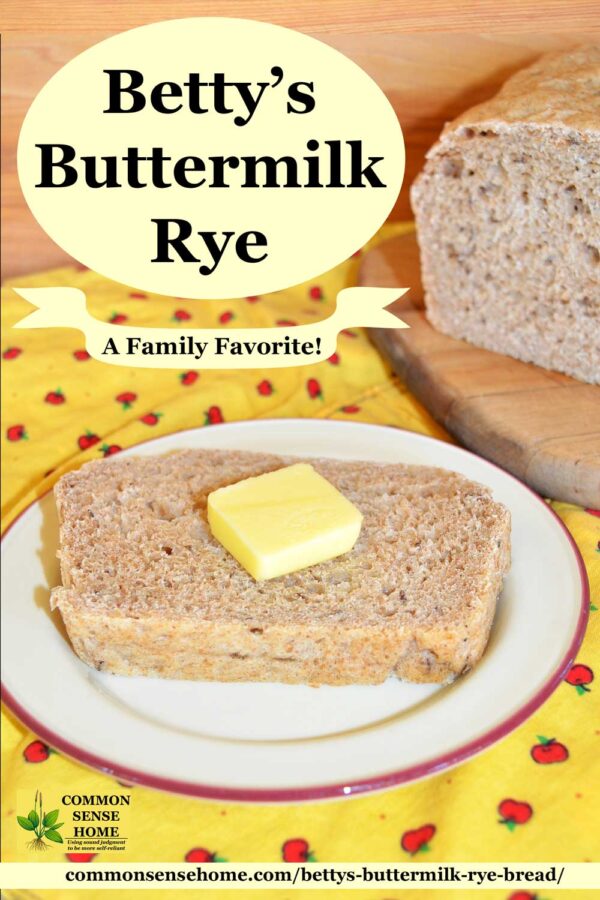 Betty's Buttermilk Rye Bread
The recipe came from my neighbor, Betty. Betty and her husband have been together for over 50 years, and have a nice garden and many edible plantings. They cook pretty much everything from scratch.
Regular readers might recognize Betty from her No Can Dill Pickles, abundant asparagus and pears, or horseradish patch. We're blessed to have such friendly neighbors who are happy to share their excess harvest and favorite recipes.
Easy Rye Bread Baking Tips
Betty makes this homemade rye bread in her bread machine. She uses a setting that makes the bread in 3 hours and 25 minutes. I mix up the bread in my Bosch stand mixer with dough hook and bake it the oven.
I usually double the recipe and make three 9×5 loaves of bread. The buttermilk keeps this recipe moist, never dry.
Organic rye flour is great if you have it available. You may use light rye or dark rye flour. I prefer organic caraway seeds, too. Remember, no matter which spices you choose, fresh is always best. Flavors fade as the spices age. SAF-instant yeast is more vigorous than active dry yeast, so you use a little less.
The buttermilk adds acidity, making the yeast happier. (Some rye bread recipes add pickle juice for acidity, but this can lead to extra salty bread.) If you don't have buttermilk, you may substitute milk kefir or sour milk or buttermilk powder and additional water.
Bake your rye bread in a loaf pan or for a more rustic look, shape it into an oval and use a baking sheet. (Stoneware pans are great if you have them available.) A single batch makes one larger loaf (9×5) or two smaller loaves (8×4).
Print
Betty's Buttermilk Rye Bread
Betty's Buttermilk Rye Bread – Easy rye bread recipe for the bread machine or mixing by hand. Great texture and real rye bread flavor.
Prep Time:

2 hours

Cook Time:

30 minutes

Total Time:

2 hours 30 minutes

Yield:

1

loaf

1

x
Category:

bread

Method:

baking

Cuisine:

American
1/2 cup

buttermilk, warm (or milk kefir or sour milk)

1 cup

water, warm

1 tablespoon

sugar

1 1/2 teaspoon

salt

1 tablespoon

caraway seeds

2 tablespoons

butter, melted

2 1/2 teaspoons

active dry yeast (

one

envelope) or 2 teaspoons SAF-Instant Yeast

2 cups

bread flour (wheat)

1 1/2 cups

rye flour
 
If using a bread machine, load ingredients in order listed and choose a setting that bakes in around 3 hours and 25 minutes.
If mixing by hand or in a mixer, blend milk, water, sugar, salt, caraway seeds, butter and yeast. You may substitute milk kefir or sour milk or buttermilk powder and additional water for the buttermilk if needed. I usually use milk kefir because that's what I have on hand.
Mix until yeast and sugar are dissolved. Add flour cup by cup until a slightly sticky dough forms. Knead for six to eight minutes. Cover and let rise for 20 minutes. Punch down down dough. Let rise again until about double in size.
Form into one larger loaf (9×5 bread pan) or two smaller (8×4 breadpan) and place into greased bread pan.
Place in a warm location, cover with a flour sack towel/lint free kitchen towel and let rise until double.
Bake at 350 degrees F for 25-30 minutes, until lightly browned.
Notes
Most of the time I double the recipe and make three medium loaves. The buttermilk keeps this recipe moist, never dry, and it makes a great sandwich bread.
Keywords: light rye, caraway, buttermilk, sandwich bread
Is rye bread gluten free?
No, rye bread isn't gluten free, whether it's made with a combination of wheat and rye flour or rye flour only. Rye grain contains secalin, a type of gluten.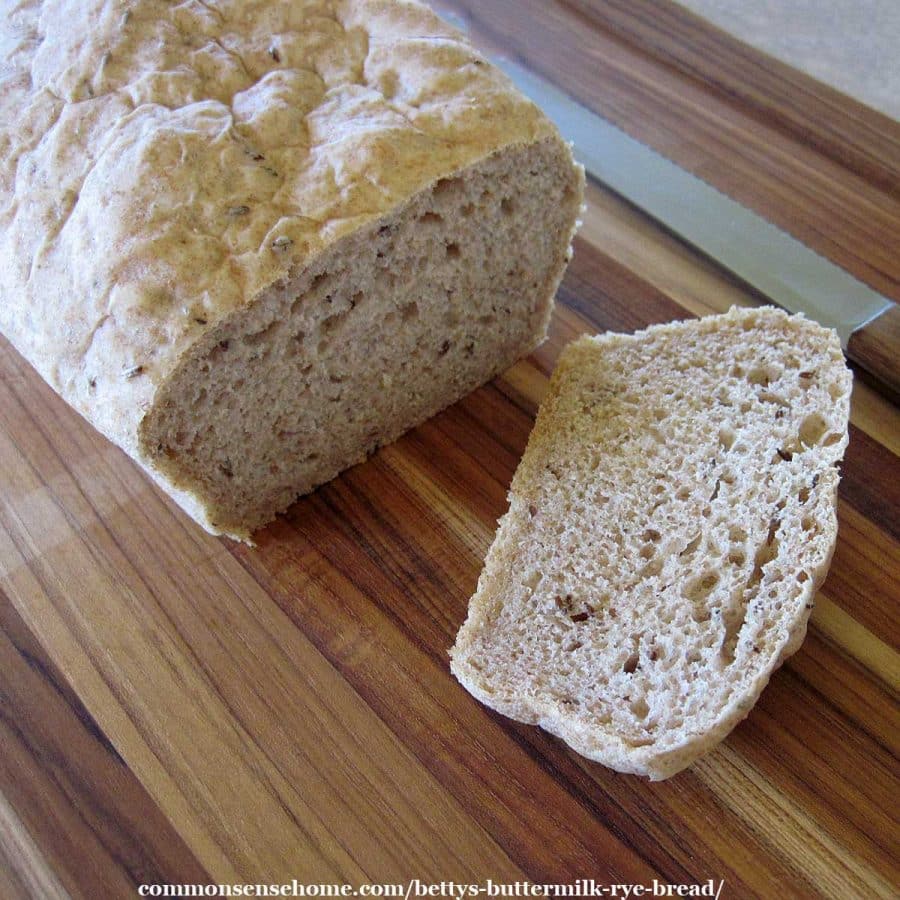 Is rye bread healthy?
It depends on the bread. If you buy commercial rye bread loaded with rancid vegetables oils, sugar and preservatives, it's not a great choice. (See "Is commercial bread making you sick?" for more information.)
Homemade rye bread, especially bread made with whole grain rye, is better. Many people find rye flour easier to digest. Studies have also linked whole grain rye to improved insulin sensitivity, lower cholesterol and reduced inflammation.
Some people find "rye only" bread unpleasant, since it tends to be heavy and dense. A rye/wheat mix bread can help introduce rye into your diet.
Is rye bread low carb?
Alas, keto people, rye bread – whether rye flour only or a wheat/rye mix – is not low carb. Rye flour does have a lower glycemic index and plenty of soluble fiber.
Get More Homemade Bread Recipes
This recipe is featured in my book, "Never Buy Bread Again- 20+ Homemade Bread Recipes", along with:
Pumpernickel Rye
Gluten Free Breads
Basic Sourdough Bread – and how to make a starter
and more
We also have tips for par-baking and storage, holiday breads and bread "go alongs" like flavored butters. If you've ever wanted to try bread baking, or tried baking and baked rocks instead of bread, this book contains a detailed troubleshooting section.
It's available in print and digital format for easy access. I'd love to send you a copy so you can join our many happy bakers.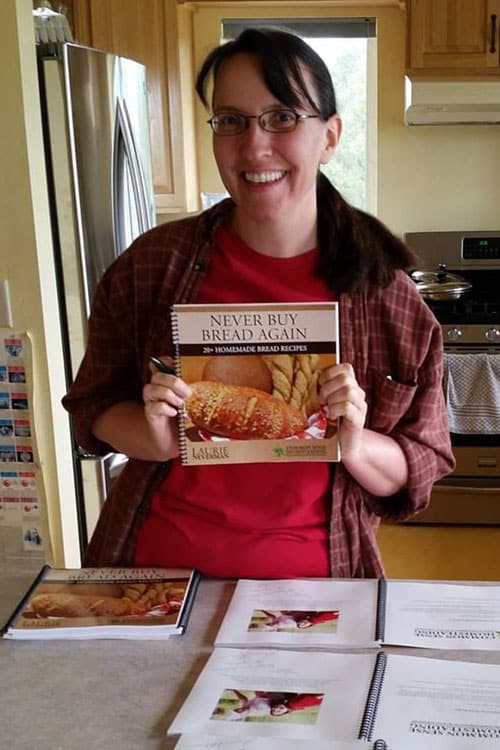 I hope you enjoy Betty's recipe as much as we do. Let me know if you have any questions or recipe requests.
Originally published in 2013, last updated in 2019.