Dehydrating Pears (With Tips for Prep and Storage)
Because of their natural sweetness, dehydrating pears makes them taste like pear candy – without added sugar.
We'll share tips to help prevent browning (without artificial preservatives) and keep them yummy in storage.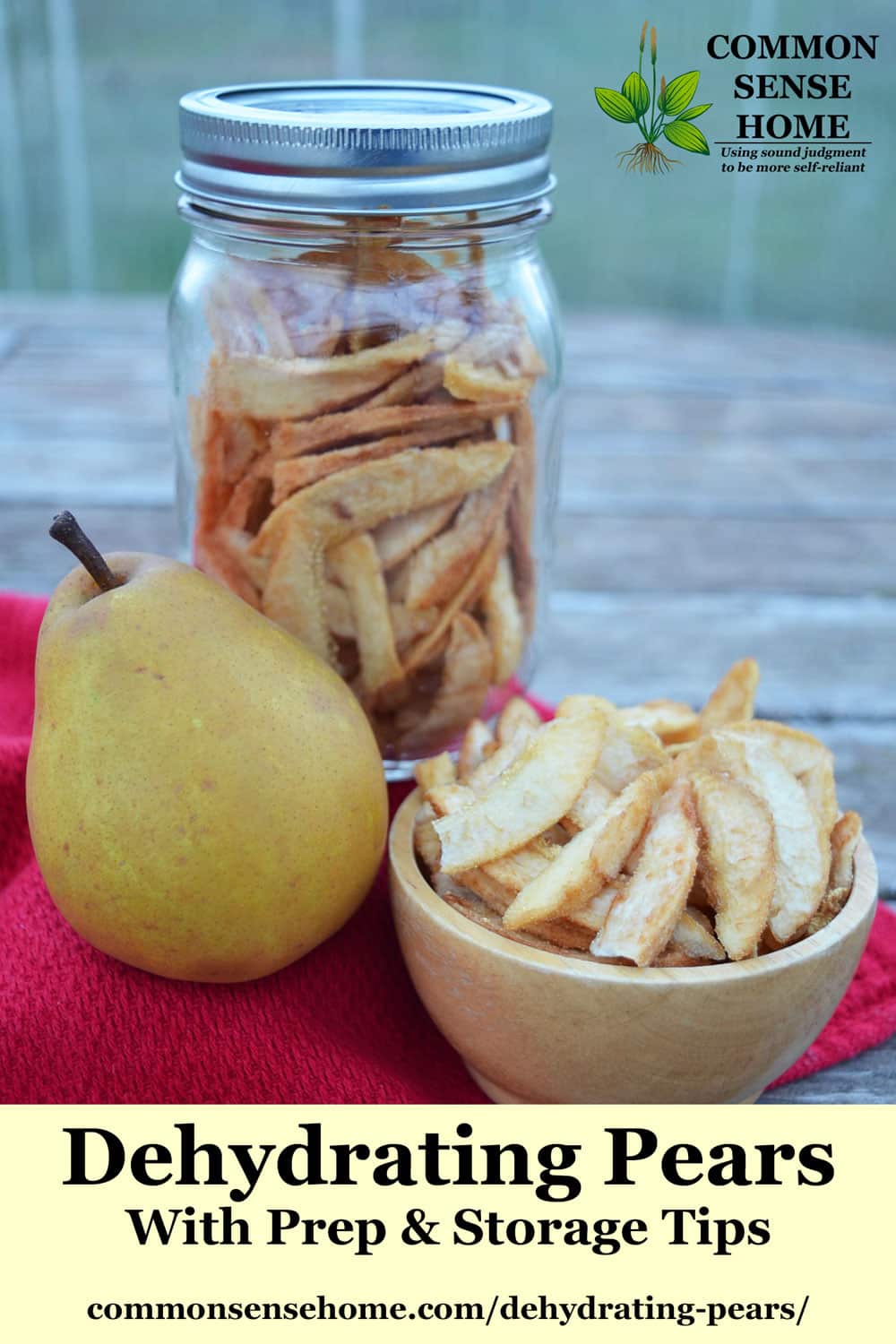 Dehydrating Pears
Select fresh pears that are fully ripe, at their peak of sweetness. Cut out any damaged sections with a paring knife.
How do you cut a pear for dehydrating?
For the quickest, most even drying, core and peel the pears and slice into thin wedges. We use a paring knife and cut them about 1/8 – 1/4 inch thick.
You can leave the peels on, if desired, but this increases drying time.
You can also prep them with an apple corer, or slice with a food slicer (mandoline).
Avoid pieces that are too thick, as these will retain moisture inside that could lead to spoilage in storage.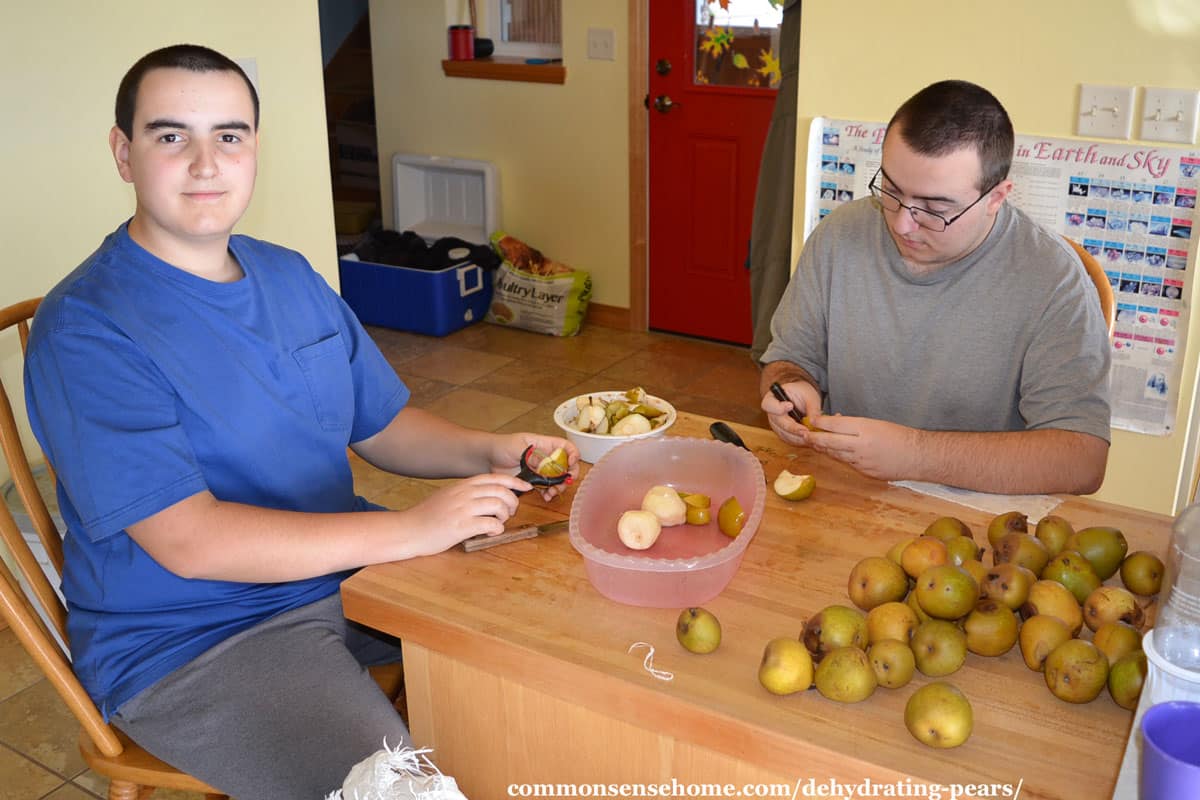 Do you have to blanch pears before dehydrating?
Unlike most vegetables, pear don't need blanching before dehydrating. I do recommend pretreating to keep them from browning.
To pretreat – Dip the sliced pears in acidified water in a nonreactive container.
I make acidified water made with around 1/4 cup lemon juice and 2 quarts of water.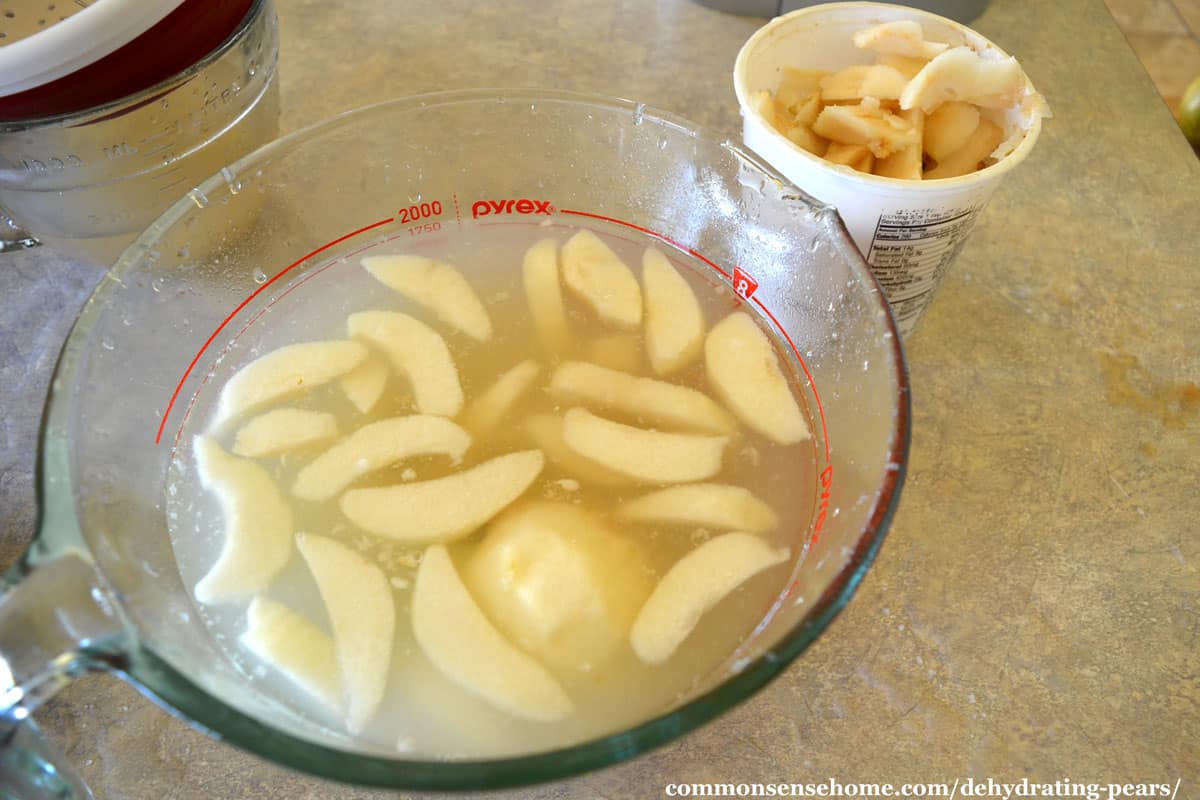 If you would like sweeter pear candy, dip the slices in undiluted orange or pineapple juice.
Note: With undiluted juice, the finished dried pears will be quite sticky.
Drain the pears. before loading them in the dehydrator.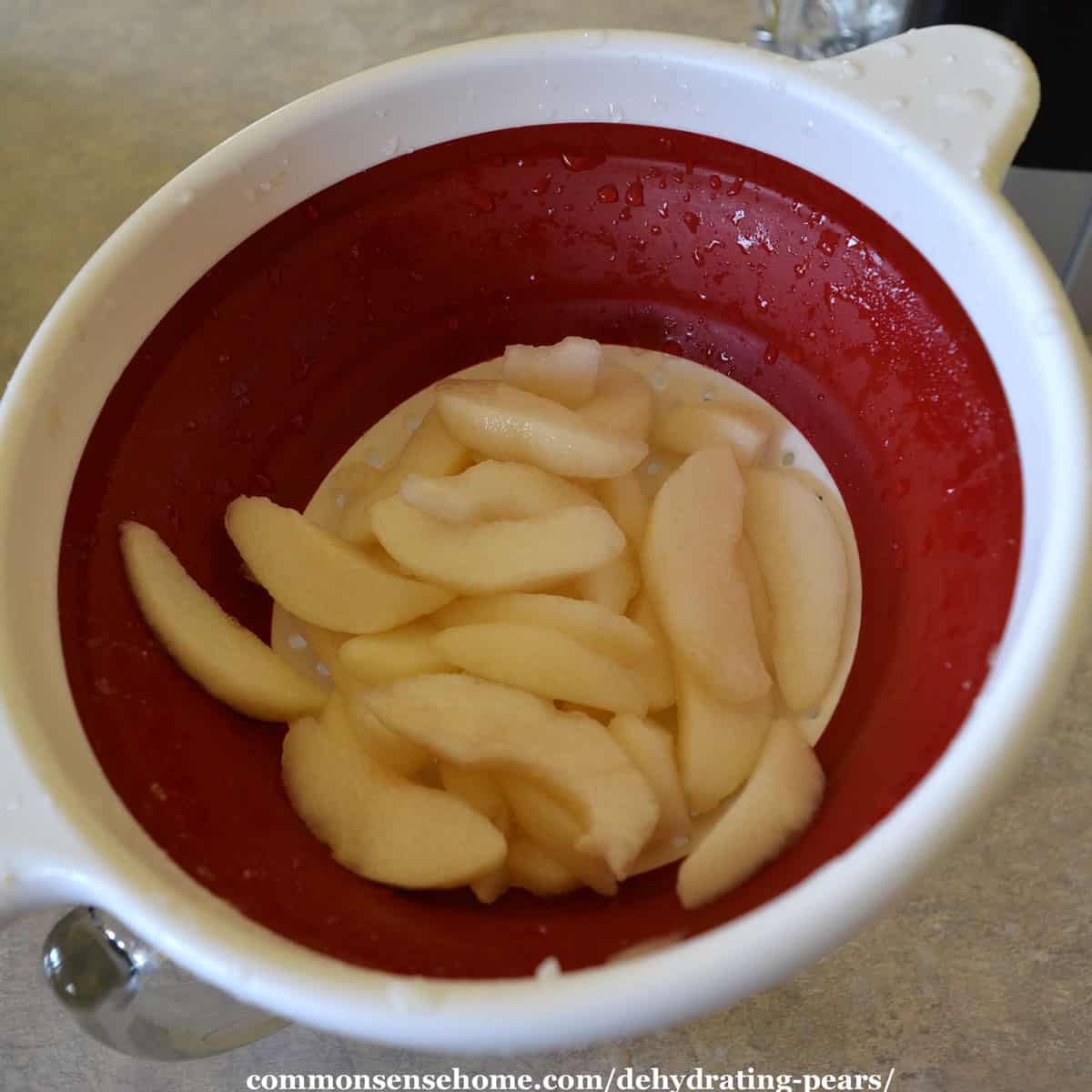 Load the pears on a mesh dehydrating trays. Make sure to allow space between the pears for good air flow.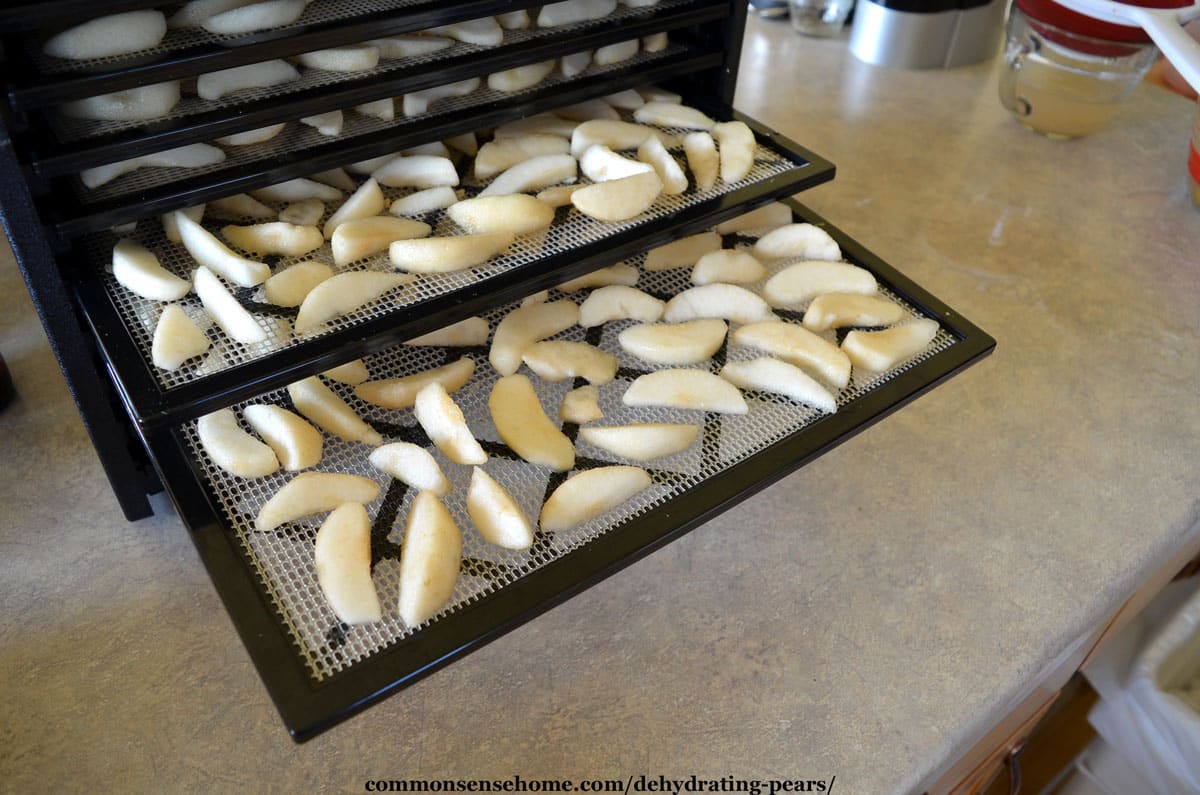 Dry at 135 ºF/57 ºC overnight or until fruit is dry and leathery.
Depending on the moisture and sugar content, dehydrating pears should take between 10 to 24 hours. Sweeter fruits dry more slowly because the sugar bonds to the water.
Store in an airtight container. The dehydrated pears will be a little sticky because of their high sugar content.
How to Check Dryness
To make sure your dehydrated pears are dry – place the finished pears in a mason jar with a tight fitting lid.
Over the next 2-4 days, check daily for moisture on the underside of the lid. If there is condensation, place pears back in the dehydrator for several hours. Test again, until no moisture gathers on the lid.
This same procedure also works well for dried apples, but pears are sweeter. You can also sprinkle on a little cinnamon, nutmeg or other spices to mix things up.
How Long do Dehydrated Pears Last?
Your dried pears should last at least a year in airtight storage.
For short term storage, a zippered plastic storage bag or other container will work fine. Keep in mind that any container that lets air in also lets moisture in and decreases shelf life.
You can keep dehydrated fruit in the fridge or freezer, but it's not required. Glass jars seal out moisture better than plastic.
For longer storage, vacuum seal the dried pears in mason jars. Once they are vacuumed sealed, they'll keep in the pantry for 2-3 years.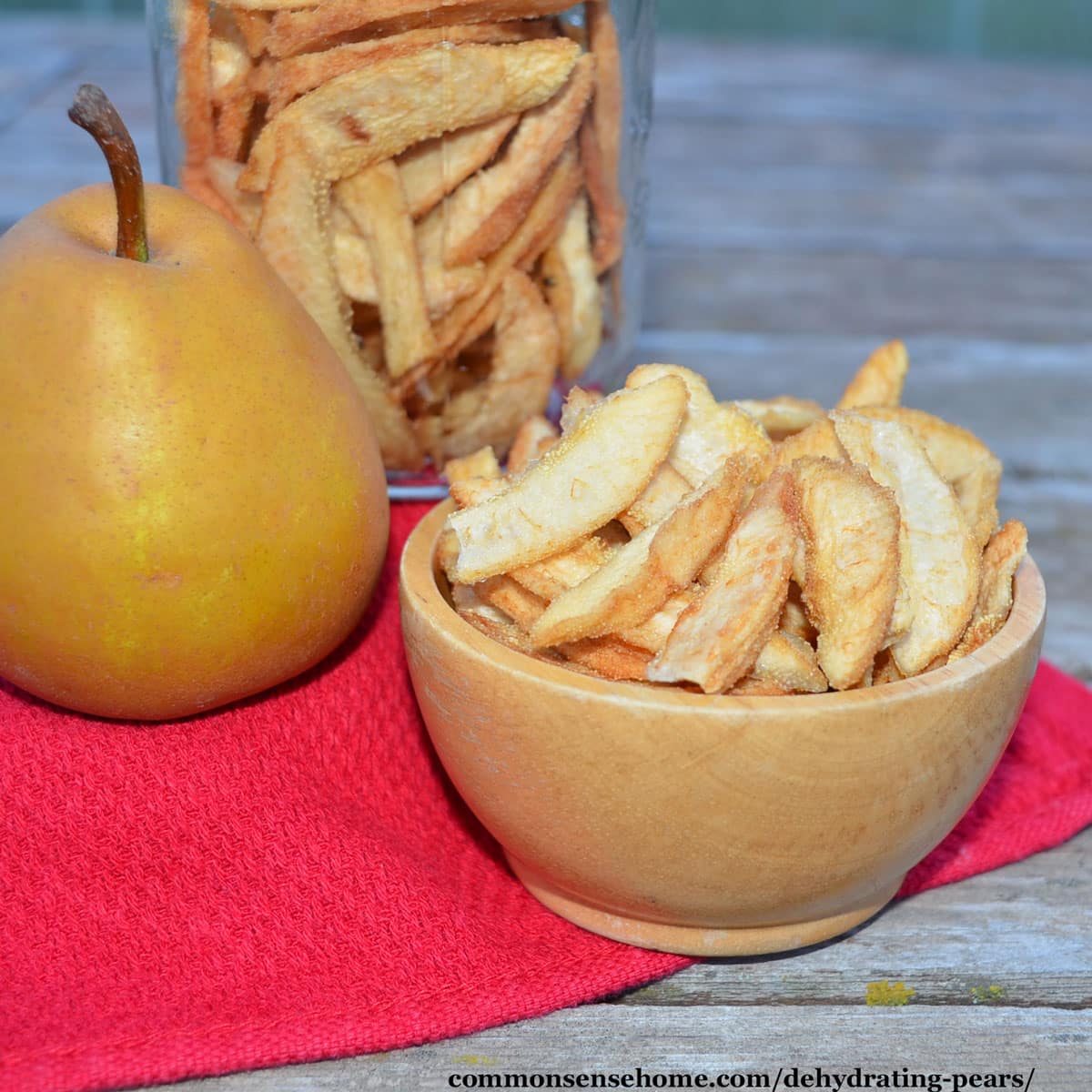 The dehydrator shown in the post is an Excalibur 3900B 9 Tray Deluxe Dehydrator. It can also be used to culture yogurt or cheese, or for making jerky.
I also have a smaller Nesco Snackmaster Pro Food Dehydrator. It's perfect for smaller jobs and great if you are on a tight budget.
Sulfite Free Dried Pears
My friend, Deb, was commenting that it seems like you have two choices in store bought dried fruit. You can buy the non-organic dried fruit, most of which is treated with sulfites; or buy the untreated organic fruit, most of which is very brown and unappetizing.
She was amazed at how light colored and tasty our dried pears are.
Why the concern about sulfites in fruit? The Food Intolerance Network explains:
Sulphites have been associated with the full range of food intolerance symptoms including headaches, irritable bowel symptoms, behavior disturbance and skin rashes but are best known for their effects on asthmatics.
With a little prep before drying, you too can keep the fruit light colored and yummy looking – without sulfites.
More Pear Recipes
We have a great selection of food preservation articles on the site, all listed in the index on the Common Sense Home Recipes and Kitchen Tips page. Browse all of our Food Storage Articles here.
They include:
I hope these tips are helpful. Let us know if you have any questions or recipe requests.
Originally posted in 2015, last updated in 2022.