Blueberry Peach Jam – Low Sugar, Small Batch Recipe
This blueberry peach jam is another delicious way to use the summer bounty of fresh blueberries and peaches. With less sugar and just a small amount of added pectin for quick cooking, this recipe lets the fresh fruit flavors shine through.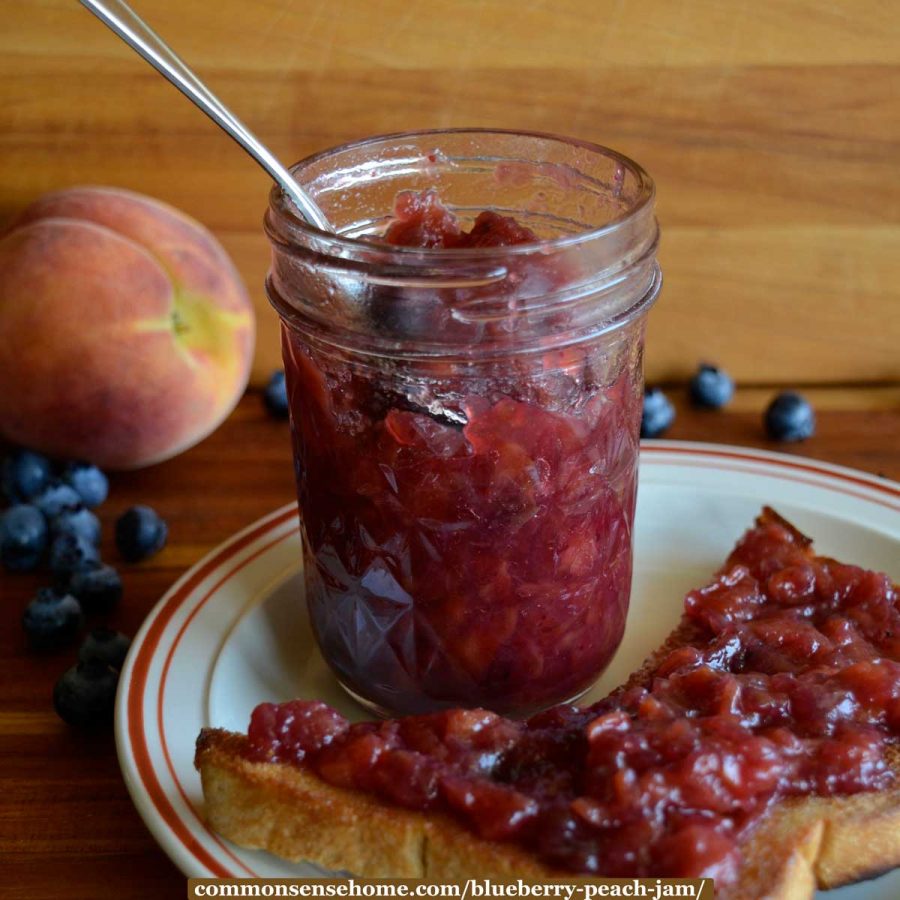 Blueberry Peach Jam
If you don't have fresh fruit available, frozen works just fine, too. (I'll often freeze fruit in summer and do additional canning when the temps drop in fall.) If you like recipes a little spicy, you can add up to 1 teaspoon of ground cinnamon, ginger, cardamom, cloves, allspice or nutmeg with the fruit.
Each year we buy peaches and blueberries from our neighbor for a charity fundraiser, so I have plenty on hand to experiment. Some of our other peach and blueberry posts include:
Print
Blueberry Peach Jam
With less sugar and just a small amount of added pectin for quick cooking, this blueberry peach jam recipe let's the fresh fruit flavors shine through.
2

pounds (5-7 medium) peaches, peeled and pitted

8 ounces

(

1 cup

) fresh blueberries

1/4 cup

lemon juice

1 cup

granulated sugar

2 teaspoons

Pomona's Universal Pectin

2 teaspoons

calcium water (included with the pectin)
Prepare 5 eight ounce canning jars, lids and bands. Fill and heat water bath canner.
Rinse blueberries and remove stems. Gently pulse peach chunks in food processor until coarsely chopped. Add blueberries and pulse to blend. (Don't liquefy, unless you prefer smooth jam.) You should have roughly 3 cups of fruit in total.
Place fruit, lemon juice and calcium water in a heavy bottomed sauce pan.
In a separate bowl, mix pectin powder and sugar thoroughly. Set aside.
Bring blueberry-peach mixture to a full boil over high heat. Slowly add the pectin-sugar mixture, stirring constantly.  Continue to stir vigorously for 1 to 2 minutes to dissolve pectin while the jam comes back to a rolling boil. Once the jam returns to a full boil, remove it from the heat.
Ladle jam into warm jars, leaving 1/4 inch headspace. Wipe rims with a damp cloth, put on lids and bands and tighten to fingertip tight.
Process in a boiling water bath canner for 10 minutes. Turn off canner and let rest for 5 minutes, and then remove jars from canner and place on a towel on the counter top away from drafts. Let cool for 12 to 24 hours.
Check seals, remove bands and wipe any spills. Date and label. Store in a cool, dry location out of direct light. Best used within one year.
Unsealed jars or partially filled jars should be stored in the refrigerator and used within 3 weeks.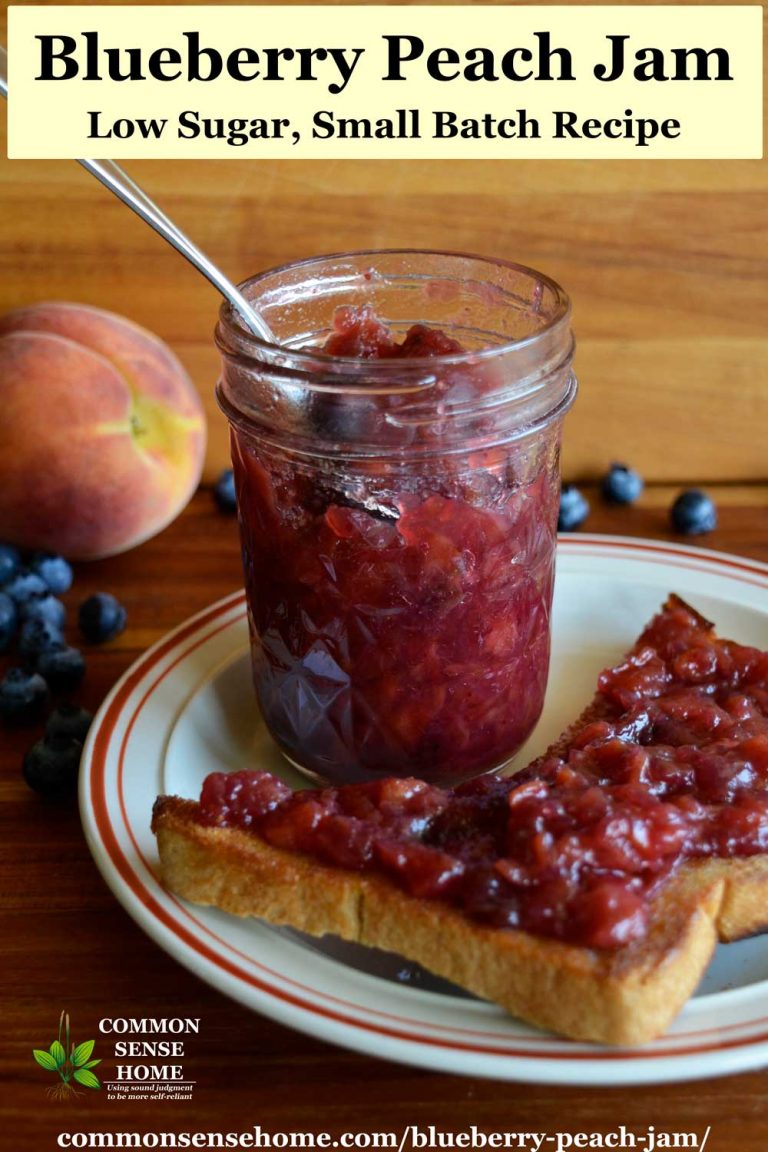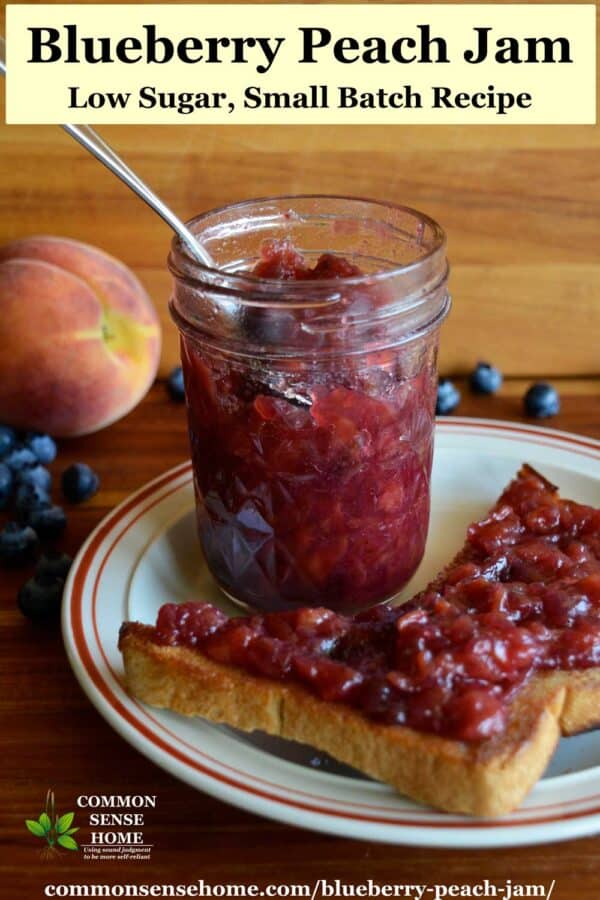 Recommended products for making blueberry peach jam:
What is calcium water?
Calcium water is made from calcium powder mixed with water. The calcium powder comes in every box of Pomona's Universal Pectin. It helps to ensure that your jam or jelly sets properly, even if you make jam with low sugar or no sugar.
Do I need to use added pectin in my blueberry peach jam?
Getting jam to gel requires acid and pectin. The more ripe the fruit, the lower both pectin and acidity tend to be. (See "Pectin Levels in Fruit and Vegetables" for more information.)
Peaches and blueberries both need extra acid to gel reliably. Peaches have most of their pectin in the skins, which are normally removed for jam making. Thus, adding pectin helps your blueberry peach jam set properly.
If you don't mind a more cooked flavor in your jam, you can skip the added pectin and slow cook the jam on the stove top until it reaches the desired thickness. Process in a boiling water bath canner as listed above.
Altitude Adjustments
From sea level to 999 feet above, processed as listed above. Add one minute of processing time for every 1,000 feet above sea level. For instance, if you live at 1,300 feet, process jars for 11 minutes; at 2,700 feet, process for 12 minutes, and so on.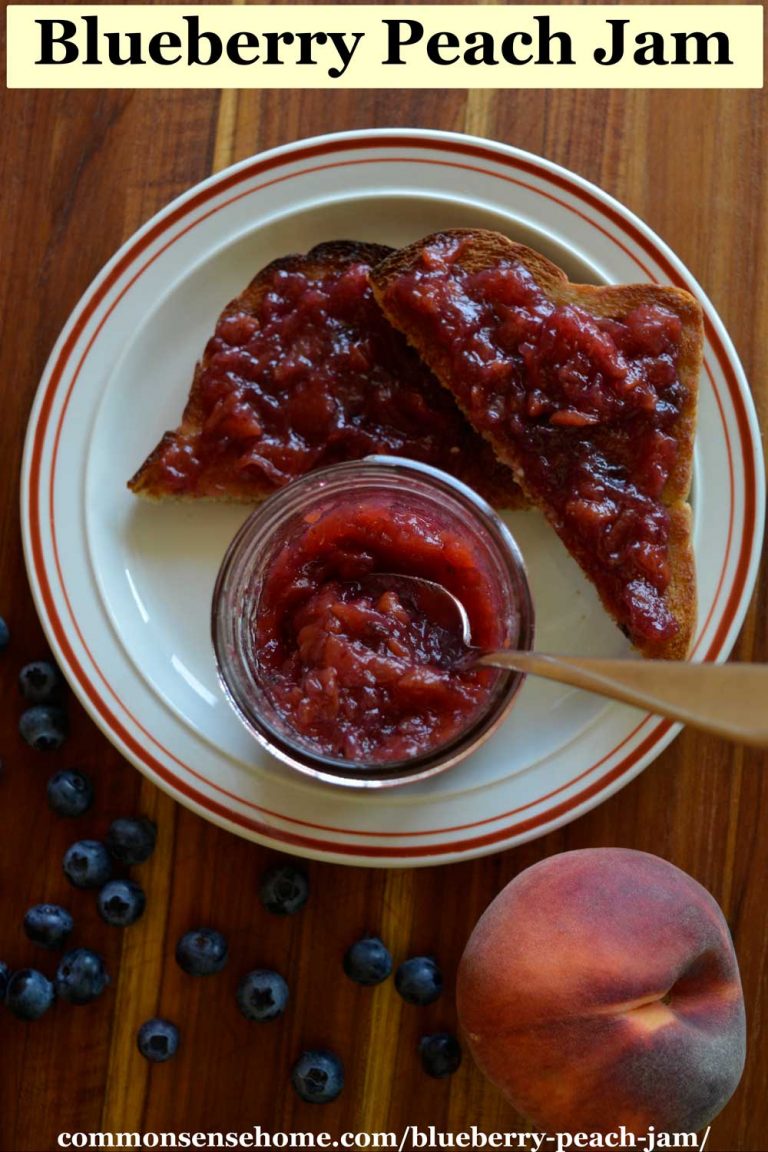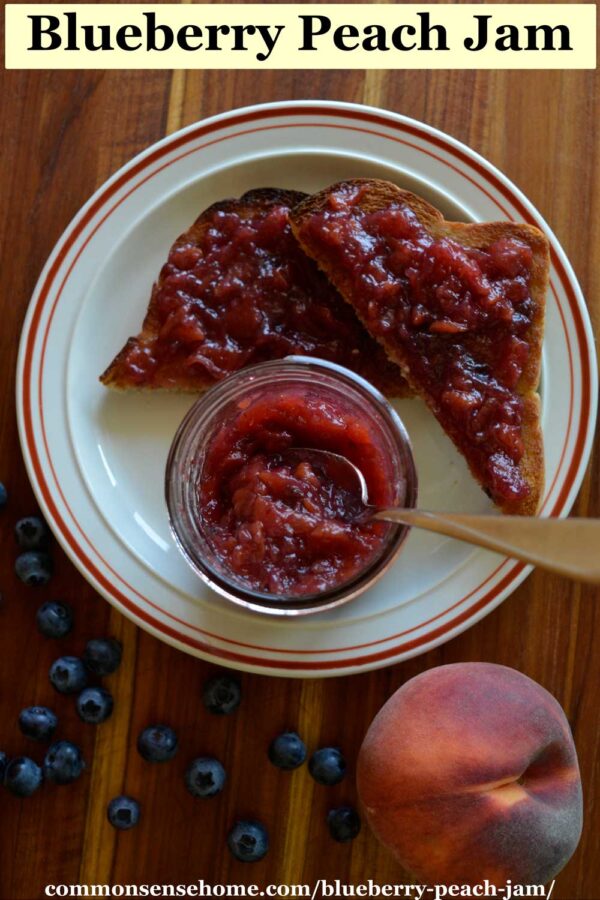 Thanks for stopping by! You can find more Canning and Preserving Guides on the Common Sense Home Recipes and Kitchen Tips page.
Do you have a favorite jam or jelly recipe you'd like to share, or one you'd like to see? Leave a comment and let me know.