How to Make Sauerkraut in a Crock
Homemade sauerkraut is loaded with beneficial bacteria and simple to make. We'll share how to how to easily make sauerkraut in a crock or bucket. All you need is cabbage and salt, a container, and time.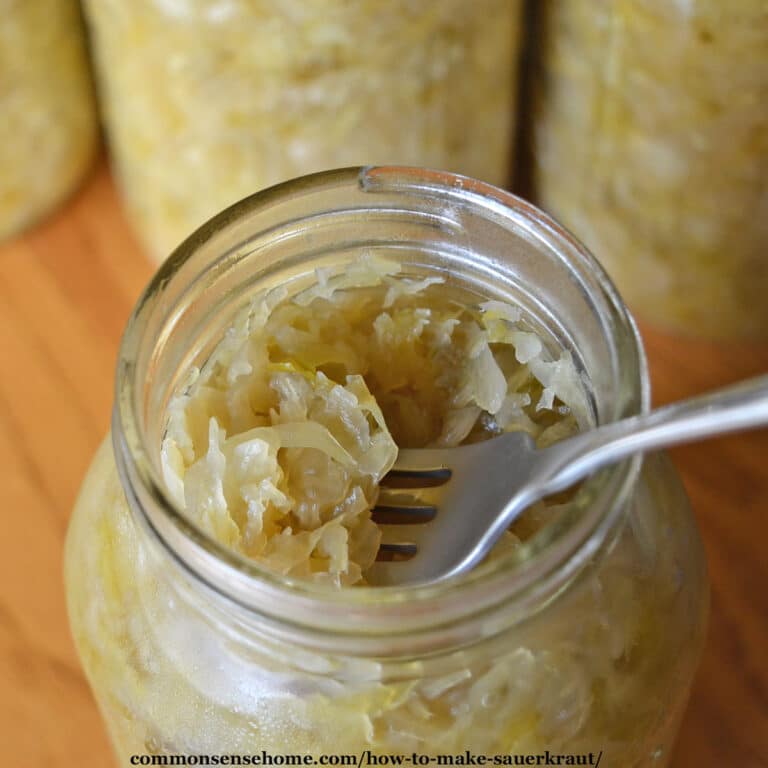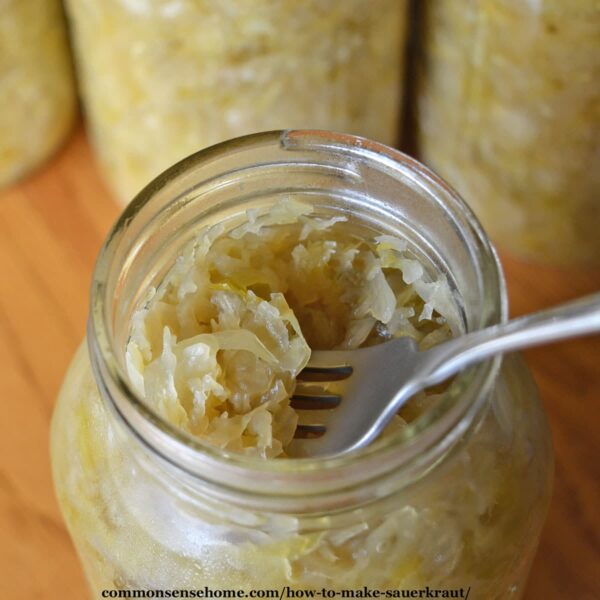 Back when I was a little girl, my momma used to make sauerkraut in a 15 gallon crock and can them up each winter. Now that I have a family of my own, we usually make up smaller batches, but this year we got together with a neighbor and had an old fashioned sauerkraut party. There are a mix of photos in the article from years of kraut making.
How it Works
So how do you turn your aged cabbage into a tasty condiment instead of a yucky mess? The key is fermentation.
Many fruits and vegetables have naturally occurring lactobacillus bacteria on their surface. Under the right conditions, this bacteria multiples to create lacto fermented foods.
Fermenting slows down spoilage, making it a great tool for food storage, especially before fermentation. The fermentation process also makes the cabbage easier to digest, and a great source of vitamin C and vitamin K2 (menaquinone).
Raw sauerkraut is high in enzymes that help break down food. A friend with chronic pancreatitis who has been taking prescription enzymes for the last five years was able to reduce his dosage by eating fresh sauerkraut on a daily basis.
For a faster ferment, store your crock at room temperature. To slow down fermentation, find a cool location, like an unheated basement.
Sauerkraut Ingredients
Sauerkraut is based on cabbage and salt, but the type and how you mix it matter. You can also add different vegetables, fruits, and spices for variety.
Cabbage
You can make sauerkraut with any type of cabbage – red, green, Savoy, or napa cabbage. I find that early cabbage tends to be a little softer and ferments faster, while slow growing late cabbage tends to be firmer. Fall harvest time is ideal for making up a good batch of kraut.
Napa cabbage, also known as Chinese cabbage or celery cabbage, tends to be more tender and juicy. We find it holds up better as fermented cabbage if cut in larger pieces, as in our Clean the Garden kimchi.
How you cut your cabbage matters. The finer the cut, the faster it tends to ferment. Finely chopped cabbage also gives off more juice. Cut to size with a food processor, large knife, or old fashioned kraut cutter.
For longer storage life, chop or shred cabbage into roughly 1/8 – 1/4 inch (3-6mm) wide strips. This is narrow enough to promote even fermentation, but not so fine that it turns to mush.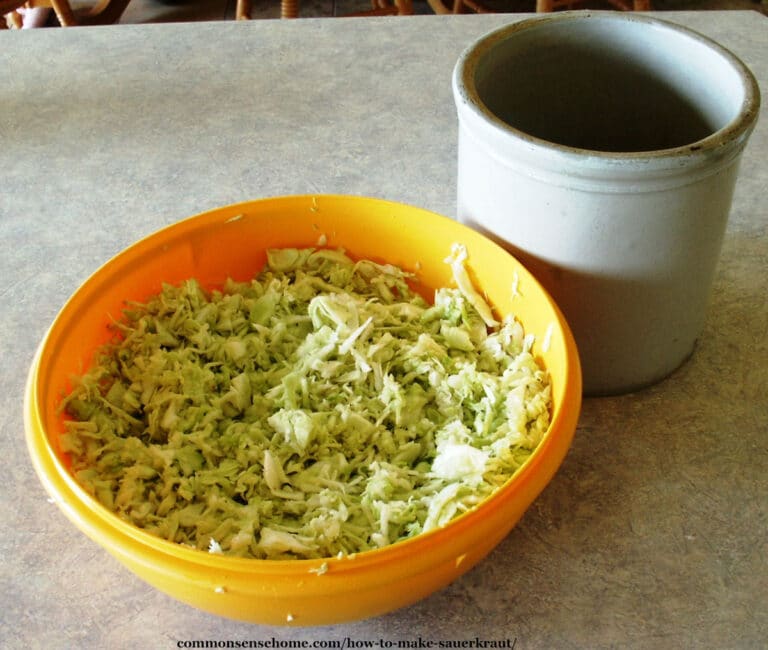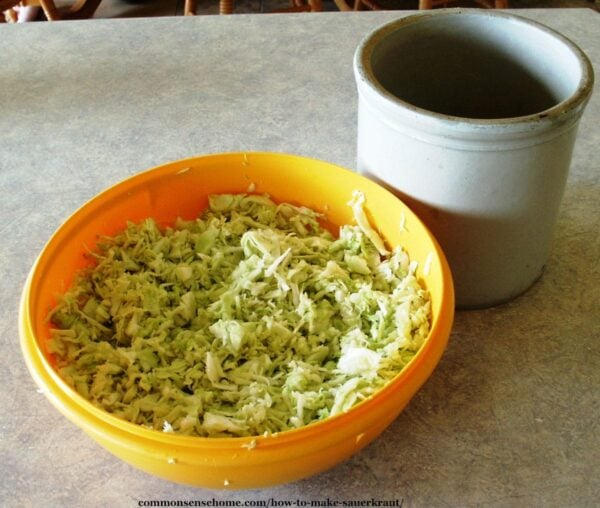 Salt
Salt helps to inhibit the growth of problem microorganisms (like mold) and draws water out of the cabbage. The water pulled out of the cabbage creates the brine that prevents spoilage. It also helps to keep the cabbage crunchy, by inhibiting organisms and enzymes that soften it.
We use sea salt to ferment our sauerkraut, but any salt without additives will do. Avoid iodized salts and salts with anti caking agents (read the label). Himalayan salt, Redmond Real Salt, and even rock salt can work well.
For one gallon of sauerkraut, I use about 5 pounds of cabbage and 3 tablespoons of salt.
To calculate by weight, use roughly 2% salt. For instance, for one pound of cabbage (16 ounces), we multiple by 0.02 to get 0.32 ounces of salt. This is roughly 0.45 kg of cabbage and 9 grams of salt.
If you are avoiding salt, protect your fermentation with a starter culture, such as this one from Cutting Edge Cultures. A starter culture boosts the good bacteria count immediately to give them a head start over the microbes that cause trouble.
Other Ingredients
With fermented cabbage as your base, you can experiment with adding other vegetables, fruit, herbs and spices.
Some popular vegetables to mix in sauerkraut include:
carrots
onions
garlic
seaweed
radishes
kohlrabi
greens
Brussels sprouts
small whole heads of cabbage
turnips
beets
burdock roots
For fruits, try:
Herbs and spices: caraway seeds, dill seeds, celery seeds, and juniper berries are classic, but anything you like will work.
Keep your mix at least 75% cabbage by weight to keep your friendly bacteria happy. For instance, pair one pound of cabbage with no more than one fourth pound of carrots.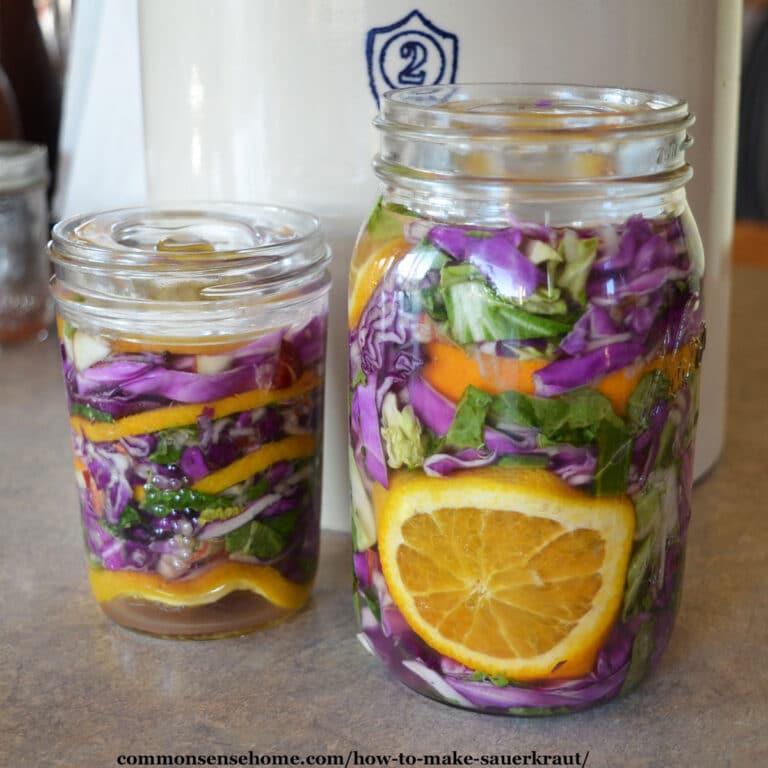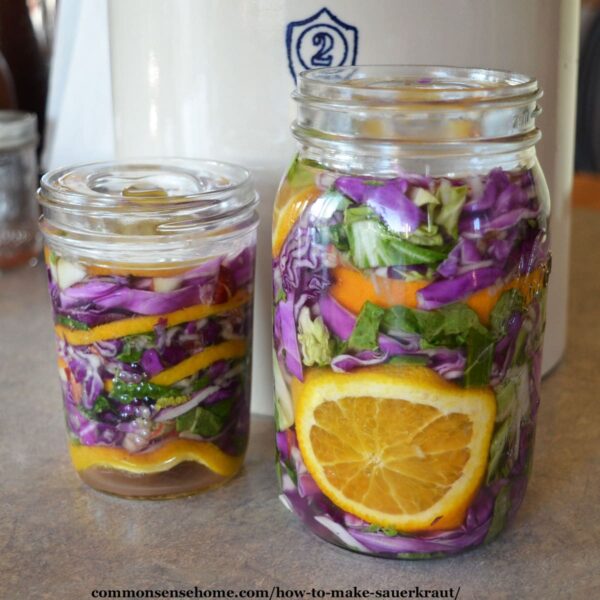 Equipment
First, you need a container to hold your sauerkraut. Your container needs to be food safe and non-reactive (no aluminum pots!). It needs to be big enough to hold the cabbage and weights, plus some bubbling brine.
There are tons of small batch mason jar sauerkraut recipes out there, but whipping up a batch in a crock (or bucket) doesn't take much longer to prep.
We usually make sauerkraut in a one or two gallon open crock, but this year we made it in a 15 gallon crock. Food safe three or five gallon buckets also work well.
Sauerkraut Crock vs Open Crock vs Crock Pot
If you do a lot of fermenting, a dedicated fermentation crock or sauerkraut crock may be worth the investment.
Fermentation crocks hold a ring of water around the top of the crock that allows fermentation gases to escape, but keeps air out of your ferment. With the increase in interest in healthy fermented foods, they're now available in a wide variety of sizes and styles.
They are beautiful – but I don't have one yet. Instead we use a straight sided open stoneware crock. (I have five of those in assorted sizes and use them for fermenting, wine making, and other projects.)
A "crock pot" is an entirely different beast, and is used for slow cooking. If you don't have another spot to ferment your kraut, your slow cooker liner could do in a pinch. The problem is that you need to ferment your kraut for weeks, and during that time you can't use your slow cooker.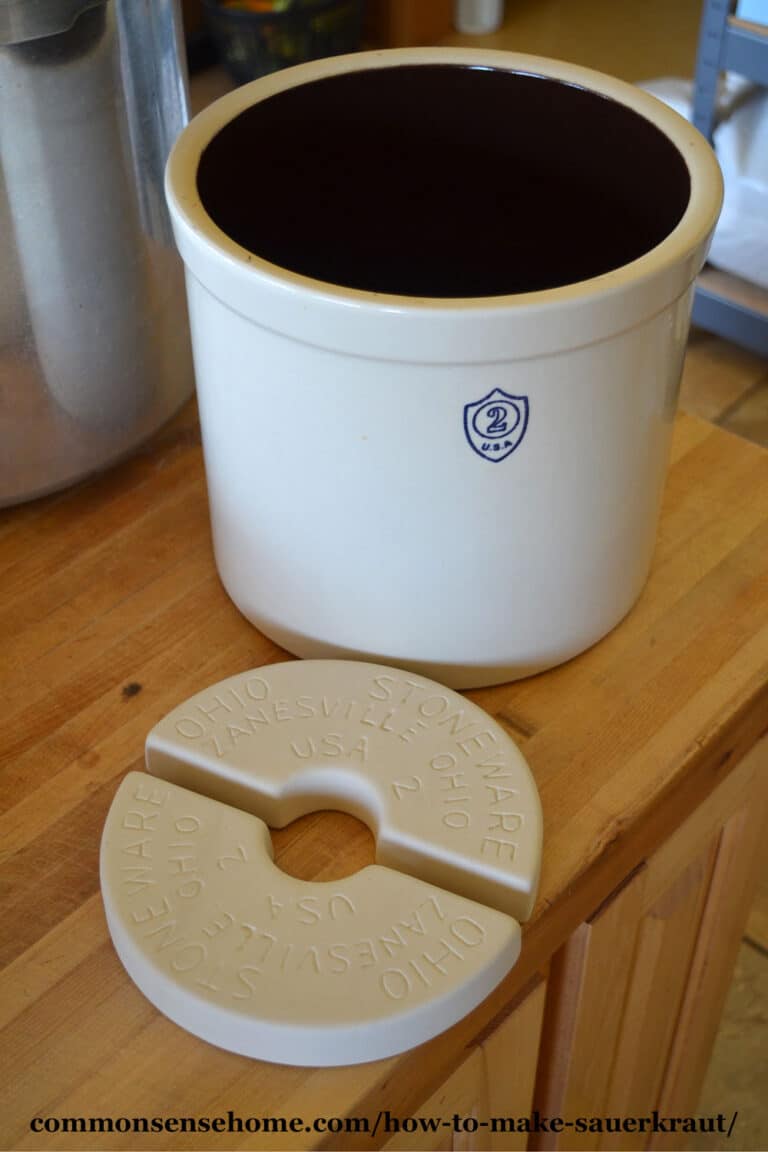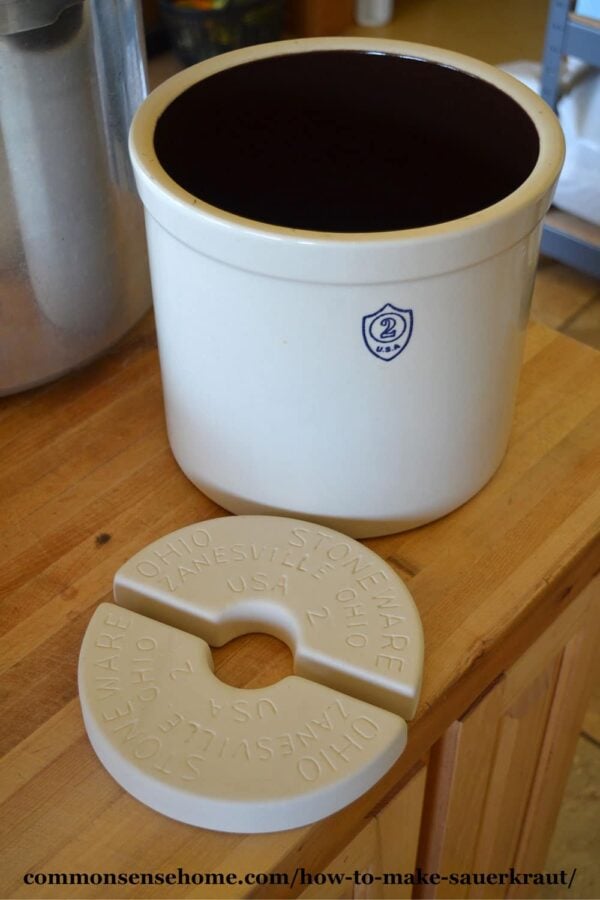 Fermentation Weights
One of the most important parts of successful sauerkraut making is keeping your cabbage away from air, preferably below the brine. Since cabbage likes to float, we use fermentation weights.
There are specialized weights that fit inside mason jars and different sized open ceramic crocks. (Many fermenting crocks come with weights.) If you don't have a fermentation weight, a clean plate or lid will do. Pin the plate down with a jar full of water or a boiled rock.
When I made the big batch of kraut in the 15 gallon crock, I didn't have anything large enough to act as a weight. Instead, I used my mom's trick to cover the cabbage.
I took some of the outer leaves of the cabbage, and arranged them to cover the cabbage. Then, I placed a garbage bag full of brine over the top of the leaves. (This keeps the bag out of direct contact with the kraut.) It's not fancy, but it gets the job done.
Kraut Pounders
It's helpful to crush/pack down your sauerkraut to release the juices – and to fit more in the crock. To do this, you can use your hands, your feet (in a large crock), or a sauerkraut pounder.
We normally use the wooden press that came with our chinois strainer, but you can purchase dedicated wooden kraut stompers. Lehman's has a nice selection of crocks, lids, weights, and kraut stompers.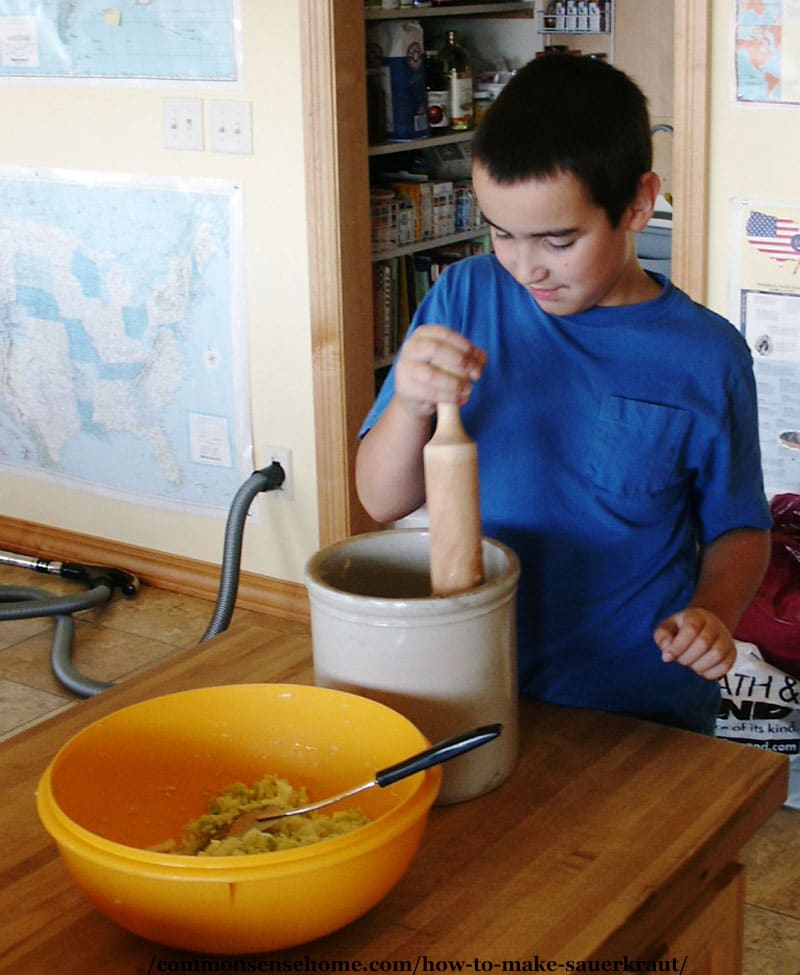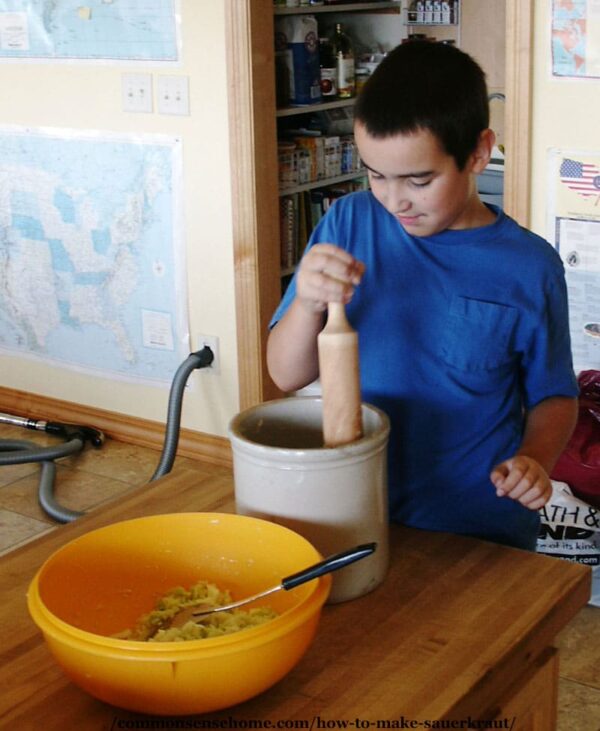 Print
Old Fashioned Sauerkraut
Turn your cabbage into a probiotic powerhouse with this easy fermentation recipe.
Author:
Prep Time:

30 minutes

Fermentation Time:

672 hours

Total Time:

672 hours 30 minutes

Yield:

1 gallon

1

x
Category:

Ferment
5

pounds

cabbage

3 tablespoons

sea salt
Chop or grate cabbage, reserving large outer leaves for later. Place it in a large bowl as you chop it. Sprinkle salt on the cabbage as you chop it.
Add other vegetables, fruits, herbs or spices, if desired. Mix ingredients together and pack into crock with fists, feet, or sauerkraut pounder.
Place outside leaves on top of shredded cabbage, and then add the weights or plate with weight to hold your kraut below the brine. Let rest, if needed, to draw out brine from the cabbage.
If the brine doesn't cover the cabbage in a few hours, mix about one teaspoon of salt per one cup of water to make additional brine.
Cover the crock with a cloth (or the lid if you have a fermenting crock) and let it ferment for 4-6 weeks.
Once the sauerkraut is as fermented as you like, refrigerate or freeze for longer storage to preserve the probiotics. Can the kraut in a water bath canner for shelf stable storage.
Notes
Check the ferment occasionally to make sure that the cabbage is submerged. Add more water if needed (the salt is still there).
When you're ready to use your sauerkraut, remove the leaves, weights and any discolored kraut near the surface. The kraut will smell a little musty after being covered – this is normal. Serve raw as a condiment to preserve the probiotics, or cook with meat or other in other recipes for a savory meal.
For a quicker ferment, ferment at room temperature. To slow down fermentation, keep your crock in a cooler location. I've stashed my crock in an unheated corner of the basement and had it last for months.
Keywords: sauerkraut, fermentation, probiotic
Can you Make Less Sour Sauerkraut?
If you're not so sure about the strong sour flavor of kraut, keep your fermentation time shorter. This will give you a crunchier sauerkraut with a milder flavor.
You can also try mixing in carrots or apples, which are naturally sweet. Just make sure to maintain the 75% cabbage rule.
White Film on Sauerkraut
Sometimes a white bloom appears on the surface of the kraut. This is kahm yeast, and is harmless. Skim what you can off of the surface; it will break up and you will probably not be able to remove all of it.
Don't worry about this. It's just a surface phenomenon, a result of contact with the air. The kraut itself is under the anaerobic protection of the brine.
Mold looks different than yeast. It's raised and fuzzy, and often has other colors black, green, or blue. If you have a fuzzy layer with different colors, compost the batch, don't eat it.
Does Sauerkraut go bad?
Yes, sauerkraut can go bad. As mentioned above, if air reaches the cabbage, mold can grow. Over time, as fermentation continues, the kraut gets softer. Eventually it will turn into a slimy mess at room temperature.
Refrigeration, freezing, or canning will extend the shelf life of your kraut.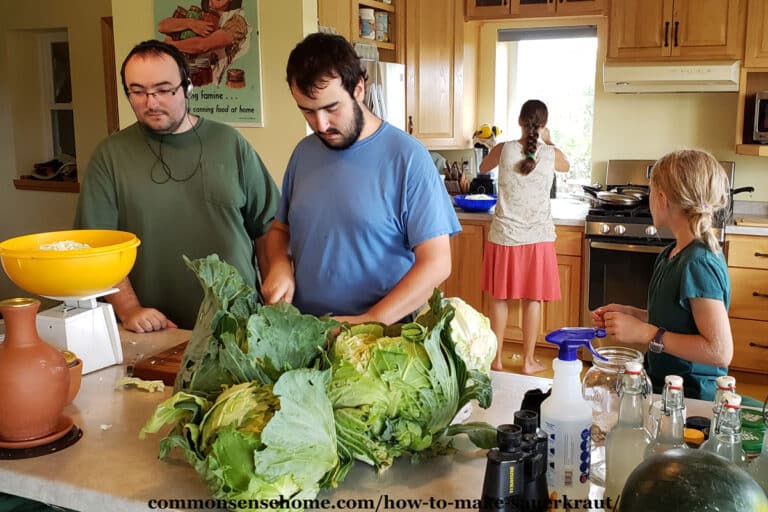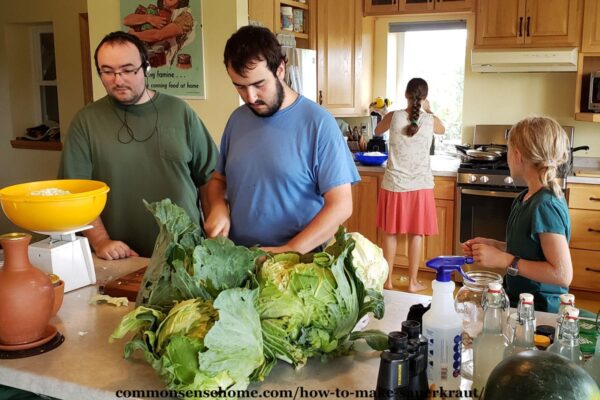 Our Old Fashioned Sauerkraut Party
Late this summer, we had heavy rains after weeks of dry conditions, and both my neighbor and I ended up with split sauerkraut heads. These are still good to use if you process them quickly, so we got together and set to work.
Altogether we processed 45 pounds of cabbage, which filled the 15 gallon crock a little under halfway. With the cabbage chopped and salted, one of kids had his feet well scrubbed, and was carried over to stomp the sauerkraut.
We ended up with around 18 quarts, which I processed in the water bath canner. You can also freeze sauerkraut for longer storage.
Canning Sauerkraut
Since sauerkraut is acidic, it's safe to process in a water bath canner. Fill your canner with water, clean and prep your jars and lids. I keep my jars hot in my canner until I'm ready to use them.
For canning sauerkraut, bring the kraut to a simmer in a large stockpot. Do not boil your kraut.
Pack hot sauerkraut into hot jars, leaving 1/2 inch headspace. Remove air bubbles and make sure the brine covers the cabbage in the jar.
Wipe down the rims and put on your canning lid and ring. Tighten until finger tight. (Remember, air escapes from the head space at the top of the jar during processing.)
Process pints for 15 minutes and quarts for 20 minutes in a boiling water canner. Start the timer when the canner is at a full boil. Once processing is finished, remove the jars from the canner and place them on a kitchen towel on the counter to cool completely.
Check the seals on the jars. If any haven't sealed, store those in the refrigerator to use right away. Date and label jars and store in a cool, dark location. Use within 18 months for best quality.
Related Articles
If you're interested in fermentation and food preservation, you may also enjoy:
Home Food Preservation – 10 Ways to Preserve Food at Home
5 Reasons to Use Probiotics for Colds and Flu
Originally published in 2010, last updated in 2022.