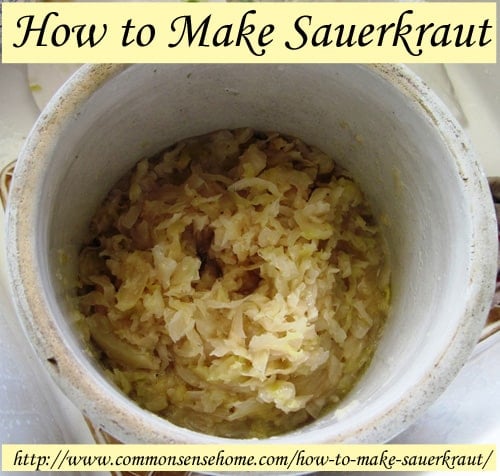 Sauerkraut has been around for at least a couple of thousand years. It was eaten by workers on the Great Wall of China, packed by Captain Cook to prevent scurvy, and valued by Northeastern Europeans as a staple food through the long winters. While the name may mean "rotten cabbage", if you do it right, it should be quite the opposite, staying fresh for an extended period of time. It's easy to make sauerkraut at home with just a few simple tools.
Print
How to Make Sauerkraut
Adapted from the book Wild Fermentation
Timeframe: 1-4 weeks (or more)
Equipment necessary:
Ceramic crock or food-grade plastic bucket, one-gallon capacity or greater
Plate that fits inside crock or bucket
One-gallon jug filled with water (or a scrubbed and boiled rock)
Cloth cover (like a pillowcase or towel)
Ingredients
For 1 gallon:
5 pounds cabbage
3 tablespoons sea salt
Instructions
Chop or grate cabbage, finely or coarsely, with or without hearts, however you like it. I love to mix green and red cabbage to end up with bright pink kraut. Place cabbage in a large bowl as you chop it.
Sprinkle salt on the cabbage as you go. The salt pulls water out of the cabbage (through osmosis), and this creates the brine in which the cabbage can ferment and sour without rotting. The salt also has the effect of keeping the cabbage crunchy, by inhibiting organisms and enzymes that soften it. 3 tablespoons of salt is a rough guideline for 5 pounds of cabbage. I use more salt in summer, less in winter.
Add other vegetables. Grate carrots for a coleslaw-like kraut. Other vegetables I've added include onions, garlic, seaweed, greens, Brussels sprouts, small whole heads of cabbage, turnips, beets, and burdock roots. You can also add fruits (apples, whole or sliced, are classic), and herbs and spices (caraway seeds, dill seeds, celery seeds, and juniper berries are classic, but anything you like will work).
Mix ingredients together and pack into crock. Pack just a bit into the crock at a time and tamp it down hard using your fists or any sturdy kitchen implement. The tamping packs the kraut tight in the crock and helps force water out of the cabbage.
Cover kraut with a plate or some other lid that fits snugly inside the crock. Place a clean weight (a glass jug filled with water) on the cover. This weight is to force water out of the cabbage and then keep the cabbage submerged under the brine. Cover the whole thing with a cloth to keep dust and flies out.
Press down on the weight to add pressure to the cabbage and help force water out of it. Continue doing this periodically (as often as you think of it, every few hours), until the brine rises above the cover. This can take up to about 24 hours, as the salt draws water out of the cabbage slowly. Some cabbage, particularly if it is old, simply contains less water. If the brine does not rise above the plate level by the next day, add enough salt water to bring the brine level above the plate. Add about a teaspoon of salt to a cup of water and stir until it's completely dissolved.
Leave the crock to ferment. I generally store the crock in an unobtrusive corner of the kitchen where I won't forget about it, but where it won't be in anybody's way. You could also store it in a cool basement if you want a slower fermentation that will preserve for longer.
Check the kraut every day or two. The volume reduces as the fermentation proceeds. Sometimes a white bloom appears on the surface. This is kahm yeast, and is harmless. Skim what you can off of the surface; it will break up and you will probably not be able to remove all of it. Don't worry about this. It's just a surface phenomenon, a result of contact with the air. The kraut itself is under the anaerobic protection of the brine. Rinse off the plate and the weight. Taste the kraut. Generally it starts to be tangy after a few days, and the taste gets stronger as time passes. In the cool temperatures of a cellar in winter, kraut can keep improving for months and months. In the summer or in a heated room, its life cycle is more rapid. Eventually it becomes soft and the flavor turns less pleasant.
Enjoy. I generally scoop out a bowl- or jarful at a time and keep it in the fridge. I start when the kraut is young and enjoy its evolving flavor over the course of a few weeks. Try the sauerkraut juice that will be left in the bowl after the kraut is eaten. Sauerkraut juice is a rare delicacy and unparalleled digestive tonic. Each time you scoop some kraut out of the crock, you have to repack it carefully. Make sure the kraut is packed tight in the crock, the surface is level, and the cover and weight are clean. Sometimes brine evaporates, so if the kraut is not submerged below brine just add salted water as necessary.
We began our sauerkraut adventure with a couple of heads of cabbage from the fall garden. This post has a mixture of photos from several years. In 2009, I used my food processor to finely dice the cabbage. Sometimes, I use big knives. To make bigger batches, we borrow the kraut cutter from the neighbors.
Here's my five pounds of cabbage and my one gallon crock. (Some of you might recognize the crock from the post on dandelion wine.)
I did measure my salt out beforehand and add it as I chopped, as I am a novice at this sort of thing.
Here we have my youngest helping me to tamp the cabbage into the crock.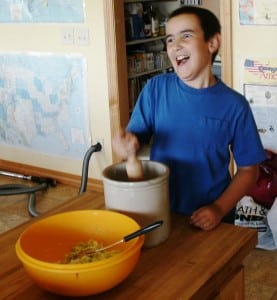 Really, he's normally a very sweet boy – see?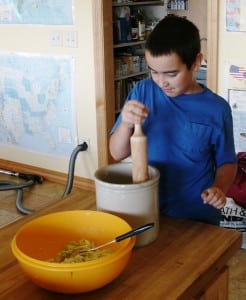 With enough pounding, you get a nice layer of juice on top.
I read another blog where the writer suggested simply leaving the cabbage to sit and letting it make its own juice, but that didn't seem to work with my cabbage. I didn't get enough juice to cover the top of the kraut.
Put a plate on top to hold down the cabbage.
Put a bag of salt water on top of the plate.
In 2009 I just packed the crock with cabbage and salt. In 2010, I did one batch plain and one batch with added dulse (on the left with the red flecks). By the way, the container on the left is not ideal for a couple of reasons. The taper near the top made it impossible for me to fit a plate in to help hold the kraut down. It's clear, so I really need to make sure it's covered to keep out the light. Nevertheless, it was non-reactive glass and it was handy, so I used it.
Can fermented vegetables be kept in the light? Well, if you had no other choice, yes, but light exposure speeds up the decomposition of the food (it will rot faster). Extended exposure to direct sunlight will kill off the very bacteria you're try to cultivate. Many vitamins are also broken down by the light. In this case, vitamin C, one of the main health benefits of raw sauerkraut, is broken down by exposure to light, heat and oxygen. Keep your ferments in the dark!
This year's crocks are safely tucked under old towels in the basement cool storage after three days on the kitchen counter. Last year, I brought the batch up around mid-December to start eating. When I took the water bag and plate off, you can see the color of the kraut has darkened.
I packed one pint jar for the fridge and froze the rest, along with some red kraut I got from a friend.
As I understand it, freezing slows down the organisms responsible for the fermentation but doesn't kill them, so the kraut is still alive, unlike canning, where the whole goal is to kill any live bacteria in the product.
2013-2014 Update
This season we borrowed the neighbor's kraut cutter and made a batch that was 3/4 green cabbage and 1/4 red cabbage. The kraut cutter was nice for making a larger batch.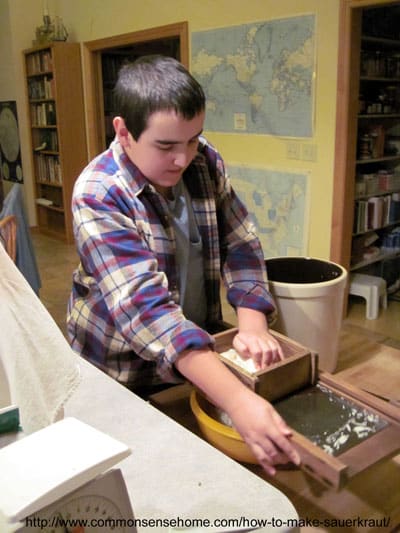 It aged from 10/23/2013 to 3/2/2014, and when I went to package it, I found we had a hot pink kraut. This is great for adding some color to your plate!

What are some of the benefits of eating raw sauerkraut?
Joe Karthein explains in Raw Sauerkraut Rocks!:
The same beneficial microorganisms that create lactic acid in the colon are naturally present in all vegetables and are responsible for turning raw cabbage into highly-digestible sauerkraut. The fermentation process increases the number of microorganisms dramatically, digesting the cabbage and other vegetables and producing lactic acid. This lactic acid works the same in a jar of fresh sauerkraut as it does in our large intestine; harmful bacteria cannot survive in the acidic environment.

When we eat unpasteurized sauerkraut we reap the benefits of absorbing an entire ecosystem into our own internal ecosystem. The lactic acid from the sauerkraut creates an environment where the introduced beneficial bacteria can reproduce and in turn create more lactic acid.

Lactic acid also helps digestion at an earlier stage–in our stomach. As we get older, our stomach's natural secretions of hydrochloric acid decrease. Hydrochloric acid breaks down food so it can be more easily absorbed by the small intestine. It is also the most important defense we have against harmful bacteria and parasites often present in food. Lactic acid can partially compensate for reduced hydrochloric acid.

Another way unpasteurized sauerkraut benefits digestion in the stomach is by assisting the pancreas. The pancreas secretes essential digestive enzymes into the stomach.

Unpasteurized sauerkraut is very high in viable enzymes that work just like the ones from the pancreas. A friend with chronic pancreatitis who has been taking prescription enzymes for the last five years was able to reduce his dosage by eating fresh sauerkraut on a daily basis. But this is just the beginning; there are so many more reasons to include my favorite food in your diet!
I eat my kraut with my eggs in the morning for breakfast, or as a condiment with just about any meat (roast chicken being a favorite). It makes a most excellent Reuben.
I hope this helps you take the plunge if you haven't tried fresh kraut. It's fairly easy and very tasty. What other veggies have you fermented, and how did you like the results?
PS – I quick note on the "tamper" I used to pound down the kraut, in response to Patty's comment. The tamper is actually the wooden pestle from my Mirro Canning Food Press. The food press was handed down to me by my grandmother. I don't use it a ton since I got my food strainer, but it is handy for small batches of applesauce and such, and pounding on vegetables.
GET MORE SELF-RELIANT NOW!
Get Homesteading 101 FREE, plus weekly updates and Subscribers Only information delivered to your inbox.