These easy to make pumpkin oatmeal cookies are chewy, nutty and delicious. Works well with a variety of flour types, including gluten free flour blends. The biggest problem with these cookies is that I want to eat the entire batch!
These cookies were even a hit with the boys, who normally aren't big on oatmeal cookies. They definitely go on the "keeper" list.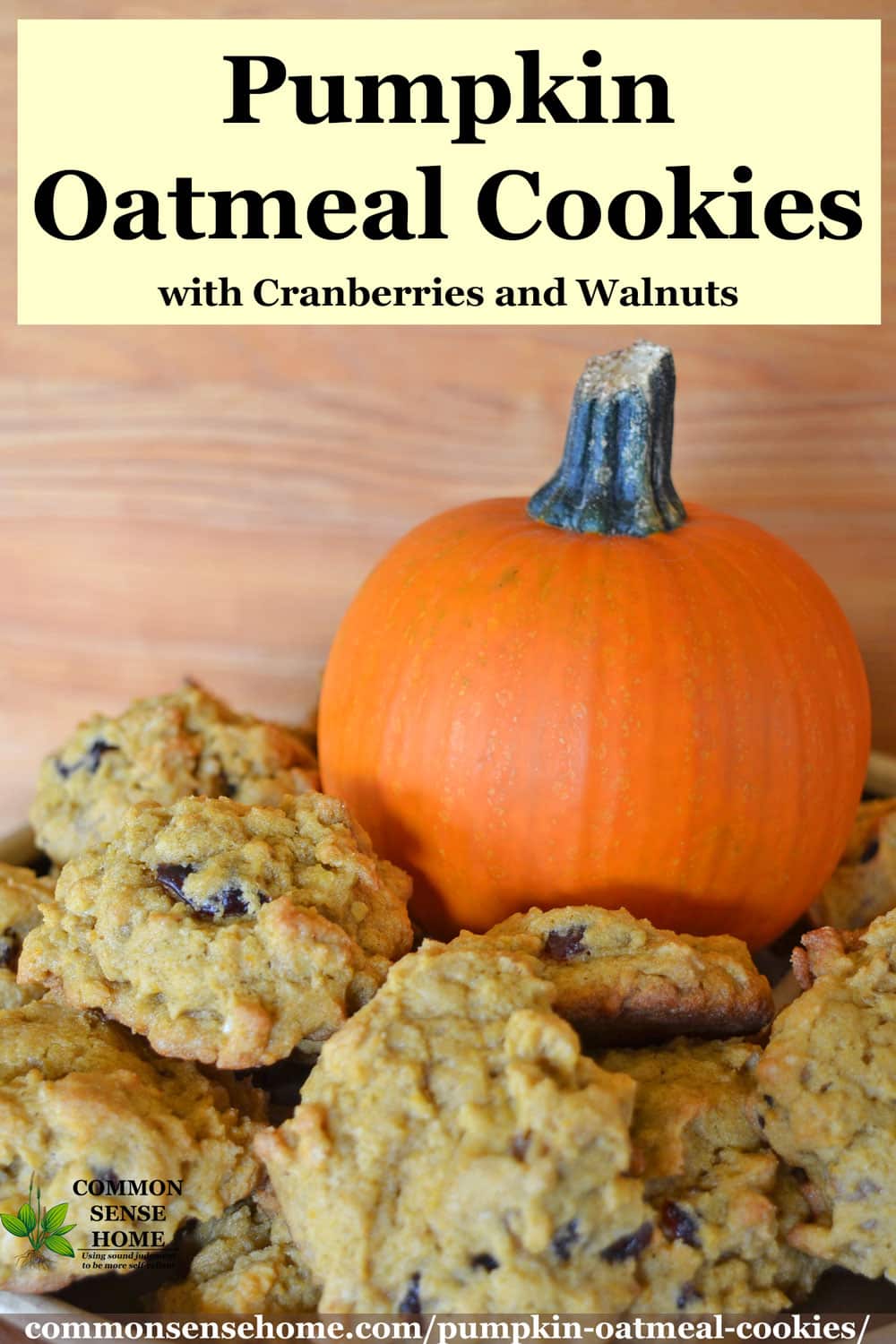 I use homemade pumpkin puree, but canned is fine, too. (See note below about "pumpkin" recipes. When I make up puree, I use some of right away and freeze the rest in recipe sized portions to use for other pumpkin recipes.
This recipe adapts well to make gluten free pumpkin oatmeal cookies, or cookies with fresh ground soft wheat flour. My favorite off the shelf all-purpose wheat flour is King Arthur brand, and my favorite gluten free option is Namaste.
Use quick cooking oatmeal for a softer cookie, old fashioned or steel cut oatmeal for a chewier pumpkin cookie.
You can substitute more cinnamon if you don't have cardamom, and raisins if you don't have dried cranberries.
To prepare homemade pumpkin puree:
Cut winter squash in half, scoop out seeds
Place squash cut side down in large pan. Add about an inch of water.
Cook at 350°F for about an hour, until a fork easily penetrates the skin and flesh
Cool and scoop out flesh. Puree in a blender or food processor until smooth.
Note: With extremely dry winter squash like Red Kuri, you made need to add a little water to get a smooth puree. If you can't cut the squash in half before baking, you can bake it whole and separate the skin and seeds after it cools.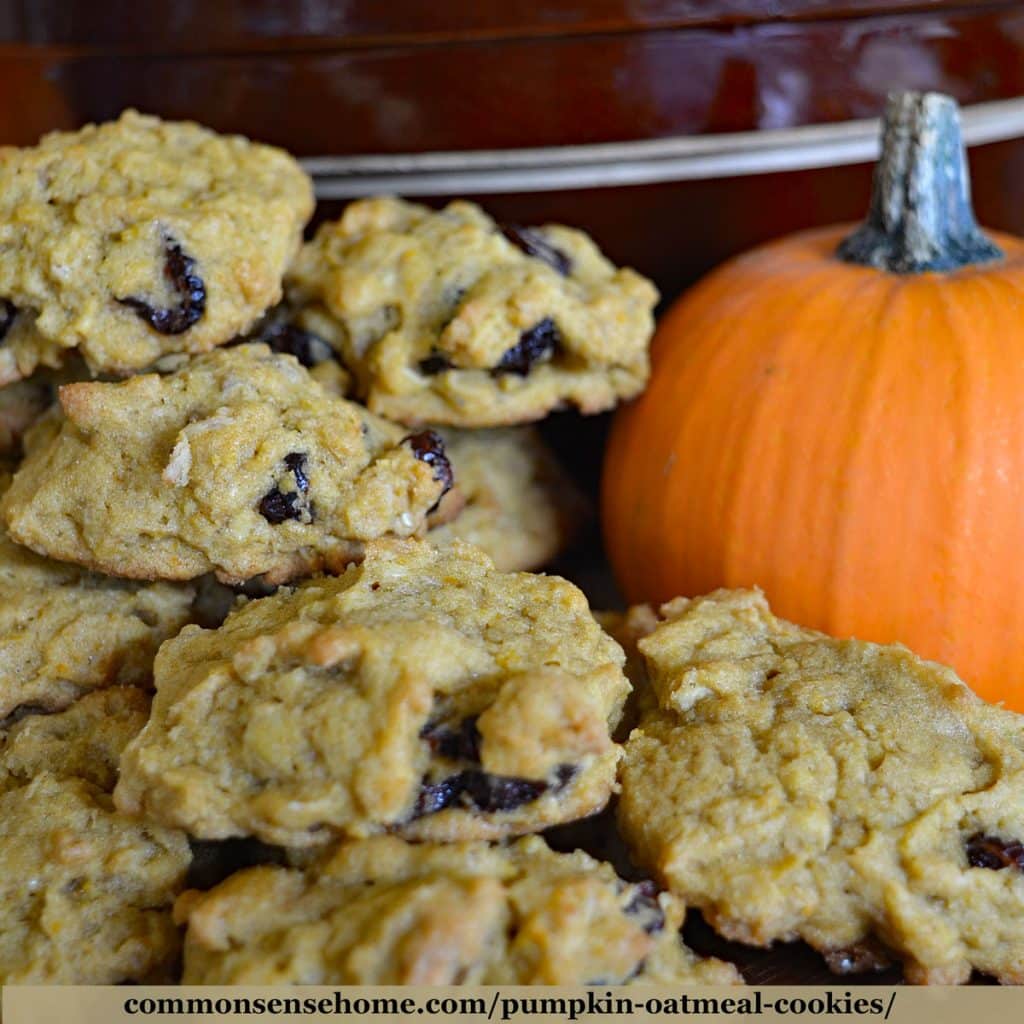 Why I don't use Pumpkin in my Pumpkin Oatmeal Cookies
I know the recipe says "pumpkin oatmeal cookies", but I don't typically use pumpkins for baking. When I say "pumpkins", I mean the big, orange winter squash that we associate with jack o'lanterns.
Jack o' lantern pumpkins are edible, but the flesh tends to be watery and bland in flavor. Instead, I cook with heirloom pumpkins such as Galeux d'eysines, or other winter squash with darker, sweeter flesh.
Libby's canned pumpkin (which is around 90% of the pumpkin sold in the U.S.) is made from Dickenson pumpkins.
These are big – up to 40 pounds and pale skinned (not bright orange). They are a Cucurbita moschata species, whereas jack o' lanterns are usually Cucurbita maxima species.
The five domesticated squash species are Cucurbita maxima, C. moschata, C. pepo, C. argyrosperma, and C. ficifolia, with maxima, moshata and pepo being the most commonly cultivated in the United States.
Note: See "How to Cook Pumpkin or Winter Squash – 3 Easy Methods" for different options to cook your pumpkin or squash.
Print
Pumpkin Oatmeal Cookies with Cranberries and Walnuts
These easy to make soft Pumpkin Oatmeal Cookies are chewy, nutty and delicious. Works well with a variety of flour types, including gluten free flour blends
Author:
Prep Time:

15 minutes

Cook Time:

15 minutes

Total Time:

30 minutes

Yield:

4

dozen

1

x
Category:

Dessert

Method:

Baking

Cuisine:

American
Dry Ingredients
2 cups

all-purpose flour or gluten free flour blend

1 cup

uncooked oatmeal – quick cooking for a softer cookie, old fashioned or steel cut for a chewier cookie

1 teaspoon

baking powder

1/2 teaspoon

baking soda

1/2 teaspoon

salt

1 1/2 teaspoons

ground cinnamon

1/4 teaspoon

ground cardamom
Wet mix ingredients
1 cup

(

8 ounces

) butter, softened

1 cup

light brown sugar, packed

3/4 cup

granulated sugar

1

large chicken egg

1 1/2 teaspoons

vanilla extract

1 cup

pumpkin (squash) puree or 1 cup canned solid pack pumpkin
Ingredients to add last
1 cup

dried cranberries or dried tart cherries

1 cup

chopped walnuts or pecans
Heat oven to 350°. Lightly grease baking sheets or line with parchment paper or reusable parchment sheets.
In a medium bowl, mix together dry ingredients and set aside. (If you don't want to dirty a bowl for this, you can dump them straight onto the top of your wet mixture, but this ensures they are thoroughly mixed.)
Cream the butter and sugars in a large bowl until well blended. Mix in the egg, vanilla, and pumpkin.
Add the dry ingredients and stir gently until blended. Stir in cranberries or tart cherries and chopped nuts.
Drop by teaspoonfuls onto the prepared baking sheets.
Bake for 12 to 15 minutes, or until lightly browned around the edges and set. These are tender cookies, so you'll need to let them cool for a few minutes on the pan to set up before moving them to a wire rack to cool completely.
Notes
You can substitute more cinnamon if you don't have cardamom.
Keywords: cookies, pumpkin, pumpkin oatmeal cookies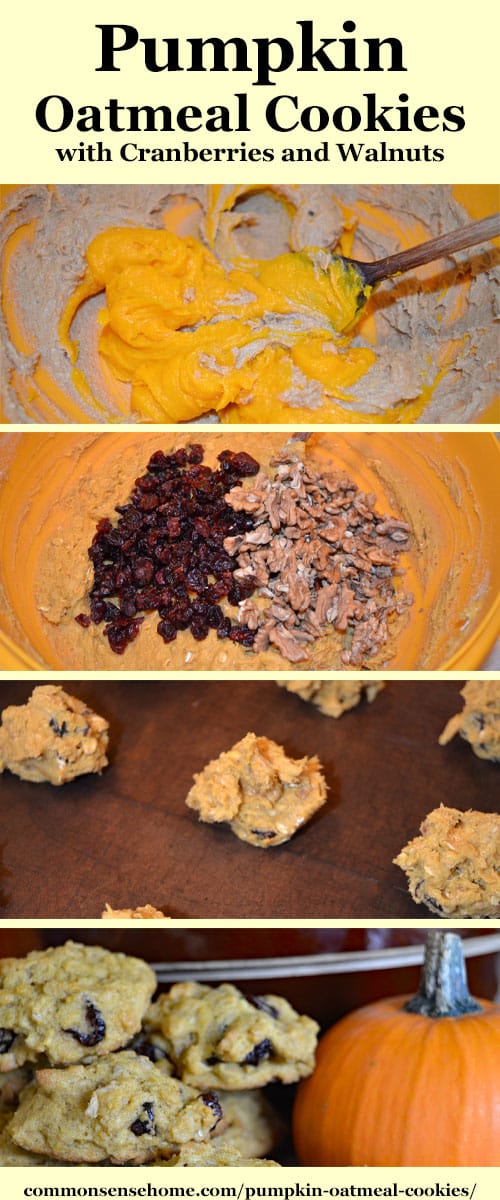 Baking tips:
Reusable parchment paper saves time and makes getting your pumpkin oatmeal cookies off the pan crazy easy. You can use Airbake pans if you're nervous about burning the cookies.
I love my big grid-style cooling rack – nothing falls through it.
You may also enjoy:
Pins, Shares and Likes always appreciated!
Originally posted in 2012, last updated in 2018.