Yule Log Cake (Bûche de Noël) – A Festive Holiday Treat
The yule log cake, or Bûche de Noël, is one of the oldest types of cakes that's still made. This yule log cake recipe has moist tender cake crumb, combined with lightly sweetened whipped cream filling and rich chocolate ganache "bark".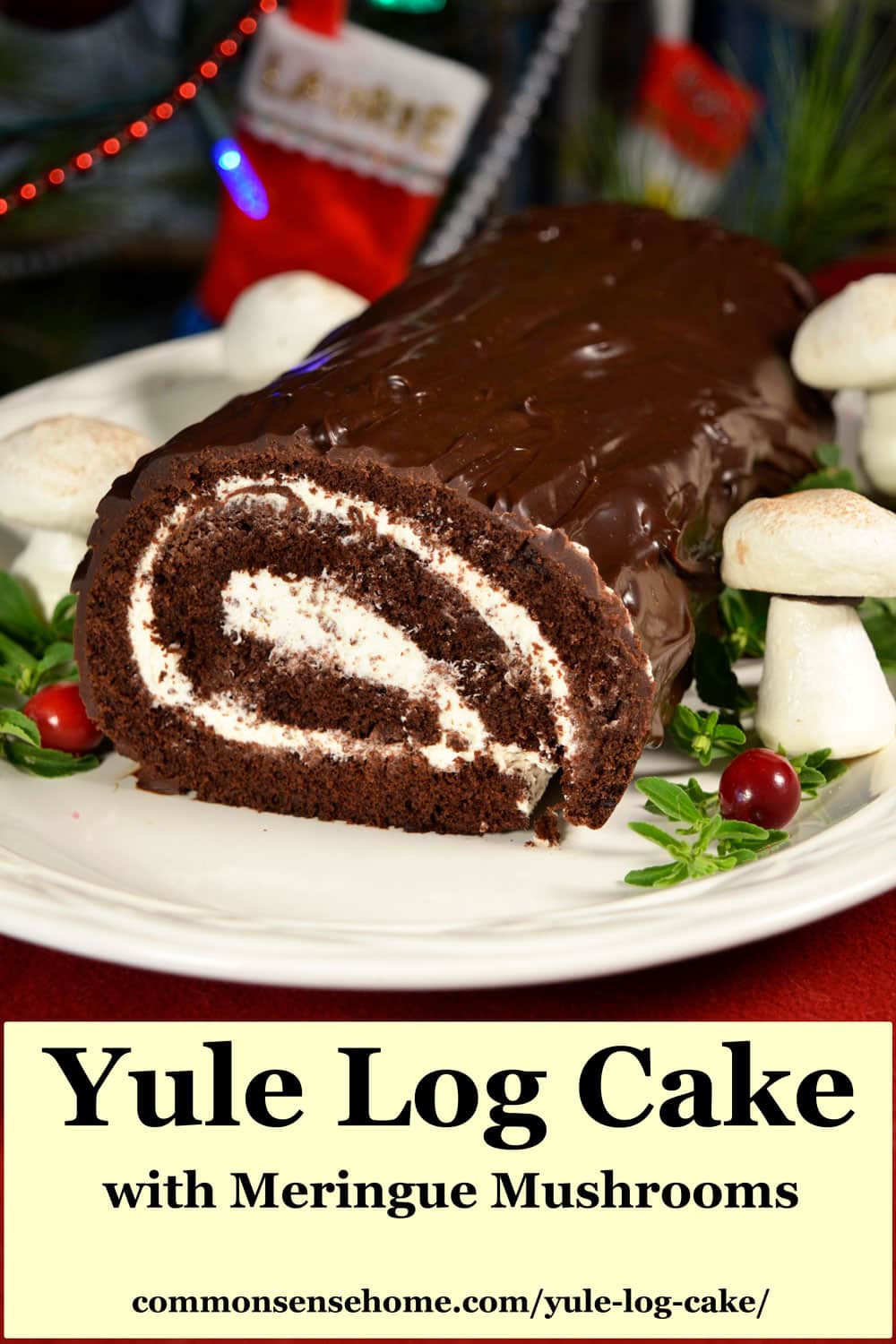 While the traditional cake pairs a chocolate sponge cake with cream filling, a quick online search will show a number of variations from sweet to savory. (See "Yule Log – Enjoying a Simple Winter Solstice Tradition" for more yule log history.)
I've combined what started out as a chocolate zucchini roll with whipped cream and chocolate ganache to make a yule log cake that is decadently delicious. (I'm not a big fan of sponge cake.)
Tips for Your Yule Log Cake
Mixing and baking this Christmas cake goes quickly, but assembling and decorating takes more time.
First, you want to make sure to let your cake cool completely before filling the cake roll with whipped cream. A warm cake will cause the cream to get runny. You can speed up cooling by placing the cake in the refrigerator, but let it come to room temp again before filling. A cold cake will be more likely to crack when you roll the cake with filling.
Second, if you want to add meringue mushrooms, those little puppies take an hour and a half in the oven, plus time for assembly. It's okay to make them ahead and store in an airtight container before you make the cake.
Another option is get the cake in the oven and start in on the mushrooms. Pop the mushrooms into the oven as soon as the cake comes out, and let them bake while the cake cools.
Baking and Assembling
Please don't skip lining the pan with parchment paper or wax paper. You need the cake release easily for decorating.
When the yule log cake is ready to come out of the oven, I lightly dust a flour sack towel with powdered sugar. (Use a sifter or shaker to evenly spread the sugar.)
Roll up the cake while it is still warm and flexible, starting on a short side. You want a short, somewhat fat yule log cake.
When it's time to fill, unroll your cake gently. I like to tuck a little whipped cream into the tightest part of the roll first to stabilize it. The balance of the whipped cream then gets spread over the rest of the cake. Roll up the cake, and place it seam side down on your serving plate.
If you like more whipped cream, you can bump the filling up to 1 1/2 cups heavy cream, but be careful! If there's too much filling in your yule log cake, you'll blow out a side.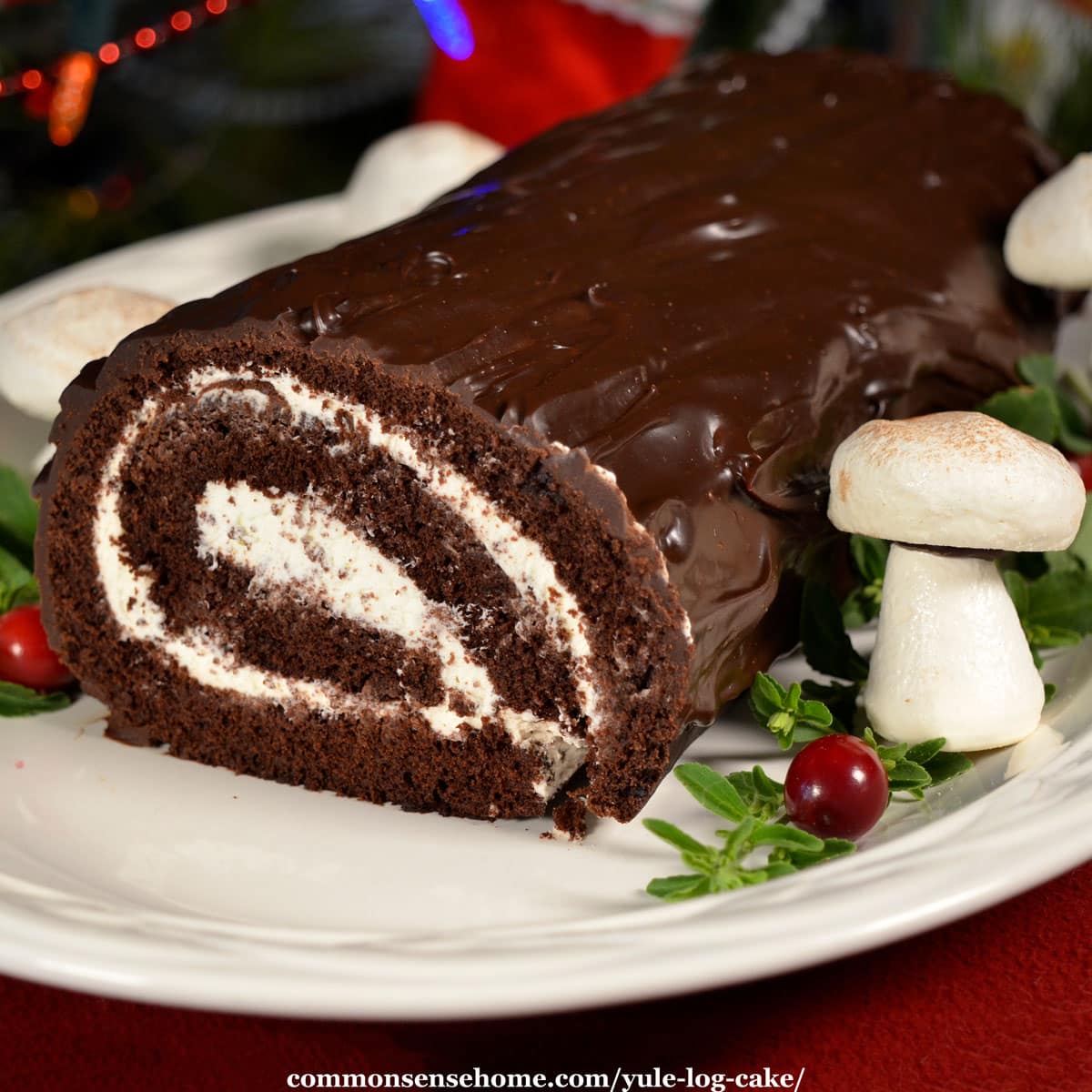 Decorating Your Yule Log Cake
If you're in a hurry, or are trying to cut calories, simply dust the rolled yule log cake with powdered sugar and call it good.
If you have time, I highly recommend including the chocolate ganache. The combination of the creamy filling inside and the smooth ganache outside is really good. It's rich, but not too rich. One word of warning – you may be tempted to have a second slice.
I trimmed both ends of my yule log cake to get an evenly exposed view of the whipped cream spiral. (The edges tend to be a little uneven.) To add a little color to the yule log cake display, I trimmed some branches off our stevia plant, and found some cranberries in the freezer. Mint, rosemary and other fresh berries also make pretty garnishes.
For the meringue mushrooms, I used a recipe from Natasha's Kitchen. I like my stems a little thicker and smudge the tops for a more "mushroom" look. I have the basic recipe below, but you can visit her site for a full step by step tutorial.
Print
Yule Log Cake Recipe (Bûche de Noël)
This yule log cake recipe uses applesauce for a moist tender cake crumb, combined with lightly sweetened whipped cream filling and rich chocolate ganache "bark".
Author:
Prep Time:

30 minutes

Cook Time:

10 minutes

Total Time:

40 minutes

Yield:

10

servings

1

x
Category:

Dessert
For the Cake:
3

eggs

1 teaspoon

vanilla extract

1/2 teaspoon

almond extract

1 cup

applesauce

1 cup

all-purpose flour

3/4 cup

sugar

1/2 cup

cocoa powder, preferably Dutch processed

1 teaspoon

baking soda

1/4 teaspoon

salt
For the filling:
1 cup

heavy cream

¼ cup

powdered sugar

1 tsp

vanilla extract 
For decorating:
3

/ 4 cup semisweet or bittersweet chocolate chip

6 tablespoons

heavy cream
Additional confectioners' sugar, optional
Edible greens and berries, optional
Meringue mushrooms, optional
For the cake:
In a mixing bowl, beat eggs, almond and vanilla extracts, and applesauce.
Combine flour, sugar, cocoa, baking soda, and salt; add to egg mixture and mix well. (The batter will be thick).
Spread into a greased and waxed paper-lined 15-in. x 10-in. x 1-in. baking pan. Bake at 350°F for 10-15 minutes or until cake springs back when lightly touched.
Turn onto a linen towel dusted with confectioners' sugar. Peel off waxed paper and roll up, jelly-roll style, starting with a short side. Cool on a wire rack.
For the filling:
In a mixing bowl, whip cream; blend in powered sugar and vanilla.
Unroll cake; spread filling to within 1 inch of edges. Roll up again and place seam side down on serving platter
For decorations:
The simplest decoration is to dust with confectioners' sugar.
For chocolate ganache "bark", melt ¾ cup chocolate chips and 6 tablespoons heavy cream in a small saucepan over low heat. Stir constantly until smooth and creamy. Remove from heat and cool until mixture starts to thicken slightly.
Trim ends of cake if desired and brush off loose crumbs. Gently spread ganache over cake, working from top to bottom. Use a butter knife or spatula to create bark like ridges in the ganache.
Add extra trimmings if desired. You can dust with confectioner's sugar for a 'snow" effect, place some edible greens and berries around the cake, or add meringue or marzipan mushrooms.
Refrigerate until serving.
Notes
If you don't have applesauce on hand, you may substitute mashed bananas.
Keywords: yule long, Christmas, holiay, solstice, chocolate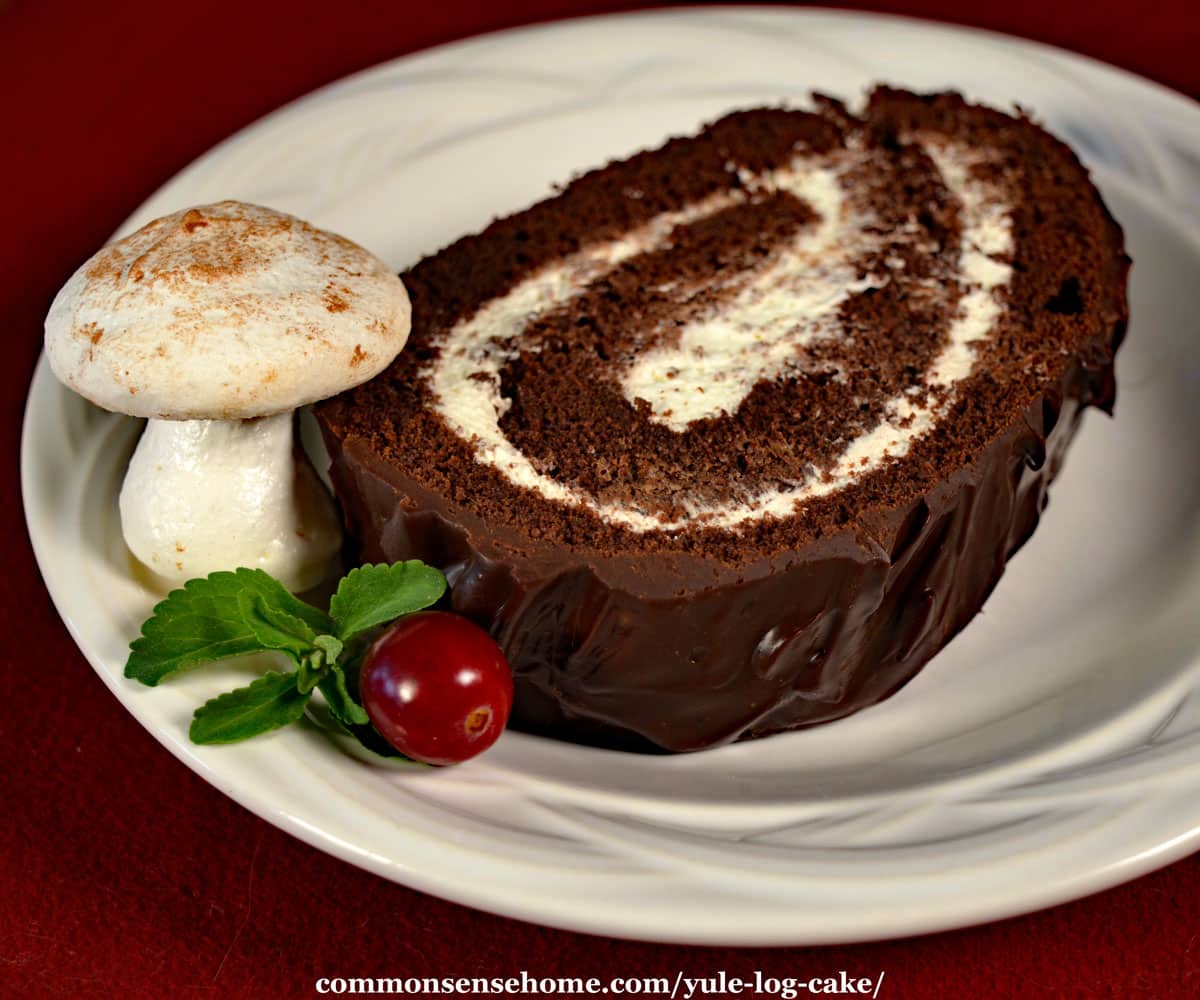 Meringue Mushrooms
Print
Meringue Mushrooms
Use these meringue mushrooms to trim your yule log cake.
2

large egg white, room temp

1/2 cup

granulated sugar

1/8 teaspoon

salt

1/8 teaspoon

cream of tartar

1/4 cup

semi-sweet chocolate chips, melted
Whisk together egg whites, sugar, salt and cream of tartar at high speed for seven minutes, or until glossy with stiff peaks.
Transfer meringue in pastry bag fitted with large round tip. Pipe mushroom tops and bottoms onto baking sheet lined with parchment paper or reusable parchment paper. Mushroom tops should be around 1 1/2″ inched in diameter. Stems should be around 3/4″ diameter at the base with a pointed top. Smooth mushroom caps with a wet fingertip.
Bake merigues at 200F for one hour and thirty minutes. When baked, they should release easily from teh parchment. They will be slightly soft in the center and turn crisp as they cool.
Dust tops lightly with cocoa powder. (A little goes a long way.) Use a small paring knife to carve a small in the bottom of each mushroom cap. Tap out lose meringue dust.
Melt chocolate chips and transfer to a small ziploc bag. Cut the tip off of one corner of the bag. Use the bag to pipe melted chocolate into the holes, and insert a stem into each hole.
Let the mushrooms rest upside down until the chocolate is set.
Store finished mushrooms in an airtight container for up to a week. Do not refrigerate.
Notes
If these get moist, they'll get soggy, so don't put them on your yule log cake until right before serving.
More Holiday Recipes
We have over 100 made from scratch recipes on the site, including plenty of sweets and treats. Some of our holiday favorites include:
Flourless Chocolate Cake with Chocolate Ganache (Gluten Free)
Easy Christmas Cookies – One Dough, Three Different Cookies
Sugar Cookie Snowflakes – An Easy Sugar Cookie Recipe, All Dressed Up