Most homemade lotion recipes involve quite a few ingredients, blenders and more mess than I'd prefer to clean up. In contrast, all you need for these hard lotion bars is three ingredients, one pot, and molds – that's it! You can even use muffin tins if you don't have other molds, since the bars use all natural ingredients.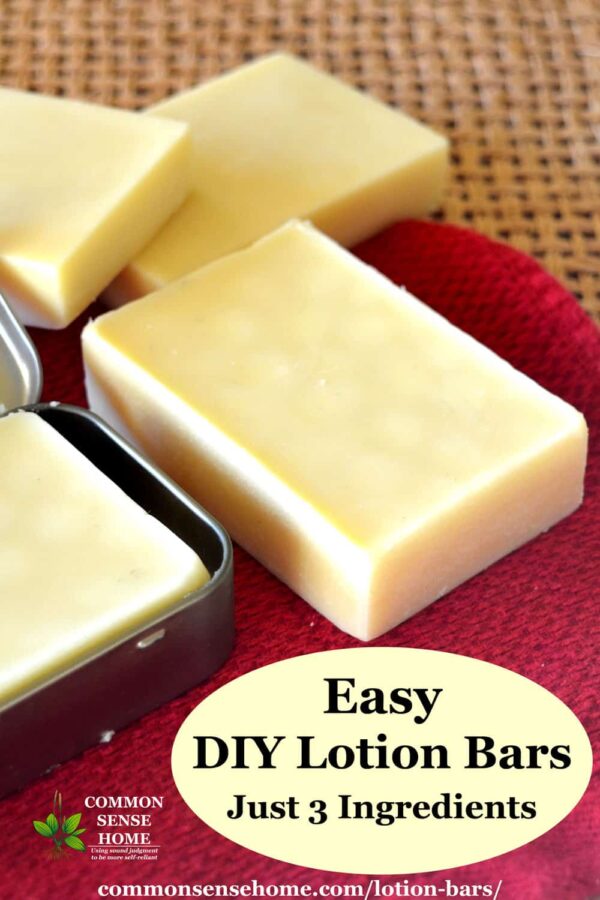 I love lotion bars! These have been wonderful for my winter dry skin. I used to coat my hands at night with petroleum jelly (before I knew what was in it), because it was the only thing that helped with the dryness. Normal lotion didn't help much at all, plus I don't like the fragrance of most lotions, and many have questionable ingredients. Since I do a lot of dishes and wash my hands frequently, these bars have been a godsend. No more dry skin for me! My only regret is that I didn't try them sooner, since they are so easy to make. The smell is light and pleasant, and they absorb fairly quickly. (Note: I did change my diet a little, too, which can also help with dry skin.)
What is a Hard Lotion Bar?
A hard lotion bar is lotion that is solid at room temperature. They are a wonderful skin care option to heal and protect extremely dry skin, such as hands and heels.
Most start with three ingredients:
Wax – typically bees wax
Butters – my favorite is cocoa butter
Oil – I prefer coconut oil
To this base, you can also add vitamin E for longer shelf and/or essential oils for fragrance and healing properties. If you enjoy working with herbs, you can infuse herbs into oil and then make the lotion bar with the infused oil.
How Do You Use a Lotion Bar?
Using a homemade lotion bar is easy. Simply hold the bar in your hands to allow your body heat to warm and soften the bar. (If your hands are cold, you may need to rub enough to create a little friction.) Rub the bar directly on the desired area, or rub the bar on your hands and use your hands to apply the lotion to other parts of your body.
In the video below, I demonstrate how to make the lotion bars and how to use them. (If you don't see a video, make sure you have ad blockers turned off.)
Easy Lotion Bar Recipe
Ingredients
Use 1 part each, by weight. 
For instance, 2 ounces of each ingredient. If using liquid oil, you can measure by volume. For instance, 2 ounces of olive oil to 2 ounces by weight each of cocoa butter and beeswax.
If you don't have a scale, you can measure by volume, such as one cup cocoa butter, one cup coconut oil and one cup beeswax. This will make a softer bar. For a firmer bar, use one cup butter, a half cup oil and a cup of wax (or similar proportions).
Instructions
Place butter, oil and wax in a heavy bottom pot or double boiler. You may also use an Instant Pot on the "keep warm" setting. If you don't have a double boiler, you can make one by placing a glass bowl or wide mouth Mason jar in a small saucepan of water.
Heat gently, stirring regularly, until ingredients are melted.
Pour into molds.
Allow to cool completely before removing from molds. You can chill the bars in the refrigerator for 10-15 minutes to speed up the process. The finished bars do not require refrigeration.
Options:
Add 1 teaspoon vitamin E per 12 ounces of bar for increased shelf life.
Add essential oils of choice after lotion bar mix is removed from heat, before pouring into molds.
Start with around 10 drops per 12 ounces of bar. Remember, with essential oils, a small amount goes a long way. If you're using cocoa butter, keep in mind how the EO you choose will pair with the scent of chocolate. Mint and orange essential oils are popular pairings with cocoa butter.
You may also make your bars with herb infused oils, such as plantain oil, which is great for skin issues, or dandelion oil, which is wonderful for muscle aches.
How to Make Lotion Bars – Step by Step
It's helpful to start with small pieces or shavings of solid ingredients so they melt quicker.
Here's a shot of all the ingredients as they begin to melt. In this batch, I used two ounces by weight or volume of each ingredient. I weighed the beeswax and cocoa butter, and used a liquid measure for the oil.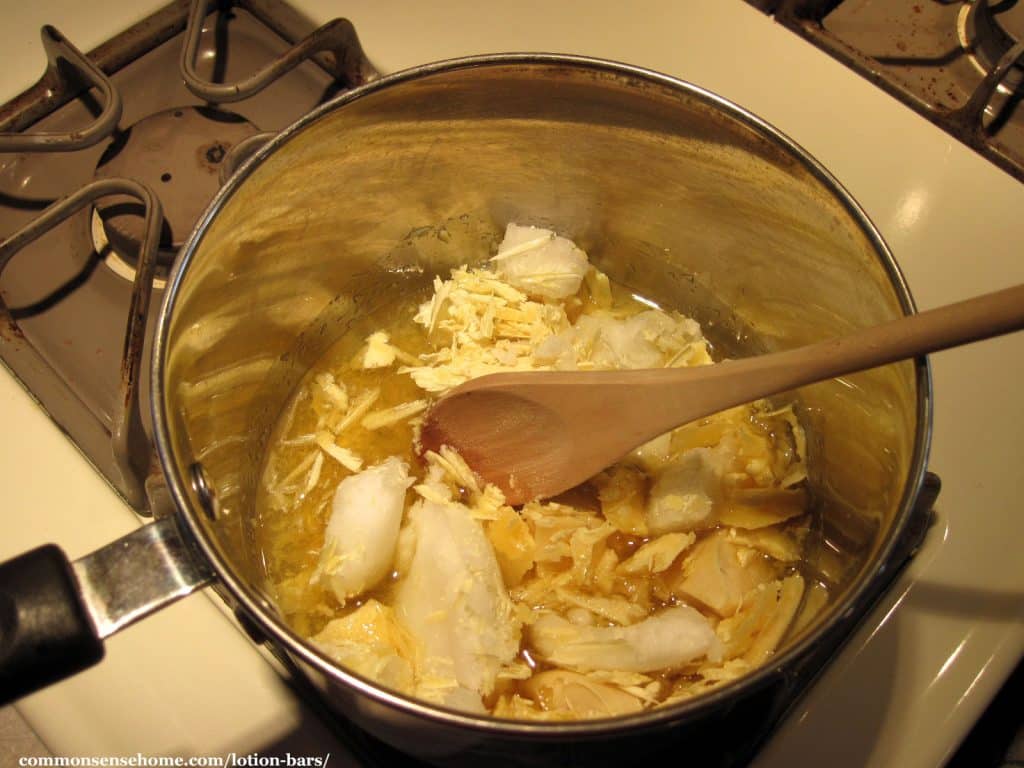 When everything has melted completely, pour the liquid into molds of your choice. If you have lip balm tubes, pour the tubes half full and allow the hard lotion to set up slightly, and then finishing filling the tubes.
I like to set my molds on a baking sheet to keep them level and easy to move around.
12 ounces of product fills one of the pink rectangular bar molds, making six bars. In the photo below I also filled small containers with lids to use as lip balms.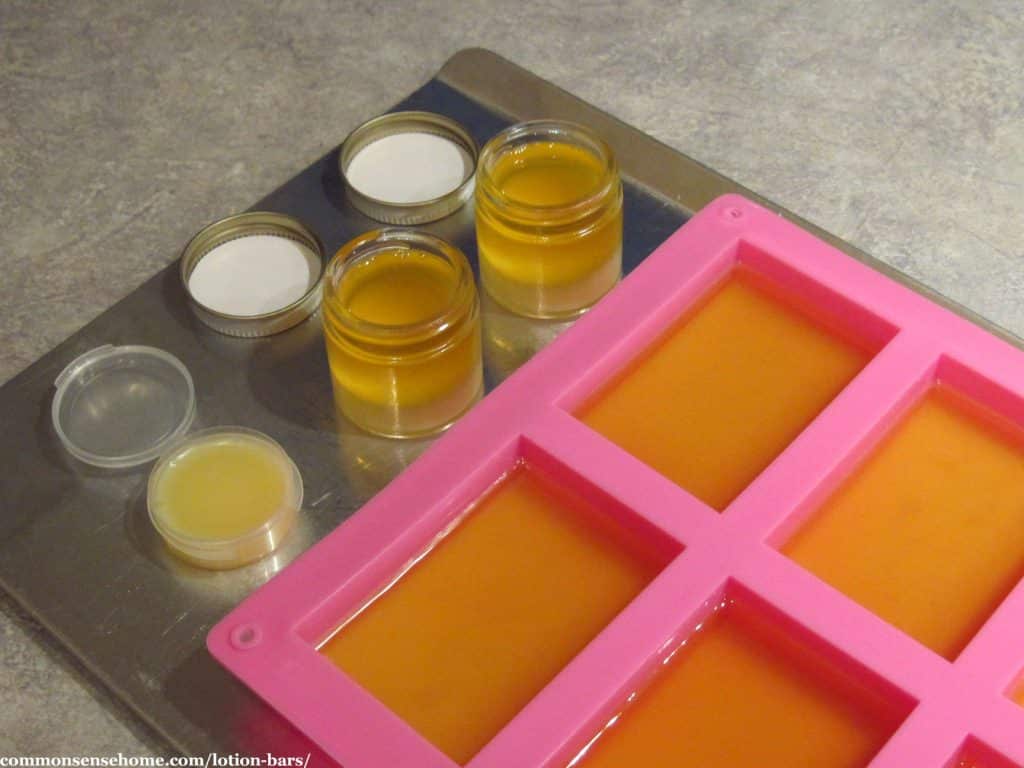 After several hours, the lotion will be firm and hard and should release easily from the mold.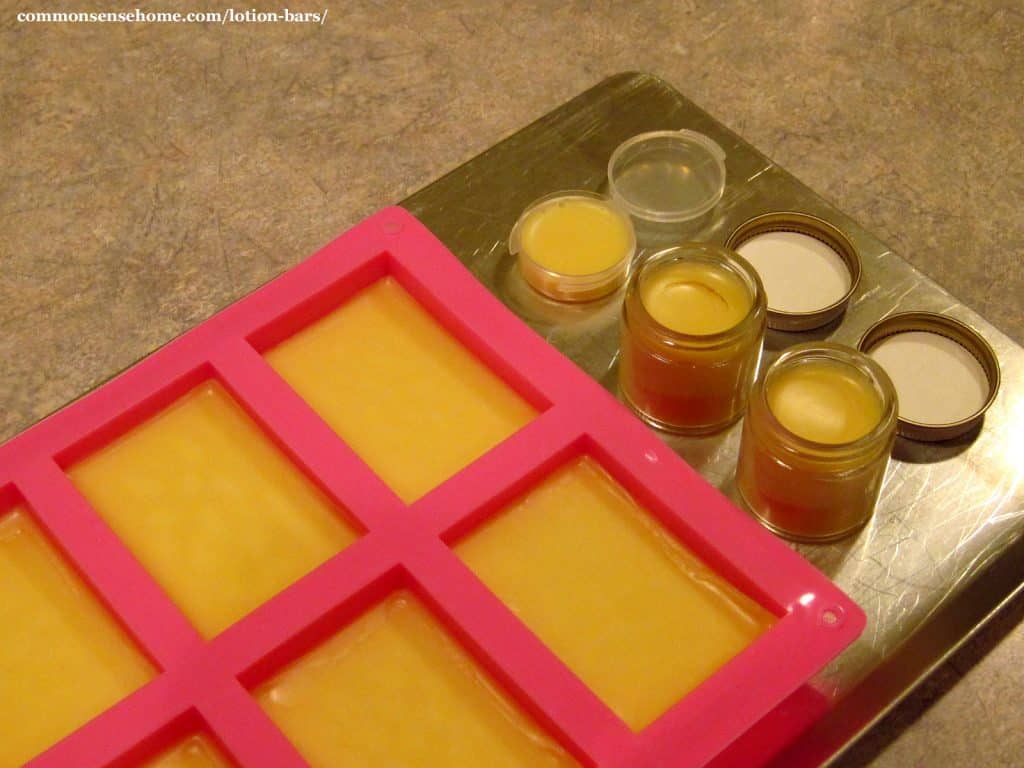 What kind of beeswax do you use for lotion bars?
I like to use unrefined beeswax for my lotion bars and other homemade beauty products. This wax is yellow in color. We buy ours in bulk from a local apiary, and then chop off bits as needed for projects. An easier option to use is beeswax pellets or pastilles. You can also use refined beeswax, which is white in color, but I enjoy the fragrance of the unrefined wax.
Lotion Bar Molds
I prefer the basic oval bars or rectangular bars, but the boys liked other shapes when they were little. I bought these years ago at a local craft store, but there are some super cute molds available now like this animal shapes mold.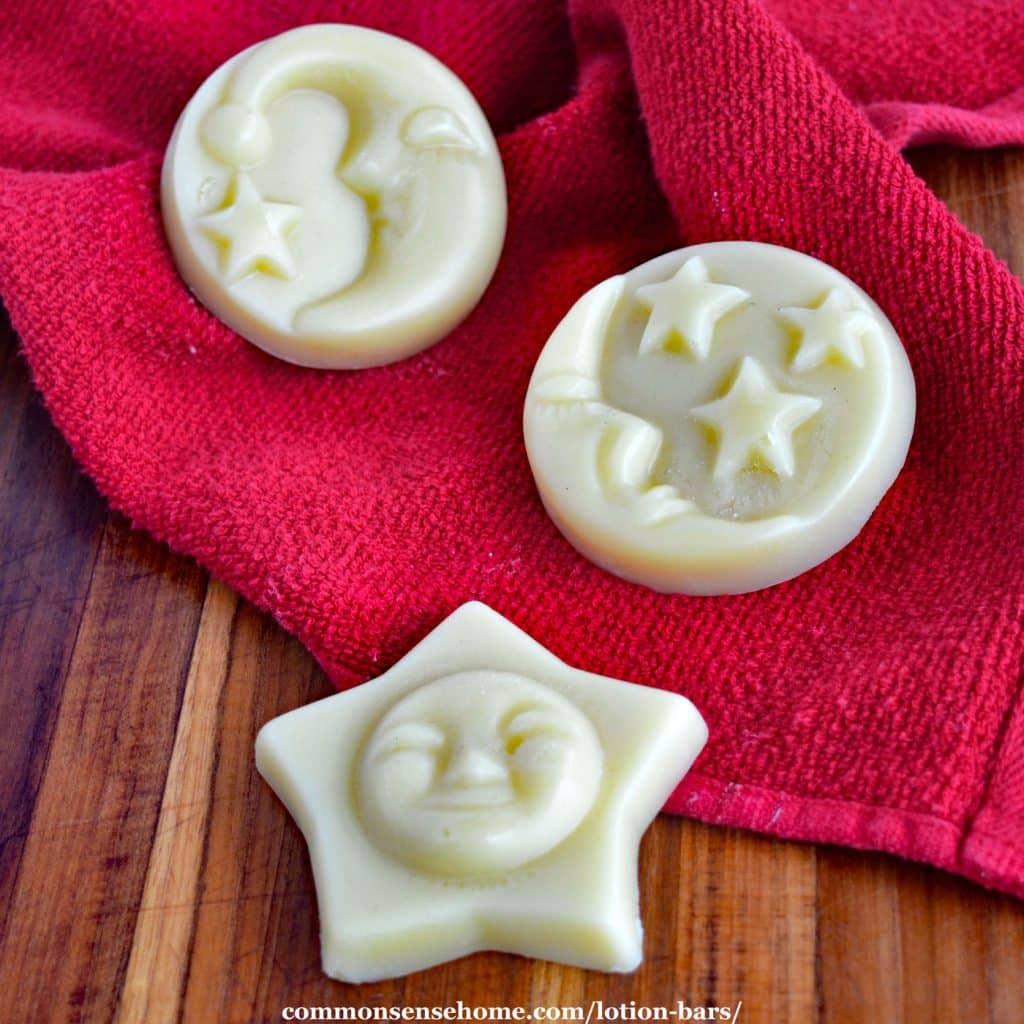 You can also use shaped ice cube trays (like hearts or stars), muffin tins or candy molds. Just stick to the basic recipe if you're using any containers that you plan to reuse for food. (Essential oils can leave a lingering scent and/or flavor in the molds.)
Another option is to pour the "bars" into a salve tin with a lid. You can also use a rectangular bar mold to create a bar that will fit into an Altoid type tin. The tins are also available in sets of 4 with clear lids. I prefer to pour the bars separately and store them in the tin. It's easier to apply the hard lotion if you can hold the bar in your hand. If you use the rectangular bar mold, fill the cavities to about 1/8 inch below the top edge. That way they will fit in the Altoid style tin and the lid will close snugly.
Click here to order the rectangular bar mold
Click here to order a set of 4 rectangular containers with clear lids
My friend, Casey, made up some simple printable labels and saved them in pdf format for printing, to fit on the Altoid sized tins. (See more practical gift ideas here.)
Non Greasy Lotion Bars – Troubleshooting Tips
Sometimes the lotion bars have a greasy or slippery feel, especially in warm weather. Other times the bars may feel a little tacky or sticky. Renee from Made On Hard Lotion says "Greasy lotion bars have too much coconut oil and sticky bars have too much shea/cocao butter."
If your bars come out too slippery, remelt and add more beeswax and/or cocoa butter. If they are too sticky/tacky, remelt and add more oil. You may also want to experiment with different combinations of oils and butters to see if you like those better. (See below.)
Substituting Ingredients in Your Lotion Bars
When choosing ingredients for your lotion bars, it's best to work with those that are shelf stable for at least 6 months. Rancid ingredients smell unpleasant, and you don't want to rub something spoiled on your skin.
Cocoa butter and shea butter both have a shelf life of around 2 years. Mango butter is another butter that is very good for skin care, but it has a slightly shorter shelf. I find the shea butter bars to be a little tackier and take longer to absorb into the skin. They also smell a bit "planty", not bad, just not as good (to me) as the cocoa butter. Mango butter is also used for homemade lotion bars, but it will make a softer bar.
I normally use virgin coconut oil or olive oil for my homemade lotion bars, but jojoba oil and fractionated coconut oil are also very shelf stable. Lard and tallow can also be used, but you may want to pair them with EOs for fragrance. See The Shelf Life of Oils for a listing of common oil longevity. Note that many cooking oils labeled as "olive oil" are vegetable oil blends with olive oil. For best results, use real olive oil.
Beeswax is my wax of choice. If you need to avoid beeswax, you can substitute Candelilla wax, carnuba wax or soy wax. Candelilla and carnuba amounts = roughly half or less than amount of beeswax. Soy wax can be substituted in equal amounts. Be aware that soy wax is hydrogenated, so it's not my first choice for skin care.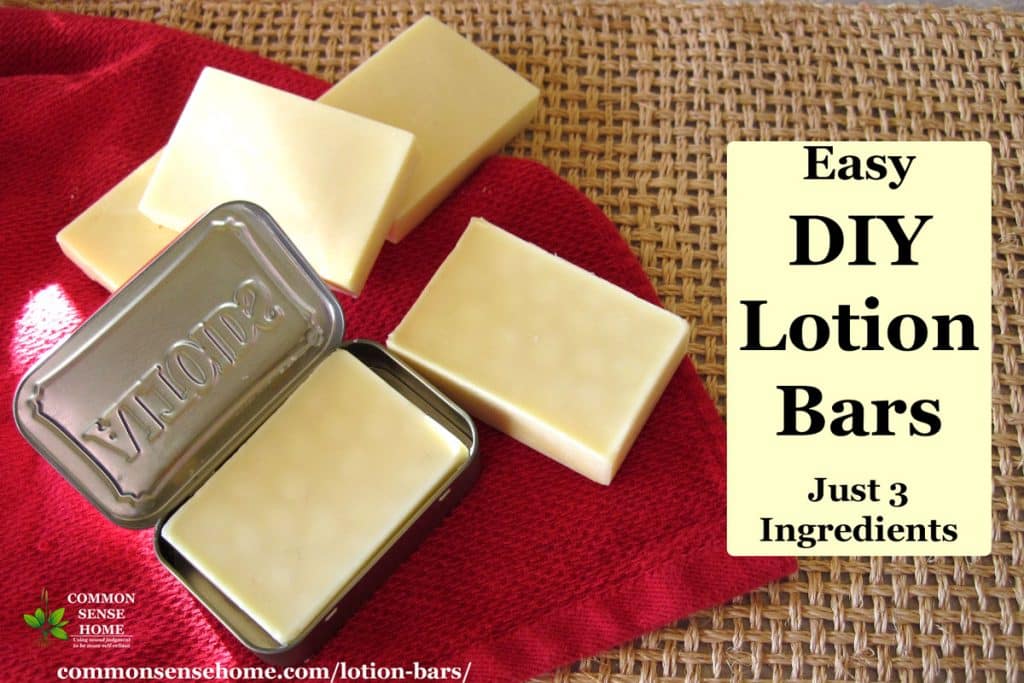 Packaging Your Lotion Bars
If you make several bars and don't use them right away, keep the extra bars in a sealed container or bag. This will help preserve the lovely chocolate smell or any essential oils you choose to add.
As mentioned above, the bar molds fit neatly into the tins, which is great for gift giving or everyday use. In warm weather, I highly recommend pouring your lotion "bar" into a container with a screw top or other tight fitting lid if you want to carry it around in your purse.
If you regularly apply the hard lotion bar to your heels or over large areas of the body, it might be convenient to pour your lotion bar into a deodorant style container. It makes the bars a little easier to hold.
If multiple family member use the homemade lotion bars, it's handy to make multiple smaller bars so each person has their own. I learned this from experience when I first starting making lotion bars.
My younger son loved the cocoa smell so much I caught him rubbing the bar all over himself after he got out of the shower – even in his armpits. I had been using the same bar as a lip balm, too…oops… The next time I made a batch, I poured some into smaller containers to use as lip balm, and made my son his own special bar.
Buy Lotion Bars Online
If you'd like to purchase the bars ready made, click here or the image below to visit MadeOn Hard Lotion Store. MadeOn Skin Care products is a family owned small business that creates non-toxic skin and hair care products for all ages.
You can find these ingredients (and containers and molds) at amazon.com (linked within the post), soaperschoice.com, and many other sites around the web. I do have affiliate accounts with Amazon and MadeOn, so I get a small payment if you purchase through my site. (Thank you!)  Keep in mind that two ounces of each ingredient made three bars, so a bulk purchase would make a LOT of bars.
I hope you enjoy this great recipe as much as we do. This one's a keeper in our house! Please pass the post along if you find it helpful, and leave a comment if you have any questions or ideas.
More Natural Products and Tips
Visit the Green Home page for a full listing of non-toxic personal care products, cleaners and pest control.
Originally published in 2012, last updated in 2018.