5 Amazing Spiced Apple Cider Drink Recipes + One for Adults Only
This is a guest post by Amber Bradshaw.
Some of my fondest childhood memories revolve around an old cider mill that we would go to every year when the air got crisp and the leaves were turning. Not many flavors remind me of the season like fresh apples and cider. Cider served warm or cold is good for any day of the year, but especially for fall through the holidays. Enjoy the flavors of the season with these 5 Amazing Spiced Apple Cider Drink Recipes + One for Adults Only.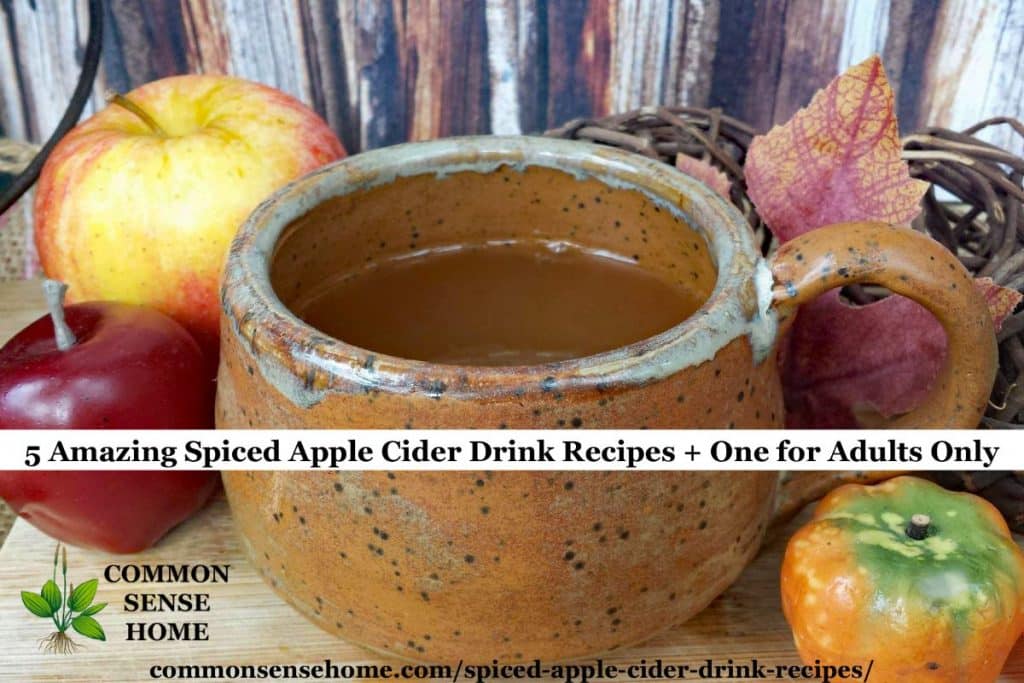 What is the difference between Spiced Apple Cider and Apple Juice?
Apple Cider (or Spiced Cider) vs Apple Juice- What's the difference?
According to Massachusetts AG Dept
"Apple juice and apple cider are both fruit beverages made from apples, but there is a difference between the two.

Fresh cider is raw apple juice that has not undergone a filtration process to remove coarse particles of pulp or sediment. It takes about one third of a bushel to make a gallon of cider.

Apple juice is juice that has been filtered to remove solids and pasteurized so that it will stay fresh longer. Vacuum sealing and additional filtering extend the shelf life of the juice."
Personally, I prefer cider over juice. To me, apple cider flavors are more robust and apple juice is primarily sweet without much depth to its flavor. In addition to these Fab-U-lous recipes, I will share some tidbits of cider history towards the bottom of this article, so keep reading.
5 Amazing Spiced Apple Cider Drink Recipes + One for Adults Only
Ideally, you would walk out your back door into your very own apple orchard, bring your harvest to your apple press and make some fresh pressed apple cider. However, you can make a very close second in your own kitchen – no orchard required.
Homemade Spiced Apple Cider
Our Homemade Spiced Apple Cider recipe is your base recipe for the other cider drink recipes in this post. You can use store-bought apple cider if you like, but homemade cider is so easy to make that you won't want to buy cider again.
Ingredients
10 Apples: washed, cored and sliced.
A variety of different apples make the best flavor, but you can use all the same kind.
½ cup – 1 Cup Sugar (use ½ cup if you prefer it to be less sweet)
1 Tbsp. Cinnamon or 4 Cinnamon Sticks
1 Tbsp. Allspice
1 Tsp. Grated Lemon Zest
Directions
Add apples, sugar, lemon zest, and spices to a crock pot or a large cook pot.
Cover with filtered water almost to the brim.
Bring to boil for 30 minutes.
Cover and reduce to simmer for 2-3 hrs.
Let cool and strain in a sieve or fine mesh strainer.
Let sit one more hour (or overnight) and strain again.
Store in the refrigerator.
Yields ½ – 1 gallon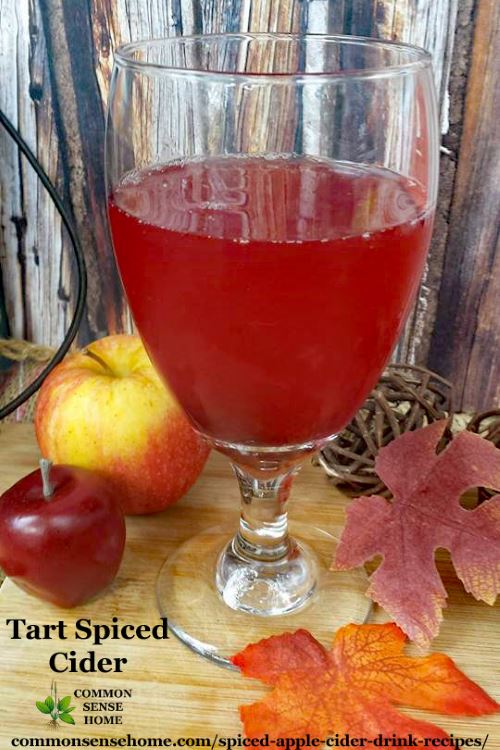 Tart Apple Cider Drink Recipe
This drink recipe is perfect for the holidays. The cranberry juice turns it this beautiful deep red that pairs well with holiday decor.
Ingredients
1/2 Cup Spiced Apple Cider
4 oz Cranberry Juice
Fresh cranberries and orange slice, optional
Directions
Mix cider and cranberry juice in glass
Add ice or serve warm.
Garnish with cranberries and orange, if desired.
Yields 1 Serving
Spiced Pumpkin Cider Drink Recipe
As soon as fall is here (and sometimes before if summer has worn out its welcome) it is pumpkin everything with me! Pumpkin pie, pumpkin coffee, pumpkin pasta, and you guessed it… Pumpkin Cider.
Ingredients
8 oz Apple Cider
1/8 Tsp Pumpkin Spice
1 Tsp Pumpkin Puree
Dash of nutmeg
Directions
Add apple cider, pumpkin spice, and pumpkin puree to a small sauce pan over low heat
Stir until warm and well blended.
Pour into mug and grate some fresh nutmeg over top.
Makes one serving.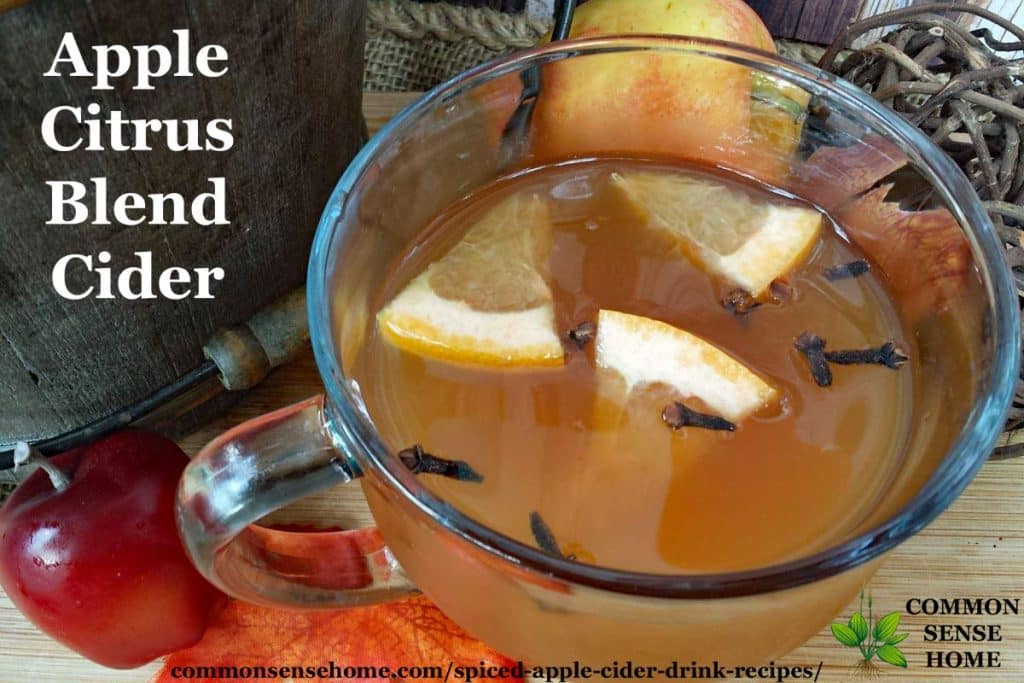 Apple Citrus Blend Cider Drink Recipe
I love this cider drink recipe with my breakfast. It also happens to be the one I serve on Christmas morning. With a blend of tart and sweet, it's perfect for all family members. This is the one recipe I enjoy cold, but it tastes equally delicious served warm.
Ingredients
1/2 Cup Apple Cider
4 oz Orange Juice
Orange Slice
Couple of Cloves
Directions
Add orange juice and apple cider into a glass- mix well
Garnish with orange slice and cloves
Yields 1 serving.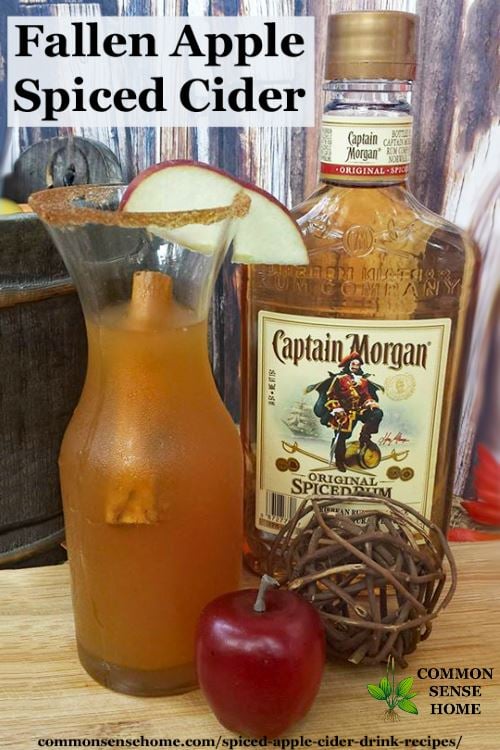 Fallen Apple Cider Drink Recipe
Entertain your guests with this spiked apple cider. It's sure to warm your belly and lift your spirits.
8 oz Apple Cider
1 oz Captain Morgan Rum
Cinnamon & Sugar- mixed
Apple Slices
Lemon Juice
Cinnamon Stick
Directions
Warm apple cider.
Add Captain Morgan Rum.
Slice apples and coat in lemon juice.
Place cinnamon and sugar on a small plate.
Wet rim of drinking glass with water or lemon.
Place wet rim in cinnamon and sugar to add a light coat to the rim.
Pour spiked cider into glass, being careful not to wet the sugared rim.
Add sliced apple to rim and place cinnamon stick in glass for garnish.
Yields 1 Serving
Learn How to Make Hard Cider Here
Click here for a print friendly pdf version of the Homemade Spiced Cider Recipes and Drinks.
History of Apple Cider
Have you enjoyed Apple Cider your entire life? Chances are your grandparents did too, as well as their parents before them.
According to the National Apple Museum, Apple Cider dates back as early as 1300 BC.
When the Romans arrived in England in 55 BC, they were reported to have found the local Kentish villagers drinking a delicious cider-like beverage made from apples. According to ancient records, the Romans and their leader, Julius Caesar, embraced the pleasant pursuit with enthusiasm. How long the locals had been making this apple drink prior to the arrival of the Romans is anybody's guess.
In the United States, consumption of apple cider grew during the eighteenth century thanks to the legendary Johnny Appleseed. Much apple cider was stored as hard cider early on, but with refrigeration, fresh apple cider is now available year round.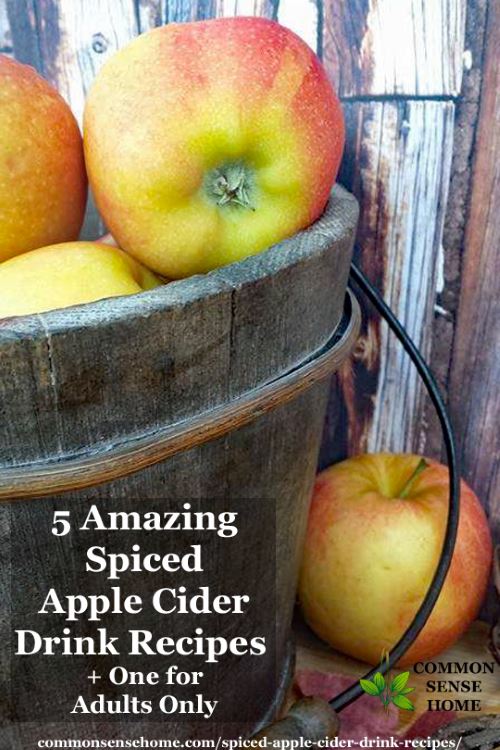 Want Some More Apple Cider Goodies?
Swing by the Common Sense Home recipes page for a list of all recipes on the site, or visit these apple options.
How to Make Apple Cider Potpourri
Do you have a favorite apple cider memory, or a spiced apple cider recipe request? Leave a comment and let us know.
This post is by Amber Bradshaw of My Homestead Life.
Amber and her family moved from their tiny homestead by the ocean in South Carolina to forty-six acres in the Smoky Mountains in East Tennessee.
While building their off-the-grid homestead, they live like the days of old – cooking without electricity, collecting water from the creek and raising chickens, goats, pigs, turkeys, bees, and guineas. They've recently filmed their journey for a TV show on the Discovery Channel and the DIY Network/HGTV called Building Off The Grid: The Smokey Mountain Homestead.