Rose Hip Jelly from Wild or Garden Roses (Low Sugar)
Our rugosa roses produced a lovely array of hips this year, so we dried some and turned some into rose hip jelly.
This rose hip jelly recipe is made with Pomona's Universal Pectin, so it use less sugar than the other recipes I've seen. It's also a small batch recipe, which helps if you don't have a ton of hips.
What are rose hips?
Rose hips are the seed pods of roses. Rugosa roses and dog roses have some of the largest hips, but any rose hips should be safe to use for jelly as long as they haven't been sprayed with chemicals.
Light frost brings out the sweetness in the rose hips, but be sure to gather them before they start to spoil. Some hips turn dark red, others stay more orange or pink in color.
For more information on picking, see "Harvesting Rose Hips".
Rose hips are low in natural pectin, so you'll need to add commercial pectin to get your jelly to gel. If you have a lot of hips, you could cook them into a puree, but for this post, we're aiming for jelly.
Rose Hip Jelly Tips and Extracting Juice
I opted for rose hip jelly rather than jam because of the darn little hairs inside the hips. Even after we cleaned out the seeds, there were still a few hairs clinging inside.
These hairs can irritate the throat (and the other end). If you want to try a jam, proceed with caution. I'd squeeze the pulp though a flour sack towel or jelly bag to make sure you don't get any hairs.
I also recommend fresh, not dried, rose hips. You could make rose hip tea and turn it into rose hip jelly, but this recipe uses fresh hips.
The data I found on the pH of rose hips showed a pH range between 3.95 and 4.57. This gets close to the unsafe range for water bath canning (4.6), so I added lemon juice for safety. The lemon juice also brings out the citrus flavor in the hips.
Use around 4 cups of cleaned rose hips or 1 pound of hips with the stem and bud end (calyx) removed.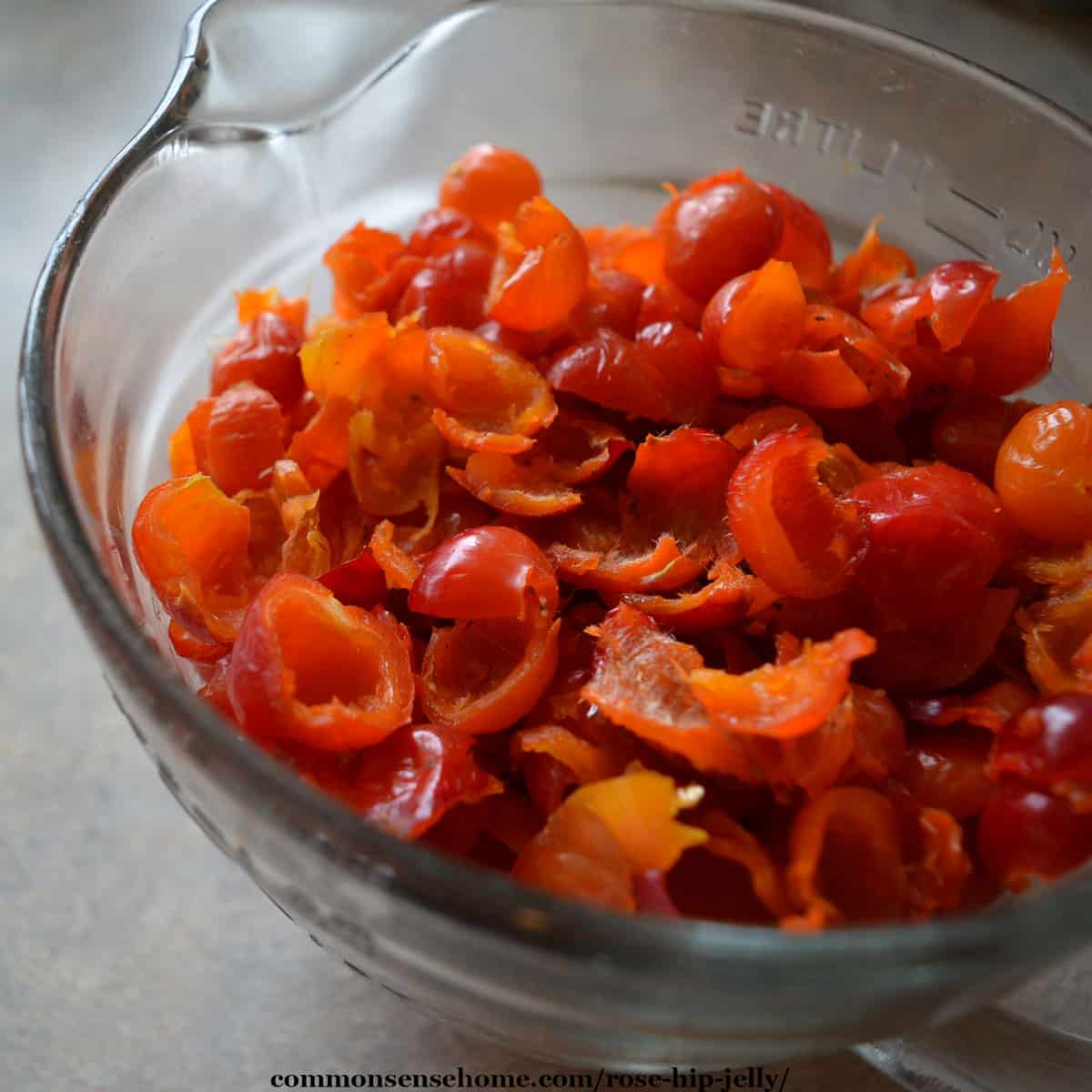 To prep the hips, wash them in cool water. Then trim tops and bottoms and cut in half and remove seeds, if desired. (The chickens loved the rose hip seeds, but removing them was time consuming.)
Place your hips in a stainless steel or enamel stock pot and fill with enough water to cover. Simmer for around 15 minutes, or until soft, mashing with a spoon or potato masher.
Remove from heat and strain through a flour sack towel or jelly bag. This should give you around 2 cups of rose hip juice.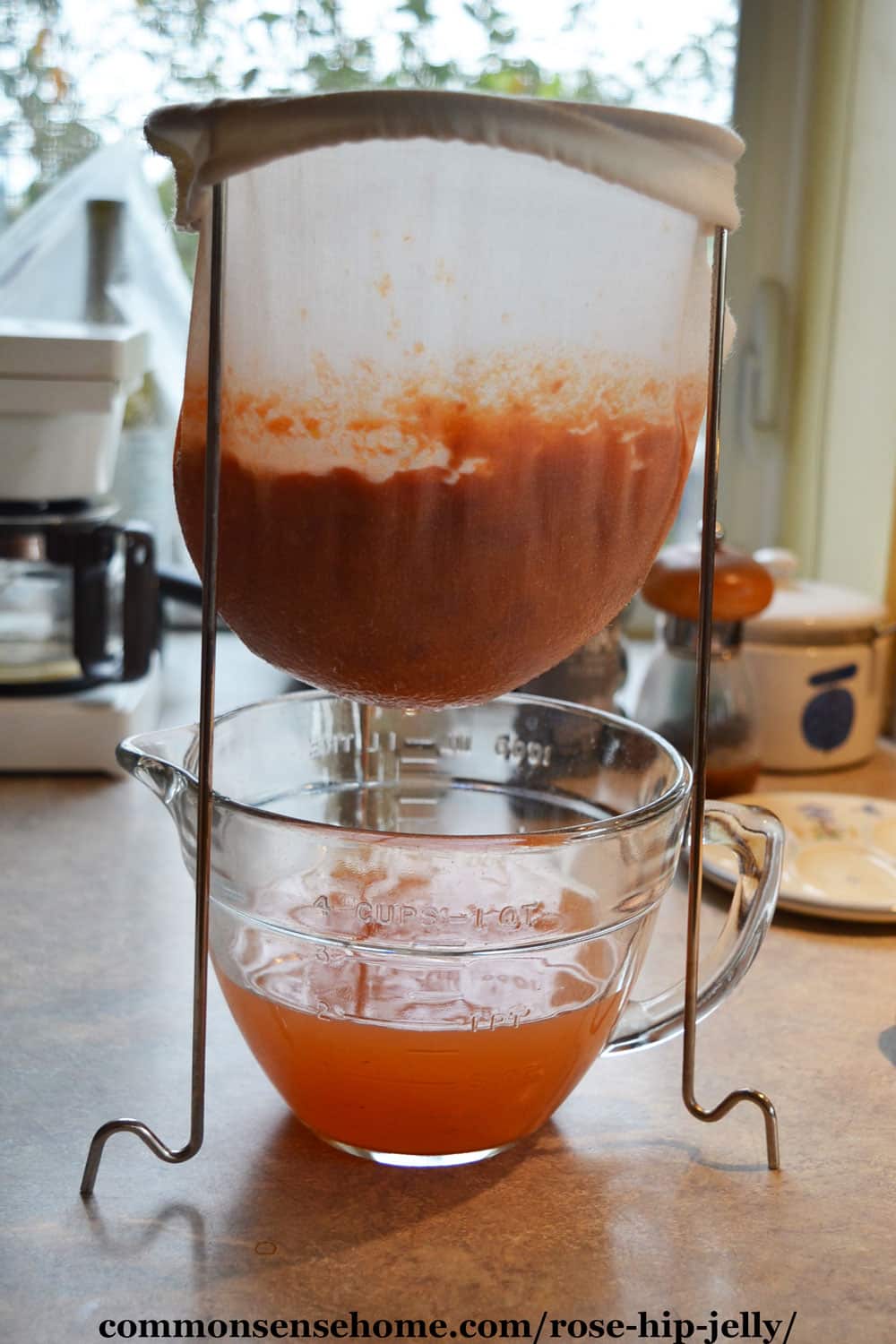 Print
Rose Hip Jelly from Wild or Garden Roses
This small batch rose hip jelly is a unique treat. Rose hips are naturally high in vitamin C, and this is a delicious way to enjoy them.
Author:
Prep Time:

15 minutes

Cook Time:

20 minutes

Total Time:

35 minutes

Yield: Four

4 ounce

jars

1

x
Category:

Jelly
1

pound

of ripe rose hips (about 4 cups when cleaned)
water (enough to cover)

2 tablespoons

lemon juice

2 teaspoons

calcium water (included with Pomona's Pectin)

1/2

cup

granulated sugar

2 teaspoons

Pomona's pectin powder
Prepare your jars, lids, and rings. Fill water bath canner with water and heat it. Sterilize your jars.
Wash rose hips and remove stems and calyx. Place hips in a medium non-reactive sauce pan with enough water to cover. Bring to a boil over high heat, reduce heat and simmer, covered, for 7 to 15 minutes, until hips are soft, stirring occasionally. Remove from heat and mash hips.
Place mashed hips into a jelly bag or flour sack towel. Hang bag or towel over a bowel, and allow juice to drip until you have 2 cups of juice. Compost pulp or feed to chickens.
Add two cups of juice into a medium saucepan with lemon juice and calcium water. Mix to combine.
In a small bowl, combine sugar and pectin powder. Mix thoroughly and set aside.
Bring rose hip juice mixture to a boil over medium high heat. Add sugar-pectin mixture, stirring constantly, until sugar is completely dissolved. Bring jelly to a rolling boil for one minute. Remove from heat.
Ladle jelly into sterilized jars, leaving 1/4 inch headspace. Wipe rims with a damp cloth. Put on lid and ring, tighten to finger tight.
Lower jars into canner, making sure they are covered with at least 1-2 inches of water. Place lid on canner, return to boil. Process jars for 10 minutes.
Turn off heat. Remove jars from canner and place on a kitchen towel on the counter top. Allow to cool for 8 – 24 hours.
Check seals. Remove rings, date, label and store your rose hip jelly in a cool, dry location.
Keywords: rose hips, jelly, preserving, fruit
More Jam and Jelly Recipes
We have over 30 recipes for jams, jellies, preserves and spreads, all listed on the Recipes and Kitchen Tips page.
They include:
…and many more.