How to Make Coffee Kombucha – A Probiotic Twist on Your Morning Coffee
Extra scobys rolling around? Want to try a different kombucha flavor? Looking for a healthier twist on the morning coffee? How about brewing up some coffee kombucha?
Coffee Kombucha Recipe
Adapted from Cultures for Health.
Ingredients:
2 quarts Freshly Brewed Plain Coffee
1/2 cup Sugar
Kombucha Scoby
Directions:
In a glass or ceramic container, dissolve the sugar in the hot coffee and allow the mixture to cool to room temperature. Be sure the coffee is free of left over coffee grounds.
Add the Kombucha scoby to the liquid. Unlike regular kombucha (made with tea), you don't need to add liquid from a previous batch because coffee is so acidic to start.
Cover the jar with a tight-weave tea towel, paper coffee filter, etc. secured with a tight rubber band. This covering will allow the gas created during fermentation to escape while keeping bugs out. (Fruit flies love kombucha.) Label ferments with contents and date written on masking tape to make it easier to keep track of what's what.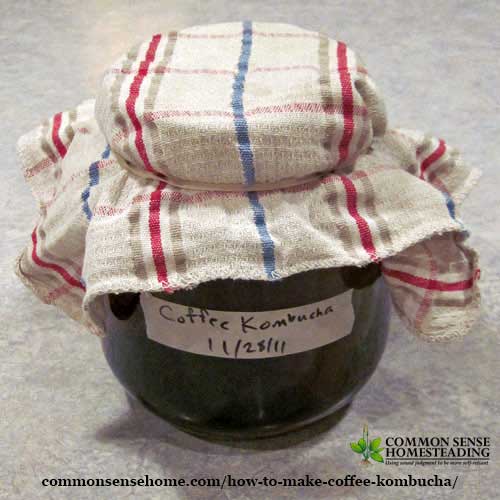 Allow the jar to sit undisturbed at room temperature out of direct sunlight for at least seven days. After seven days, start tasting the Kombucha daily using a straw. Halt the process when the Kombucha Coffee tastes pleasant to you.
I brewed mine for seven days. A friend finished hers a few days before I did, and said it tasted terrible – very bitter. Mine tasted like mildly sweet coffee. Maybe it was the different coffees that we started with? You can also blend this with cream or kefir and some ice to make a whipped coffee drink, but I've just been sipping it straight.
My scoby was very thin on this kombucha, frankly somewhat anemic looking.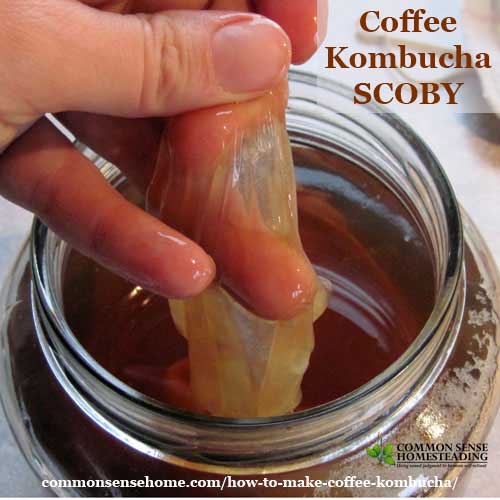 That's okay, because CFH advises you not to reuse the scoby after this brew. I drank some right away and bottled and labeled the rest for later. It's living in our "seasonal fridge" – the garage – where it's nice and cool.
More Tips for Coffee Kombucha
Additional Considerations When Making Kombucha Coffee (from Cultures for Health):
Coffee is very acidic therefore starter Kombucha tea or vinegar is not required (unlike when Kombucha is made with black, green or herbal teas).
Because coffee contains oils, it is possible for rancidity to occur. Watch your batch closely and limit fermentation time to only what is necessary to achieve the desired taste. Never consume any Kombucha which looks, tastes or smells unpleasant.
Coffee will generally stain the Kombucha Culture so you may see brown spots on the Scoby.
Some people claim Kombucha Coffee brews faster than Kombucha Tea while others claim it is slower. Be sure to taste your batch regularly so you can stop the fermentation process at the point you find the taste agreeable.
Kombucha Coffee should be served room temperature or cold. Do not heat the Kombucha Coffee as heating will destroy most of the beneficial yeasts and bacteria.
Some people find that Kombucha Coffee is less acidic to drink than regular coffee.
In Wild Fermentation, the author discussed how they had used a scoby to ferment Mountain Dew, but I haven't tried that option. Have you experimented with other sweet liquids for brewing kombucha? I'd be interested in hearing about other options you may have tried.
Where to Get a Kombucha SCOBY
If you need a kombucha scoby and can't find one locally, Kombucha Kamp sells live scobys as well as complete kombucha brewing kits of different types. They also have a newsletter with kombucha brewing tips and ideas. If you purchase through the links on my site, I receive an affiliate payment at no extra cost to you. Hannah (aka Kombucha Momma) was one of the first sites I discovered online when I started researching kombucha. She really knows her stuff. 🙂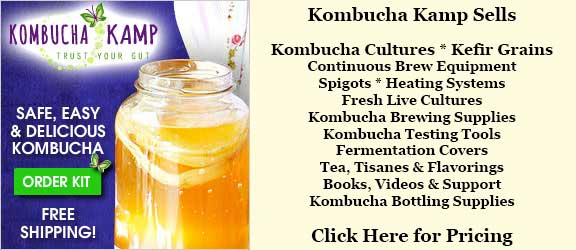 You may also enjoy:
Originally published in 2011, updated in 2017.