5 Ways to Preserve Peaches – Plus the Easiest Way to Peel Peaches
Each year I preserve peaches in a variety of ways, stashing some for us to enjoy and some to use as gifts. In this post I'll cover the easiest way to peel peaches, as well as canning, dehydrating, freezing, peach jam and freeze drying peaches.
My youngest loves peaches, so we stock up every year. We're still working on trying to get peach trees to survive as part of our permaculture food forest. We're right at the edge of peach friendly territory, but our place gets a lot of wind, which the trees don't like very much.
Which peaches are best for which use?
For canning and freeze drying peaches, use those that are ripe but still firm. Softer peaches are better for jam or dehydrating. Clingstone peaches (where the flesh sticks to the pit) are easier to use for jam, because it's tough to get clean slices.
Once the skins are off your peaches, you need to work fast. Even with lemon water or commercial anti-browning products, the clock is ticking as soon as the skins come off.
I prep my preserving equipment before I start peeling. That way, the peaches can go immediately into the canner, dehydrator or freeze dryer as soon as the skins are off.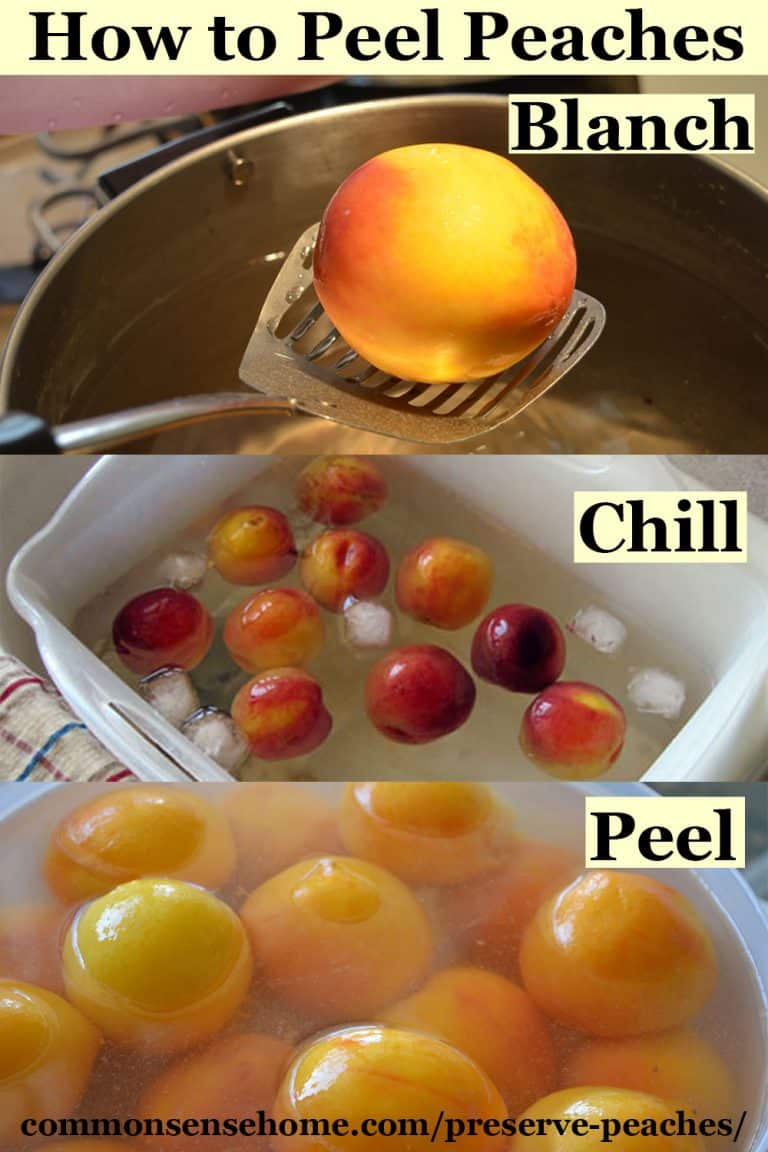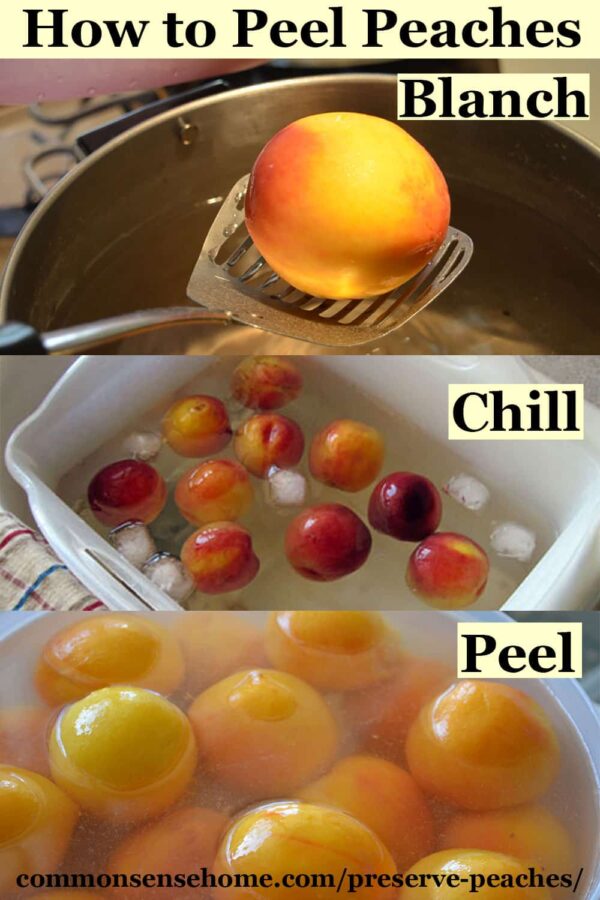 The Easiest Way to Peel Peaches
Before canning, drying or freeze drying peaches, I remove the skins. I highly recommend this step. The skins get really chewy after drying, and strangely slimy after canning. You can use a knife or peeler to remove the skins, but blanching is much easier.
What you need to blanch/peel peaches:
Large pot of boiling water
Slotted spoon or other large scoop to remove the peaches from the boiling water
Bowl to move the peaches from the stove to the cold water
Large basin of cold water/ice water to stop the blanching
Peaches
Large bowl with acidified water for peeled peaches (Adding acid to the water helps to prevent browning. To make acidified water, add roughly 2 tablespoons lemon juice (or 1 teaspoon citric acid) to about one gallon of water)
To peel the peaches:
Bring water to rolling boil.
Place 6-8 peaches in water (depending on pot size).
Keep peaches in boiling water for one minute.
Remove peaches from boiling water. Place peaches in chilled water until cool enough to handle.
Slip off skins and place peaches in acidified water.
Repeat until all peaches are done, then proceed with additional processing.
When blanching, you want to work quickly, so no peach is in too long. Too much time in the pot and they will cook and get soft.
Similarly, once skinned and in the acidified water, they will absorb water and get soft and brown. If you're processing a lot of peaches, get help if you can, or work in small batches.
I demonstrate how to remove peach skins via blanching in the video below. (Make sure your ad blocker is off for video to display.)
Put child labor to work peeling peaches if you have lots of peaches.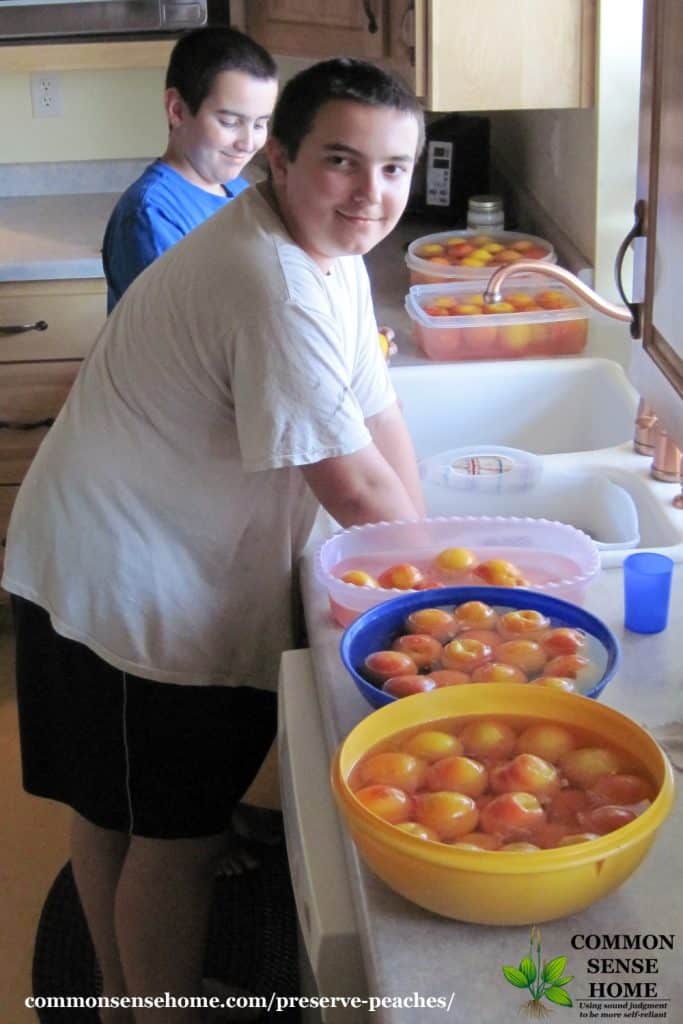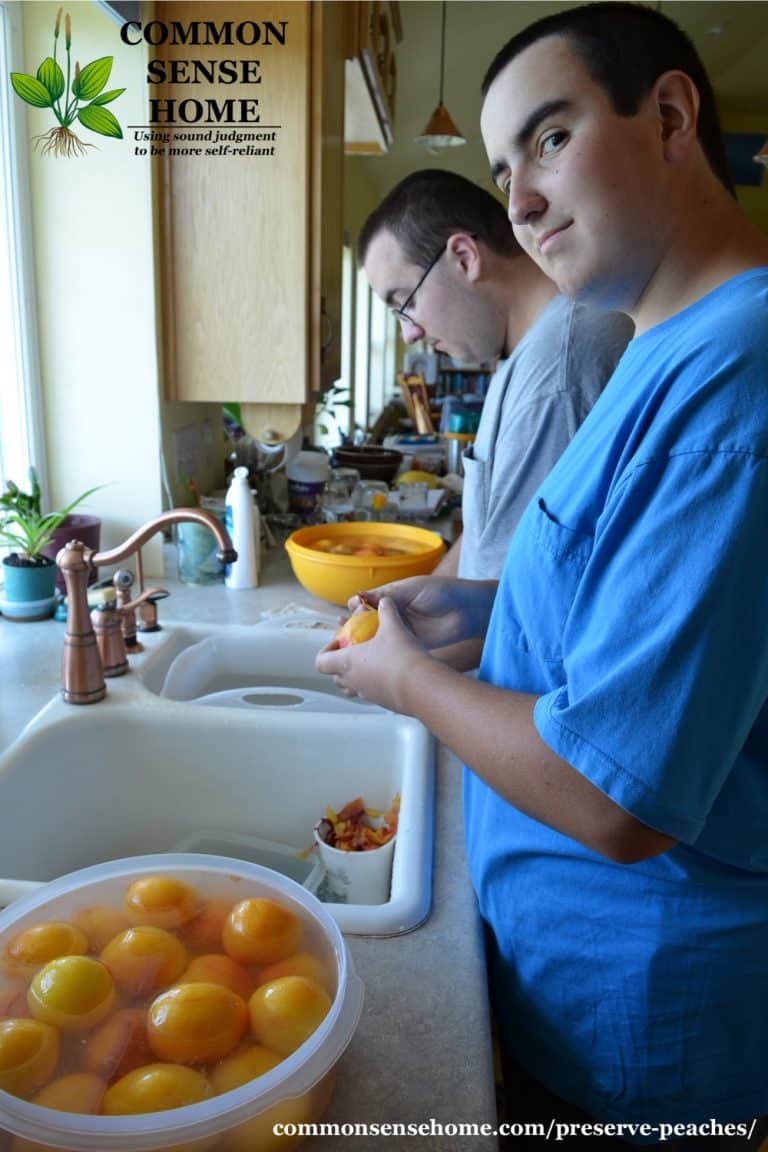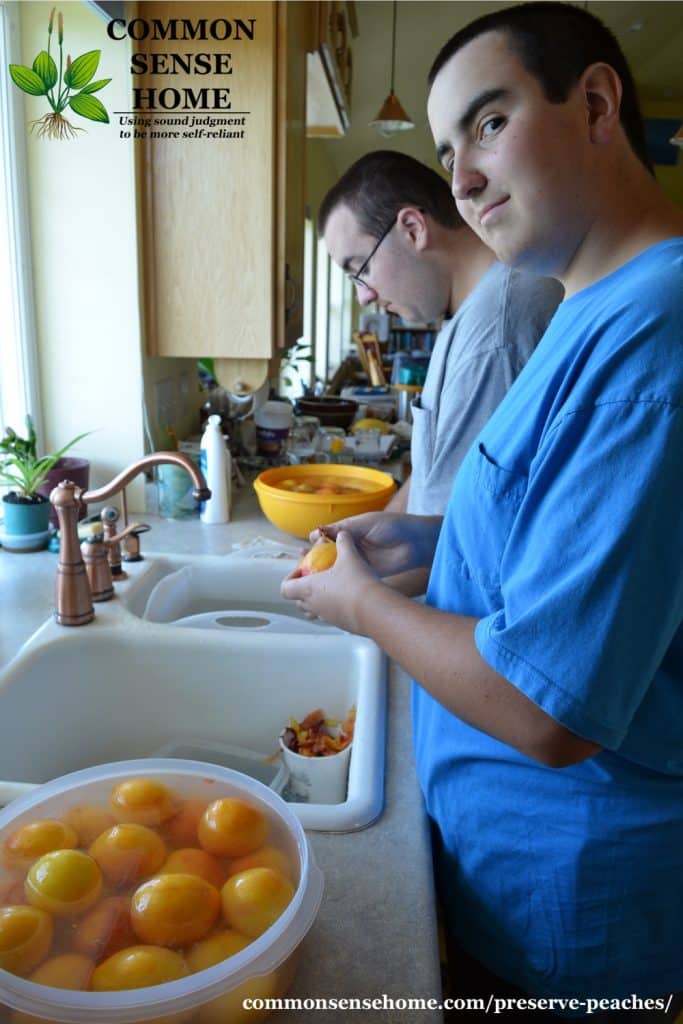 I usually let the boys finish peeling while I prep everything else for canning.
I remove the pits and either half or quarter the peaches, depending on the jar size (I use wide mouth quart jars for peach halves) and make sure the cut edges are exposed to the lemon water to prevent browning.
Preserve Peaches – Canning – Cold Pack Method
I prefer to cold pack peaches, which means the fruit is loaded in the jars at room temperature and then boiling syrup is poured over the top. I think the peaches stay firmer and more attractive using this method, even though they float more in the jar.
Canning Equipment You Will Need:
hot water bath canner
clean and sterilized quart jars (I run mine through the dishwasher and time it so they are hot when I'm ready to can)
lids and rings in hot (not boiling) water
jar lifter
tongs or lid lifter to grab rings
funnel
clean cloth to wipe jar rims
ladle
wooden spoon for stirring
chopstick to remove air bubbles
Light syrup (recipe below)
I like to work from left to right on my stove. Fill on the left side, process center, unload finished jars on a waiting cloth next to the right side of the stove.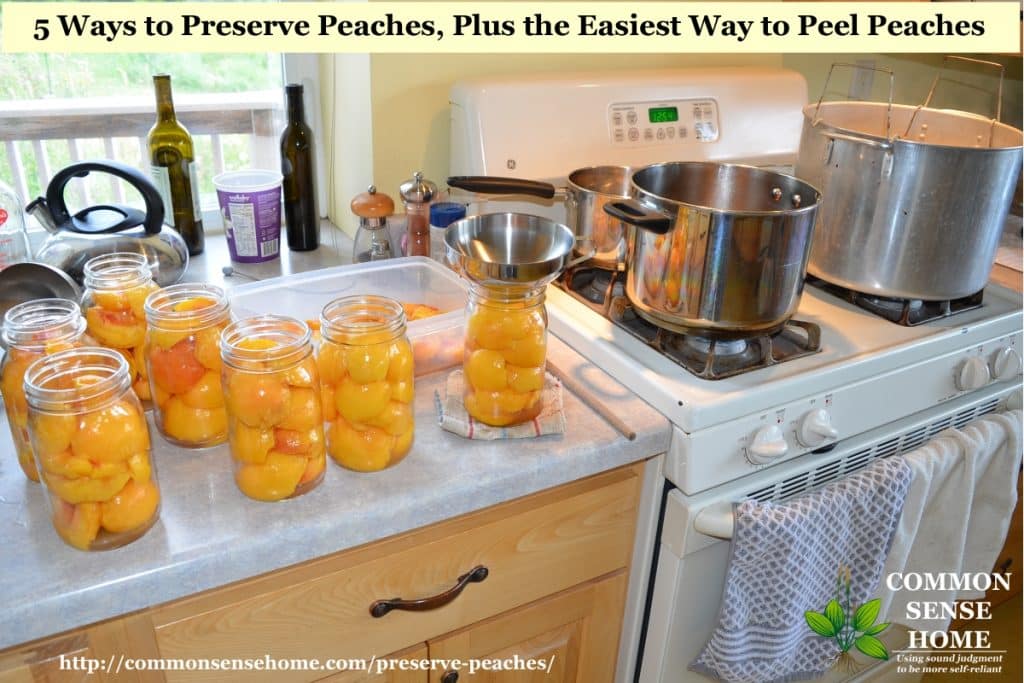 Light Sugar Syrup Recipe
Ingredients
2 1/2 cup sugar
5 1/4 cups water
Directions
To prepare syrup, while heating water, add sugar slowly, stirring constantly to dissolve. Bring to a gentle boil.
Sugar acts as a preservative by binding up free water in the fruit (see The Natural Canning Resource Book).
You may use less sugar, substitute honey for the sugar, or can in fruit juice. Using less sugar will give your product a shorter shelf life and quicker discoloration.
I have found that the light simple syrup proportions strike a good balance between extending storage time and not being too sweet.
Note: The juice from the peaches also makes a great flavoring for homemade water kefir.
To Can the Peaches
Plan for 2 to 3 pounds of peaches per quart. Peel and slice the peaches as directed above.
Drain peaches in a colander to drain excess liquid. Fill jars with peach slices to 1/2 inch headspace. Ladle on hot syrup.
Run your chopstick or small non-metallic spatula between the peaches and the jar to remove air bubbles. (Metal may scratch the inside of the jar).
Add extra syrup if needed to have fruit and syrup level 1/2 inch from lid. Wipe rim clean, screw on lid (not too tight – air must escape during processing).
Place jars on rack in canner. When canner is full, lower jars into water. Make sure jars are covered by 1-2 inches of water. Bring to boil, process (boil gently) – pints 20 minutes, quarts 25 minutes.
When the cooking time is up, remove jars and place on a towel away from heat and any drafts.
After 12-24 hours, check lids for seal. Standard lids should be concave in the center and held down tightly. I love listening to the "ping" as the jars seal!
For long term storage, remove rings, wipe up any spills. Label and date (I write on the lids with a Sharpie marker).
Store in a cool, dry location out of direct sunlight for best shelf life. (See top photo for finished peaches.)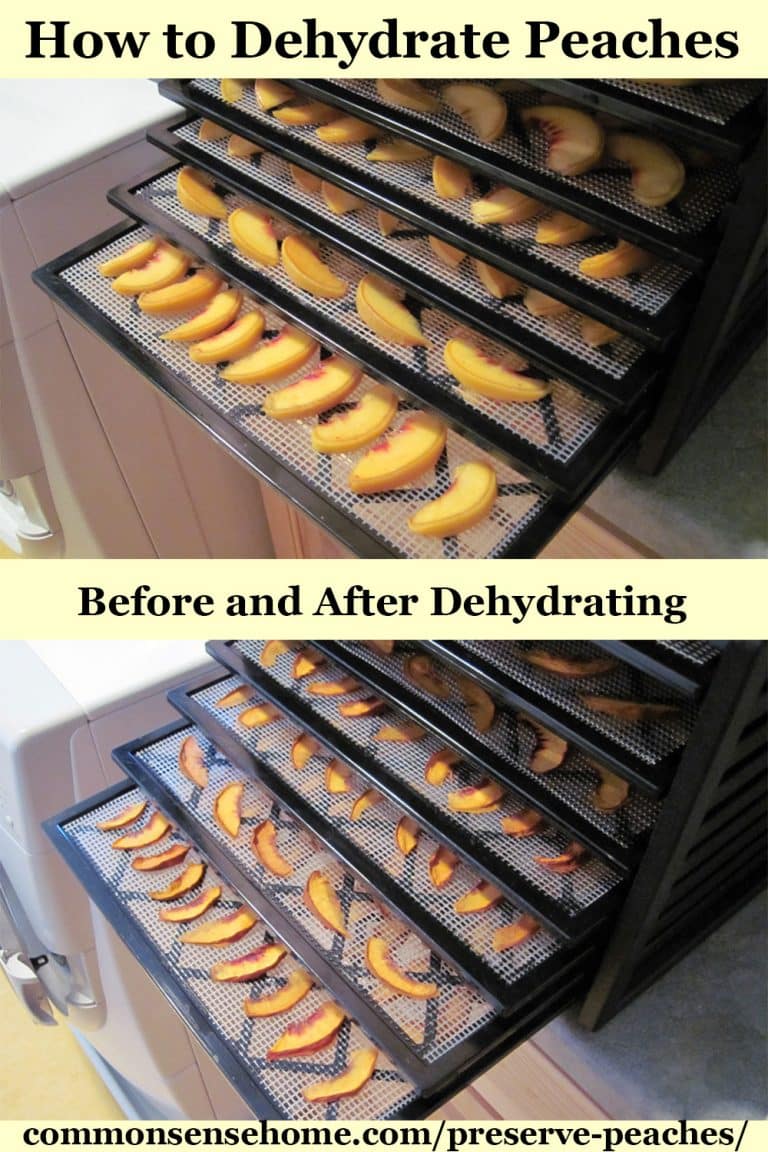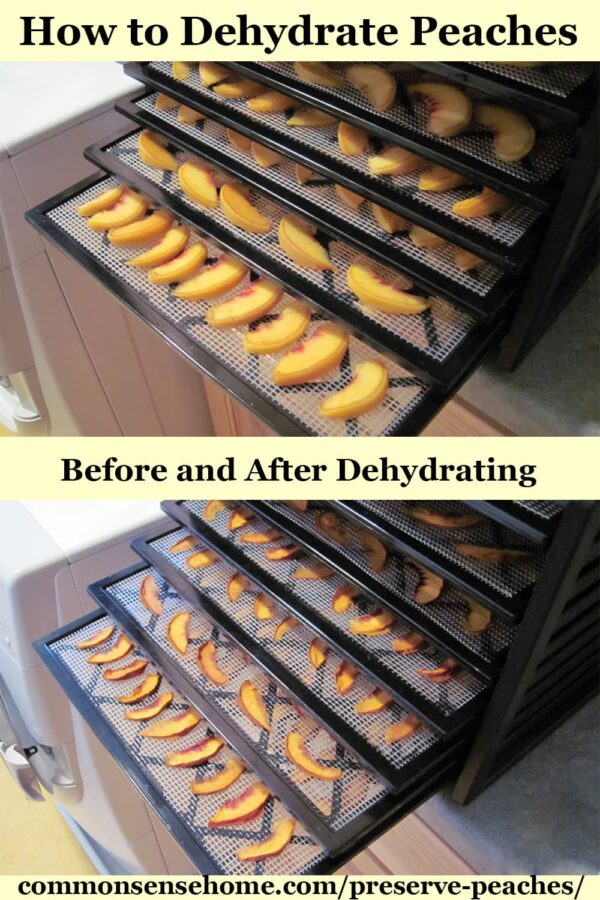 Drying Peaches in a Dehydrator – One of the Simplest Ways to Preserve Peaches
Dehydrating is an easy way to preserve peaches. I dry whatever I can't easily fit in the canner, or peaches that are too soft to can or bruised.
You can also dry whole peach halves with the skin on (like commercial dried peaches), but they take much longer to dehydrate.
These peach slices dehydrate overnight. The finished slices are light and slightly chewy, not gummy like peach halves.
To Dehydrate Peaches:
Thinly slice your peeled peaches
Dip peach slices in the lemon water to prevent browning (optional)
Drain the slices in a strainer
Place peach slices on a dehydrator tray or a mesh insert
Dry at around 135-140 °F until leathery or crisp (about 8-12 hours), depending on thickness of slices. I usually dry mine overnight.
I highly recommend using the mesh inserts (default option for the Excalibur, optional in the Snackmaster). The peaches are very sticky and are hard to remove from the trays without the inserts. With the inserts, you just bend them and the dried fruit pops right off.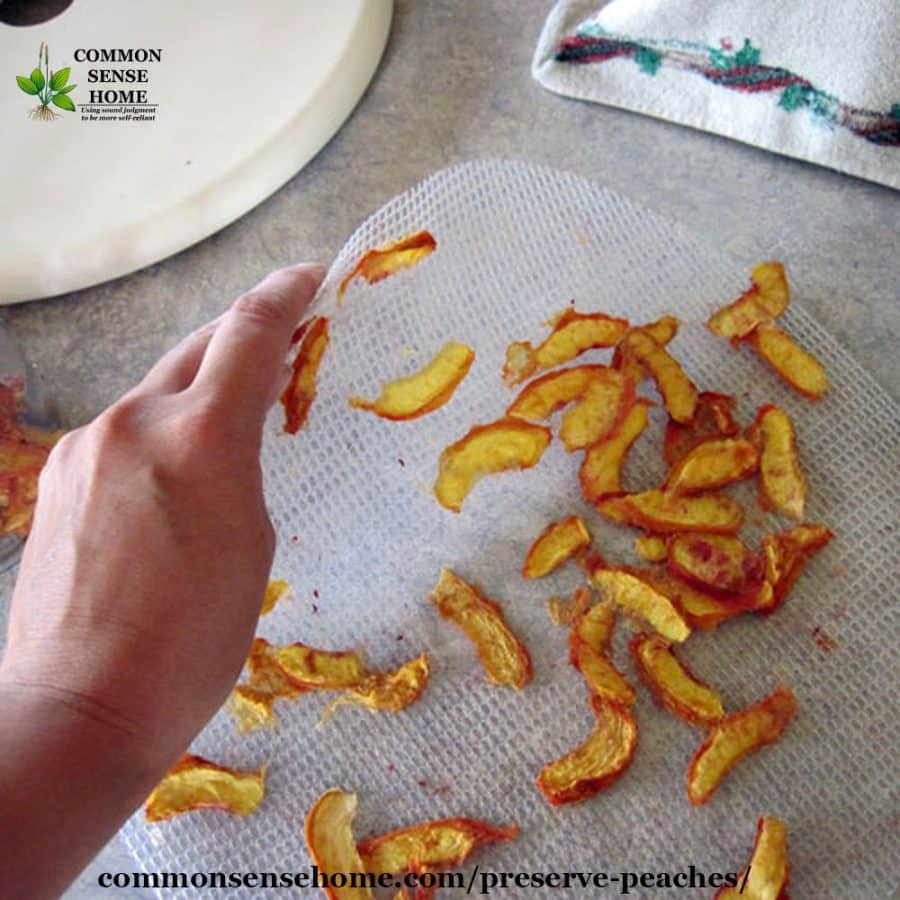 Store in an airtight container out of direct sunlight. If I have a lot of a particular dried fruit, I vacuum seal it in mason jars with the vacuum sealer attachment.
These make great snacks and can also be added to homemade granola or fruit and nut mixes.
If you've got a LOT of dried fruit, Mary Bell's Dehydrator cookbook has some good recipes for pies and other baked goods using dried fruit.
Freezing Peaches
Freezing is one of the simplest way to preserve peaches. As with the other methods, I start by peeling my peaches. After peeling, I slice them and dip them in acidified water to prevent browning. Drain well.
Spread peaches in a single layer on a baking sheet covered with a silicon mat or reusable parchment paper. Freeze several hours or overnight.
Pack the frozen slices into freezer containers, or vacuum seal for best storage.
Freezing on trays before packaging makes it easy to take a little or a lot of peaches from a package when you are ready to use them.
Peach Jam Recipes
I enjoy making low sugar peach jam with Pomona's Pectin. Peach jam is wonderful on toast, Brie cheese or ice cream.
You can find my favorite recipes here:
Peach Jam Two Ways – Peach Vanilla and Fuzzy Navel
"Blushing" Peach Jam (Peach-Raspberry Jam)
Preserve Peaches – Freeze Dry Peaches
Peaches are our favorite food to date from our Harvest Right home freeze dryer – pure ambrosia. Everything we've dried has been good (although I wouldn't do breakfast sausage again), but the peaches are exceptional.
Properly stored freeze dried products can be stored up to 25 years. This is hands down the best long term storage option to preserve peaches.
Freeze dried peaches melt in your mouth with intense peachy goodness. They rehydrate with a texture that is very similar to fresh peaches.
To freeze dry peaches, peel, slice, dip and drain as you would for dehydrating. Place in a single layer on freeze dryer trays, preferably lined with reusable parchment paper.
Process in freeze dryer until completely dry (there should be no cold spots in the center of the slices). Peaches are high moisture and high sugar, so the cycle will likely take over 24 hours. Store in a vacuum sealed mason jar or Mylar pouch with oxygen absorbers.
So there you go! Lots of ways to preserve peaches to enjoy all year long. If you've enjoyed this post, please consider Sharing or Pinning.
You may also enjoy: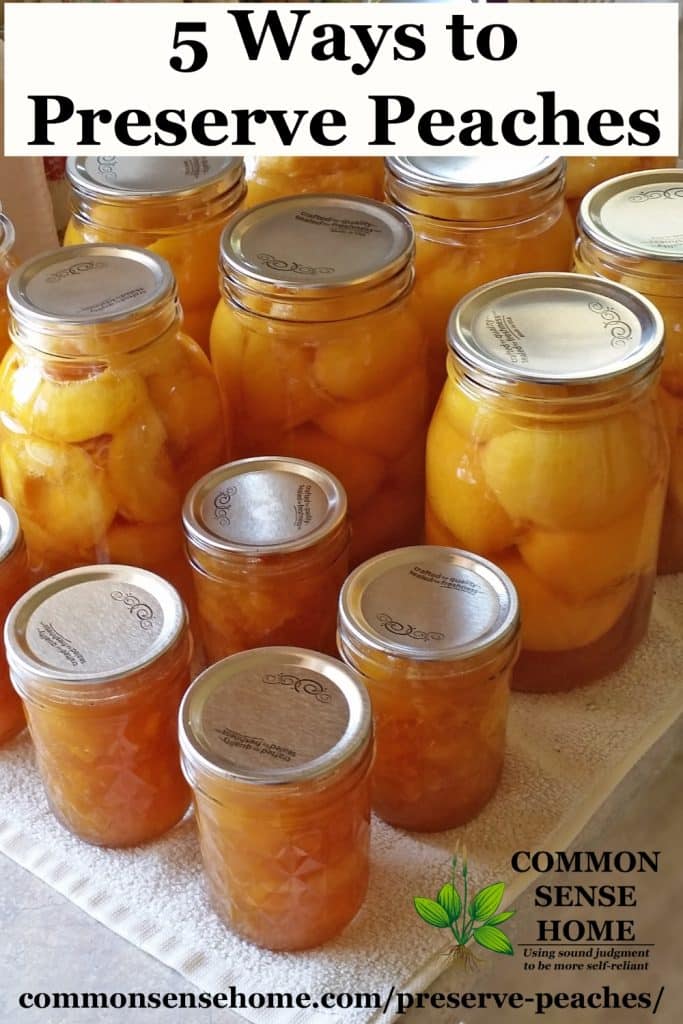 Originally published in 2011, last updated in 2019.