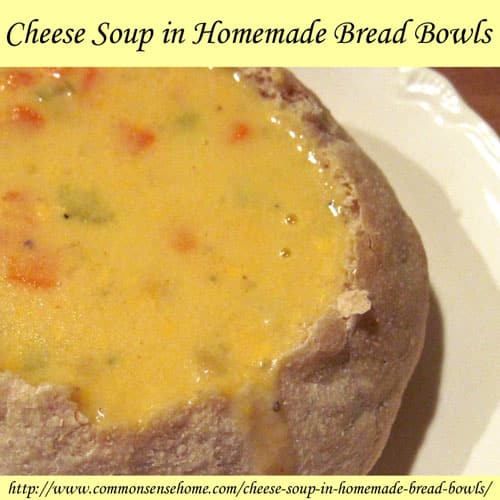 Rather silly, I suppose, but one of my enduring memories of the Minnesota Renaissance Fair is the cheese soup in a bread bowl. Back in college it was a fall ritual to road trip from Superior down to Shakopee and spend a day roaming around the fair grounds. We didn't have much money, but everyone pitched in for gas and the shows on the grounds were free. Puke and Snot (a comedy act) were a perennial favorite. They had a wide variety of foods, but cheese soup in a bread bowl was something I almost always indulged in. I hadn't had any in years, until the winter of 2007-2008 when I saw it on the menu at a local restaurant. It was so good that I really wanted to have it again, but we don't go out to eat very often, so I figured why not make it at home? Enter the internet. I love online recipe searches. Now we don't have to wait for the fair to enjoy cheese soup in homemade bread bowls.
Adapted from All Recipes.com.
Print
Wisconsin Cheese Soup
Ingredients
5 tablespoons butter
2 carrots, chopped
2 stalks celery, chopped
1 green bell pepper, chopped
1 onion, chopped
5 button mushrooms, chopped
1/2 cup chopped ham
1/2 cup all-purpose flour
2 tablespoons cornstarch (look for GMO free)
4 cups chicken broth – homemade chicken broth is great if you have it
4 cups milk
1/2 teaspoon paprika
1/4 teaspoon ground cayenne pepper
1/2 teaspoon ground mustard
2 cups shredded sharp Cheddar cheese
salt to taste
ground black pepper to taste
Instructions
In a large heavy bottomed kettle, melt butter or margarine. Add carrots, celery, onion, green pepper, mushrooms, and ham; cook over medium heat until vegetables are crisp tender, about 10 minutes, stirring occasionally. Do not brown.
Stir in flour and cornstarch; cook, stirring constantly, about 3 minutes. Add broth and cook, stirring, until quite thick. Add milk, paprika, cayenne, and mustard.
Stir in cheese gradually, stirring until cheese is melted. To avoid curdling, do not allow soup to boil after cheese is added. Season to taste with salt and pepper. Serve piping hot.
I usually swap out sweet corn for the mushrooms and bell pepper and add extra carrots. Sometimes I use the ham, sometimes not, it depends on what I have on hand.
Print
French Bread Recipe for Homemade Bread Bowls
Ingredients
Loaves:
2 1/2 cups warm water
2 tablespoons sugar
4 tablespoons bread machine yeast (I prefer SAF-INSTANT yeast)
2 teaspoons sea salt (Frontier sea salt is a personal favorite)
7 cups bread flour (I use King Arthur or organic bread flour such as Heartland Mills)
Glaze:
4 tablespoons water
1 teaspoon salt
Instructions
To make the dough, you can either use the dough cycle on your bread machine, mix in a heavy stand mixer with dough hook or Bosch Kitchen Machine, or mix by hand. Dissolve sugar, yeast and salt in warm water. Add flour cup by cup, mixing after each addition, until a firm dough is formed (or let the dough cycle do its thing). Let rise about 20 minutes, punch down, allow to rise until doubled in size.
When dough has doubled in size, divide it into four portions and shape it into rounds. Place on baking sheets that are well greased or lined with reusable parchment paper. Let rise until doubled again. Make the salt water glaze by mixing the salt and water together in a small bowl. This will give your bread a crispy crust. Use a pastry brush to brush the rounds with the salt water glaze. Bake at 400F for around 15 minutes, until lightly browned. Since this recipe makes four bowls, you'll need two large baking sheets, and will bake the bowls in two batches.
As you can see, the boys are fans. The bread was still so warm from the oven it was tough to cut it into bowl shapes, but they were so hungry, mom!
And here's my bowl. You can tell by Duncan's eye rolling in the last shot that he was tired of taking pictures. There was enough soup left for another meal the next day, but I had to bake more bread because the bowls were gone without a trace. The bread machine is our friend. I can be out in the garden while it mixes away. I hope you give this a try sometime. It's a special treat for us, but oh so good!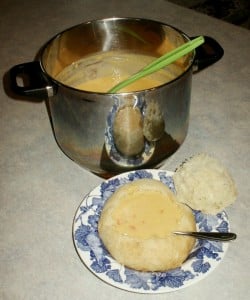 French Bread Loaves
If you want to make the bread recipe as a loaf instead of bowls, visit https://commonsensehome.com/french-bread-recipe/ for a quick rolling tutorial.
Don't forget to check out our bread recipes round up "13 Homemade Bread Recipes – Never Buy Bread Again" for an assortment of bread recipes, including gluten free options.

Get Homesteading 101 FREE, plus weekly updates and Subscribers Only information delivered to your inbox.