Broccoli Cheese Soup with a Surprise Ingredient – (Gluten Free)
I regularly whip together some version of homemade cream of vegetable soup, but when I put together this creamy broccoli cheese soup with a hint of bacon, my husband and the boys said it was one of the best I've ever made. What's the "surprise" ingredient? I raided the pantry for some dehydrated summer squash to use as an extra thickening agent. Eureka moment! It's a great use for an abundant veggie, and adds a little more vegetable punch to the recipe, which is never a bad thing.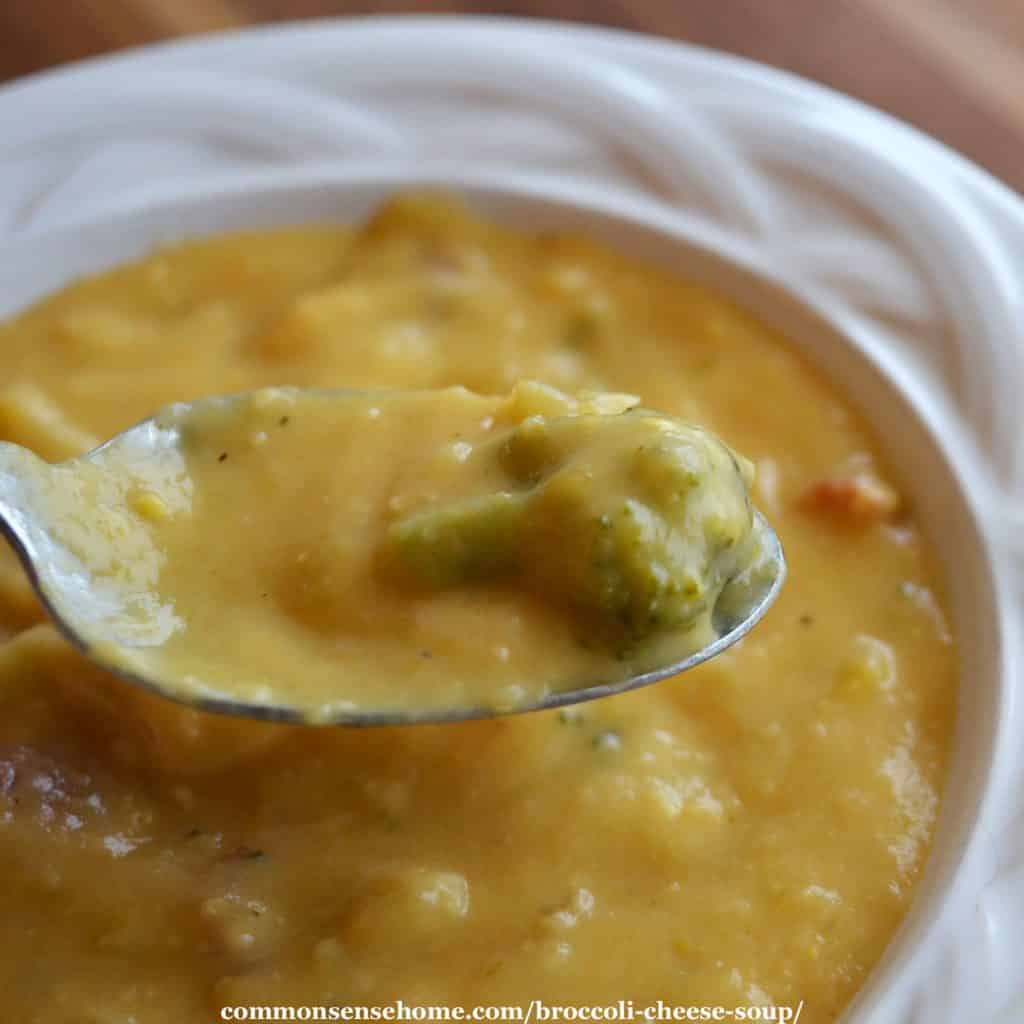 This recipe makes around 8-10 servings, unless you're serving teenage boys who say, "This is really good!", and inhale nearly all of the soup in one sitting.
Print
Broccoli Cheese Soup
This easy gluten free broccoli cheese soup soup is rich and creamy and loaded with veggies and bacon and one ingredient you may not expect.
Author:
Prep Time:

20 minutes

Cook Time:

20 minutes

Total Time:

40 minutes

Yield:

10

bowls

1

x
Category:

Soup

Method:

Stovetop cooking

Cuisine:

American
8

slices bacon

1

large onion, chopped

4

cloves garlic, minced

3

stalks celery, chopped

3

carrots, finely chopped

1

medium head broccoli, cut into florets, or

1

to

2

10-oz bags frozen broccoli, chopped

1/4

cup

cornstarch

6

cups

chicken broth
Dehydrated summer squash, approximately

1

cup

1 teaspoon

sea salt, or to taste

1/2 teaspoon

paprika

1/4 teaspoon

black pepper

1 teaspoon

curry powder

1

cup

heavy cream

1

lb

cheddar cheese, finely grated
Instructions
In a large heavy stock pot or Dutch oven, saute bacon until crisp. Set aside. Use the bacon grease to saute the onions, garlic, celery and carrots. I like to get my onions cooking first so they get a little more done. While the onions start cooking, I finish chopping the garlic, celery and carrots and add each as they are ready. If your bacon didn't have much fat, you can add a little extra butter for sauteing. Cook until carrots are crisp tender, stirring occasionally. Do not brown.
Add broth and broccoli to stock pot.
Pulverize the dehydrated summer squash in a blender or food processor until it becomes a fine powder. Volume should reduce by about half. Add powdered summer squash to stock pot. If you don't have dehydrated summer squash, you can either add more cornstarch or simply have a thinner soup.
Simmer until the broccoli is tender (with frozen broccoli, heat through), at least 10-15 minutes, to give the summer squash time to rehydrate and start to thicken the soup.
In a measuring cup or small bowl, mix enough cold water with the cornstarch to form a loose slurry (about an equal amount of water and cornstarch). Stir cornstarch slurry into simmering soup, taking care to mix thoroughly as you are adding so it doesn't clump. Do not boil – that will make lumps more likely to form. As it cooks, the broth will thicken.
Once broth has thickened, add spices and cream. Heat gently, do not boil. Once heated, start adding cheese, mixing after each addition, until all the cheese has been added. Crumble the bacon into the soup to finish.
Keywords: soup, broccoli cheese soup, cream soup, gluten free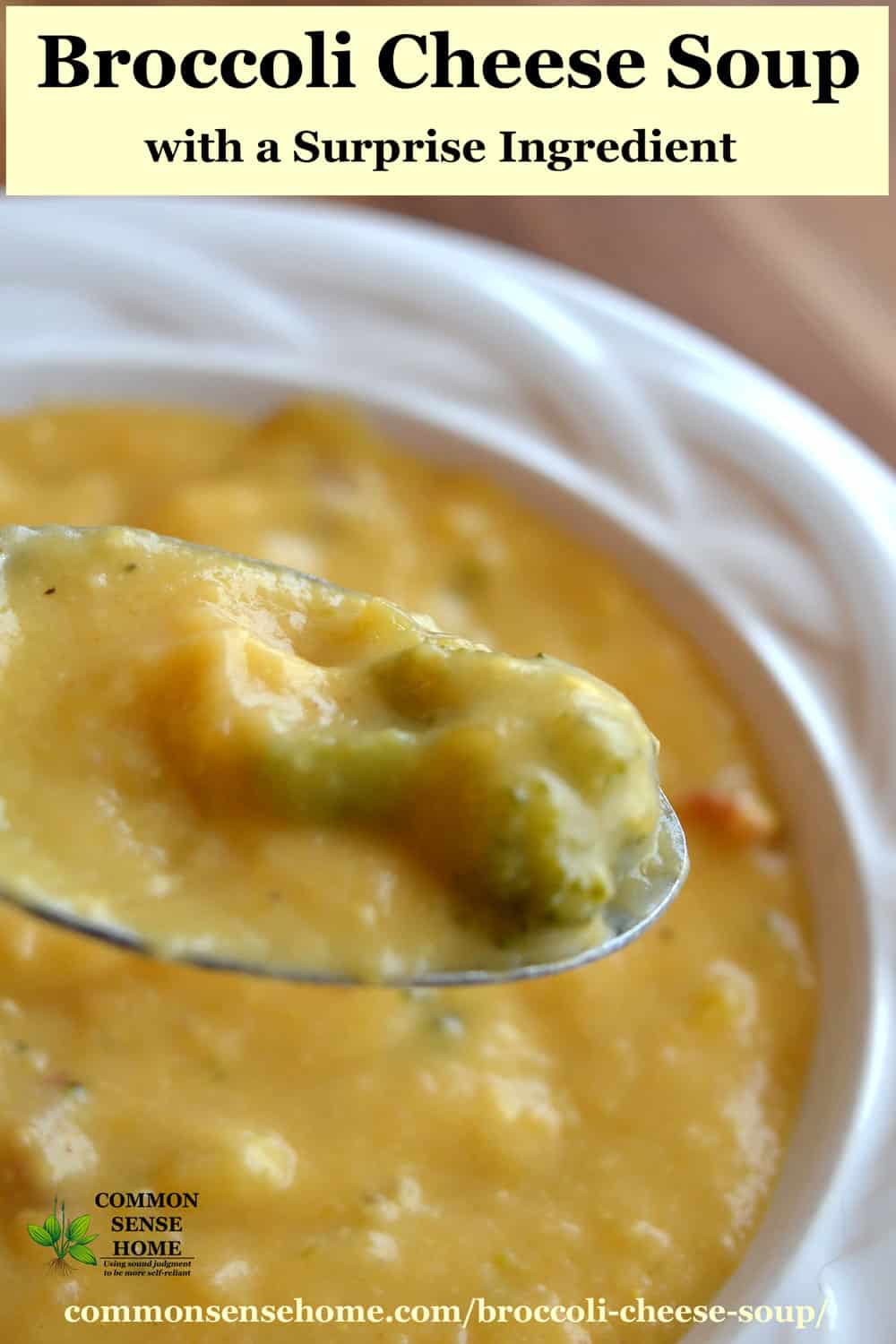 Pair this soup up with some fresh bread or a salad, and you've got a quick and nourishing meal. If you prefer a non-cheesy soup, check out the cream of broccoli soup recipe. We also have a recipe for homemade bread bowls for soup here.
Dehydrating Summer Squash for Broccoli Cheese Soup
Summer squash is super easy to dehydrate. All you do it shred it finely, spread it on your dehydrator trays, set the temp at 125°F (52°C)and dry until crisp. If you have shredded squash in the freezer, you can thaw, drain, and then dehydrate. If you'd like to see the process step by step with photos, check out "The Best Way to Use Up Extra Zucchini".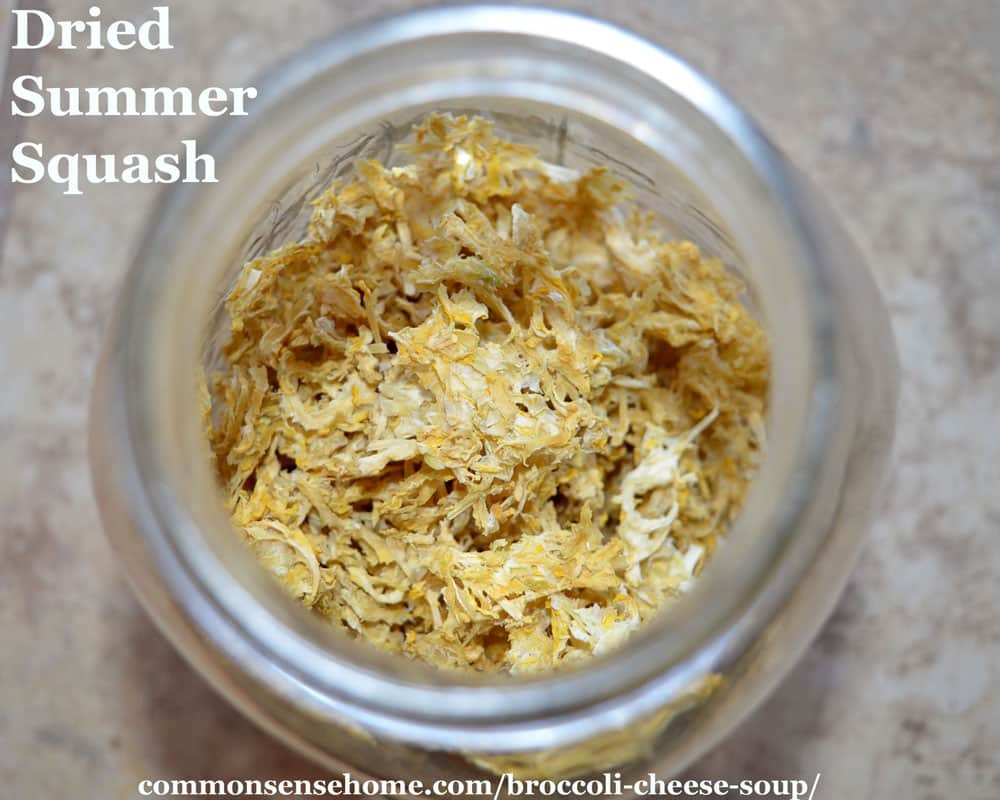 Do you have an unusual way to use zucchini or summer squash? I'd love to hear about it.
More Made from Scratch Recipes
If you like home cooking, then you'll enjoy the Common Sense Home Recipes and Kitchen Tips page. All of our recipes are listed in one spot and sorted by category to make it easy to find your favorites.
Some of the recipes include: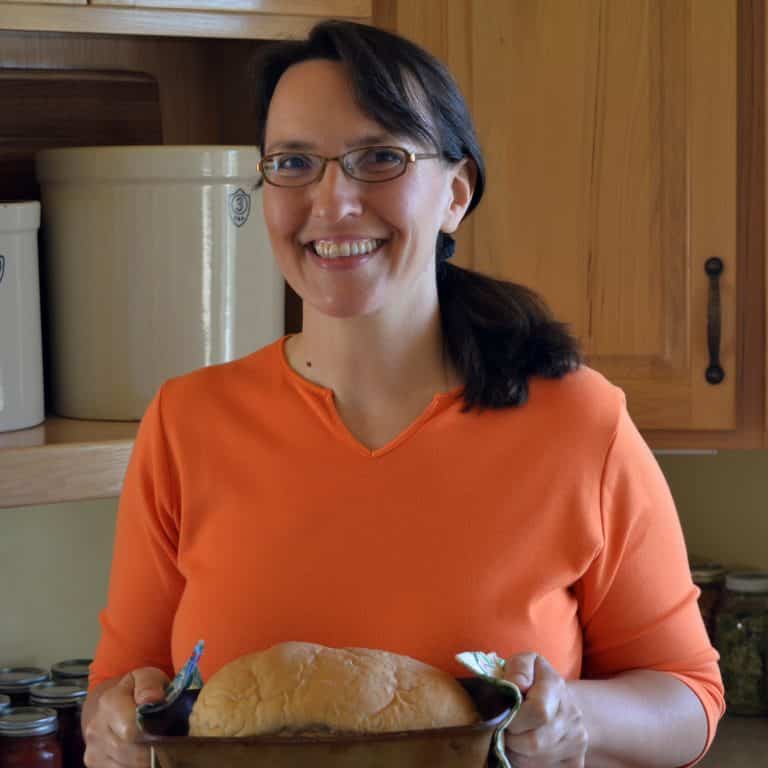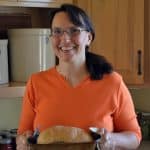 This post is written by Laurie Neverman. Laurie is the creator of Common Sense Home (formerly Common Sense Homesteading). She was raised on a small dairy farm in northwest Wisconsin, and worked in the family catering business (Irene's Custom Cakes and Catering) as her summer job through high school and college. They baked thousands of homemade dinner rolls, and hundreds of pies, cakes and other tasty treats, as well as full course meals for parties of two to several hundred.
In college, Laurie earned her BS in Math and MS in Mechanical Engineering, with an emphasis in Alternative Energy. She and her family now live out in the country in their Green Built certified home on their permaculture oasis in progress homestead. Learn more about Laurie here.
Originally published in 2015, updated in 2018.