Best Ever Cornbread Recipes – Northern and Southern Style
If you've been searching for the best cornbread recipes, your hunt is over. Gram Irene's makes a light and moist cornbread; Grandmom Murphy's makes a gluten free, southern style skillet cornbread that you can sweeten with a drizzle of honey after baking, if you're so inclined.
Both of these recipes are featured in my book, "Never Buy Bread Again – 20+ Homemade Bread Recipes", now available in spiral bound print and digital formats.
Purchase the print copy and get a digital copy free! Learn more here.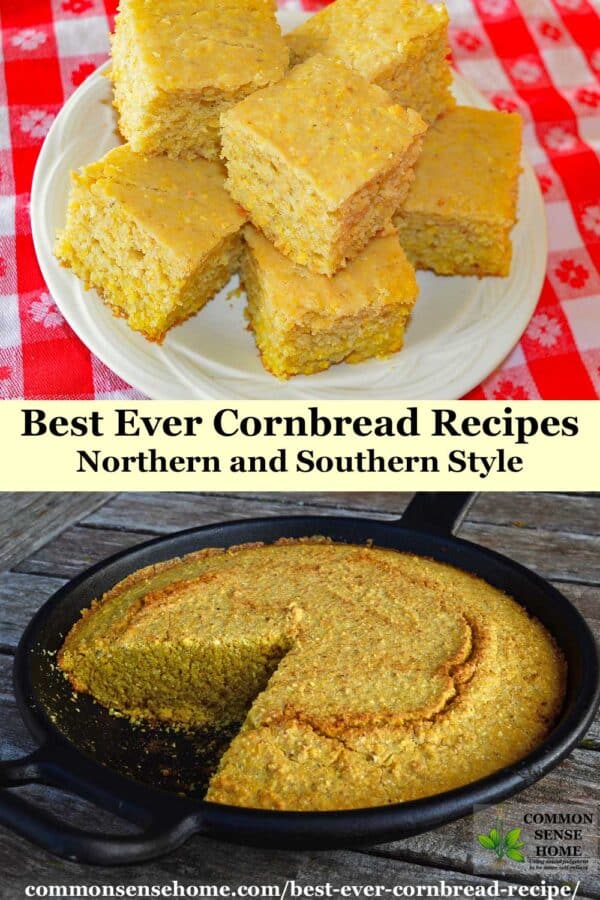 Whenever I make homemade baked beans, I always make up a batch or two of cornbread to go with them. When the boys were little we call it "cowboy food", although I'm sure the cowboy version would have been a lot simpler and probably not nearly as tasty. My youngest also loves homemade cornbread with chicken and gnocchi soup, chili and other hearty soups.
How to Make Cornbread – 5 Tips for Success
1. Use fresh, good quality ingredients.
I think most of us have had a bag of "something" get shoved to the back of the cupboard a little too long. Good cornmeal should smell fresh, slightly sweet smell. Rancid cornmeal will smell musty and stale. Dried corn contains oils, and once ground, it has a limited shelf life. If you use cornmeal infrequently, keep it in the freezer. Bring it up to room temp before you begin baking, or add extra baking time.
2. Mix gently by hand.
Cornbread is a quick bread, not a yeast bread. There's no need for kneading – a few lumps are a good thing. Mix only enough to incorporate dry ingredients – more mixing can lead to tough cornbread.
3. Don't let your batter sit around.
Have your pan prepped and ready to go, so you can get it in the oven promptly once mixed. Baking soda activates as soon as it's mixed with liquid. Baking powder activates when it gets moist and once again in the oven.
4. Add honey for more flavor and browning.
If you like your cornbread a little browner with a slightly richer flavor, substitute honey for some of the sugar. You may need to skimp slightly on the other liquids or add a few minutes baking time to compensate if you switch to all honey.
5. Preheating your pan will make crustier cornbread.
For a hearty Southern style cornbread, melting your fat or oil in your cast iron skillet doesn't just lube the skillet, it also makes for crustier cornbread. For extra crusty cornbread, keep the skillet piping hot so that when you pour the batter in, it sizzles. A hot skillet will trim your bake time by a few minutes, so plan accordingly.
Gram Irene's Best Cornbread Recipe
I got this cornbread recipe from my mom (Irene), after having tried it at her place and commenting on how good it was. The texture is great – really moist and tender, not dry and gritty. The "secret" is in the sour cream. You can make it with whole wheat flour, although I admit, I normally use white or a gluten free blend like Namaste. I recommend full fat dairy (sour cream and regular milk) for best flavor. The photo below ifs from the first time my youngest made cornbread by himself. He got so excited about baking that he climbed right up on the counter to mix.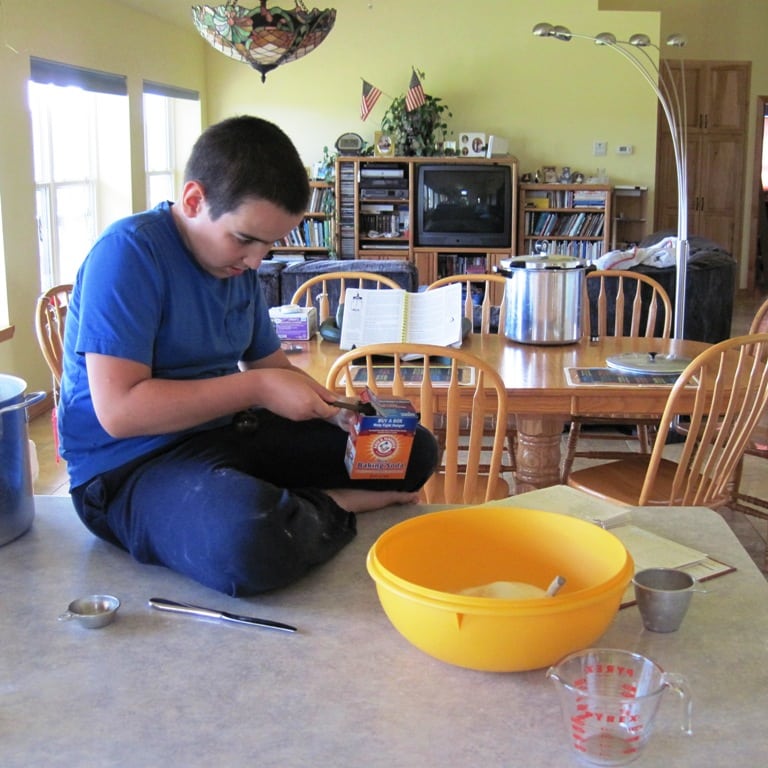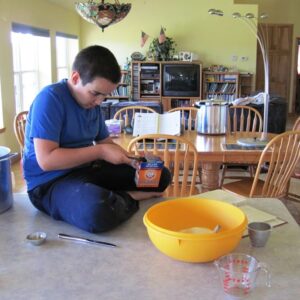 Print
Gram Irene's Best Cornbread Recipe
The "secret ingredient" keeps this cornbread moist, never dry or gritty.
Author:
Prep Time:

10 minutes

Cook Time:

35 minutes

Total Time:

45 minutes

Yield:

16

servings

1

x
Category:

Bread

Method:

Baking

Cuisine:

American
Dry Ingredients
1 cup

flour – all-purpose or gluten free flour blend

1 cup

corn meal

1/4 cup

sugar

2 teaspoons

baking powder

1 teaspoon

salt

1/2 teaspoon

baking soda
Wet Ingredients
1/4 cup

butter, softened

1

egg

1/3 cup

milk

1 cup

sour cream
Preheat oven to 350° F and lightly grease a 8″x8″ square baking dish or 9 inch round pan.
Blend dry ingredients together in a large bowl.
Mix in softened butter. Blend in milk, sour cream and egg. Beat until moist. Pour the batter into prepared pan and place in preheated oven. Bake around 30-35 minutes, until surface starts to crack and edges pull away from pan.
If you are using heavy glass bakeware, it may take 5 – 10 minutes longer. A toothpick inserted near the center of the bread should test dry when it is done.
Notes
Enjoy warm or at room temperature with butter, baked beans, soup or meal of your choice.
Keywords: cornbread, corn bread, quick bread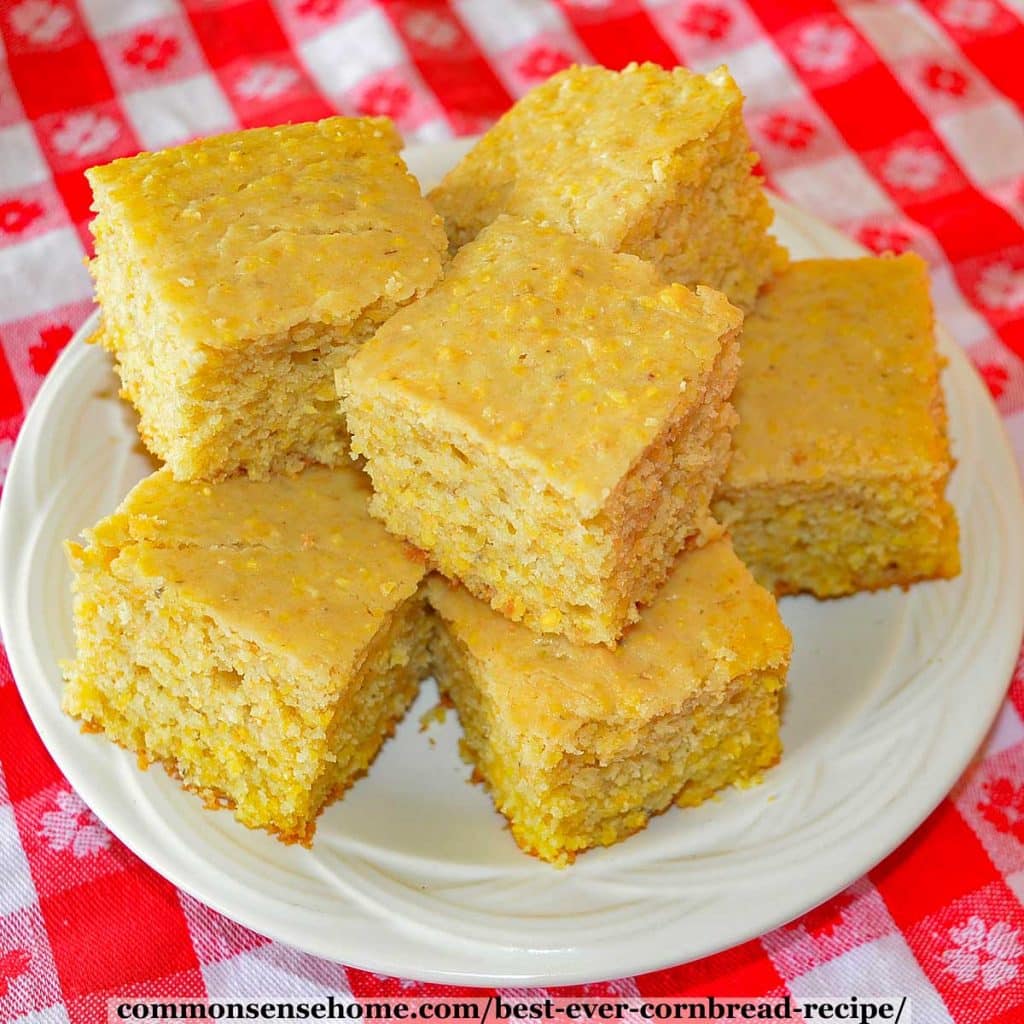 Grandmom Murphy's Southern Style Cornbread Recipe
I've taken some flack from southern readers who say a proper corn bread shouldn't be sweetened at all. Given that my momma was not a southerner, I don't have a family recipe like that, but one of my readers was kind enough to share his. This recipe is an authentic southern style gluten free cornbread from Gerald Murphy. It's savory, not sweet, and made with only cornmeal – no added wheat flour.
Gerald's original recipe uses corn oil, but I asked Gerald about substituting other fats, and he said bacon grease or melted butter would probably work fine. He says, "It's a great recipe – you'll love it!"
Print
Grandmom Murphy's Southern Style Cornbread Recipe
Authentic Southern Style Cornbread, savory, not sweet, made with only cornmeal – no added wheat flour.
Author:
Prep Time:

10 minutes

Cook Time:

25 minutes

Total Time:

35 minutes

Yield:

12

slices

1

x
Category:

Bread

Method:

Baking

Cuisine:

Southern
2 cups

self-rising corn meal*
Approximately

1 1/4 cups

of buttermilk (no substitutes for this please)

1

egg

1/4 cup

corn oil or melted lard or butter
Heat oven to 450°F.
Oil a cast iron skillet. I pour my oil in the pan, run it all around, and then pour it into the batter.
Blend all ingredients together in a medium mixing bowl. You can adjust the meal or buttermilk to get the right consistency of mix. The cornmeal batter should be fully wet but not runny.
Pour the batter into the pan, scraping the bowl clean, and shake the pan back and forth until it levels out.
Place cast iron skillet in oven and bake for 20 to 25 minutes. You can see the underneath edges turning brown when it is almost done.
As soon as the top gets the least bit of brown on it, turn the over to broil (careful now–this goes fast) until it is the shade of golden brown you like (usually about 2 to 2 1/2 minutes).
Notes
*1 cup self-rising cornmeal = 1 cup plain cornmeal + 1 1/2 tsp baking powder + 1/2 tsp salt
Keywords: cornbread, quick bread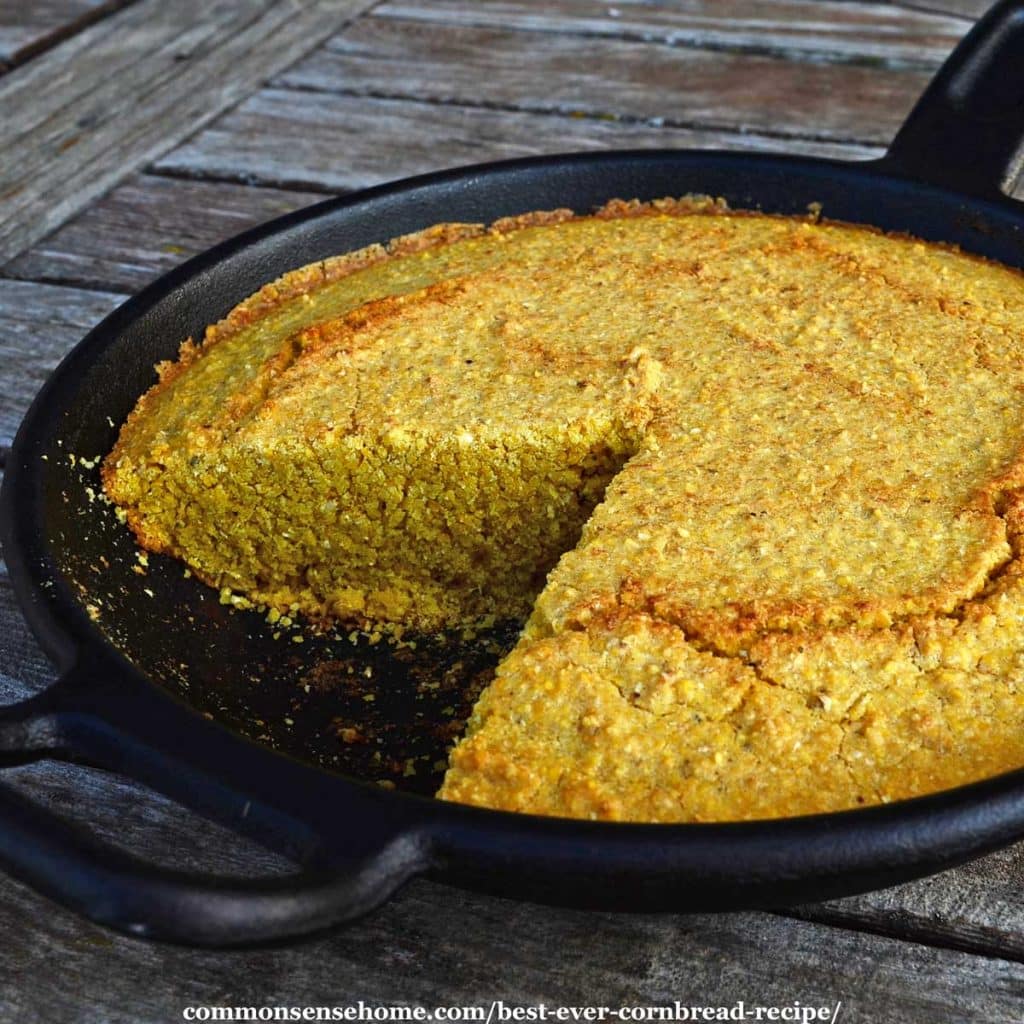 Where to Buy Cornmeal and How to Store it
Most stores stock cornmeal along with flour in the baking section. (Be sure to check the "best by" date!) If you need a source for quality organic cornmeal, check out:
You can also grind your own cornmeal from dried dent corn or flint corn. Dried sweet corn has more sugar and doesn't keep as well or bake the same as corn varieties grown specifically for use as a dried grain. Most commercial cornmeal is made from dent corn. (Check out The Resilient Gardener for tips on growing, using and storing your own grain corn.)
For cornbread, most people lean towards a medium grind cornmeal, which is more course than corn flour but finer than grits. "Stone ground cornmeal" tends to be courser, and usually has the germ and bran left in. This adds more flavor, but also shortens shelf life, so plan accordingly.
To keep cornmeal fresh, store in the freezer in an airtight container, where it will last for up to two years. This is especially important for cornmeal labeled "stone ground" or "whole grain", as noted above. If you purchased cornmeal that been degerminated, the bran and germ are removed and the product is more shelf stable at room temp. It's probably okay to store for a year or so in the pantry, but cool temps are better.
Use the "sniff test" to make sure your cornmeal is still good before baking. Stale = a bitter, pungent smell; fresh = bright, lightly corn scented aroma.
More Made from Scratch Recipes
We do a lot of "from scratch" cooking, and I've shared over 100 family recipes and kitchen tips on the site. You can find them all listed by category on the Common Sense Home Recipes page.
They include recipes such as:
Thanks for stopping by, and I hope your family enjoys these recipes as much as we do. Please share if you feel so inclined.
Originally posted in 2011, updated in 2018.