7 Things You Should Never Do To Your Cutting Board
In 2013, I reviewed a gorgeous, sustainably harvested cutting board from Proteak. They've recently relaunched their Marine Collection of cutting boards, and asked if I would like to share them with all of you again.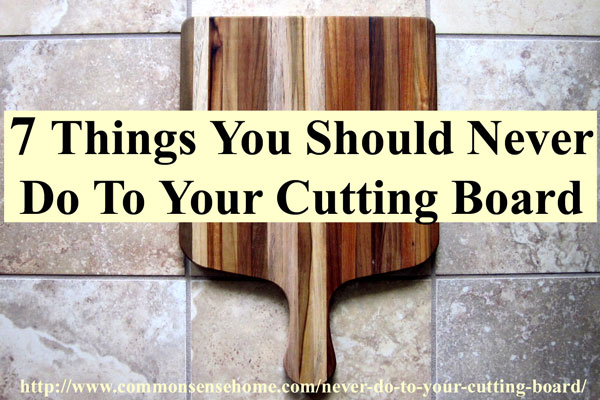 You can read the full review of Proteak and the Proteak Cutting Boards to learn about teak, where the wood is grown and the company's commitment to environmental stewardship. Since they've taken steps to produce a quality produce that lasts, I figured it would be a great idea to share the things you should never do to your cutting board to help it stay beautiful for a lifetime of service.
7 Things You Should Never Do To Your Cutting Board
Adapted from Best Care Practices for Your Proteak Products to Prolong the Beauty of Teak
Never let your cutting board get extremely dry, or place on or near excessive heat (such as a stove). They are wood, and can burn. Even if they don't catch fire, excessive dryness can cause cracking or breakage.
Never leave your cutting board to soak or sit wet. Extreme humidity can cause the wood to swell, weakening the structure of the board. Putting a wooden cutting board in the dishwasher is just completely and utterly a bad thing.
Never cut continuously in the same place on your cutting surface. Distribute your cutting over the entire work surface so that it will wear evenly.
Never use only only one side of the cutting board. Turn your cutting board over periodically to allow even usage to both work surfaces.
Never use a razor-edged cleaver. This can chip or splinter the wood and produce soft spots. Your cleaver should have a duel sharpened edge for best results.
Never leave your cutting board sitting dirty after cutting meat. Always wash the block thoroughly in warm, soapy water after cutting fish, red meat or fowl on the work surface and allow to air dry well before storage.
Never cut off ends, drill holes, make cutouts, or otherwise deface surfaces without refinishing the exposed unfinished wood. Not only would you void your Proteak guarantees, you'd be defacing a work of art.
To learn how to care for your cutting boards, you can visit the post, "Why Wooden Cutting Boards are Best". With proper seasoning and care, a good quality cutting board can last for years, and may even become a family heirloom. They also make beautiful yet functional gifts.
If you're curious what you CAN do with your cutting board (besides the obvious), check out 5 Creative Cutting Board Uses – In and Out of the Kitchen.