Easy Homemade Sloppy Joes (Plus Homemade Buns!)
This easy homemade sloppy joe recipe is a hit at family gatherings. Even the picky eaters enjoy it. I make it for Christmas Eve every year. It uses common ingredients from the fridge and pantry – no high fructose corn syrup required. The flavor improves the next day, so it's a great recipe to make a day ahead and reheat in a slow cooker or crock pot. It also freezes and freeze dries well. Try some of Betty's No Can Dill Pickles on the side for an extra treat.
Sloppy Joes are a Classic
Our homemade sloppy joes are adapted from the Betty Crocker's New Picture Cook Book from 1961. (I love this cook book. They use lard.) They call it "barbeque hamburger mix". The recipe calls for four pounds of ground beef and makes 30-40 sandwiches.
Sometimes I make a whole batch, sometimes I cut it in half. If you prefer, you can substitute ground turkey or ground venison for the ground beef. We use homemade ketchup or non-HFCS ketchup.
This is a good recipe to introduce kids to cooking. My boys have been making it by themselves since they were around 10 and 8. One would brown the beef and chop the veggies while the other measured the rest of the ingredients.
Print
Easy Homemade Sloppy Joe Recipe
Author:
Prep Time:

10 minutes

Cook Time:

30 minutes

Total Time:

40 minutes

Yield:

30

–

40

sandwiches

1

x
Category:

sandwich

Method:

stove top

Cuisine:

American
1

cup

chopped onion

2 tablespoons

butter

4

pounds

ground beef

14

oz

ketchup

1

cup

water

1/2

cup

chopped celery

1/4

cup

lemon juice

2 tablespoons

brown sugar

1 tablespoon

salt

2 teaspoons

vinegar

1 teaspoon

Lawry's Salt

1/2 teaspoon

dry mustard
Instructions
Saute onion in butter. Add ground beef; brown lightly. Drain off excess fat, if needed. Add rest of ingredients and simmer covered 30 minutes. Use to fill 30 to 40 hamburger buns.
Keywords: easy, without worcestershire sauce, with mustard
Homemade Buns Make Sloppy Joes Better!
If you want, you can pair your sloppy joe meat with store bought buns, but if you have a little extra time, I highly recommend homemade. I usually start the buns in the early afternoon and they're done by supper time. With the bread machine or mixer I can multi-task more easily, but it's not that much more work to do it by hand if needed. I share our favorite bun recipe below. (It works great for sandwich bread or brat buns, too.)
A single batch of the bun dough will fit in most bread machines, so you can use the "dough" cycle for mixing. I normally use my Bosch Universal Plus Kitchen Machine and mix up a double batch at one time. That way I have enough dough to make two loaves of bread plus one dozen medium sized hamburger buns, or 30-40 smaller buns. See "Easy Bread Recipe" for a step by step video.
If you want to get fancy, you can team up your homemade sloppy joe meat with the homemade pretzel buns featured in my book, Never Buy Bread Again. Those will take a bit longer to prepare, but are sure to wow your guests.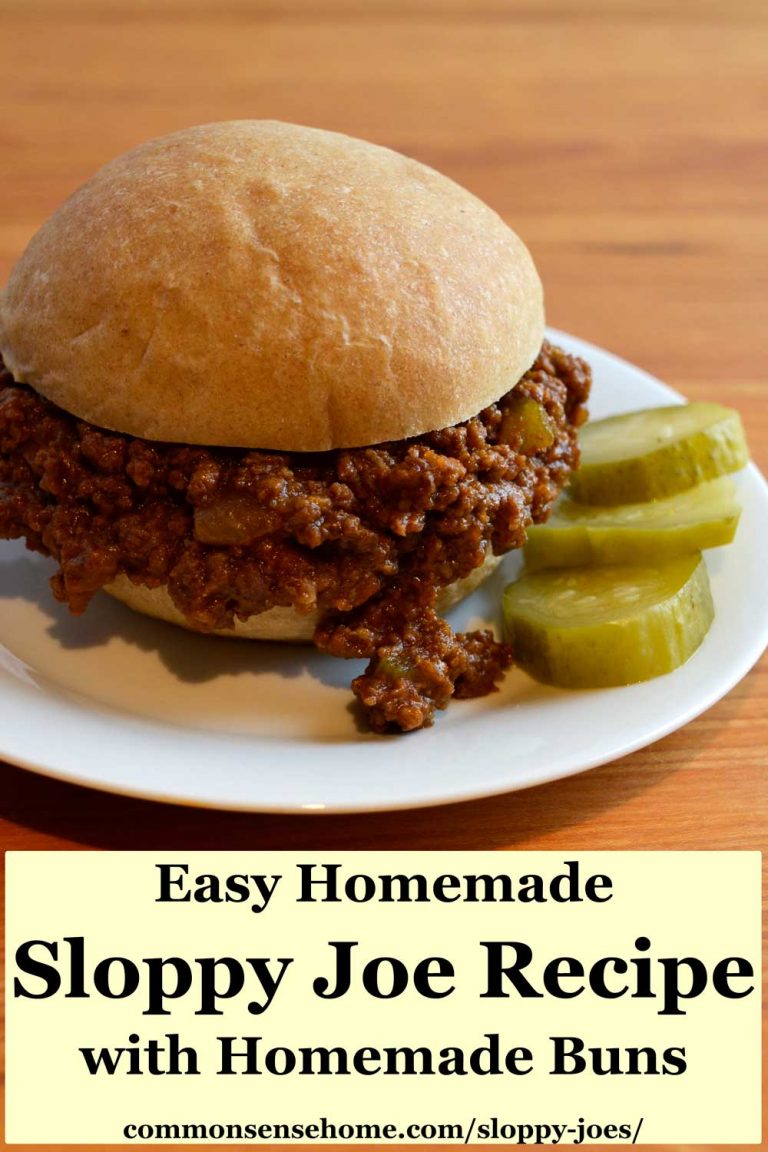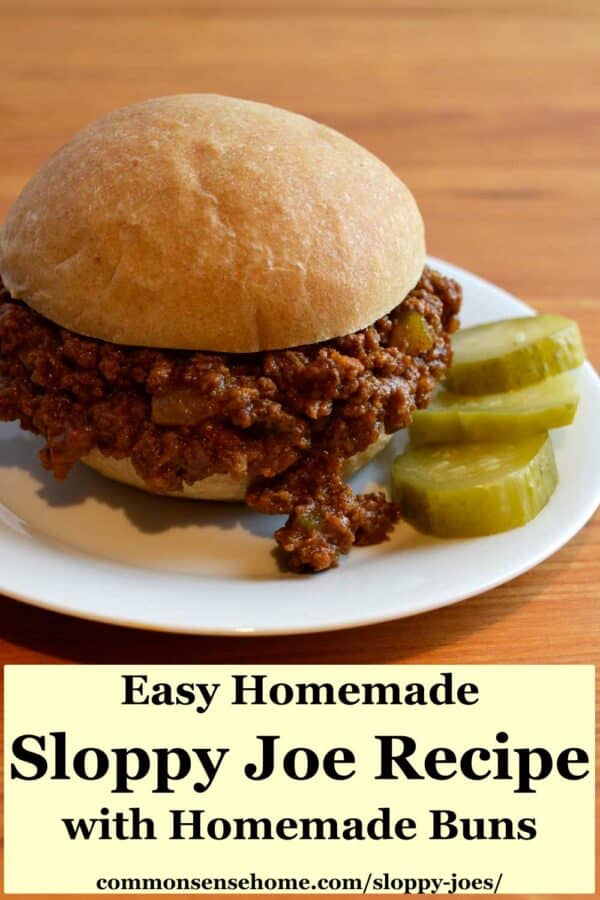 Print
Easy Hamburger Buns
Easy "no fail" recipe for homemade hamburger buns.
Author:
Prep Time:

1 hour

Cook Time:

15 minutes

Total Time:

1 hour 15 minutes

Yield:

15

buns

1

x
Category:

Bread

Method:

Baking

Cuisine:

American
1 egg plus enough warm water to equal

1 1/3

cups

1/4

cup

melted butter

1/4

cup

sugar

1 1/2 teaspoon

salt

4

cups

bread flour

1 1/2 teaspoon

instant yeast/bread machine yeast or

2 teaspoons

active dry yeast
Instructions
Place all ingredients in mixer or bread machine and mix for 6-8 minutes, until ingredients are well mixed and gluten has had a chance to develop.
If mixing by hand, blend all ingredients except flour. Add flour one cup at a time, mixing well after each addition. (You may need to adjust the amount of flour based on humidity conditions.) When dough is stiff enough to mix by hand, dump onto a well-floured counter and knead for 5-10 minutes. Continue as below.
Cover and let rise for 20 minutes. Punch down dough, let rise until double in size.
Divide dough into desired number of buns and loaves and shape accordingly. Remember, the bread will rise again and double in size, so small buns will get much larger.
Cover with a clean dish cloth and place in a warm location until buns double in size. Preheat oven to 375 °F while buns are rising.
Bake buns around 15 minutes at 375 °F, until lightly browned.
Cool on wire rack before slicing.
Notes
If using active dry yeast, add the yeast to the warm water and allow it to warm and dissolve following directions on yeast package before adding the rest of the ingredients.
To freeze the buns.  Make sure they have cooled completely, otherwise you'll have condensation and soggy buns when they thaw. (No one likes soggy buns.) Place the cooled buns into a gallon zipper bag, and remove as much air as possible. Label with date and contents. Use within a month for best quality.
Keywords: wheat, easy, rolls, sandwich
Recommended Kitchen Tools
The right tools make cooking and baking a little easier. I like to prep our sloppy joes in a heavy bottomed stock pot. We always make sure to keep our knives sharp for chopping veggies, and use wooden cutting boards. You can prep directly in a slow cooker if you prefer, but I like the flavor that's added by browning the onions before you brown the beef.
When making the buns, I suggest either a large bowl and a sturdy wooden spoon to mix by hand, or a solidly built mixer like the KitchenAid or Bosch Universal Stand Mixer. I like stainless steel baking sheets, and line them with reusable parchment paper as needed. The reusable parchment paper works so much better than silicone baking mats. It doesn't get stinky and tacky like silicone.
My preferred cooling rack is a 16×20 inch with a grid pattern, because it's large enough to hold a double batch of buns for sloppy joes, but the grid pattern keeps small cookies and such from falling through.
More Homemade Bread Recipes and Baking Tips
I hope you and your family enjoy this sloppy joe recipe as much as we do. Don't forget to check out the other posts in the Bread Recipes Roundup. We also have over 100 recipes, sorted by category, on the Common Sense Recipes and Kitchen Tips page.
If you've struggled with bread baking in the past, be sure to check out "Troubleshooting Tips to Help You Make the Perfect Loaf of Bread". I also have a book out featuring over 20 bread recipes, including quick breads, plus tips for par-baking and freezing, high altitude adjustments and more. You can read all about it at "Never Buy Bread Again – The Bread Book for Beginning Bakers".
Originally published in 2011, last updated in 2019.