Spiced Hot Cocoa Mix Recipe – Secret Spices Make the Mix!
This is a guest post by Cameron Smith of Eat Real, Stay Sane.
Growing up in warm southern California, we didn't have to put up with nasty weather very often. It rarely rained, and we celebrated Christmas by visiting parks or riding bikes outside. Occasionally, the weather would take a turn for the worse.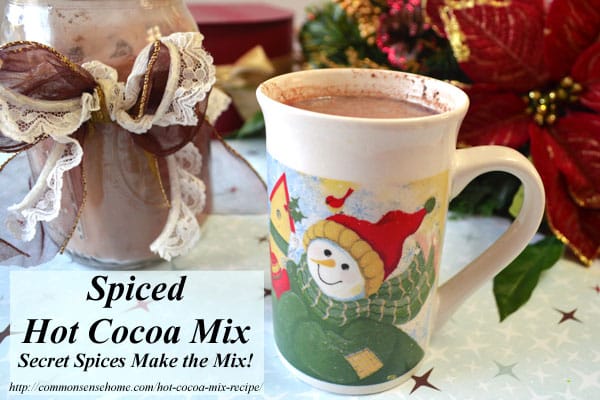 My Minnesota-native 4th grade teacher called it "picnic weather," but we treated 55-degree rainy days like it was Buffalo in the dead of winter. We came home from school and didn't even consider going outside. We'd quickly change our wet clothes and beg Mom to make us hot chocolate. She used a standard store-bought hot cocoa mix, but as kids, we didn't argue with warm and chocolatey on days like those. Even now, cold days stir a Pavlov's-dog-type reaction in me. The second I get home, I want hot chocolate. Living in snowy Utah, that's like every day for me between October and April. 🙂
Unfortunately, hot chocolate had been a painful casualty of my newfangled real food diet. I'm (mostly) happy to give up junk food because I understand the tradeoff. I spend more time in the kitchen, a bit more money on ingredients, but I'm happier, skinnier, and more energetic.
But the real secret to sticking to your real food diet? Learn how to make the stuff you love, just with natural ingredients.
That's why this past weekend, I spent 3 hours testing and tracking a dozen homemade varieties of hot chocolate mix until I found the right one. Copious amounts of my new hot chocolate will be my main defense strategy against winter. I tried out every combo I could think of that sounded tasty to me, and poured each variety in a different mug with a piece of blue tape to mark the recipe used. When the wife and I both agreed on a winner, we knew we were ready.
We both love the basic sugar + chocolate + warm milk tried-and-true hot chocolate formula, but I wanted something different, especially to give as gifts. We also wanted something that didn't require adding 3-4 more ingredients during prep. Just add to your milk of choice, and it's ready to go. It's the perfect gift because you don't have to make sure they have vanilla, peppermint extract, or honey at home before they can make it.
When making this hot cocoa mix recipe, resist the urge to cut down on the salt. Salt's the secret ingredient to this mix, in my opinion. Have you ever tried salted dark chocolate? It's kind of the best. 🙂 We experimented adding more and more salt until the flavors popped. Then we added too much and we had to chuck the whole batch we were working on… another casualty in the quest for culinary perfection, I suppose.
The cinnamon, ginger, and nutmeg complement the chocolate flavor. I tried a regular cup of hot chocolate mix at work after getting used to our homemade hot chocolate mix, and the lack of complexity disappointed me. In other words, don't skip the spices!
This year for Christmas, we are giving our friends this mix in Mason jars! People get excited when we tell them there isn't any bad sugar in the mix and it is pretty healthy. Erin created a Christmas tree gift tag printable so you can print them up on some cutesy Christmas paper and cut them out.
Open Christmas Tree Printable Gift Tags
Anyway, try this super easy mix at home – it's healthy, organic, and refined-sugar free. Tell us what you think!
Spiced Hot Cocoa Mix Recipe
Refined Sugar Free and Organic
Ingredients
Directions
To prepare the hot cocoa mix, blend all ingredients together. Store in a sealed container. (Mason jars work great!) To make homemade hot cocoa, mix 3 tablespoons of the hot chocolate mix into 8 ounces of warm milk.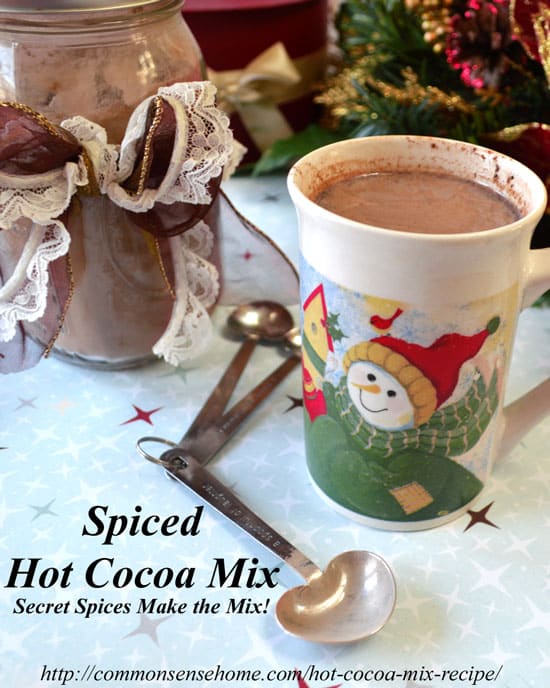 Print Friendly Recipe
Print
Spiced Hot Cocoa Mix Recipe
Delicious homemade hot cocoa with a spicy twist.
Instructions
To prepare the hot cocoa mix, blend all ingredients together. Store in a sealed container. (Mason jars work great!)   To make homemade hot cocoa, mix 3 tablespoons of the hot chocolate mix into 8 ounces of warm milk.
Notes
Organic spices are best if you have them. The flavor really does make a difference.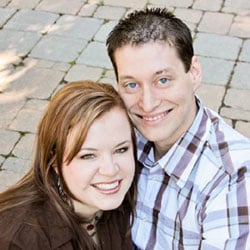 About the Author: Erin and Cameron Smith write at Eat Real, Stay Sane, where they teach people how to adopt a healthy lifestyle that includes eating real food, eliminating toxins, and overcoming chronic illness. You can get their FREE 7-part series about how to incorporate a real food lifestyle to help you lose weight, reverse disease, and be healthier than ever.