How to Store Strawberries 12 Ways – Plus Tips to Keep Berries Fresh
Perfectly ripe strawberries are yummy, but strawberries also top the "Dirty Dozen" list for highest amounts of pesticide residue. We're lucky enough to have an organic strawberry farm nearby that uses no pesticides, so when strawberry season comes around, we stock up!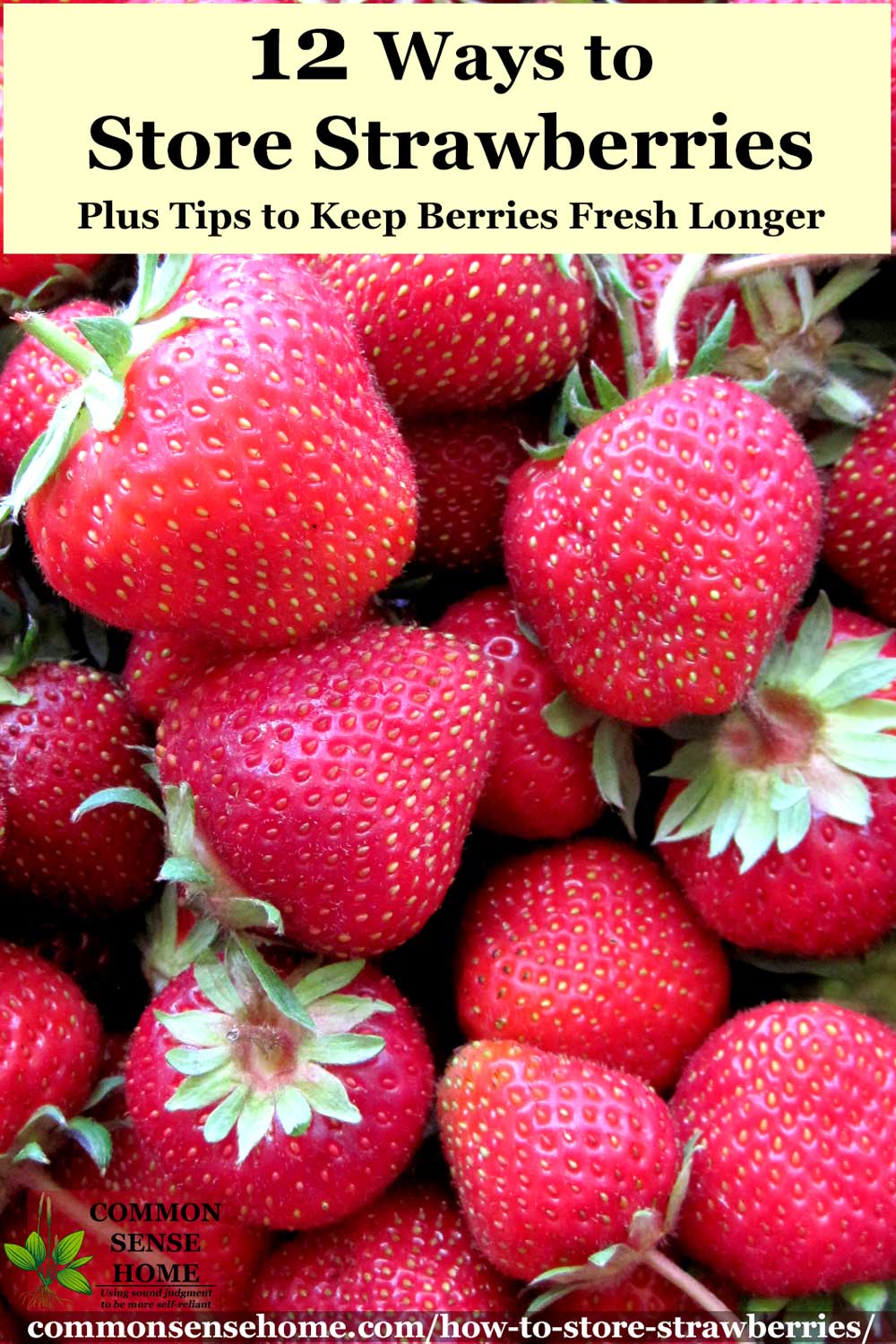 How to Store Strawberries for Fresh Eating or Year Round Use
In this post, I'll share how to store strawberries 12 different ways, plus how to keep strawberries fresh. We cover freezing, dehydrating, homemade fruit leather, strawberry kombucha, freeze drying, strawberry jam (regular and low sugar), and strawberry wine and mead.
The Best Way to Store Fresh Strawberries – 4 Quick Tips
Keep the stems on your strawberries! Once the stems are off, the berries start breaking down quickly.
Don't wash or soak strawberries until you're ready to eat them. Water will make the berries mushy.
Watch out for moldy strawberries. If you spot one going bad, compost it. One moldy berry can spoil a whole container.
Hold off on cutting your strawberries if you want them to last longer.
If you're eating the berries right away, they can stay on the counter top. If you'd like them to last a few days, store in the refrigerator. Once you cut your strawberries, the strawberry storage clock speeds up and they won't keep as long. Seal cut strawberries in an airtight container and store in the refrigerator.
The boys and I go strawberry picking locally every year, just like I used to go with my momma. (The Little Mouse, The Red Ripe Strawberry, and The Big Hungry Bear used to be one of my oldest son's favorite books when he was little.)
The strawberry season is short here – generally 2-3 weeks at most, depending on the weather, but we try to get out picking at least twice. For strawberry storage that we can enjoy year round, I use several different methods of preserving strawberries.
How to Freeze Strawberries
Frozen berries are great for smoothies or using in recipes where a soft or frozen berry is acceptable. The freeze/thaw process breaks down the cell walls, so these berries will be soft and juicy when thawed. Great for shortcake, but a little messy to eat as a finger food.
The best way to freeze strawberries is to start by gently rinsing the berries under running water in a colander. (I invested in an over the sink colander several years ago and I use it all the time for fruit and vegetables.)
I don't recommend washing your berries in a basin of water. They will act like little sponges and soak up additional water, making them mushy and tasteless.
Place the washed berries on a couple of layers of old t-shirts or towels next to the sink to drip dry. Hull the strawberries and remove any damaged spots with a paring knife.
Can You Eat Strawberry Tops?
Yes, strawberry tops are safe to eat! If you know you will only be using your berries for smoothies or another application where they will be well blended, it's fine to leave the tops on.
Not only are they edible, strawberry leaves are rich in vitamins and minerals plus ellagic acid, a highly touted cancer preventive.
Place strawberries on a sheet pan covered with reusable parchment paper or parchment paper. I typically load them into the freezer on trays one day and vacuum seal them the next.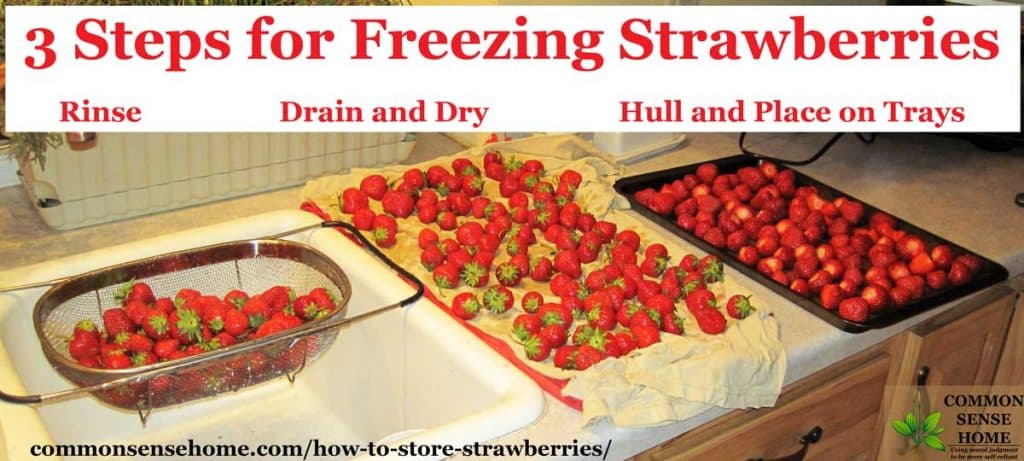 When vacuum sealing, make sure that you keep the opening of your bag completely clear of moisture to get a good seal.
Don't try vacuum sealing unfrozen berries. As the sealer pulls air out of the bag, the berries will compress and juice will be squeezed out of your berries and into the vacuum sealer. You'll make a really big mess and your bags may not seal.
Write the contents and date with a Sharpie marker somewhere on the bag, just in case they disappear into the bowels of the freezer and are uncovered much later.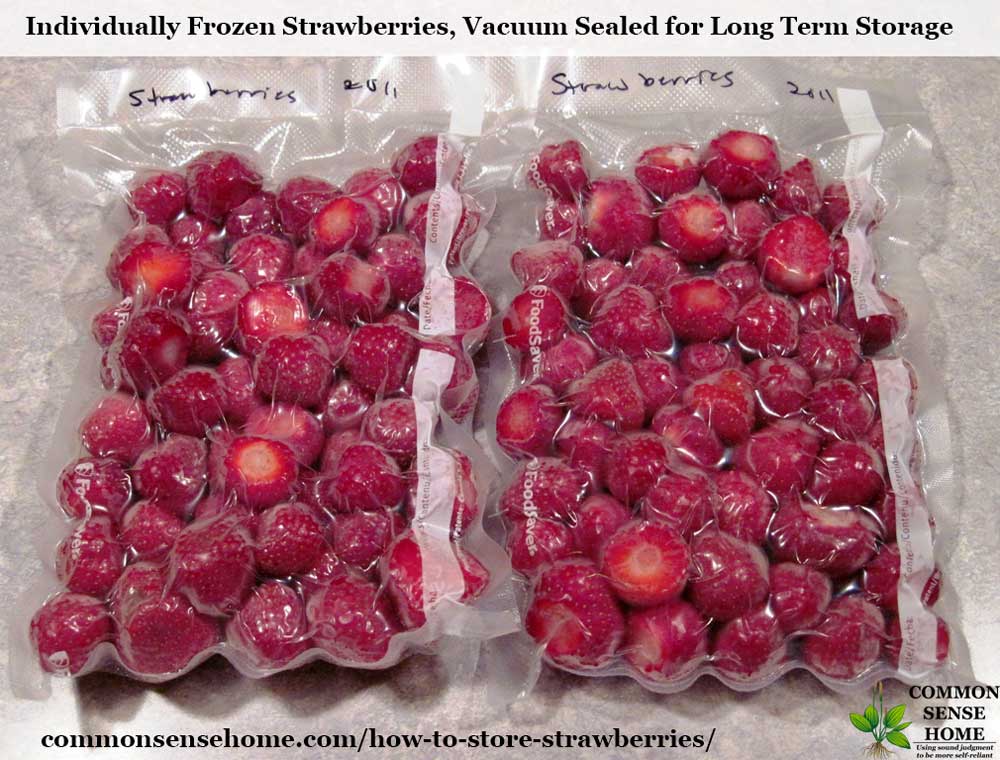 Do you have to vacuum seal frozen berries?
No, but I like the quality of the fruit much better when it's vacuum sealed. Properly vacuum sealed, these berries will last well over a year with no appreciable ice crystal formation and very little visible deterioration. (I can easily store strawberries from one season to the next season.)
If you don't have a vacuum sealer, you may want to crush the berries before packaging, as the juice will help protect the berries and prevent ice crystal formation. You could also layer the berries in a container with sugar, which will also help prevent ice crystal formation.
How to Dry (Dehydrate) Strawberries
Dried (Dehydrated) strawberries are great for snacking. They can also be used for cooking, as is or rehydrated.
For individually sliced and dried berries, clean berries as for freezing, then slice vertically to a uniform thickness (roughly 1/4 to 1/8 inch thick). Uniformly sized pieces will dry more evenly. No pre-treatment is necessary.
Load pieces on a dehydrator tray so that they are evenly spaced and not touching. (Clean-a-screen inserts will help to keep the dry fruit from falling through the trays.)
Dry at 135°F/58°C for around eight hours or overnight, until fruit is brittle and crisp and will break instead of bending. Strawberries are 91% water, so they will shrink up a lot!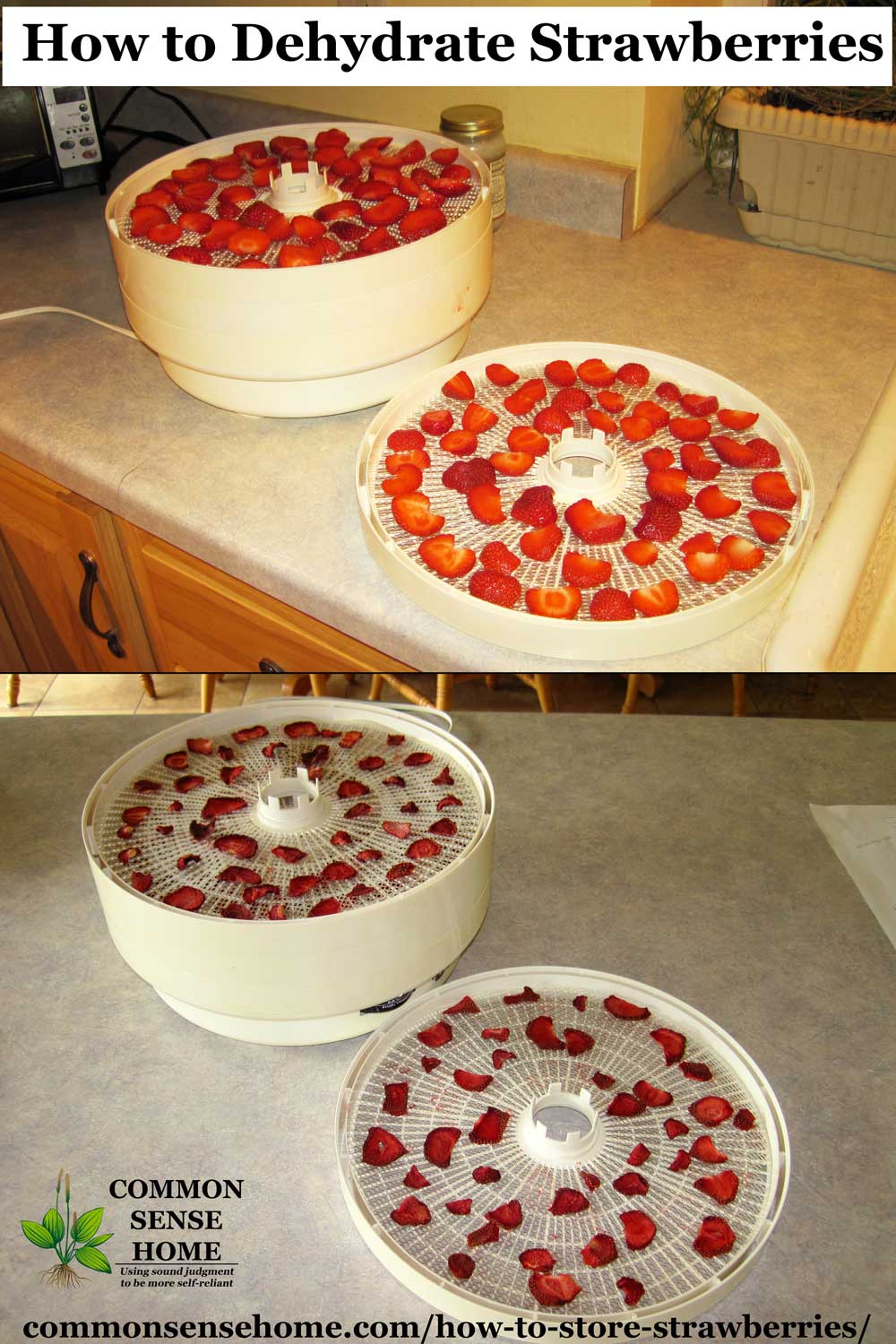 Remove dried strawberries from dehydrator trays and store in a tightly sealed container. For longest storage, vacuum seal in mason jars or seal in a Mylar pouch with oxygen absorbers.
Recommended food dehydrators:
How to Make Strawberry Fruit Leather
Strawberry fruit leather is another great snack option. The trick to a good "leather" is applesauce.
Strawberries are low in pectin, so a strawberry only fruit leather will be brittle instead of supple/more leathery.
To make strawberry fruit leather, puree fruits, tops and all, in a good quality blender such as a Vitamix. Measure your puree, and add an equal amount of applesauce.
For instance, if you have two cups of strawberry puree, adds two cups of applesauce. Homemade applesauce is great if you have it. In my experience, it works a little better than commercial varieties.
Oil your fruit leather sheet with coconut oil to prevent sticking. Pour strawberry/applesauce puree on the sheet to a thickness of around 1/8 to 1/4 inch.
Thinner puree will result in a crisper end product, like a chip, thicker will give you a product more like fruit leather. Try to get it as even as possible so that it dries evenly.
Dehydrate at 135°F/58°C until dry and leathery, around 8 to 10 hours or overnight. Store in a sealed container.
For more tips on making homemade fruit roll ups, visit "Homemade Fruit Leather Recipe – Works with a Variety of Fruits".
How to Make Strawberry Flavored Kombucha
Strawberry flavored kombucha couldn't be simpler. Just add whole strawberries or strawberry puree to your finished kombucha when you bottle it after the initial brewing period. I add approximately 1/2 cup of fruit per quart, sometimes a bit more.
Strawberries are quite tart, even though they are high in sugar, so you may wish to use a younger brew (7-10 days) instead of an older brew, otherwise the finished product may be overly acidic.
If you are using a bail top bottle, please be aware that the high sugar content of the berries will make your kombucha very active and potentially cause high CO2 build up – beware exploding bottles!
Here's a gorgeous glass of strawberry kombucha my friend, Tami, made recently. Doesn't that look cool and refreshing for a hot summer day?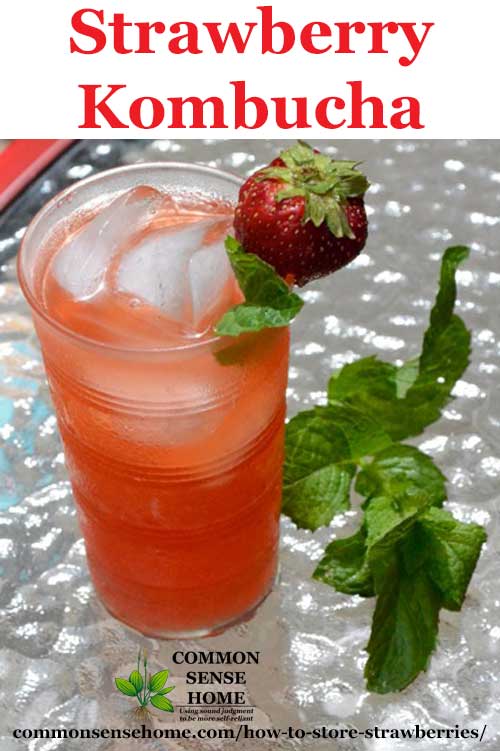 I've kept kombucha for several months in the refrigerator. The yeast and bacteria in the drink act as a natural preservative for the fruit. It just gets stronger and more fizzy over time.
How to Freeze Dry Strawberries for REALLY Long Term Strawberry Storage
In 2016, we invested in a Harvest Right home freeze dryer. Since we got it, we've dried everything from strawberries and bananas to fajitas. (You can read my review here.)
Almost anything can be freeze dried, and the flavor and texture of the finished product is excellent. With a shelf life of up to 25 years, freeze dried products add an extra layer of security to any food storage.
Unlike the leathery texture of dehydrated berries, freeze dried berries are light and crisp. (You may have had commercially freeze dried berries in cereals or as a snack.)
The freeze dried berries can also be pulverized in a high powered blender to make strawberry powder to add to desserts for color and flavor.
(Strawberry whipped cream? Yum!)
See "Dehydrator Versus Freeze Dryer – What's the Difference" for a comparison of how the different methods and equipment work.
To freeze dry strawberries, clean and slice berries as you would for dehydrating. Place in a single layer on freeze dryer trays. Process in freeze dryer until completely dry (there should be no cold spots in the center of the berries).
Store freeze dried strawberries in a vacuum sealed mason jar or Mylar pouch with oxygen absorbers.
Click Here to Learn more about Harvest Right Home Freeze Dryers or Order Yours Now
You can watch the video below to see the whole process.
5 Homemade Strawberry Jam Recipes
Strawberry jam is many people's favorite way to store strawberries, and over the years I've tried several variations. They include: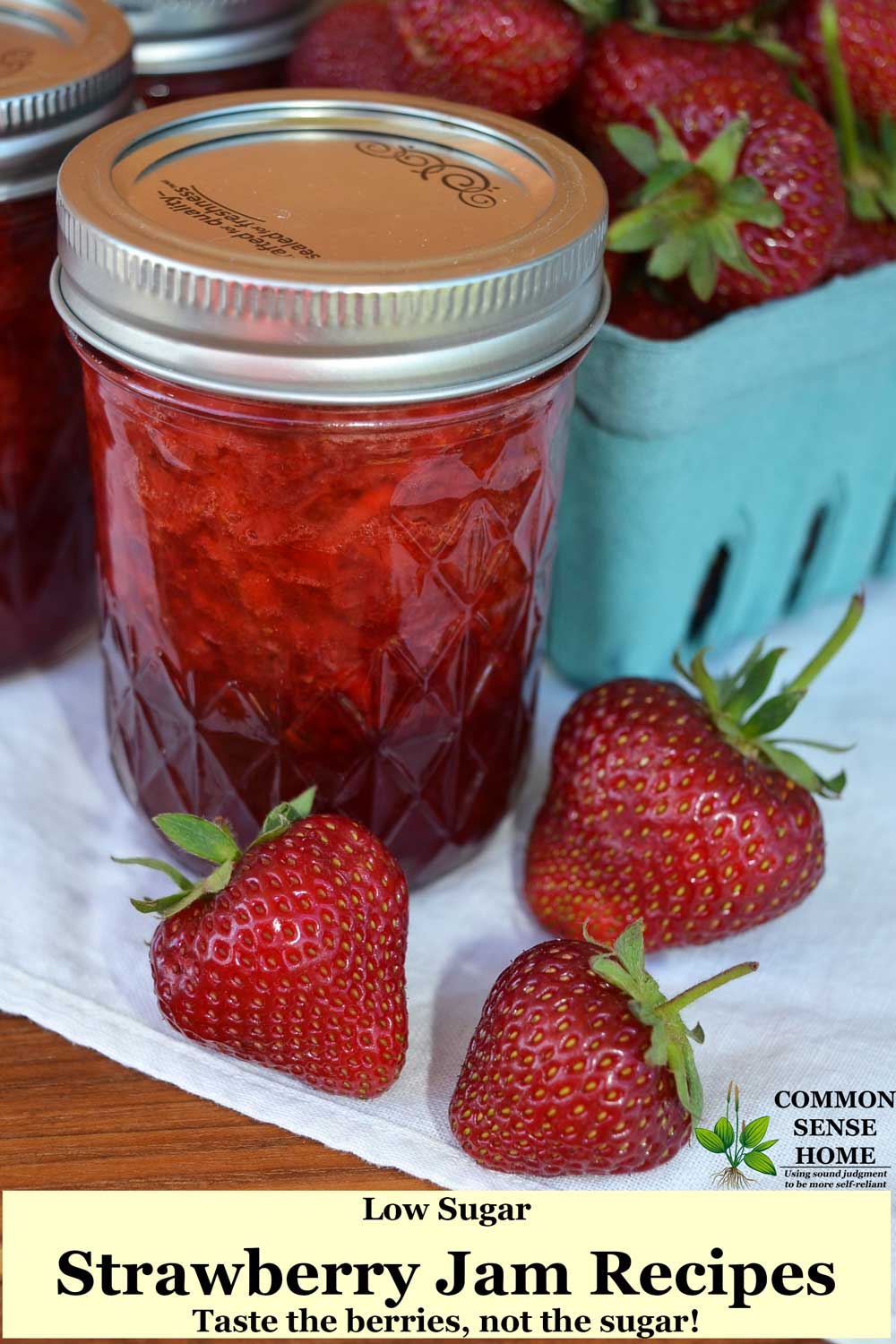 Fermented Strawberry Storage – Strawberry Wine and Mead
For those who enjoy something a little stronger than kombucha, my friend, Colleen shares her recipe for strawberry mead (or melomel) at Attainable Sustainable.
I share my first round of strawberry wine making in the post, "Easy Strawberry Wine Recipe – Perfect for Beginners".
You may also enjoy:
Remember, if you enjoy the post, please share on your favorite social media site. 🙂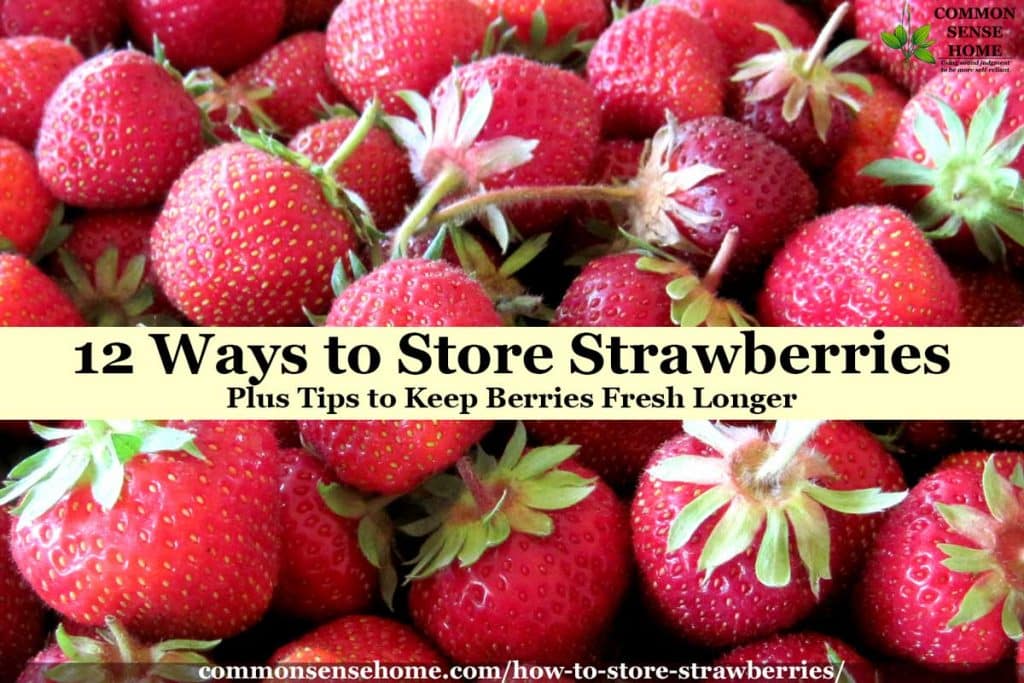 Originally published in 2011, updated 2016, 2018.