Homemade Fruit Leather Recipe – Works With a Variety of Fruits
This homemade fruit leather recipe works well with a variety of fruits – fresh, canned or frozen – such as berries, pears or peaches. (Citrus does not work well.)
Since you choose the fruit, you can avoid artificial colors and flavors so common in commercial fruit rolls. (Homemade is also more budget friendly than non-GMO fruit leather.)
You can also adjust the sweetener – or leave it out completely. I usually make up a batch in the evening and it's ready the next morning.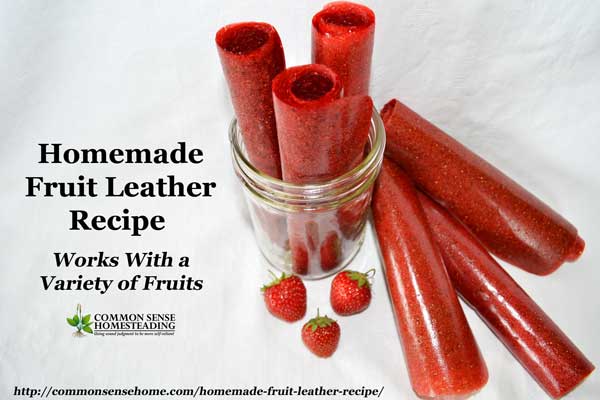 This is also a great way to get kids involved in the kitchen. They can pick the flavors – and even pick the fruit right off the plant!
For the younger crowd with limited food prep skills, the fruit prep doesn't have to be cosmetically perfect because everything ends up in the blender.
With strawberries, this is one of the fastest ways to process them for storage because you can give them a quick rinse and puree them with the tops intact. Yes – strawberry tops are edible!
They are also loaded with vitamins – but are rather chewy, so fruit leathers and smoothies can get them in your diet without the kids being the wiser. (For more strawberry top ideas, check out 5 Uses for Strawberry Tops from My Homestead Life.)
Homemade Fruit Leather Recipe
Start with equal parts of applesauce and fruit of your choice; fresh, thawed frozen, or drained canned. Homemade applesauce tends to work a little better if you have it available.
To fill two 14″ x 14″ Excalibur dehydrator trays, I used:
2 cup applesauce
2 cups fruit puree
If desired, you can also sweeten the fruit puree with 1-3 tablespoon of fruit juice concentrate. Orange juice concentrate adds a little citrus brightness, but any fruit juice concentrate will do.
Blend your applesauce, fruit puree and sweetener (if desired). The applesauce adds pectin, which creates the "leathery" texture of fruit leather. Without applesauce, most fruit puree will dry into a brittle sheet that crumbles when you peel if off the dehydrator sheets.
Prepare your fruit leather sheets by oiling lightly with a neutral oil such as refined coconut oil so the leather will release easily. Spread the puree evenly over the sheet in a 1/4 inch thick layer.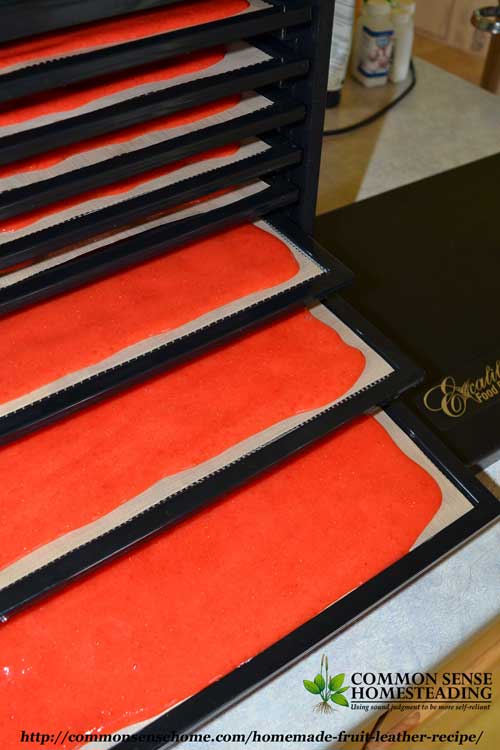 Load trays into dehydrator and dry at 135°F (57°C) for 8-20 hours. (Drying times will vary depending on which dehydrator you use, the amount of liquid in fruit, humidity levels in the air, and thickness of the fruit.) When dry, fruit leather should feel "leathery" – not sticky.
Sometimes you may notice that the underside is sticky when you peel up thicker leather. If this is the case, flip the moist side up and load it back into the dehydrator until evenly dry. (You can typically remove the fruit leather sheet at this time for better air circulation.)
To Store Your Homemade Fruit Leather
You can stack the sheets, dusting with arrowroot or cornstarch in between to keep them from sticking (optional), roll up the stack and put it in an air tight container for storage. (Works best if you want to store a lot of leather at once.)
I like to cut the leather into serving size portions before storage, and either stack them or roll them and pack into a zip top baggie or wide mouth mason jar for easy access. If properly dried, this homemade fruit leather should be shelf stable. You can store it in the refrigerator for a longer shelf life, but it's not required.
Which Fruits are Best for Homemade Fruit Leather?
Canned fruits will contain extra liquid (and often sugar), which will increase drying times. Frozen fruit may be partially drained after thawing, which will decrease drying times.
Fruits that are naturally low in pectin include:
cherries
citrus fruits
melons
pomegranates
raspberries
strawberries
Fruits that are naturally high in pectin include:
apples
apricots
blackberries
blueberries
cranberries
currants
figs
gooseberries
grapes
guavas
peaches
pears
pineapples
plums
rhubarb
(Lists adapted from Mary Bell's Complete Dehydrator Cookbook.)
While applesauce or additional pectin is needed to produce a fruit leather with low pectin fruits, you are likely to be able to produce a leather with fruits that are higher in pectin on their own. That said, the applesauce combination mellows out the flavors and produces more consistent results. It can also help stretch things like berries, which tend to be more expensive. A mix of berries and apples still tastes mostly like berries when dried.
If you don't want to use applesauce, you can also purchase powdered apple pectin for thickening. Add 1-2 tablespoons per 3 cups puree.
Feeling a little creative? Mix up two different purees, and spread them on your drying trays in stripes or put a lighter puree down as a base and use a darker puree for polka dots!
Recommended Equipment for Making Homemade Fruit Leather
It's pretty easy to whip up a batch of fruit leather, but a few kitchen tools are needed.
Blender – Think applesauce consistency for your puree. I currently have a Vitamix, but any reasonably high powered blender or food processor will do.
Dehydrator – You can make homemade fruit leathers in a basic unit like a Snackmaster, or even a homemade dehydrator. Sun Ovens an also be used for dehydrating. (Buy your Sun Oven at CSH reader discount prices here.)
I like the Excalibur dehydrator for making fruit leathers because it is a little bit easier to spread the puree evenly on a rectangular surface. It's also easier to cut and roll strips from a rectangle rather than a doughnut shape.
Fruit Leather Sheets – I bought the basic non-stick sheets for my Excalibur. Their ParaFlexx fruit leather sheets are much nicer, but more expensive. If you do a lot of leathers or foods with smaller pieces, they're probably worth the investment. Snackmasters come with two fruit roll sheets, but you can also purchase additional fruit roll sheets.
Have you made homemade fruit leather? If so, what's your favorite flavor combination? Leave a comment and let me know!
You may also enjoy: