Easy, No Sew Kitchen Scrubbies from Produce Bags
So many types of produce come in mesh bags – from onion sets to citrus fruits. I hate to just throw them out, and I can only reuse so many for storage, so I decided to upcycle some of the produce bags into easy, no sew kitchen scrubbies. I found that four mesh bags from oranges made a firm scrubbie that fits well in my hand.
How to Make Kitchen Scrubbies from Produce Bags
Step #1 – Collect Your Produce Bags
Ideally, you'll want to use bags that were opened from the end so they are easier to work with, but I used the ones that had holes in them as filling and the bag that had a small hole at one end for the outside. I used four bags of the same size that had previously held oranges.
Step #2 – Cut off the Ends of the Produce Bags
Neatly trim off the ends of the produce bags and any dangling threads.
Step #3 – Roll up 3 of the Produce Bags Like Donuts
Set aside the bag that's in the best condition for the outside of the scrubbie, and roll up the other three bags like donuts.
Step #4 – Knot the End of the Exterior Bag and Fill the Bag with the Other Three Bags
Knot the end of the reserved bag, then invert the bag so the knot is tucked inside.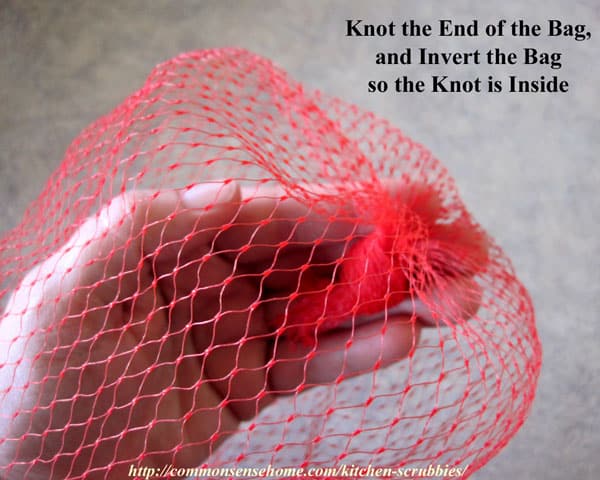 Fill the bag with the other three rolled up bags. Fold the raw end of the exterior bag down to tuck in loose ends.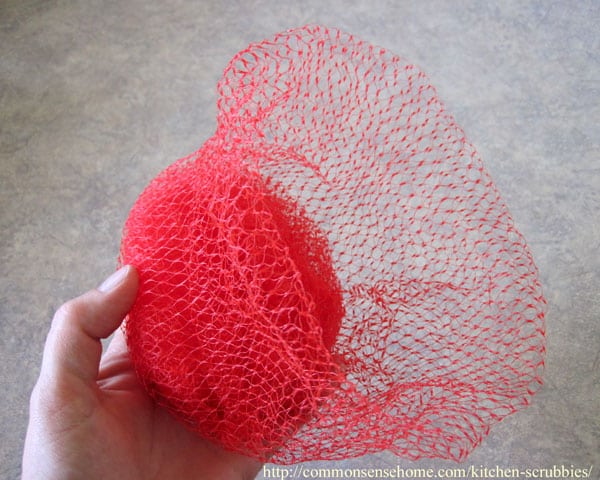 Step #5 – Knot the Exterior Bag Again to Complete the Kitchen Scrubbie
Squeeze the filling bags down tight and knot the loose end of the exterior bag to secure and finish the scrubbie. When you use the scrubbie, hold it with the knot facing the palm of your hand to help keep it secure. Alternatively, you could overlap the end neatly and stitch them down with dental floss, but a knot is quick and easy.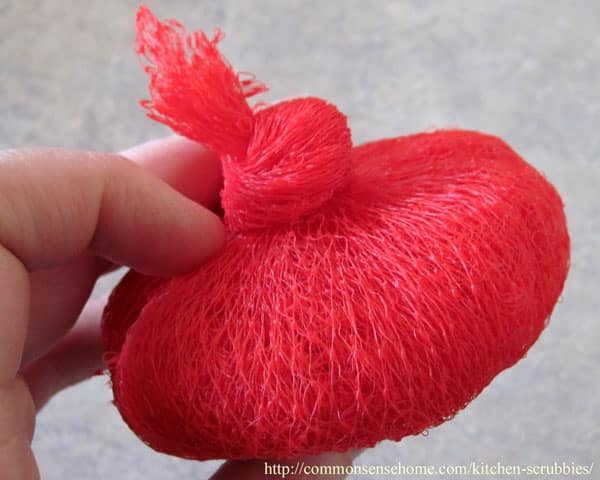 And that's all there is to it! In just a few minutes you can give new life to something that most people would just toss in the trash and create a handy homemade scrubbie for your kitchen or bath.
You may also find useful: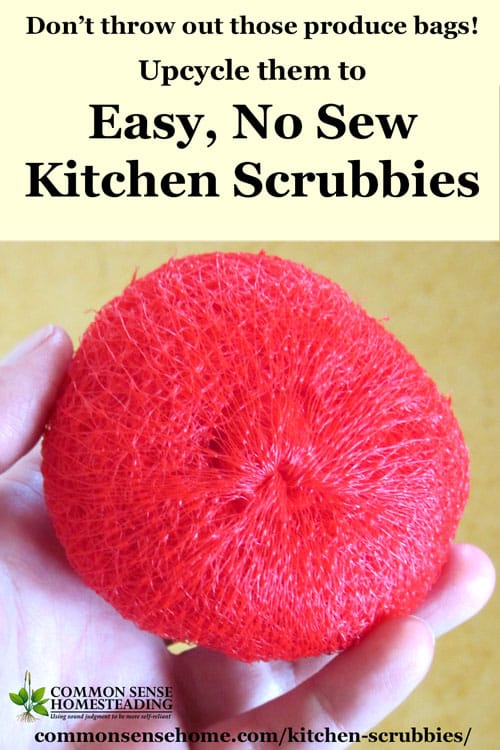 Originally posted in 2014, updated in 2017.