Flavoring Kombucha and Kombucha Testimonials
How do you go about flavoring kombucha? I add fruit/juice/other flavoring after the initial brewing, when the scoby is removed and the kombucha liquid is placed into bottles or jars. You can also brew with flavored teas, although those that contain essential oils (such as Earl Grey) should be avoided. Many essential oils have anti-bacterial properties that can damage your scoby. After bottling, let the jars/bottles sit on the counter for a day or two and then I refrigerate it.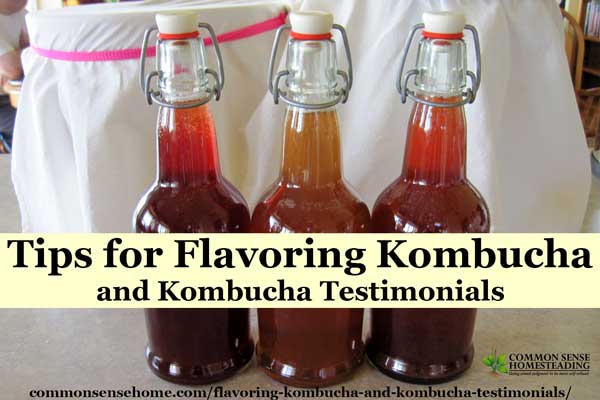 Time on the counter increases the carbonation. If it is warm/hot the fermentation will proceed rapidly, and carbonation will build up quickly. In winter, I might leave it out for two days, in high summer, one day or less. Refrigeration slows the fermentation process and makes your bottles less likely to fire off like a rocket when opened.
When I first began brewing, I did a lot of hunting around on the internet looking for information on how to flavor kombucha. I didn't have much luck. It seemed like the people who were doing it just did it, and it was a given that you should know how to do it.
To that end, I'll share my kombucha flavoring ideas. One of the things that I like best about kombucha is that you can stick fruit in the jar for flavor and forget it, unlike kefir soda where the fruit needs to be strained out. I don't measure my fruit, I just keep stuffing pieces in until the bottom of the jar is covered, plus a bit more.
Flavoring Kombucha with Fruit
I've tried the following frozen fruit:
blueberries – my favorite, they burst in your mouth and ad a good flavor
raspberries – also very good
strawberries – very good
banana bits – not so good – they didn't add much flavor and were very slimey
combo of blueberry and raspberry – also very good
tart cherries – I tried these plain, with almond extract, with vanilla extract, and with both almond and vanilla extract. Thus far, 1/2 teaspoon almond extract is my favorite, but I still prefer the blueberries, raspberries and strawberries.
I've tried the following home canned fruit:
Neither the peaches nor the pears were very good. They just didn't have a very strong flavor. The peaches were a little better than the pears.
I've tried the following dried fruit:
pineapple and shredded coconut, along with 1/4 tsp coconut extract – this is actually fairly tasty, something like a pina colada
pineapple – good, light and fruity
cranberries, with frozen blueberries or raspberries – didn't really notice much flavor from these
apricots – rather bland
I've also used fruit juice, between 1/4 and 1/2 cup per bottle. I actually prefer just the plain fruit myself, but some people don't like the fruit chunk floaties in their drink.
Flavoring Kombucha with Juices
Fruit juices:
Pomegranate – nice when teamed up with frozen raspberries, my husband's favorite
Blueberry – good, but I prefer the berries themselves
Apple cider – nice, especially when you add in a cinnamon stick
Mango – sweet and light tasting
grape – just strange – I didn't care for it
I've also tried the following flavorings:
Ghirardelli chocolate drink mix, 1 tablespoon per jar – strange, but okay, something different
Hershey chocolate syrup, 1 tablespoon per jar – much less tasty than the Ghirardelli
Tang instant drink mix, 1 tablespoon per jar – ACK! This was terrible – much too strong!
Cinnamon stick, two cloves, 1/8 teaspoon cardamom – spicy, but good. Tasted like mulled cider.
Ginger, fresh, enough to cover the bottom of the jar – This was pretty good. I'm still working on finding right amount to have enough ginger but not too much.
UPDATE on the PINA COLADA flavor – my current favorite combo to get a pina colada flavor is: 1/4 cup coconut water, 1/4 teaspoon coconut extract and 1/4 cup pineapple juice or 1/4 cup fresh diced pineapple.
This knocks the pants off the dried fruit version. I've been using less coconut water, since I found out that some companies are harvesting the green coconuts for their water, which is negatively impacting the coconut oil supply. (Not sure which companies use mature coconuts – need to make time to research this.) Fresh coconut water and/or coconut meat really adds and amazing extra punch of flavor.
If you need a kombucha SCOBY or brewing equipment, I recommend Kombucha Kamp.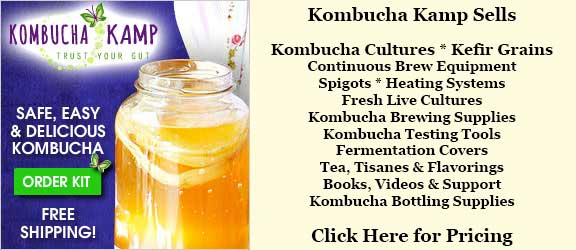 Kombucha Testimonials
Kombucha Soothes Stomach Ache
When my sister was bottling her first batch, her brother-in-law stopped by for a visit and asked what she was doing. She explained and offered him a glass of her brew. He drank it down, and then asked how quickly it should have an effect. He then told her that he had had a stomach ache for the last four days, but after he finished his kombucha his stomach finally stopped hurting. My thought on this is that he may have been suffering from low stomach acid, and the kombucha, being acidic, could have very quickly helped with this.
Kombucha Gets Guts Moving
The other story is a little more graphic. Don't read on if you don't want to know about bodily functions. A friend of mine, who has been on a variety of prescription medications for years, had the urge to consume a large quantity of kombucha (around one quart, straight down the hatch). I normally wouldn't recommend this large of an amount to someone who was just starting out with kombucha, but I have read that they used similar amounts, given daily, to treat hospital patients over in Russia. After drinking the kombucha, the next time he paid a trip to the bathroom he passed a very black, almost tar-like stool. Afterward, he said his energy levels felt better than he had in some time. He started brewing kombucha. Hopefully, between this and making other dietary changes, he will continue to see improvement.
I've come to enjoy this bubbly drink, and consume it regularly with meals. I haven't noticed any dramatic results personally, but I anticipate continuing to brew and drink it for years to come. Your guts tend to slow down as you age, so this is a good way to give them a little"jump start". Consumption of probiotics also helps you ward off infection and illness.
Do you have a kombucha story you'd like to share? If you have favorite flavor combos, please let me know. Happy brewing!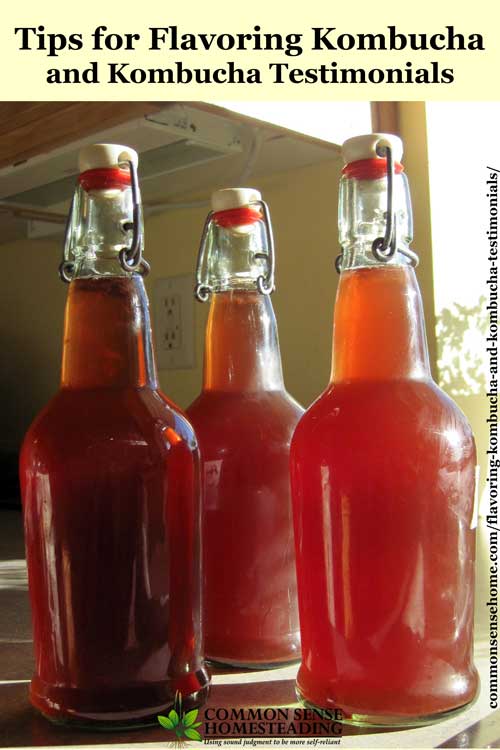 Other posts in the Kombucha Series
Originally published in 2010, updated in 2017.