My husband doesn't do a lot of cooking, except for grilling and the occasional meat dish. (Man food?)  I was tickled when he took over the kitchen for Mother's day and made up a batch of spicy chili. It was pretty good, satisfying the cravings he's been having lately for spicy food, and satisfying my cravings for a day off from cooking. 😉  I figured I'd pass it along.
August's Chili Recipe
Ingredients
Chili:
1 pound ground beef
1 pound mild or hot Italian sausage
2 large onion, chopped, divide some for topping
3 cloves garlic, minced
1 habanero pepper, seeded and minced (Use gloves!)
1 jalapeno pepper, seeded and minced (Use gloves!)
1 (14.5 ounce) can diced tomatoes
1 (6 ounce) can tomato paste
1 (8 ounce) can tomato sauce
1 bottle dark beer
1 TBSP Beef+baseBetter Than Bouillon Beef Flavor
1 TBSP Chicken+baseBetter Than Bouillon Chicken Flavor
1 tablespoon ground cumin
1 teaspoon brown sugar
1 teaspoon chocolate cocoa powder
1 teaspoon cayenne pepper
salt to taste
1 teaspoon ground black pepper
Toppings:
Chopped Onion
Sour Cream
2 bags tortilla chips, preferably organic (here's why)
Shredded Cheddar cheese
Chopped avocado
Instructions
In large (8 qt) heavy duty pot, brown and drain meat. Set aside. Sauté onion and garlic. Add peppers, cook until tender. Return meat to pan. Add other ingredients (except topping). Simmer on low heat for at least 2 hours – more is better.

To serve, set out toppings and allow guests to add their favorites to their bowls of chili (or keep it naked like the photo).
In the Green Bay area, they often serve chili with sour cream and cheese, over spaghetti noodles, but chips are an easier option for a buffet. He first made this for a chili contest at work where he won first place. 🙂
Here he is hard at work chopping hot peppers. Don't forget the gloves – the peppers can burn.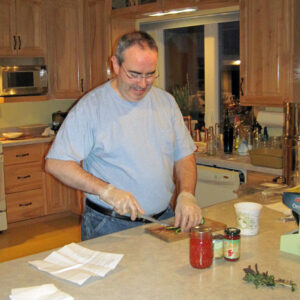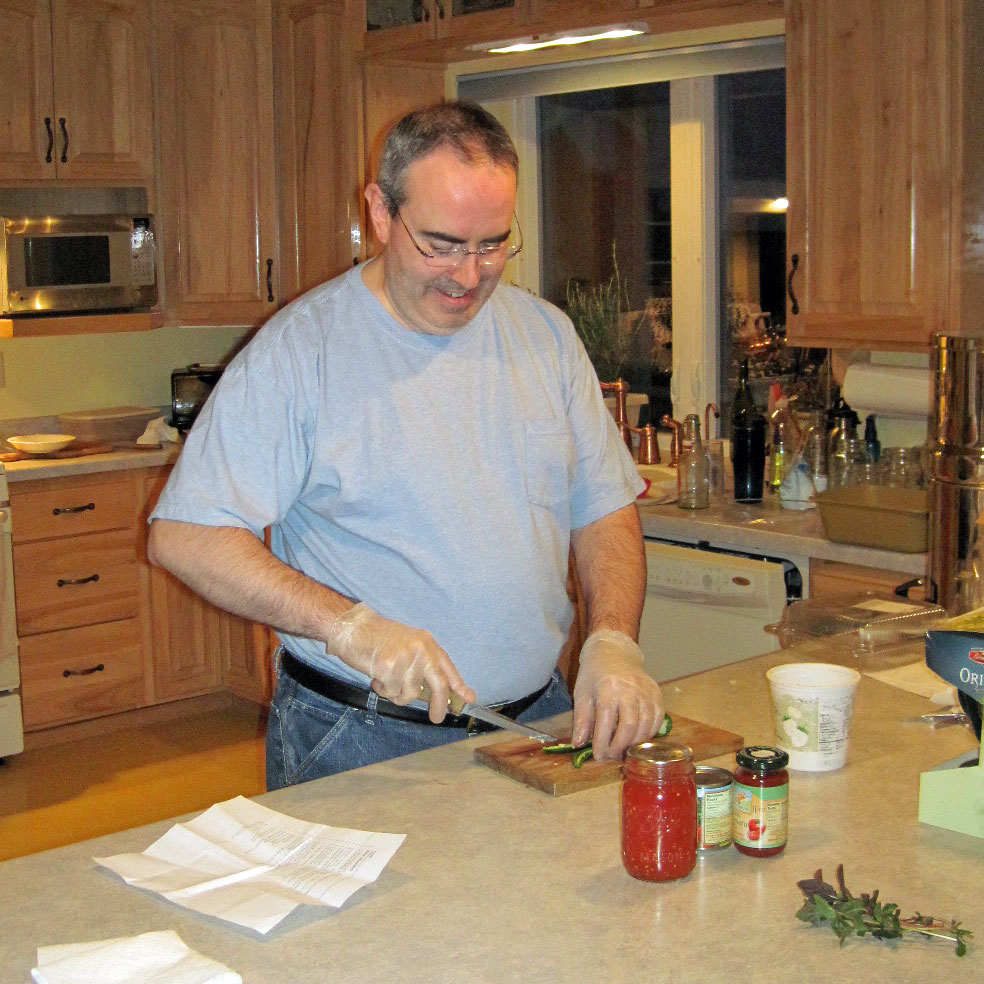 He's not much for photos, but I snuck up on him when he was busy. I thought it was pretty sweet of him to cook. He got me some flowers, too, and we went out and saw the new Avengers movie. 🙂
I hope you enjoy the chili recipe. Don't skip the dark beer – it adds just the little "somethin-somethin".