Dandelion Jelly – Easy Flower Jelly Recipe with Less Sugar
This easy dandelion jelly recipe uses less sugar than most flower jelly recipes, creating a light and delicious jelly.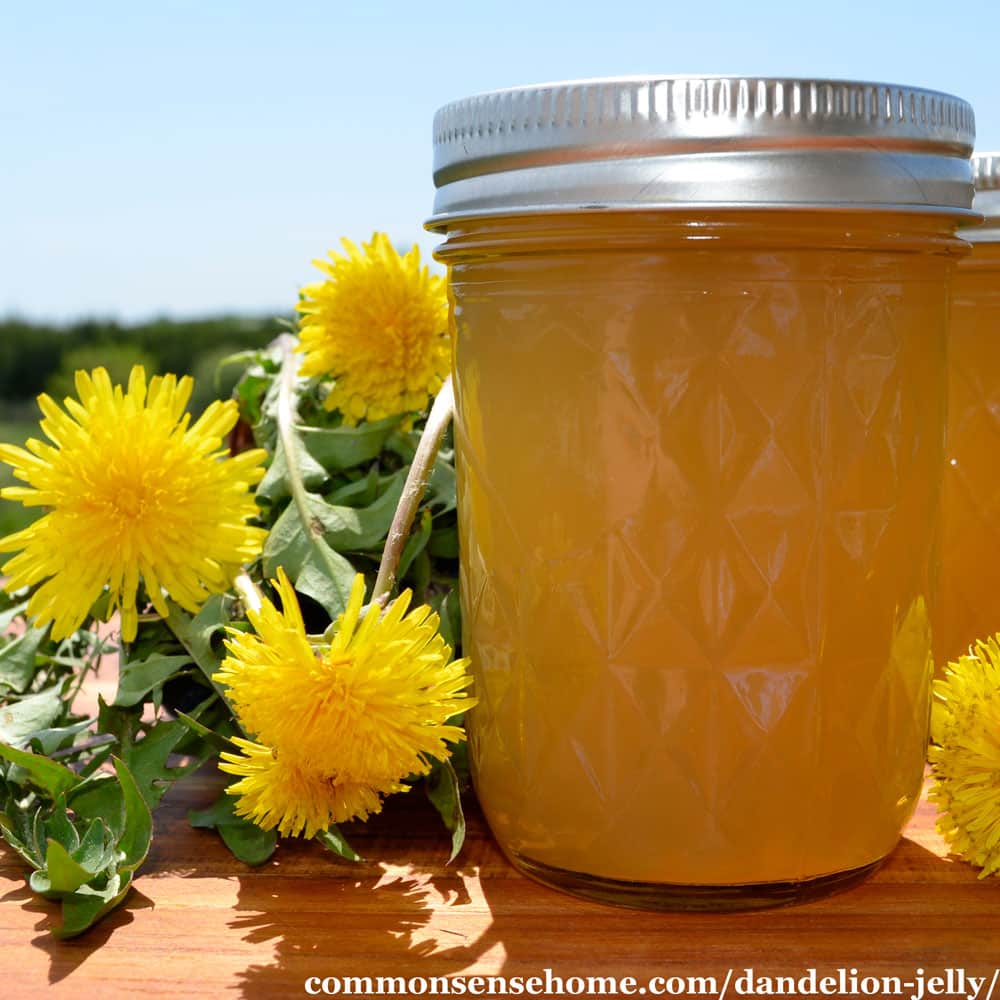 To make your dandelion jelly, you'll need dandelion blossoms, water, lemon juice, sugar, Pomona's Pectin and calcium water. (Calcium water is included in every box of Pomona's Pectin).
I like this recipe because it has no artificial food coloring and much less sugar than most dandelion jelly recipes.
What Does Dandelion Jelly Taste Like?
Full sugar dandelion jelly tastes like honey. This low sugar version is light and lemony. It's good enough to eat straight out of the jar. (Confession – I did eat about a quarter of a jar.)
This recipe yields a fairly firm jelly. If you would like a softer spread, reduce the calcium water and pectin powder to 3 teaspoons each.
This recipe is adapted from the book "Preserving with Pomona's Pectin". You can buy Pomona's Pectin online, or you may be able to find it in local stores that carry canning supplies. One box of pectin makes several batches of jam.
What is Calcium Water?
Calcium water is made with a packet of white calcium powder included in every box of Pomona's Pectin.
To make calcium water: Combine 1/2 teaspoon (1.5 g) of calcium powder with 1/2 cup (120 ml) water in a small jar with a lid.
This makes enough calcium water for several batches of jelly or jam.
Store your leftover calcium water in the refrigerator, and it will keep for several months. Always stir before using.
You can see how to use calcium water in the video with the recipe. (If the video doesn't display, make sure you don't have an ad blocker running.)
Collecting and Cleaning Flowers for your Dandelion Jelly Recipe
For this recipe, you need 4 cups (230 g) of loosely packed yellow petals. Visit Weekly Weeder #17 for help identifying dandelions, if needed.
It's best to gather your dandelion flowers in late morning, after the dew has cleared. Always harvest from a clean area that has not been sprayed with pesticides or herbicides for at least three years. Avoid areas used for passing waste by pets and/or livestock.
Look for clean blossoms that are completely open. Once you pick your flower heads, try to remove the petals promptly. If you leave the flowers sitting around, they close, and the petals are difficult to remove.
Your finished flower petals should look like those in the photo below. If you have too many green parts, it makes the dandelion jelly bitter.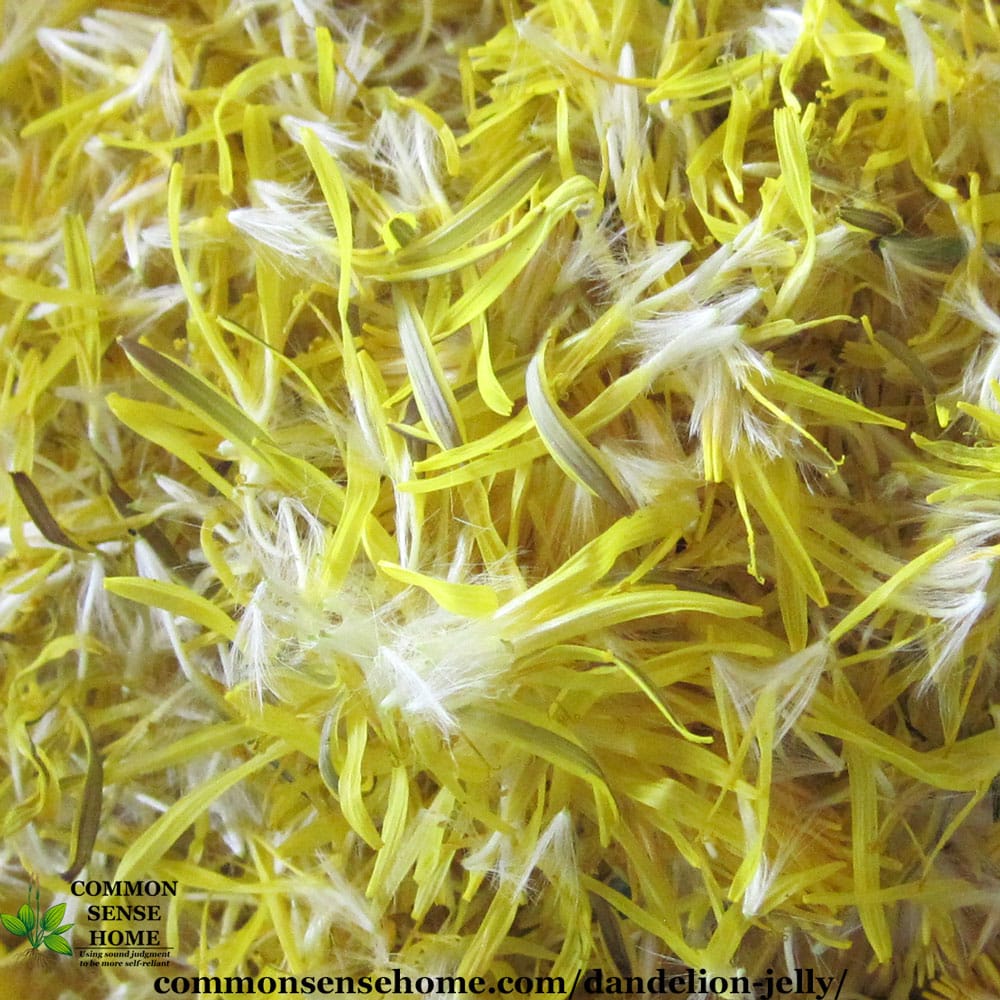 Print
Dandelion Jelly with Less Sugar
A light and delicious dandelion jelly, made with dandelion blossoms, water, lemon juice, sugar, Pomona's Pectin and calcium water. I like this recipe because it uses only one fourth as much sugar of most dandelion jelly recipes and no artificial color.
Author:
Prep Time:

1 hour

Cook Time:

10 minutes

Total Time:

1 hour 10 minutes

Yield:

4

–

5

8 ounce jars

1

x
Category:

Jelly

Method:

Canning

Cuisine:

American
4

cups

(230 g) loosely packed, very fresh dandelion flower heads

4 1/4

cups

(1 L) medium-hot water

1/2

cup

(120 ml) bottled lemon juice

4 1/4 teaspoons

(

21.3

ml) calcium water (included with Pomona's Pectin, see note below)

1

cup

(200 g) sugar

4 1/4 teaspoons

(

12.8 g

) Pomona's Pectin Powder
Prep your water bath canner, clean jars and two piece canning lids. Sterilize your jars.
Remove the yellow flower petals from the green flower base. Try to avoid getting green bits in with the yellow petals, as they can make your jelly bitter. Compost the green parts of the flower heads.
Make a "dandelion tea" by placing the flower petals in a heat-resistant bowl and covering them with the hot water. Place a cover over your bowl, and allow the petals to steep for 20-30 minutes. Don't steep the petals longer, or cook them. Either option will make your tea (and jelly) darker and more green in color.
Strain out the flower petals with a fine mesh strainer, cheesecloth or flour sack towel. Squeeze out as much liquid as possible. Compost the flower petals and save the dandelion tea for the next step.
Measure 4 cups (946 ml) of dandelion tea into a stockpot. (Add a little extra water if needed.) Add lemon juice and calcium water to the pot and mix well.
In a separate bowl, combine sugar and pectin. Mix thoroughly and set aside.
Bring flower water mixture to a full boil over high heat. Slowly add in pectin-sugar mix, stirring constantly. Continue stirring to dissolve pectin, and bring jelly back up to a full boil. Once a full boil is reached, turn off the heat.
Ladle finished dandelion jelly into warm jars, leaving 1/4 inch (6 mm) of headspace. Wipe rims with a damp cloth. Cover jars with two piece lids and tighten finger tight. Place jars in canner with at least 1-2 inches of water covering the jars. Process jars for 10 minutes at a rolling boil. Turn off canner and allow to rest for a few minutes. Remove jars and place on a kitchen towel on the counter. Allow jars to cool completely, undisturbed, for 12 to 24 hours. Remove rings and check seals. Date and label jars and store in a cool, dry location, out of direct sunlight.
Nutrition
Serving Size:

1 tablespoon
Keywords: jelly, dandelion, flower jelly, low sugar
Note: The color variation in the photos is due to different lighting. The finished jelly is a light, creamy yellow color.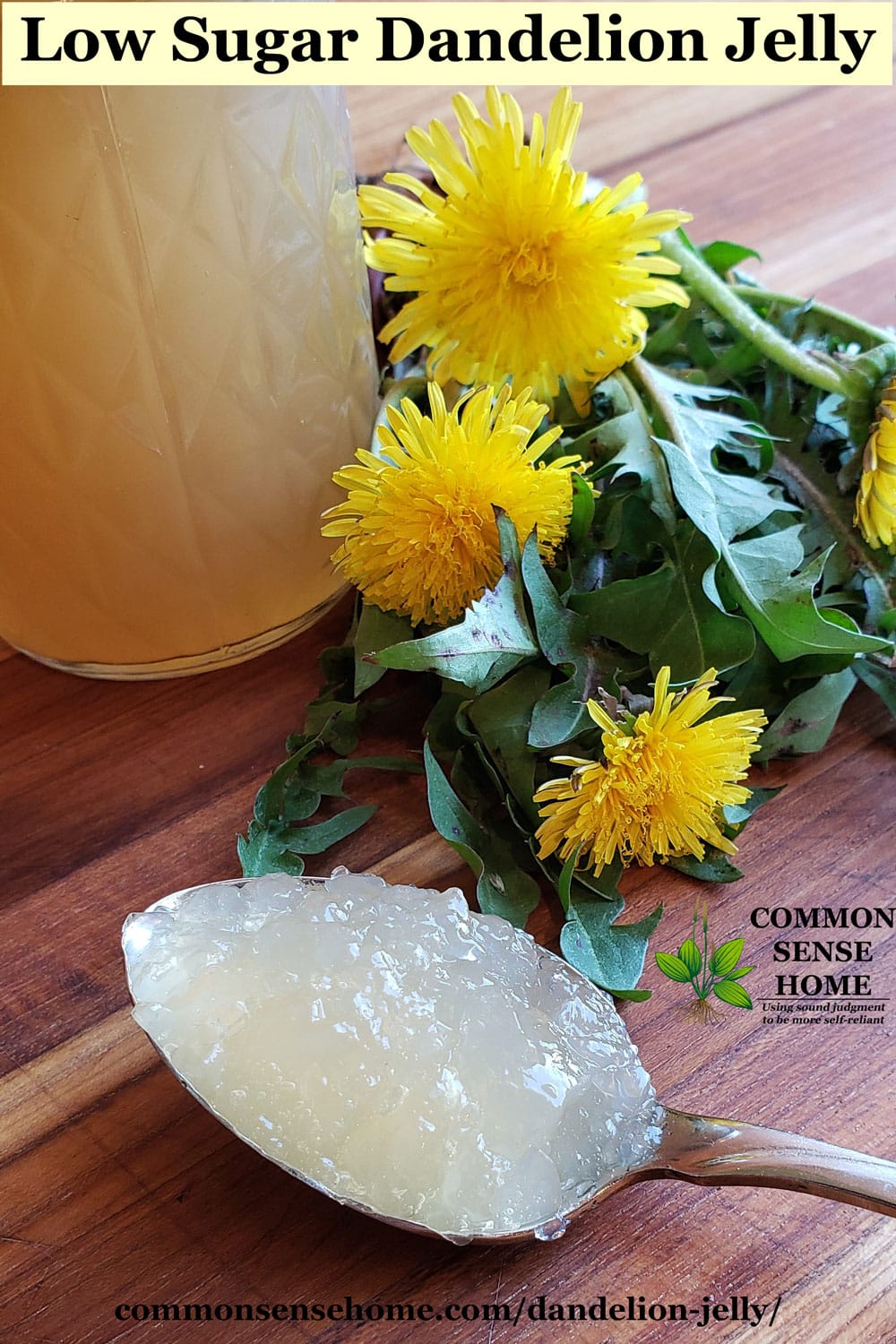 More Flower Jelly Recipes
We have over 20 different jam, jelly and spread recipes on the site, including the following flower jellies:
More Dandelion Information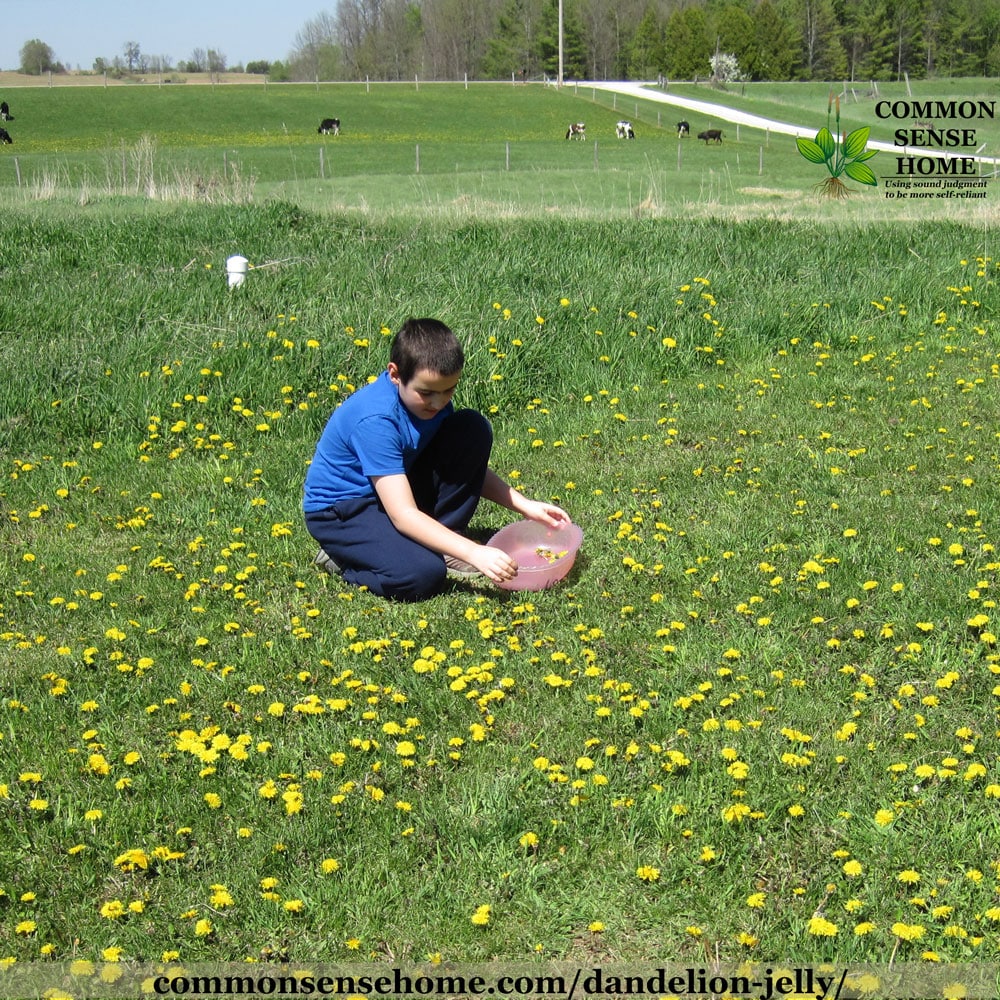 Originally published in 2018, last updated in 2020.