Preserve Apples for Year Round Use 17 Easy and Creative Ways
Apple season is one of my favorite times of the year. Whether you have your own trees or enjoy the bounty of local orchards, you can preserve apples to enjoy year round.
I'll share the easiest way to preserve apples, best storage apples, and lots of creative apple preserving ideas.
We have about a dozen young apple trees in our permaculture orchard, plus three old volunteer trees on the fence line. Sometimes the neighbors call with extra apples, other times we try out varieties at the local orchards.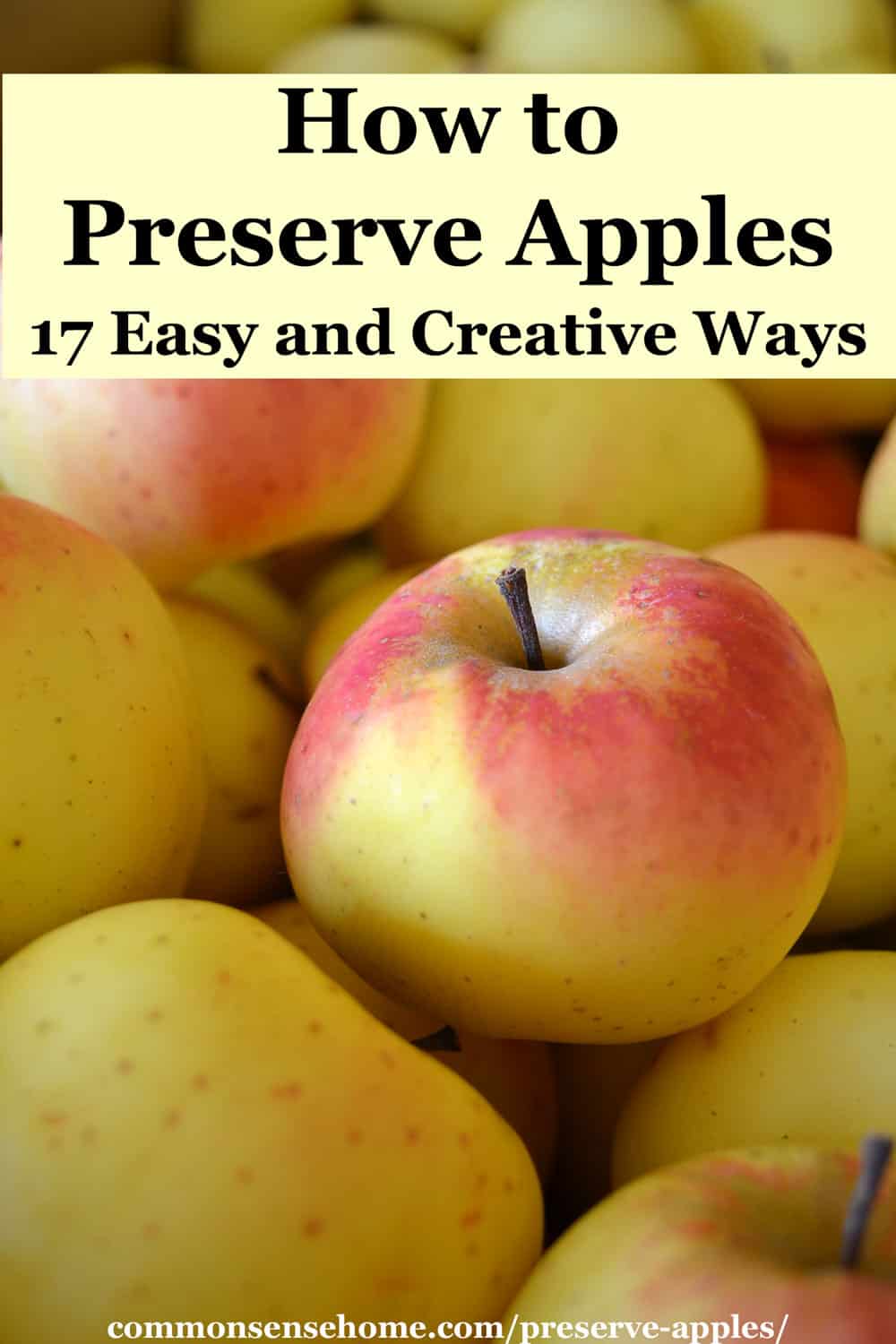 What's the best way to preserve apples?
My favorite way (and arguably the easiest way) to preserve apples is to keep them in a cooler in the garage.
Here in northeast Wisconsin, we put fresh apples in a cooler in the garage. We prop the lid open slightly to allow ventilation. These apples keep for several months with no other preparation.
If you have room in your crisper drawer, you can hold apples there for a long time, too.
In the root cellar, make sure to keep apples away from root vegetables. The apples emit ethylene gas that can cause sprouting.
For more on root cellar storage, see "Root Cellars 101".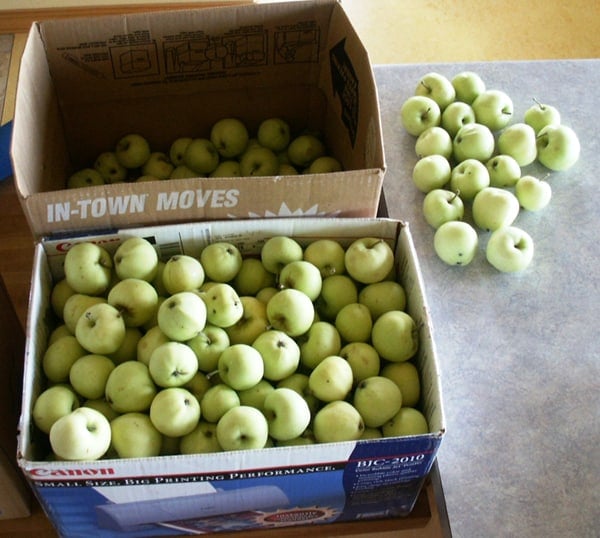 For Best Shelf Life
Apples store best at 32 – 40℉ (0 – 4.4℃), with a relative humidity of 90 percent and some air circulation.
As long as conditions are cool and not too dry, with some air flow, the right varieties will keep.
I loosely stack the apples in a bin or cooler, but if you like, you can individually wrap them in newspaper.
Which apples keep the best?
Some of the best apple varieties for storage include:
Bancroft
Ben Davis
Black Oxford
Brown Betty
Cameo
Chieftain
Cortland
Davey
Douglas Wormless
Egremont Russet
Empire
Enterprise
Fuji
George Webster
Glover Goldie
Golden Delicious
Granny Smith
Honeygold
Idared
Jonathan
Kathryn's Favorite
Lodi
McIntosh
Melrose
Milwaukee
MN 1734
Mutsu
Northern Spy
Patterson
Priscilla
Prairie-Spy
Red Delicious
Red Esther
Redstone Canyon Gold
Rome
Secor
Spartan
Stayman
Sweet McIntosh
Turley
White Winter Pearman
Wilson Juicy
Winesap
Wodarz
This list is compiled from St. Lawrence Nursery, Purdue University, and Iowa State University. If your favorite isn't on the list, go ahead and experiment and see how long it will keep.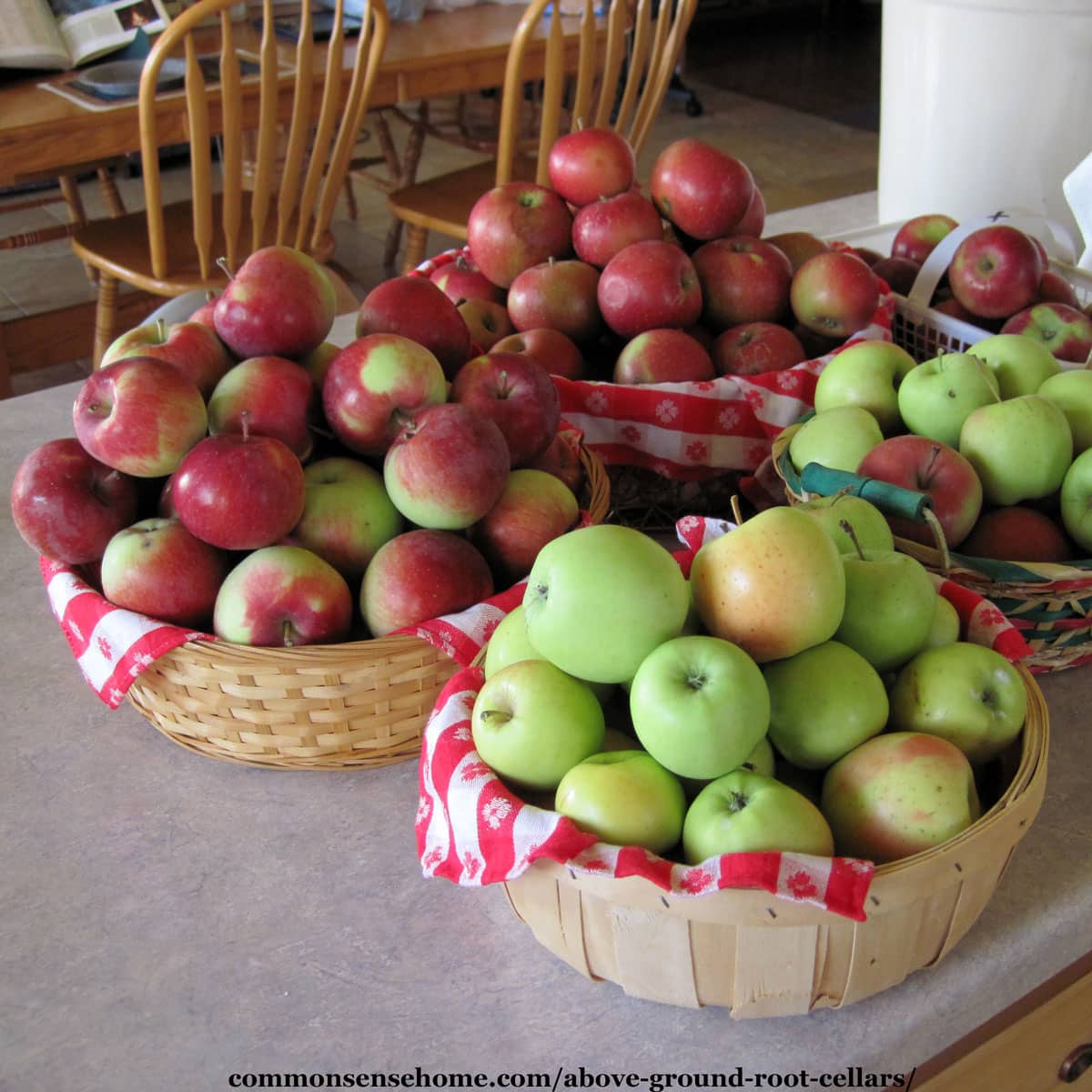 Applesauce and Apple Butter
One of our favorite ways to preserve apples is applesauce.
We eat our applesauce fresh, freeze it, turn it into popsicles, can it, and use it to make fruit leather.
When making applesauce, look for fruit with a softer texture. Some of our favorite apples for applesauce are:
Golden Delicious
McIntosh
Yellow Transparent
The wild apple tree on the fenceline
I love using my old Back to Basics Food strainer for making sauce. It's been discontinued, but if you can find one, I recommend it. I tried the Victorio strainer and it did not work well.
If you have a KitchenAid mixer, they have a food strainer attachment.
For all the details on applesauce, see "Easy Homemade Applesauce – How to Make It, How to Use It". (Canning instructions included.)
To go from apple sauce to apple butter, simply slow cook your applesauce down to desired thickness.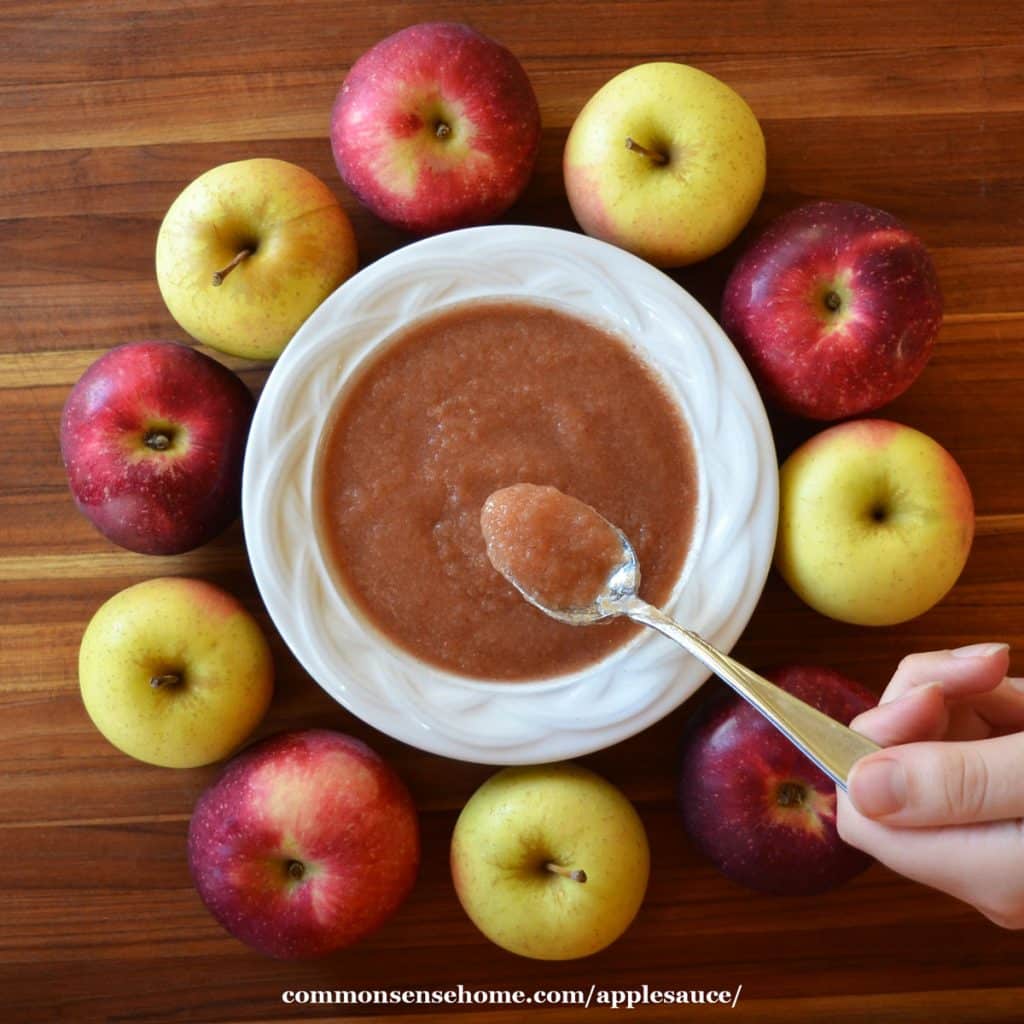 Dehydrating Apples
The great thing about using dehydrating to preserve apples is that they takes up less space. Apples are up to 86% water, so when you dry them, they really shrink up!
To make dried apple chips, we peel, core and thinly slice the apples. (This combo slicer and peeler makes this go MUCH faster.)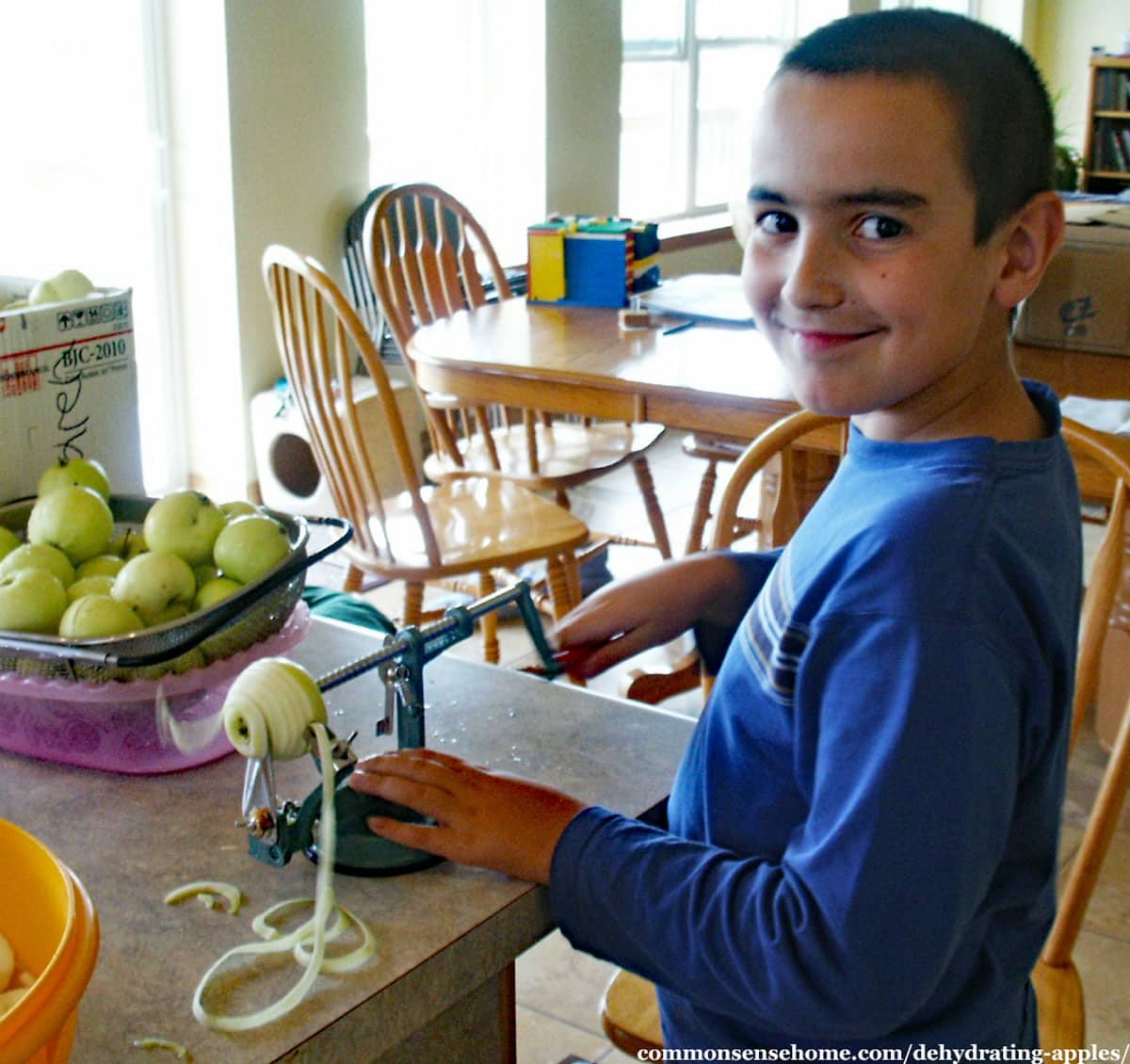 In the article "Dehydrating Apples", we cover tips to prevent browning, fun flavor ideas, and safe storage instructions.
I use my Excalibur dehydrator for big batches, and my Snackmaster for smaller batches.
I find home-dried slices to be much tastier than most store varieties. They have a much stronger "apple" taste, and the texture is light and crisp rather than resembling foam rubber.
They are also sulfite free, since we use lemon juice and other natural treatments to prevent browning.
It's fine to dry trays of apple slices and trays of applesauce at the same time. Dried homemade applesauce makes the best fruit leather!
You can also mix applesauce with other fruit purees to make different flavors of homemade fruit leather.
Check out "How to Make Homemade Fruit Leather" and "Pumpkin Fruit Leather" for applesauce based recipes.
Canning Apples and Apple Pie Filling
Because they are high in acid, you can use a water bath canner or steam canner to preserve apples.
My friend, Melissa, shares her apple pie filling recipe here, and my friend, Jill, shares how to can apple slices here.
You can also can apple juice by processing with 1/4 inch head space for 10 minutes for pints and quarts.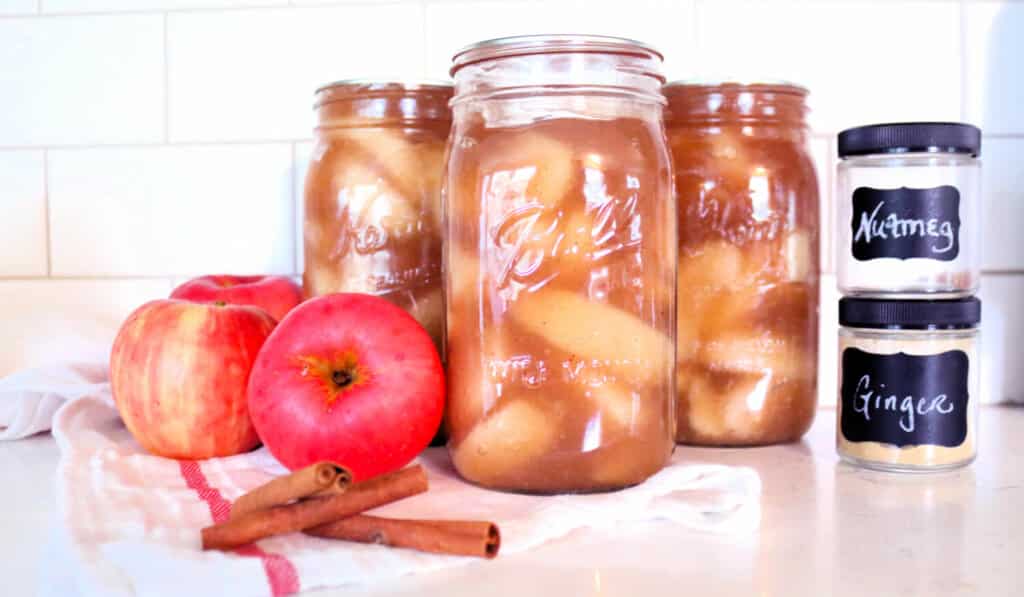 If you have small apples, you may can them whole. Check out these recipes for Spiced Crabapples and Honey Cinnamon Crabapples.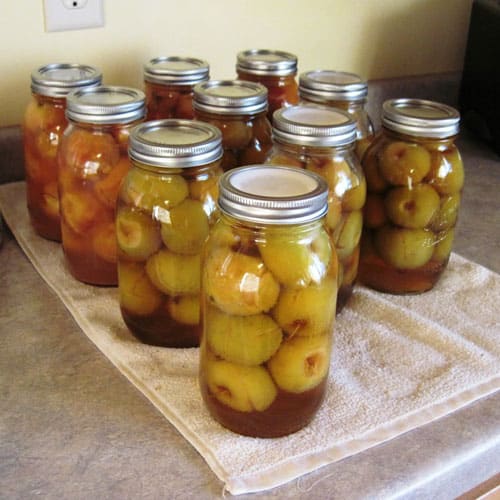 Preserve Apples in Jams, Jellies and Apple Preserves
Apple jelly is one of the simplest jellies to make. All you need is apple juice and sugar. If you prefer, you can use honey. The natural pectin in the apple provides the jelling.
See "How to Make Apple Jelly" for the recipe and canning instructions. Apple currant spread combines apples and currants, and autumnberry apple cider jam is fun for foragers.
Bonus recipe – if you have crabapple trees that don't produce tasty fruit, try apple blossom jelly.
To mix things up, you can try maple apple jam or brandied cinnamon apple preserves. Both of these recipes use less sugar for more apple flavor.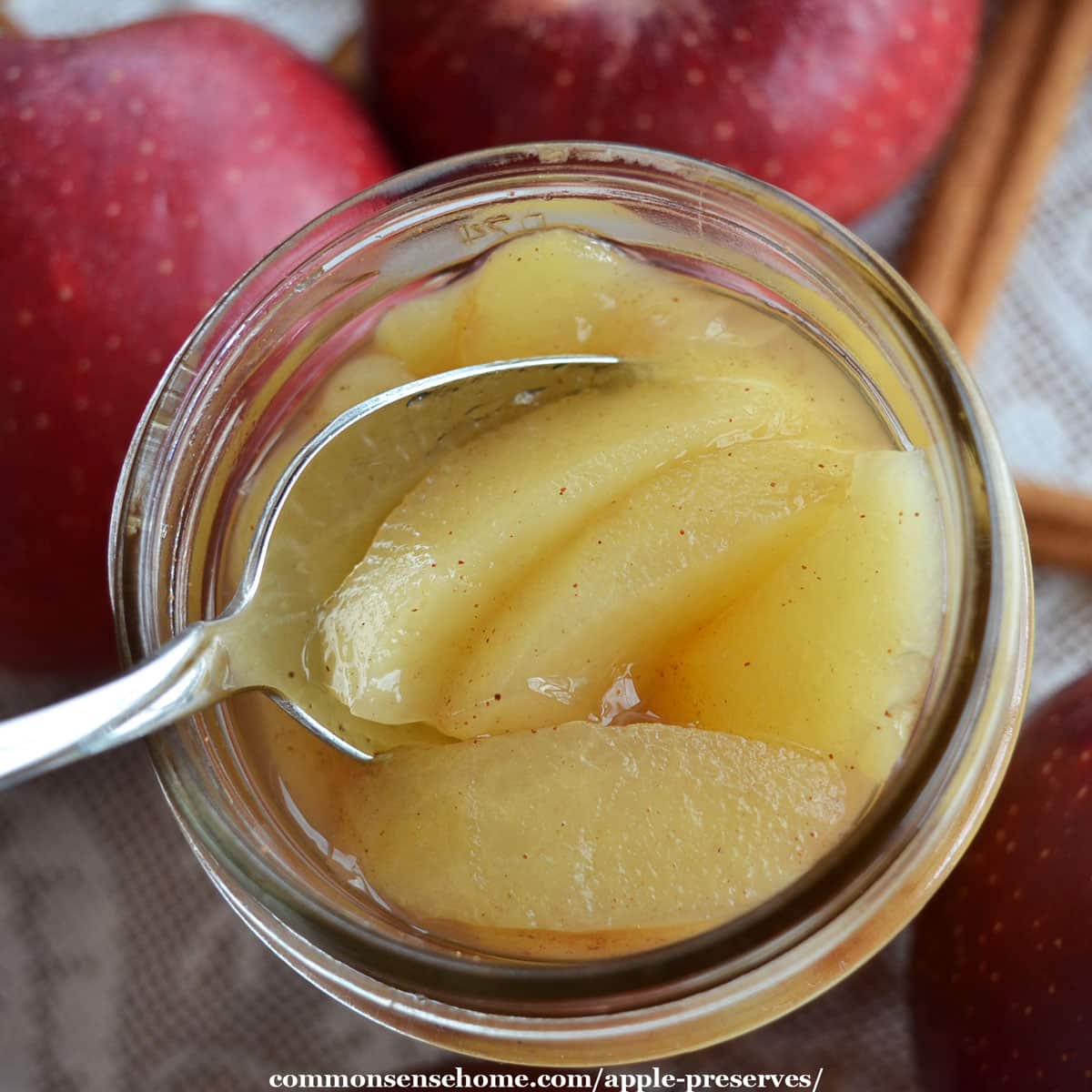 Freezing Apples
What's the best way to freeze apples?
Peel the apples and cut them into slices. Dip the slices in lemon water for a few minutes. (Use about 1/2 cup lemon juice and 1 quart water.)
Drain the slices in a strainer, then arrange them in a single layer on a baking sheet. (I like to line the sheet with reusable parchment paper for easy cleaning.)
Freeze the apples for at least four hours, or overnight. Pack the frozen apples into a labeled and dated freezer bag. Use within one year.
To avoid ice crystal buildup, seal the frozen slices in a vacuum seal bag.
If you want, you can prep apple pie filling and freeze it in gallon freeze bags.
Fermented Apples and Apple Salsa
You can also use fermentation to preserve apples, and take them from sweet to savory with salsa.
This 5 spice apple chutney makes a great topping for kefir, pancakes or waffles. Apple salsa combines the heat of jalapenos with sweat-tart apples. (Plus it's safe for canning!)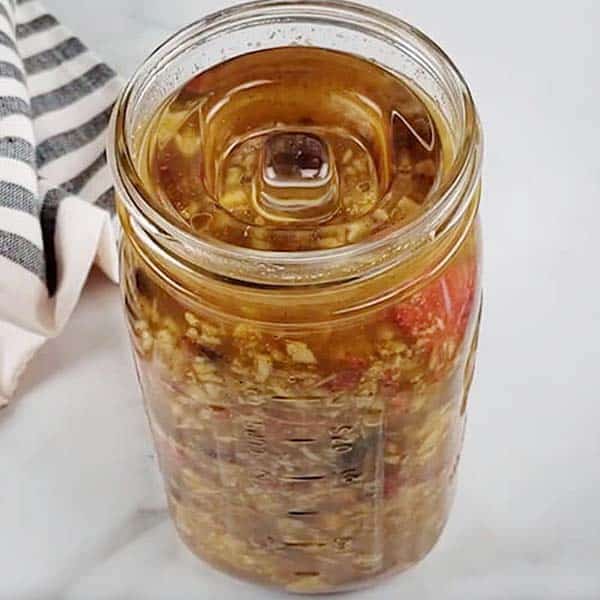 Hard Apple Cider
If you have a cider press, you can preserve apple cider longer by turning it into hard cider.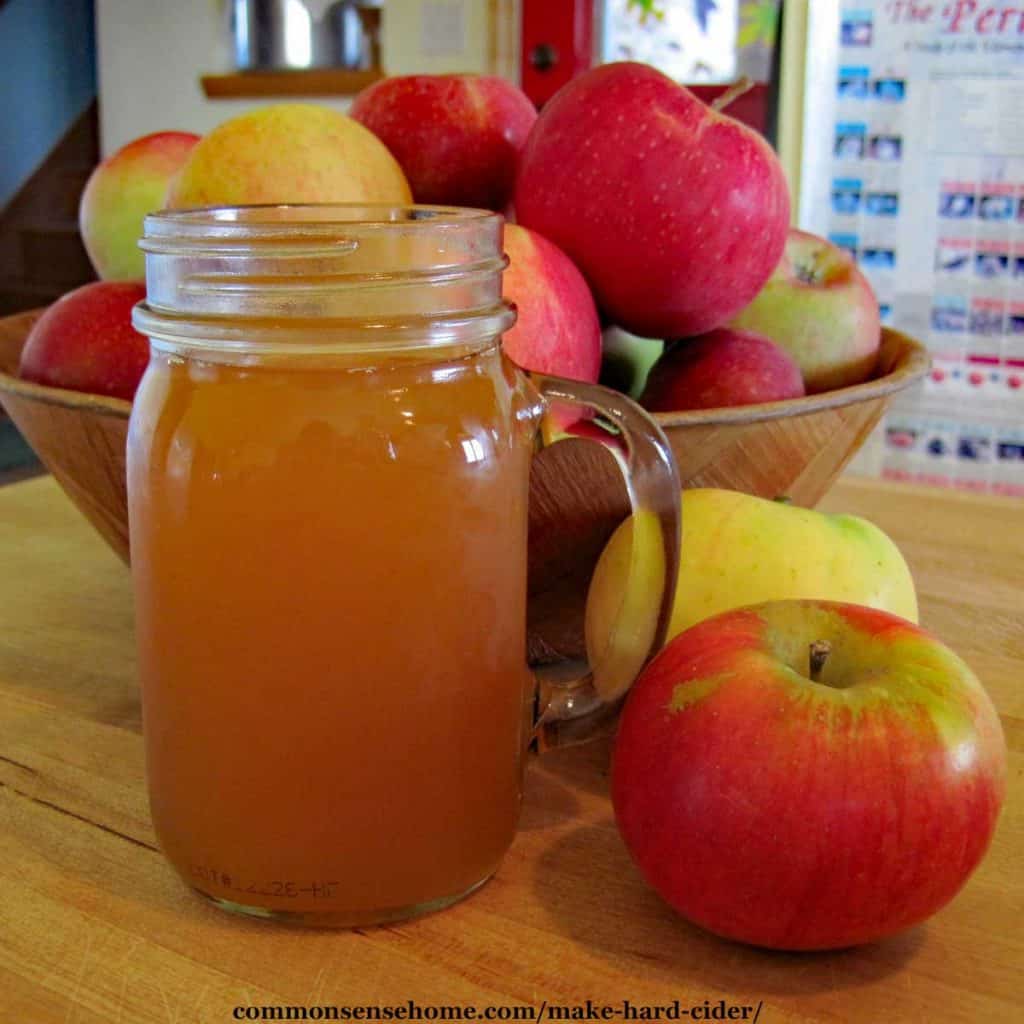 Apple Cider Vinegar
When you're processing apples, don't toss all the cores and peels. You can use them to make homemade apple cider vinegar.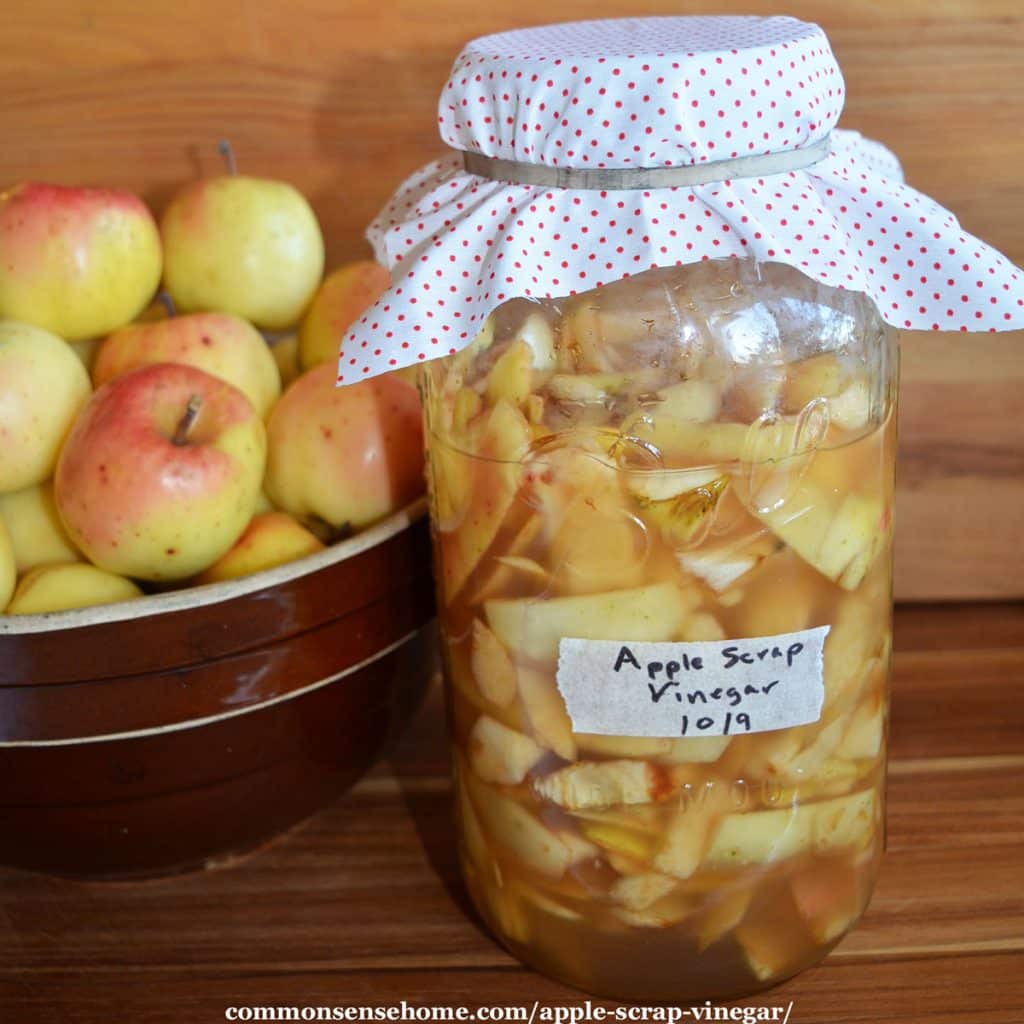 What else can I do with an over abundance of apples?
While you're working to preserve apples for long term storage, you can also enjoy these easy apple recipes.
Fried Apples with Maple Cinnamon Glaze (No Refined Sugar)
Easy Apple Cake with Caramel Topping
5 Amazing Spiced Apple Cider Drink Recipes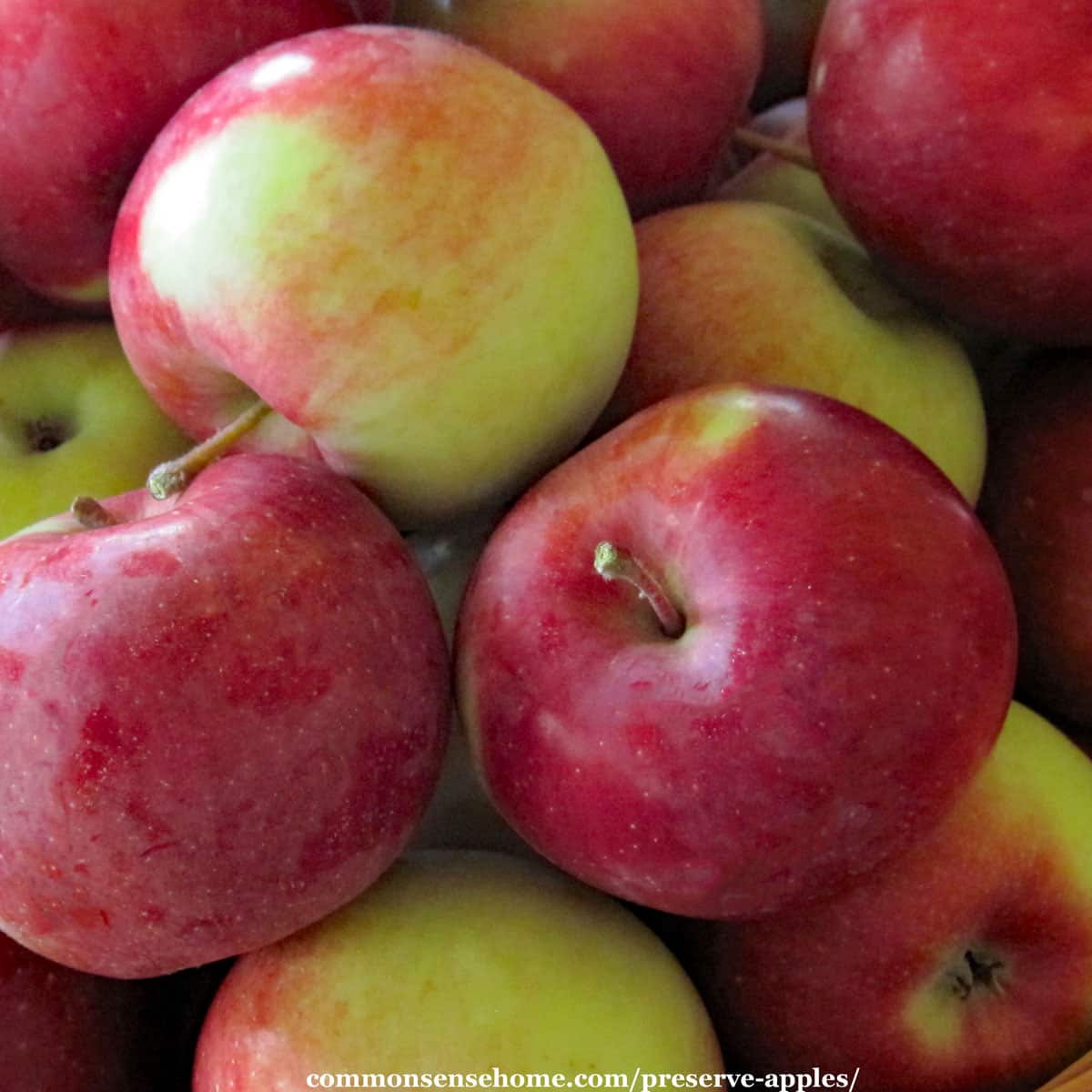 More Apple Articles
Apple Recipes
More Home Food Preservation Tips
We have dozens of articles on home food preservation, all listed on the Recipes and Kitchen Tips index page.
I hope you find this post helpful when apple season brings a wonderful bounty of fruit. If you have a question or a favorite apple preservation recipe or tip you'd like to share, leave a comment below.
Originally published in 2009, last updated in 2022.