Kombucha Questions Answered and More Flavoring Ideas
Given that there were a TON of kombucha questions on the post "Flavoring Kombucha and Kombucha Testimonials", I thought it was time to put all the replies into some sort of order and do an updated listing some of my latest flavor combinations.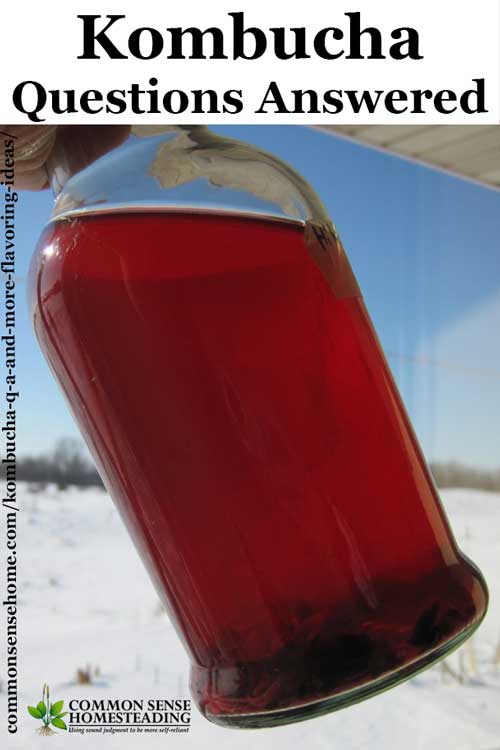 If you are just getting started with Kombucha, please visit my post on "How to Brew Kombucha". This post also lists some of the health benefits of kombucha. If you would like a more detailed explanation of the microflora and microfauna found in kombucha, along with a comparison of kombucha and water kefir, check out this post.
On to the questions and answers…
Q: Where would I obtain a scoby?
I recommend Kombucha Kamp for kombucha scobys and brewing equipment. You may also be able to find someone near you who is willing to give you one.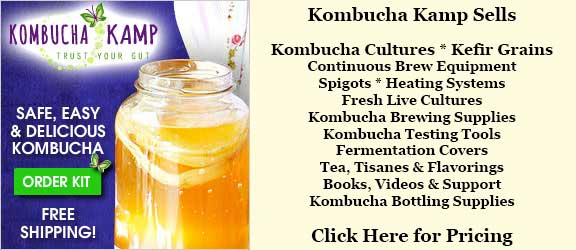 You can also grow your own from commercial kombucha. Here's a video showing how to grow your own scoby.
Q: How do you store the scoby? What if I want to stop for a while, can the scoby be stored until I want to start again?
You can store a scoby indefinitely in a glass container at room temperature. Keep the scoby covered in kombucha liquid. Keep the container covered to keep bugs out. Originally I kept my scoby in the fridge, but this is not necessary. The natural acidity of the liquid helps to preserve the beasties in the scoby.
Q: Should I cover my kombucha?
I cover my kombucha with a clean flour sack towel secured with a rubber band (fruit flies love kombucha). During the second ferment, I place it in a sealed jar or bottle.
Q: Where do you get your (bail top/flip top) bottles?
The bottles I prefer to use are EZ-Cap 16 ounce clear bail top bottles. Most brewing supply stores should have a similar product available. You can also order a case of them from amazon.
Q: Can you use a standard beer/soda bottle and capper? What about screw top bottles?
You can use any bottle that seals well. The only inconvenience of a standard beer bottle would be that it does not reseal easily if you don't wish to consume the entire bottle in one sitting. Please be aware that a well sealed bottle may build up quite a bit of pressure, especially in warm weather. I have heard about bottles exploding due to excess pressure. I have never had a bottle explode, but I have had the contents of a bottle fire out in a plume that spread over several square feet of my kitchen. The flip top bottles make it easier to bleed off pressure. Bottles with screw caps (such as carbonated water bottles or Mason jars) will also work, but may not hold the carbonation in as effectively.
Q: What's the safest way to open a bottle that may be explosive?
Thus far, the most effective technique for opening over-carbonated bottles is as follows. Place a wide mouth, fairly large vessel (I typically use my coffee mug) in a sink. DO NOT SHAKE OR MIX THE BOTTLE. Tip the bottle over so that the bottle opening is within the cup. Gently ease the bottle open a little bit at a time. You should be able to tell very quickly if you're going to have a "sprayer", as bubbles will rise rapidly and violently within the bottle and try to escape the bottle. I will typically let the mug fill with foam once, close the bottle and let everything settle, and then repeat the process until I can safely open the bottle entirely without the contents spraying out.
This situation is most likely to happen when a) Your bottle has been sealed a long time (several weeks or more), b) Your bottle has been stored in warm place, c) You used a large amount of fruit, juice or other sugary add-in, or d) any combination of the above.
Q: Why doesn't my kombucha have any carbonation?
In my experience, kombucha will become lightly carbonated even during the initial brewing when it is covered with a cloth or coffee filter, etc, due to the carbon dioxide given off by the fermenting cultures. The longer it sits, the more bubbly it becomes. A young brew (7-10 days) will be less bubbly than an older brew (14-21 days). Heat will also speed up the fermenting process (but don't get things too warm, 23°-30°C (or 70°-86°F) is preferred). Putting your scoby in hot tea can kill it.
Placing your kombucha into a sealed jar with or without additional flavoring will trap the bubbles and increase the carbonation.
Q: I tried store bought kombucha and the "vinegar" taste was too strong for me. Does kombucha always taste that strong?
Brewing your own gives you much more control over the flavor. I do not care for unflavored kombucha. A younger brew (fermented only 7-10 days) will have a much milder flavor. Cooler temps will produce a milder brew as well. Increasing the amount of fruit or fruit juice will also mellow out the flavor. My friend MJ did not care for the more acidic blends, but found the 1/2 cup of mango juice per bottle to be quite good and also liked a strong ginger flavor with plenty of carbonation.
Another probiotic option you may wish to consider is kefir soda. I make a kefir raspberry lemonade that even the boys will drink. The problem I've found with the kefir is that the longer you let it ferment, the more carbonation you get, but it ends up tasting more winey and less fruity. They generally drink it young with just a little bit of bubble.
Q: When do I flavor to my kombucha?
You normally add flavors during the second ferment, but could experiment with adding them during the first ferment as long as you keep an unadulterated scoby in reserve. This post on flavoring kombucha describes how I flavor my kombucha and several flavor variations I've tried.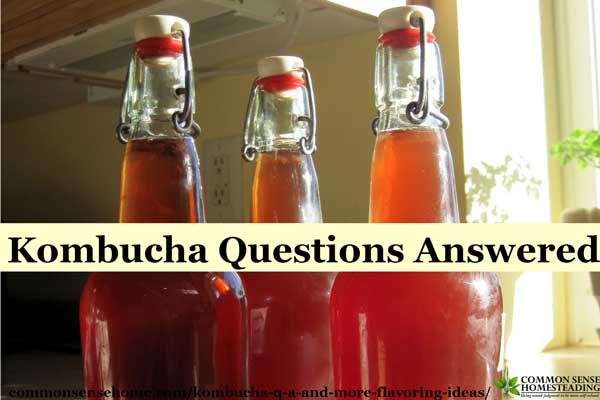 Q: If you add fresh fruit juice or fruit to the kombucha do you have to keep the bottle refrigerated or will the kombucha help preserve the juice/fruit?
Because the fruit and fruit juice contains sugars, and the kombucha is acidic as well as biologically active, the fruit juice is "preserved" by the kombucha. That doesn't mean that it will still taste exactly the same. The kombucha culture will start eating the sugars in the fruit, just as it eats the sugars in the original brew. I typically leave mine on the counter (after adding the fruit or juice) for around 24 hours, to give the brew more carbonation, and then refrigerate, which slows down the fermentation. I prefer 1/2 cup or less of juice/fruit per bottle, just to mix things up a little, but friends who are new to kombucha tend to prefer fruitier blends.
Q: Do you eat the fruit chunks that you used to flavor the kombucha? Can you eat a scoby?
I eat the fruit. Blueberries are my favorite fruit, as they tend to "pop" in your mouth because of the carbonation. I've been known to slurp down a baby SCOBY, too (a small one that has formed in a bottle neck). I think they taste kind of like oysters. Bigger scobys are really tough. Some people have been experimenting with drying them and using the kombucha culture "leather" to make clothing, but so far the clothing is not moisture resistant, so you can't sweat or get caught in a shower or it will fall apart.
Q: Have you tried flavoring with herbs or essential oils?
I did try using some herbs along with fruit juice, specifically rose hips and hibiscus along with raspberry juice from thawed raspberries (1/4 cup juice + one tablespoon herbs into my bail top bottle). The flavor was best when the brews were young (7-10 days). As they aged, they become more sour, and the delicate flavors of the herbs were overwhelmed. I haven't tried essential oils yet, but if you do, please make sure to use high quality therapeutic grade oils, like the Young Living oils sold by my friend, Jo at Jo's Health Corner. Other companies offer good oils as well, but I can't help but put in a plug for my friend. 😉
Q: Any other kombucha flavoring ideas?
How about prunes? Believe it or not, I did dice up several prunes and stuffed them in a bottle. It was delicious – something like a plum champagne. Plus it'll give you bragging rights with your kombucha drinking friends because no one else has tried it. Orange juice is pretty good, too. Tart cherry juice packs a punch, and is loaded with anti-oxidants. I like to combine sweet cherry juice with frozen tart cherries in a larger mouth jar. I've also combined frozen tart cherries with liquid vanilla stevia to make a cherry vanilla flavor that was pretty good. Similarly, I've combined apple cider with a few drops of toffee liquid stevia to make a toffee apple flavor. Fresh pineapple with coconut water and a dab of coconut extract is another version of the pina colada flavor that has less chunks and more fizz. I haven't worked up the courage to try algae yet…
Any more kombucha questions or flavoring ideas? I'll do my best to answer if I can, just drop me a note. You may also want to check out the posts below.
More kombucha Questions? Check out the other posts in the Kombucha Series
Originally posted in 2011, updated in 2017.