Pomona's Universal Pectin – How to Use it (& Why You Should)
Pomona's Universal Pectin is a "must have" in my kitchen during canning season. I'll share what makes it unique and how to use it for delicious jams, jellies, and spreads.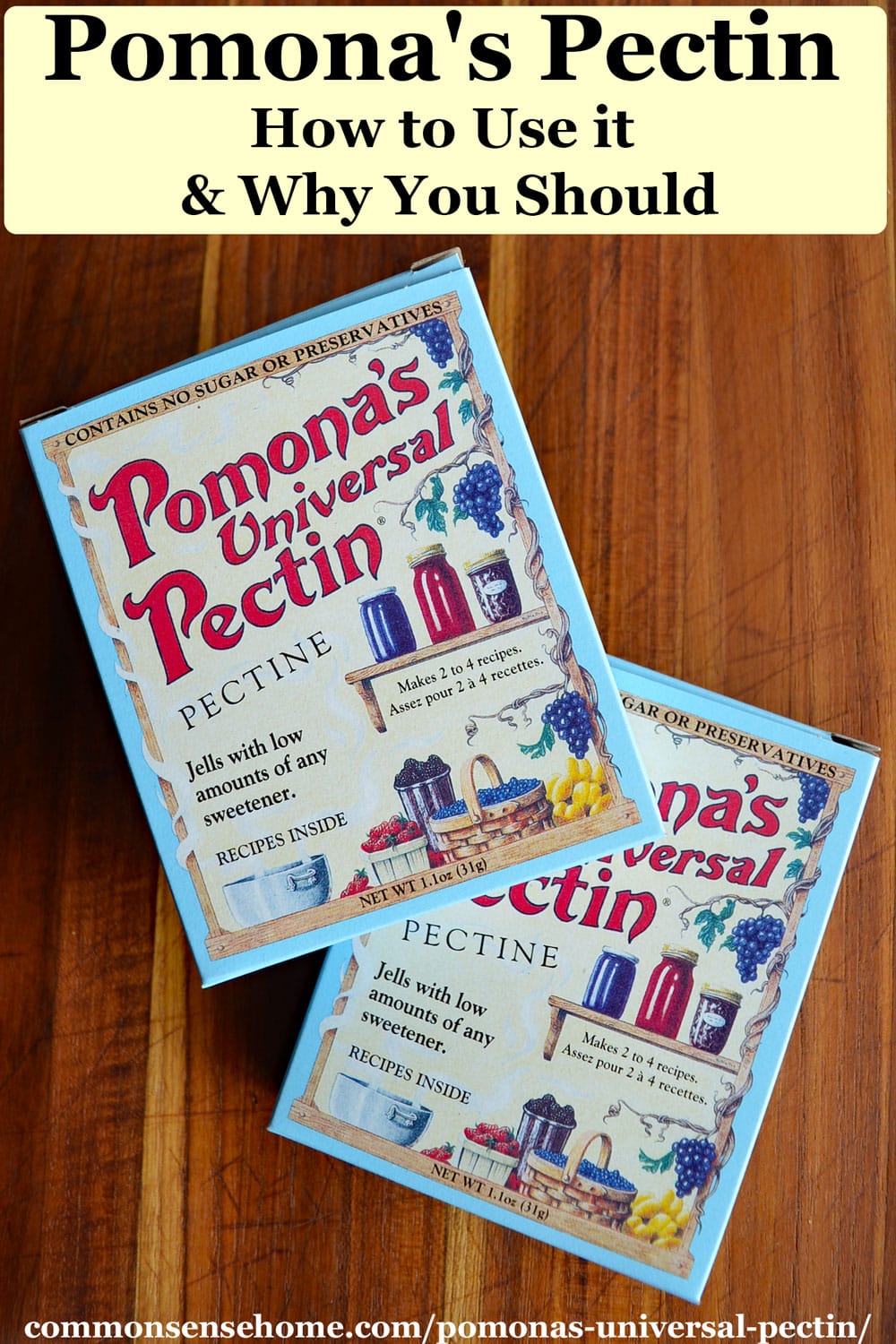 What is Pomona's pectin made from?
Pomona's Universal Pectin is a low-methoxyl citrus pectin. It's vegan, gluten free, GMO free, and has no additives, dextrose, sugar, or preservatives. The pectin is extracted from dried citrus peels. There are no corn or apple by-products.
Each box contains one packet of pectin, one packet of calcium powder (Monocalcium Phosphate), and recipes.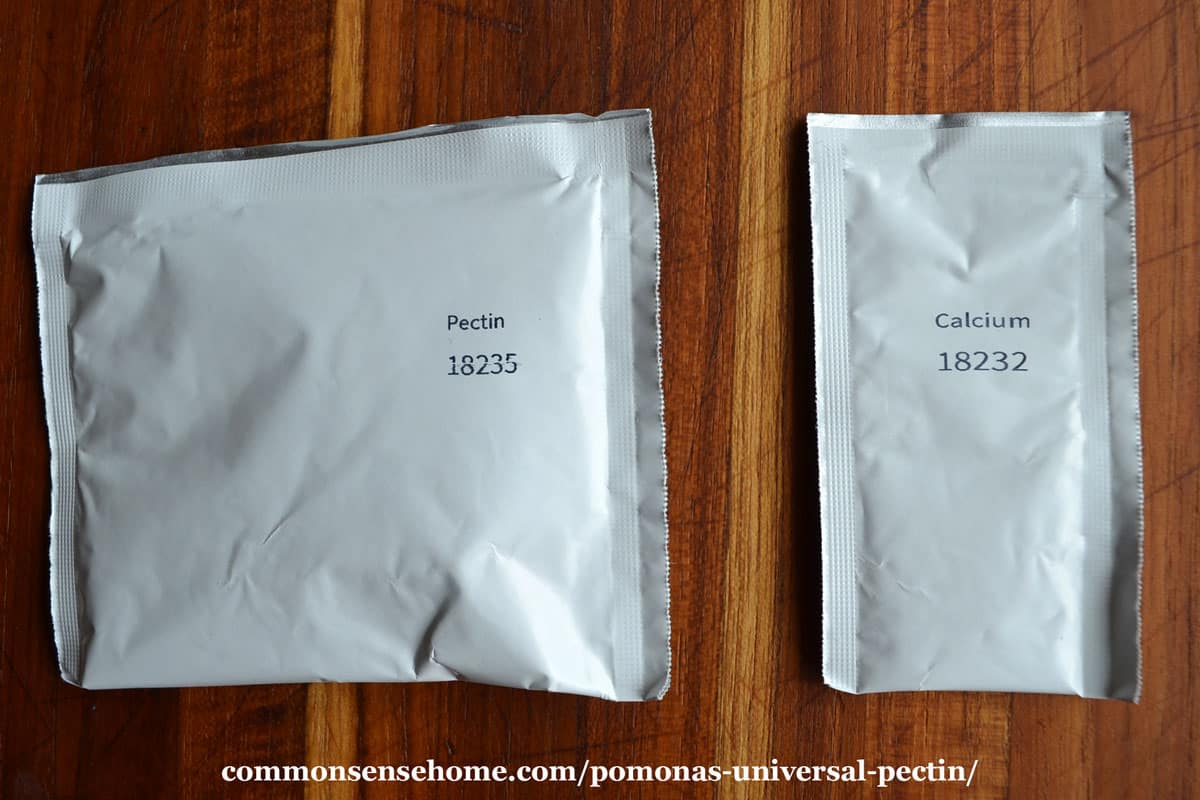 Monocalcium phosphate is made with limewater and food-grade phosphoric acid from phosphate rocks. It's a common ingredient in baked goods and baking powder, where it improves leavening.
Note: Pomona's pectin does not contain acid like some commercial pectins. This means you must add acid to most recipes to ensure the pH stays below 4.6 for safe canning.
What is Low-Methoxyl Pectin?
Low-methoxyl pectin uses calcium, not sugar, to bind the pectin molecules together. This allows you to make your recipes with little or no added sugar.
Most commercial pectin is high methoxyl pectin, which forms a sugar-acid-pectin gel. It will not gel without sugar.
If you want to adapt recipes made for Pomona's Universal Pectin to other types of commercial pectin, you'll probably need to add more sugar to get them to gel.
How do you use Pomona's Universal Pectin?
Pomona's Universal Pectin is easy to use – plus recipes can be doubled or tripled, which isn't recommended with most commercial pectin. Recipes can also be halved or quartered.
Before you start, mix up the calcium water by adding 1/2 teaspoon calcium powder to 1/2 cup of water.
Directions for Cooked Jam, Jelly, or Marmalade with Sugar or Honey
First, prepare your jars, lids, and water bath canner. Wash and rinse jars. Let stand in hot water. Bring lids to a simmer; turn off the heat and let stand in hot water. Wash screw bands and set aside.
Prepare fruit or juice. Measure fruit or juice into a large pan with lemon or lime juice (if citrus juice is specified in the recipe).
Add the proper amount of calcium water to the fruit or juice mixture and stir well.
Measure the sugar or honey into a separate bowl. Thoroughly mix the proper amount of pectin powder into the sugar or honey.
Bring the fruit or juice to a full rolling boil. Add the pectin-sweetener mix. Stir vigorously 1 to 2 minutes to dissolve pectin while the mixture returns to a full boil. Remove from heat.
Fill jars to 1/4 inch of top. Wipe rims clean and screw on two piece lids. Place jars in a water bath canner and boil for 10 minutes. (Add 1 minute for every 1000 feet above sea level.)
Remove from canner and let cool. Check seals, date and label. For best quality, use within 1 year. Lasts 3 weeks opened and refrigerated.
You can make many different types of spreads. Each box of Pomona's Pectin comes with a printed recipe guide. It includes:
Instructions for mixing the calcium water
Directions and Recipes for:

Cooked Jam, Jelly, Marmalade and Jello – Low Sugar or Honey
Cooked Jam and Jelly with Juice Concentrate (Blender or Food Processor Required)
Freezer Jam (Blender or Food Processor Required)
One 1 oz box makes two to four batches of jam or jelly, with 4-5 8 oz jars per batch.
NOTE: The recipes in the box make a fairly thick spread. You can stretch each box a little farther and get closer to standard jam texture by reducing the pectin per batch. If the recipe calls for 4 teaspoons, I will cut it back to 3 of pectin and calcium water.
You can see how to use Pomona's Universal Pectin to make apple blossom jelly in the featured video.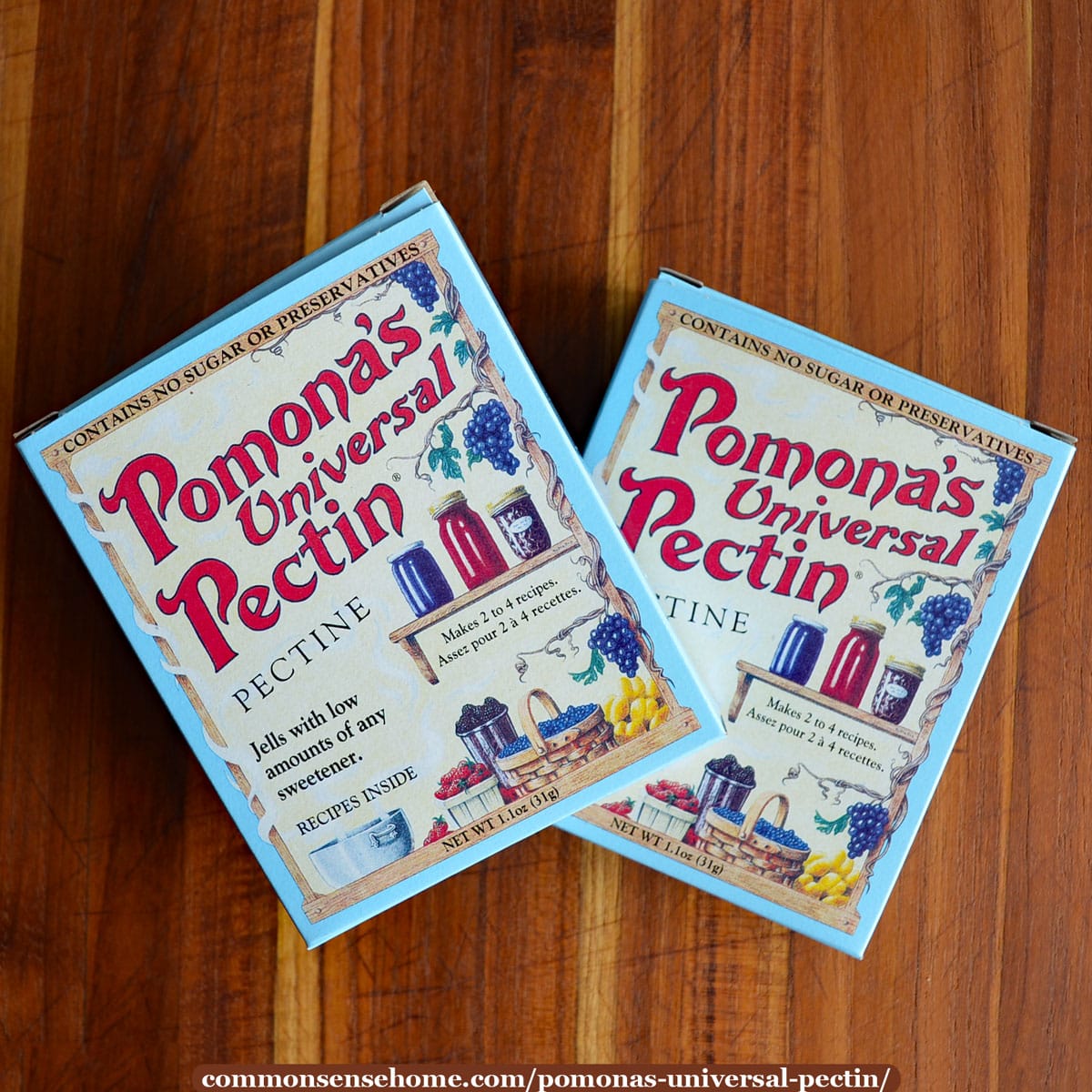 What sweeteners can I use?
Because Pomona's Pectin uses calcium to gel, you can use any sweetener you like, including:
sugar
honey
Truvia or other stevia based sweetener
artificial sweetener
fruit juice concentrate
maple syrup
agave
Can I substitute citric acid for lemon juice in the recipes?
If you want less lemon or lime flavor in the recipes, it's acceptable to substitute citric acid powder.
¼ teaspoon powdered Citric Acid is equivalent to 1 Tablespoon lemon juice
1 teaspoon powdered Citric Acid is equivalent to ¼ cup lemon juice (4 Tablespoons)
This is a good option for recipes like chocolate cherry preserves, where you want the chocolate flavor to stand out.
Troubleshooting & Recipes
Pomona's has an amazing FAQ section on their website, along with dozens of recipes.
We also have dozens of recipes here on the site, listed on the Recipes page. Some reader favorites include:
How long does Pomona's Universal Pectin last?
If stored in a cool dry place, it keeps indefinitely. I buy my Pomona's Pectin in bulk and vacuum seal it for storage. I've used boxes that were five years old with no change in gelling.
Once mixed, the calcium water lasts for weeks (possibly months) in the refrigerator. You can freeze it for long term storage. Discard if the white powder discolors, or you see mold. Before use, mix the calcium water.
What people are saying about Pomona's Universal Pectin
I love this stuff, and it's the only pectin I've used for years, but if you'd like some other opinions, here you go:
"Uses less pectin per batch and much easier to use"
"The only way to go for jam making"
"You get complete control over flavor – amazing!"
"The best pectin for healthier, tastier jams"
"This is the only pectin I'll use from now on"
I hope you found this article helpful. You can check out our full listing of canning and preserving guides here.