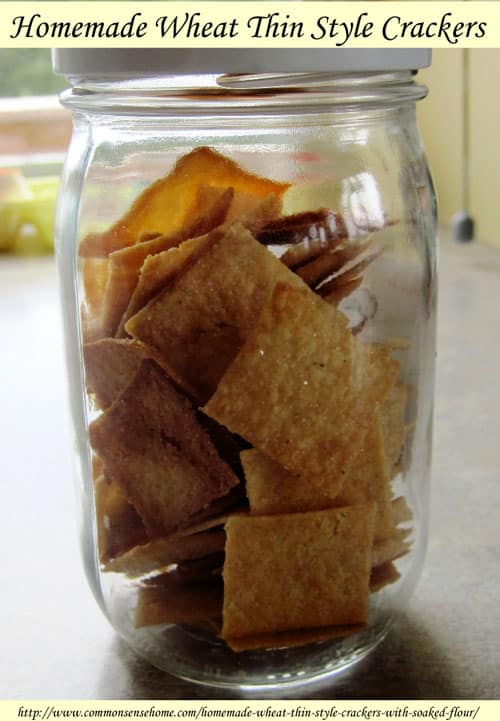 My boys love crackers. Unfortunately, most of the brands featured in the store have lots of ingredients we are trying to avoid – transfats, artificial flavors, bleached and bromated flour and so on. Enter Kitchen Stewardship's Homemade "Wheat Thin" Style Crackers recipe. I love Katie's blog – it's full of helpful tips and great recipes. This one was no exception. The only down side was that the crackers were so delicious they didn't last very long. Here's my take on Katie's recipe.
Homemade "Wheat Thin" Cracker Recipe
Adapted from King Arthur Flour Whole Grain Baking Cookbook
Ingredients
1 ¼ cups whole wheat flour (can use spelt flour, traditional whole wheat or white whole wheat)
1 ½ Tbs honey (or sugar)
½ tsp salt
¼ tsp paprika
4 Tbs butter
¼ cup water
¼ tsp vanilla
salt for topping
Directions
Preheat oven to 400 degrees F. Blend dry ingredients (except topping salt). Cut in butter with a knife or pastry blender and blend until evenly mixed. Combine the water, honey and vanilla. Add to flour mixture and blend until smooth.
NOTE: If you would like to soak the crackers to reduce phytates in the grains, substitute whey for 1 tsp to the entire 1/4 cup of water. (I put whatever whey I have available into my measuring cup, then add water to reach 1/4 cup.) Allow to sit at room temperature for 12-24 hours. Salt may inhibit the soaking process, so add the salt right before rolling. I used freshly ground whole wheat flour from my Nutrimill.
Here's the dough after soaking – it looks pretty much the same.
Divide the dough into four pieces and work with one at a time. If you chill the dough for at least one hour before working with it, it should be a little easier to handle. Roll out the dough one piece at a time on parchment paper or directly on your baking sheet. I used my Superparchment to roll on, and then transferred the Superparchment and dough directly to my Airbake cookie sheets. Try to get the dough as thin as possible, at least 1/16 inch thick and 12 inches square. Use a pizza cutter or sharp knife to cut into squares about 1 1/2 inch wide (I think the pizza cutter is the way to go on this if you have one). I don't have a toddler like Katie, but the boys happily ate the odd shaped pieces.
Sprinkle lightly with salt (this really adds to the flavor of the crackers – you might try other flavors like garlic powder or other herbs along with the salt, too). The crackers don't expend while baking so they don't need to be moved apart before baking. You can save the scraps and reroll them one time, if desired. Bake the crackers, one sheet at a time, until crisp and browned, 5 to 10 minutes. (The Airbake pans will help you avoid burning, but will take closer to ten minutes to cook.) You can remove edge crackers from the pan if they start getting too dark and return the rest to the oven to bake. I had to do this with some pans where my dough was rolled a bit unevenly. Watch them closely – they can burn fairly quickly because they are so thin.
Crackers are done when they are almost crispy but not too brittle. They will crisp more as they cool. If they are underbaked, they will be softer and less crackerlike. You can always throw them in the dehydrator for a while if need be, too, but the oven works best to get that tasty caramelization.
Cool completely and store in airtight containers (if they last long enough to store).
Ta-da! Tasty, pretty homemade crackers.
Confession – these are somewhat labor intensive. It's considerably easier to crack open a box from the store. Still, these are very tasty, and the boys really enjoyed them.
Recipe Card