Blueberry Jam – Easy, Small Batch, Low Sugar and Very Blueberry
With his first spoonful, my husband pronounced this blueberry jam to be "the blueberriest blueberry something he had ever eaten". In this post, I'll share my easy, low sugar blueberry jam recipe, plus answers to some blueberry tips and common jam questions.
Which blueberries are best for blueberry jam?
Choose blueberries that are fully ripe, but not overripe. Watch out for mold growth, especially at the stem end of blueberries in clamshell packs in the grocery store.
If you have a chance to taste the berries before buying, do it. There's a wide range of quality and sweetness. August picked up a pack of organic blueberries at the store as a treat, and they didn't even taste like blueberries. I'll be glad when our blueberry patch is a little older and we have plenty for fresh eating and jam.
See "How to Grow Blueberries" for tips on growing your own berries.
You can use fresh blueberries or frozen blueberries for jam making. If I get too busy at harvest time, I'll freeze fruit to process into jam in fall or winter when it's cooler and things slow down a bit. I like to combine frozen wild blueberries with fresh standard berries for deeper color and more blueberry flavor.
Speaking of color…
What color is blueberry jam?
The color of your jam depends on the type of blueberries you use, and how ripe they are. It ranges from deep blue to more red-blue.
The jam in the photos is a mix of roughly half wild blueberries and half "regular" blueberries (the fat little berries you usually see in the grocery store).
How long does blueberry jam last?
Once processed in a hot water bath canner, homemade blueberry jam should last for 1-2 years if stored in a cool, dark location. Sugar acts as a preservative, and the extra lemon juice lowers the pH. Both of these help make it more shelf stable.
If you want to stash your jam in the refrigerator instead of canning, it should last for several months. Discard jam with obvious signs of spoilage. Low sugar jams have a shorter shelf life than high sugar jams. (But ours never last very long anyway…)
Recommended products for making blueberry jam: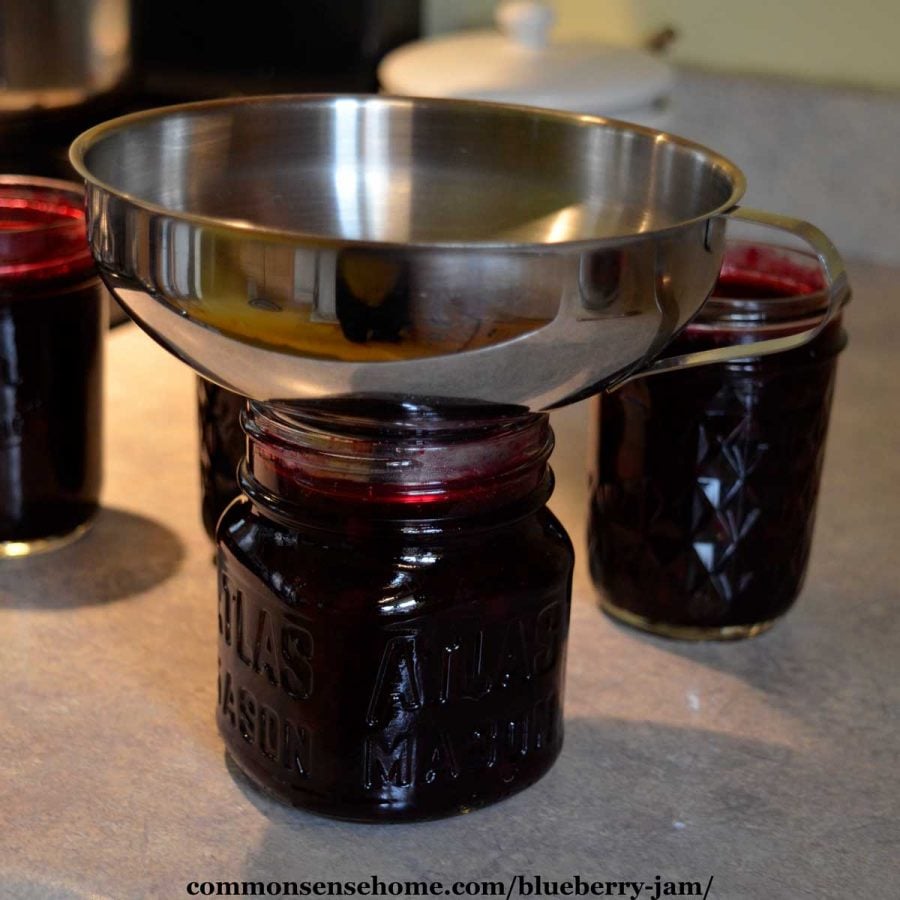 Print
Blueberry Jam – Low Sugar
My husband said this low sugar blueberry jam was "the blueberriest blueberry thing" he had ever tasted.
Author:
Prep Time:

10 minutes

Cook Time:

15 minutes

Total Time:

25 minutes

Yield:

4 cups

1

x
Category:

Jam

Method:

Canning

Cuisine:

American
4 cup

s blueberries, mashed (about

2 1/2 pints

)

1/2 cup

 sugar

1/4 cup

 lemon juice

1 teaspoon

 calcium water (packaged with Pomona's Universal Pectin)

1 teaspoon

 Pomona's Universal Pectin powder
Sterilize five 8-ounce jars, keep hot. Prep lids and rings. Fill water bath canner and bring to boil.
In a small bowl, mix together sugar and pectin powder. Don't skip this step, or your pectin will clump. Set aside.
In a large, non-reactive pot, combine blueberries, lemon juice, and the calcium water. Bring to a full boil.
Add sugar-pectin mixture, stir constantly for 1-2 minutes while cooking to dissolve pectin. Return to boil, and then remove from heat.
Ladle the blueberry jam into sterilized jars, leaving 1/4″ headspace. Wipe rims clean and screw on the lids. Process for 10 minutes in water bath canner (add 1 minute for every 1,000 feet above sea level).
Remove jam from canner and place on a towel on the kitchen counter. Allow jars to cool completely. Test for seal. (Lid should not flex when pressed in the center.) Remove canning rings, wipe down if needed. Date and label, store in a cool, dark location.
Notes
Jam will last about three weeks once opened. Makes around 4 cups.
I always prep an extra clean jar for any left jam that doesn't fit in the main jars. I scrape the jam from the bottom of the stock pot into this "extra" jar, too, since it tends to cook a little more and get thicker. We cover this jar and keep it in the refrigerator to use up first.
For short term storage, you can keep the jam in the refrigerator instead of canning. Best if used within a few months, especially once a jar is open. Discard if you see any visible signs of spoilage.
Nutrition
Serving Size:

1 tablespoon
Keywords: blueberry jam, low sugar
What is Calcium Water?
Calcium water is made with a packet of white calcium powder included in every box of Pomona's Pectin. You combine 1/2 teaspoon (1.5 g) of calcium powder with 1/2 cup (120 ml) water in a small, clear jar with a lid. This will make enough calcium water for several batches of jelly or jam.
Store your leftover calcium water in the refrigerator, and it will keep for several months. Always stir before using.
Pomona's Pectin may seem a little bit expensive, but one package makes several batches of jam. Because blueberries are rich in natural pectin, only a small amount of commercial pectin is used.
Can I thicken jam without pectin?
Note: you can make blueberry jam without added pectin by slow cooking the fruit, lemon juice, and sugar until thickened. Sometimes this works well, other times, not so much, since the acidity and pectin content of the fruit varies. Using a small amount of commercial pectin shortens cooking time and ensures the jam will jell.
If you decide to use this method, store in the refrigerator or process as listed above.
Is blueberry jam good for you?
Blueberries are high in fiber, vitamins C and K and manganese. They also contain phytonutrients called polyphenols, which may help reduce inflammation. Researchers are studying blueberries for improving heart, brain and gut health. They've also been shown to reduce cholesterol.
See "Blueberry Nutrition" at the U.S. Highbush Blueberry Council website for more information.
More Homemade Jam Recipes
You can view our full listing of over 30 jam and jelly recipes on the Common Sense Recipes and Kitchen Tips page.
They include: