The Best Sugar Cookie Recipe, Plus a Sugar Cookie Q & A
This is the best sugar cookie recipe I've tried in many years of baking. It's quick and easy to make – no refrigeration needed.
This recipe works well for simple roll and slice cookies, or beautifully decorated Christmas cookies. Duncan demonstrates how to make chocolate dipped heart cookies in the video.
We'll also cover some of the most commonly asked questions in the quest for the perfect sugar cookie.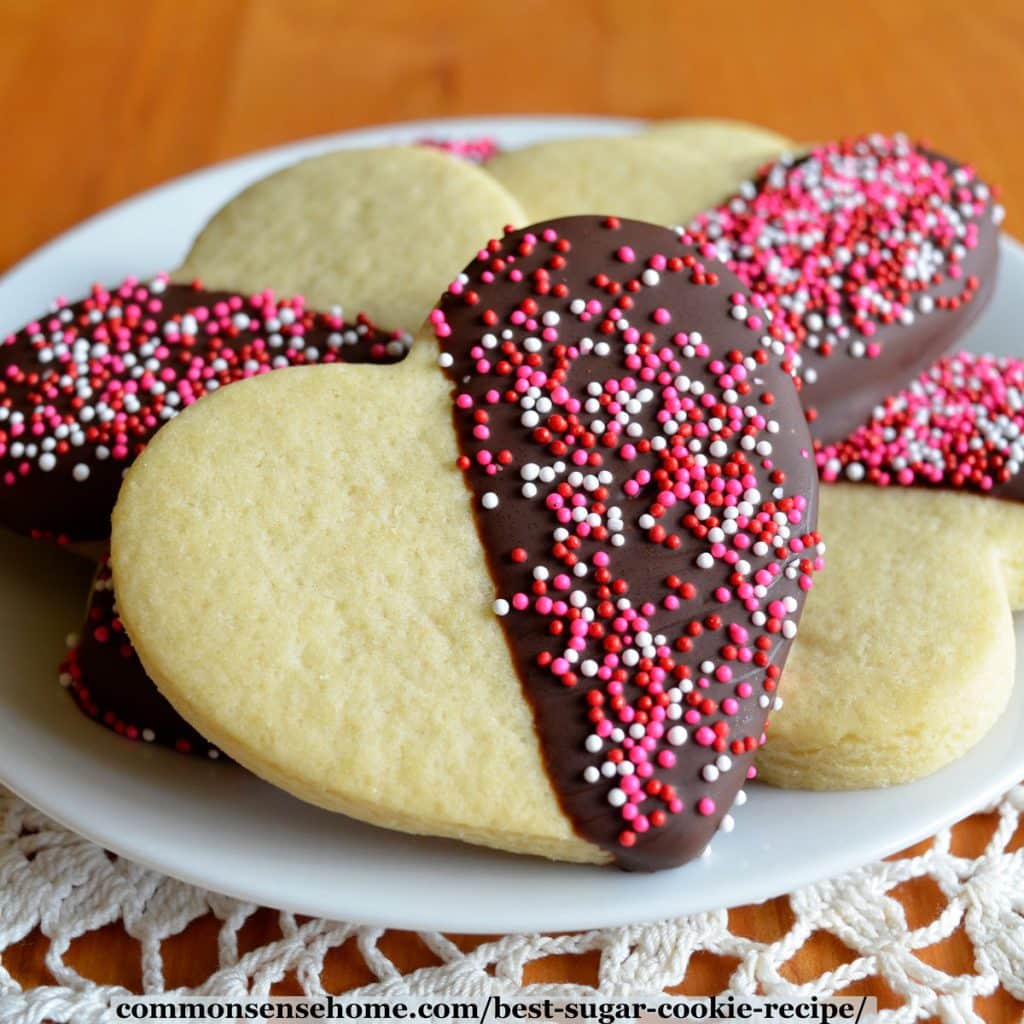 The Best Sugar Cookie Recipe
I love that this sugar cookie recipe doesn't require chilling the dough, so you can mix and bake within minutes. It doesn't puff up during baking, so it makes great cut out sugar cookies or edible cookie cups.
For best results, roll out your cookies on parchment paper or directly on the baking sheet.
Don't try to roll out cookies on the counter and then move them to the baking sheet. I use reusable parchment paper and Airbake pans.
Click here to jump to the Print Friendly Recipe.
Sugar Cookie Q & A
Here are some tips and tricks to help you make your sugar cookies just the way you like them.
The big factors for a chewy versus crispy cookie are the thickness and the bake time.
If you prefer a chewy cookie, roll your sugar cookie dough a little thicker – ¼ – 5/16 inch (6-8mm) thick. Bake until edges are set but center of cookie is still soft. Let cool for a couple minutes on the pan, and then remove to finish cooling on a wire rack.
You want that cookie a little bit under-baked when it's coming out of the oven. It will set up to chewy goodness as it cools.
If you prefer a more crispy sugar cookie, roll the dough about 3/16 inch (5 mm) thick. Bake until firm and edges are slightly browned.
The flavor profiles of snickerdoodles and sugar cookies are similar. Snickerdoodles are traditionally rolled in a cinnamon-sugar mix, while sugar cookies are rolled or sprinkled with only sugar.
White granulated sugar is the most common, but some folks prefer to dust them with powdered sugar or use icing after baking.
Many people like to add frosting and sprinkles after baking, but you can apply them before baking, too.
If you're a fan of frosting and sprinkles, wait until your cookies are completely cool. Then, apply icing, followed immediately by sprinkles. (If you try to put frosting on a warm cookie, it wants to run right off.)
Don't wait to apply the sprinkles! Once the icing dries out, the sprinkles bounce off instead of staying on the sugar cookie.
Another option is to dip your cooled cookies completely or partly into melted chocolate, and then add sprinkles to the chocolate.
I like to melt together 1 cup of chocolate chips with one teaspoon of coconut oil. The coconut oil helps the chocolate to spread more evenly over the cookies.
If you like a simpler look, you can lightly press colored sprinkles into the dough before baking. We like using colored sugars or vanilla sugar, because they hold their color and shape well. Larger, softer sprinkles work best when teamed with frosting.
What's Vanilla Sugar?
When we make homemade vanilla extract, the vanilla beans still have a little flavor left in them (even after being used twice).
We strain out the extract, and mix the leftover vanilla beans with granulated sugar in a mason jar. The beans give the sugar a light vanilla flavor.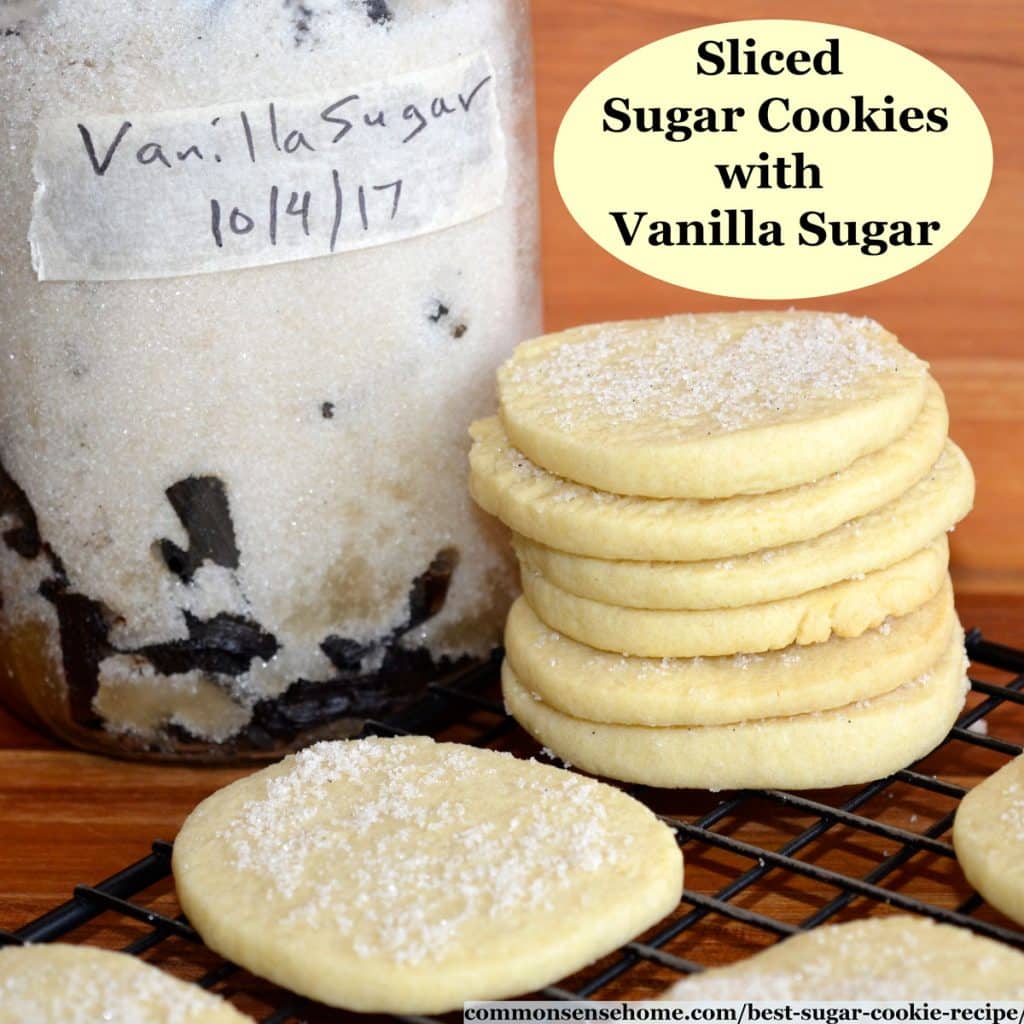 The key to getting cookies that look the same is consistency in how you make the cookies.
When rolling the dough, make sure to roll the dough to the same thickness each time. Space cookies evenly on the pan, and bake them the same amount of time each time.
Don't mix big cookies and tiny cookies on one pan. The small sugar cookies may burn by the time the big ones are done baking. Bake cookies that are all roughly the same size together on one pan.
For tender cookies, don't re-roll scraps more than twice. The more times you handle the dough, the tougher the cookies will be. (We bake the scraps after they've been rolled out twice, and eat those first.)
To decorate many cookies the same way, I find it helpful to line up the cookies in an assembly line. I move from cookie to cookie, repeating the same decorating steps each time.
Want a short cut for decorating cookies?
Through the miracle of modern technology, you can now order edible wafer paper decorations in a variety of shapes and colors. Just apply a quick layer of frosting or royal icing, and add on your decoration of choice.
They have decorations that are Christmas themed, woodland animals, Avengers, 3-D butterflies, flowers, unicorns – the variety is amazing. These are usually labeled as "cupcake toppers", but they work fine for round cookies, too.
Having sugar cookies keep their shape is all about using the right sugar cookie recipe and handling it correctly.
I remember being frustrated as a kid, trying to use my mom's sugar cookie recipe to make fancy Christmas cookies. I'd roll out the cookies carefully, and then they'd blow up during baking. Every cookie looked like a giant blob.
Our sugar cookie recipe holds its shape great during baking – no more blobs!
I do advise having your butter at room temperature before you start mixing, so it blends evenly.
Also, blend butter and sugar until light and fluffy, but don't whip the pants off your butter. Butter that's whipped too much can give you sugar cookie dough that puffs up and collapses after baking.
If you're mixing by hand, this usually isn't a problem. If you're using a stand mixer, don't turn it on and leave it mixing.
Mix as much as you need to blend ingredients, but no more. Be gentle with cookie dough. Treat it more like pie crust than bread – no kneading.
Sugar cookies should last for several weeks in an airtight container – if you don't eat them first.
For best shelf life, store in a cool, dark location, out of direct sunlight. It's helpful to place wax paper between layers of cookies if they are frosted or iced. This keeps them from sticking together.
Your cookies will look a little nicer if you frost them after they thaw, but you can freeze frosted cookies, too. It's fine to freeze plain or sugared cookies for a month or so in an airtight container.
You can also freeze raw cookie dough. Cut out shapes as if you intended to bake the cookies. Place baking sheet in freeze until the cookies are frozen solid. Remove from pan and pack in an airtight container.
When ready to bake, remove from freezer and place on baking sheet to thaw. Bake as normal. (They may need a little extra time if the dough is very cold.)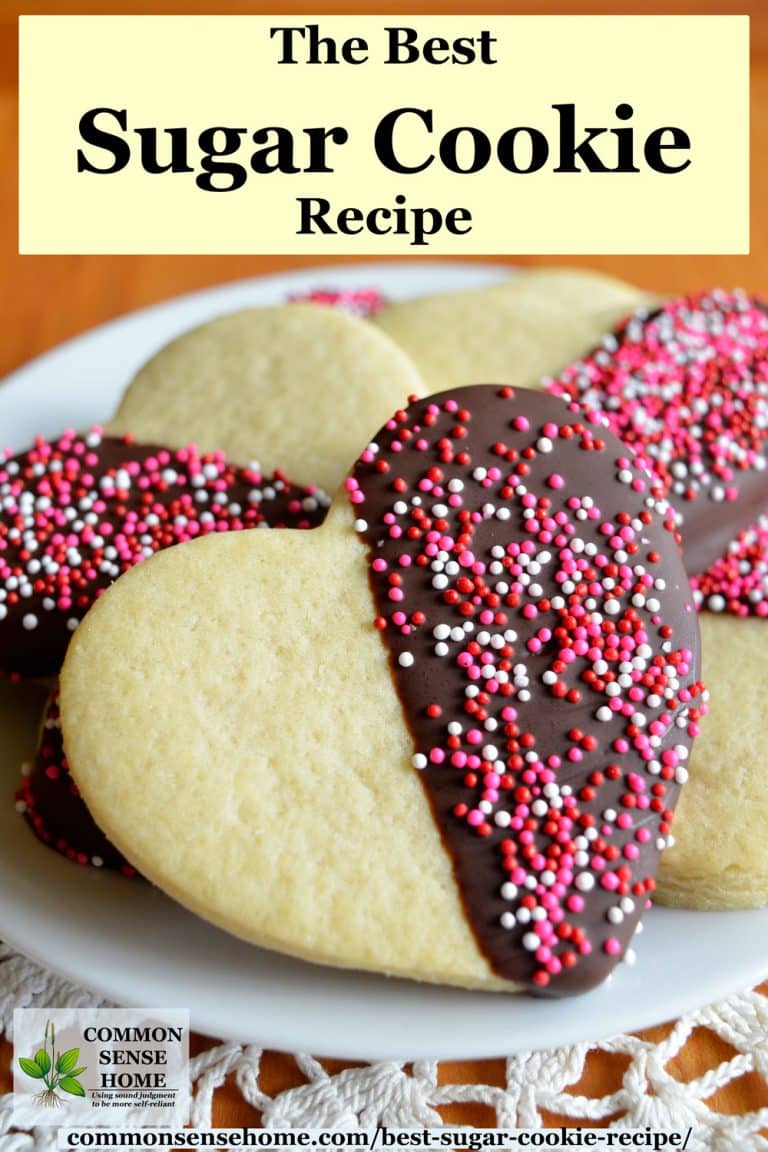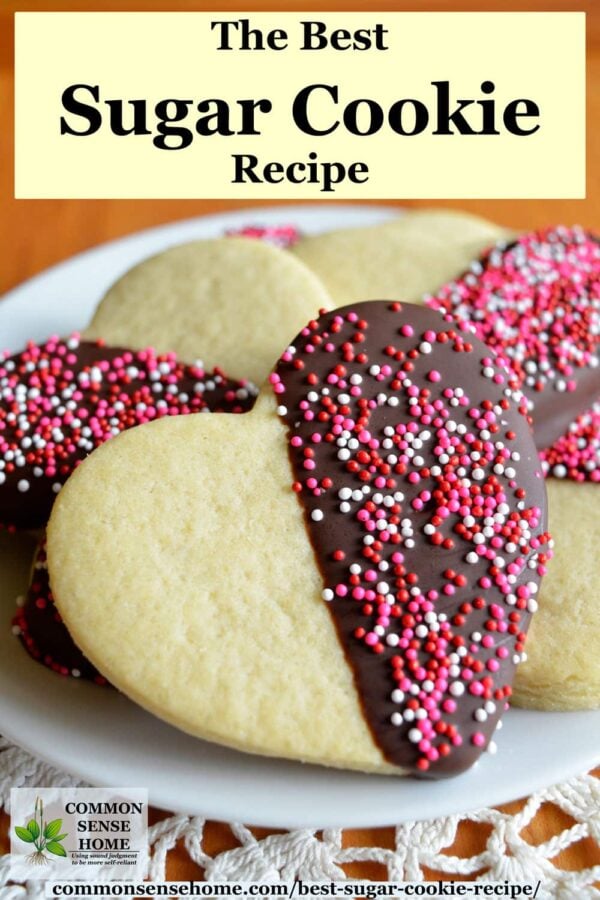 Print Friendly Recipe
Print
The Best Sugar Cookies
An easy and delicious sugar cookie recipe that holds shape well and doesn't require chilling.
Author:
Prep Time:

10 minutes

Cook Time:

10 minutes

Total Time:

20 minutes

Yield:

2

dozen cookies

1

x
Category:

Dessert

Method:

Baking

Cuisine:

American
1/2

cup

butter, room temperature

3/4

cup

granulated sugar

1

egg

3/4 teaspoon

vanilla extract

2

cups

all-purpose flour

1/2 teaspoon

baking soda

1/2 teaspoon

salt
Decorating sugar, frosting or chocolate for dipping, optional
Preheat oven to 375°F (190°C).
In a large bowl, cream together butter and sugar. Blend in egg and vanilla extract. In a separate bowl, blend dry ingredients (flour, baking soda and salt). Add dry ingredients to butter mixture. Mix will appear crumbly.
Use a rolling pin to roll out dough to around 1/4″ (6mm) thick. (Go thicker for a softer, chewy cookie, or thinner for a crispy cookie.)
Cut out sugar cookies and remove excess dough from around shapes. Alternatively, shape dough into a cylinder, and slice off ¼" (6mm) thick rounds.
Sprinkle with decorating sugar, sprinkles or vanilla sugar, if desired.
Bake for 8-10 minutes, until cookies firm around the edges. (Bake until lightly browned for crispier cookies.) Allow to cool for a few minutes on the pan, and then transfer to a wire rack to cool completely.
If you skipped the decorating sugar, you can frost the cookies or dip them in chocolate for decoration.
Store your sugar cookies in an airtight container. Use within one to two weeks of baking for best quality, or freeze for longer storage.
Keywords: cookies, sugar cookies, Christmas cookies, baking, cut out cookies, slice and bake cookies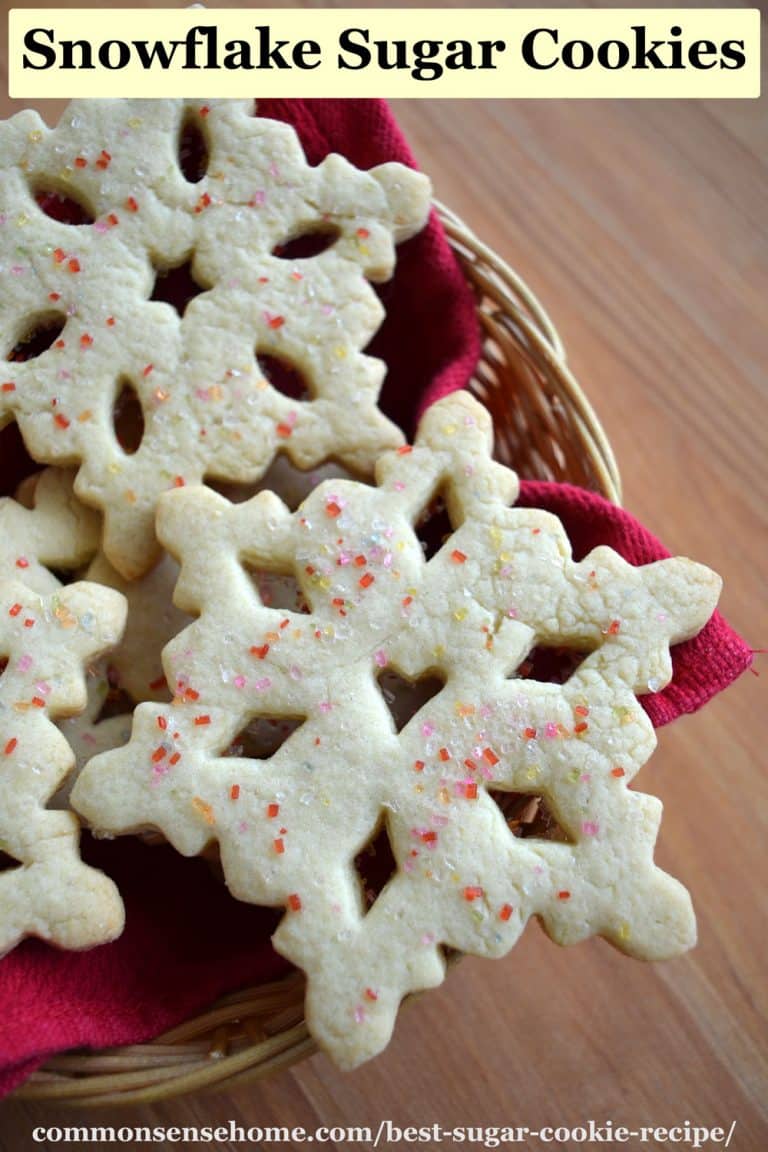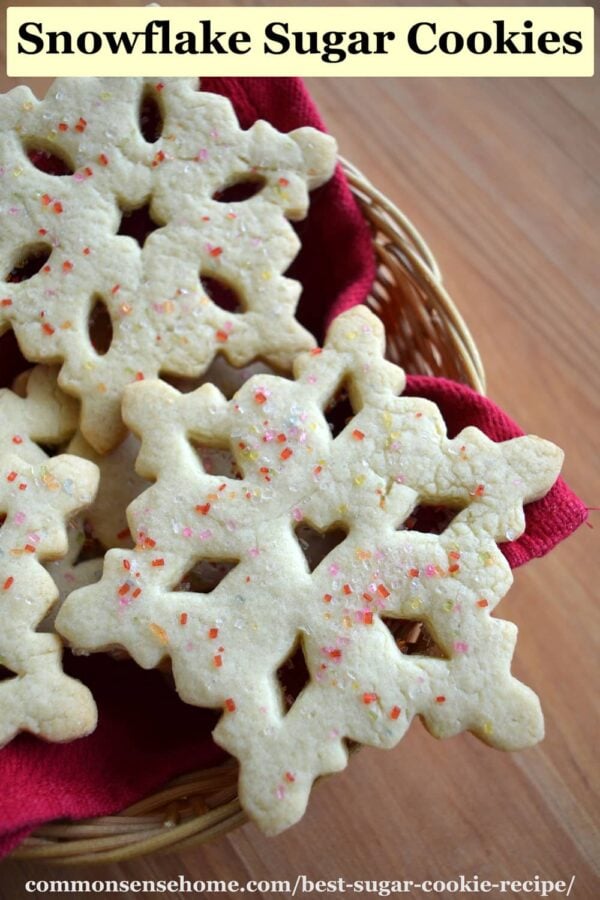 Snowflake Sugar Cookies
I spotted snowflake cookie cutters while visiting a local cake decorating shop. They looked so lovely I had to try them out, but I quickly discovered that they had a serious flaw. The small cutters included with the snowflake kit were so big that the finished cookies broke easily.
Solution = a set of micro cookie cutters. Now I can cut an assortment of shapes and still have enough dough left to hold the sugar cookies together.
Get the snowflake cookie cutters here
Get the micro cookie cutters here
"Stained Glass" Sugar Cookies
For a stained glass effect, make larger sugar cookies, and use small cookie cutters to cut our designs in the large cookies.
Fill the cut outs of each sugar cookie with crushed hard candy (such as Jolly Ranchers or LifeSavers) before baking.
I hope you enjoy this recipe as much as we do. If you have any comments or questions, leave a note below to share your thoughts.
Get more Made from Scratch Recipes
Our Common Sense Recipes and Kitchen Tips page lists all of our recipe and kitchen tips posts.
Some of these include:
Originally posted in 2016, updated in 2020.