Dutch Oven Cooking – How to Use a Cast Iron Dutch Oven
This is a guest post by Jennifer Osuch.
I love cooking with cast iron – especially Dutch oven cooking. Dutch ovens are durable and versatile. They allow you to cook a wide variety of foods under many different conditions. In this post, we'll talk about different types of Dutch ovens and how they are used, plus I share a couple of our favorite Dutch oven recipes.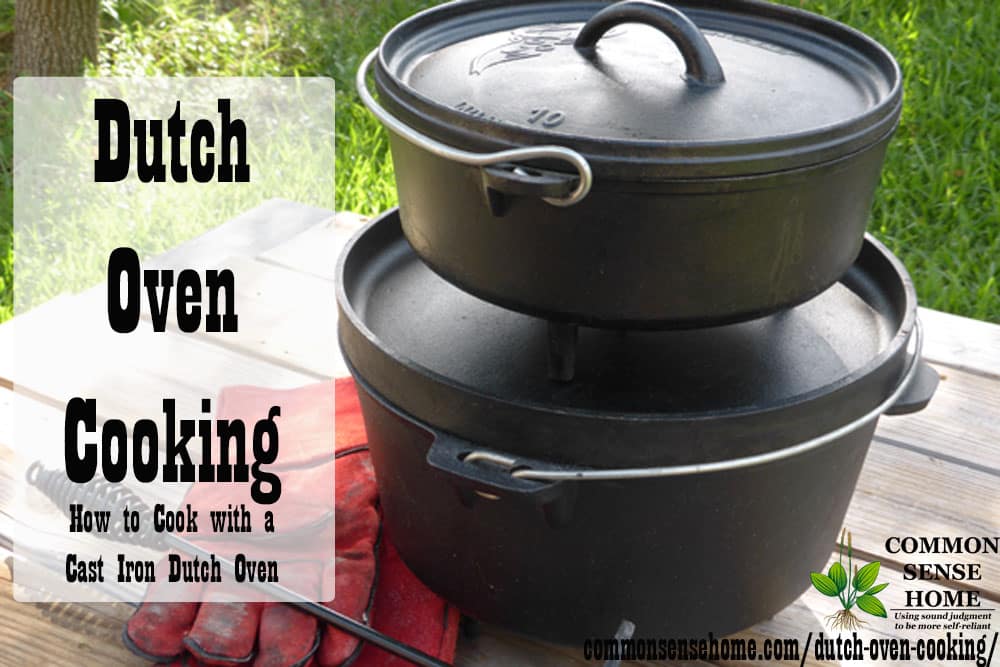 Getting Started with Dutch Oven Cooking
Dutch ovens can be made of ceramic, clay, or cast iron. I will be focusing on cast iron dutch ovens in this post as they are the most common and most versatile dutch ovens.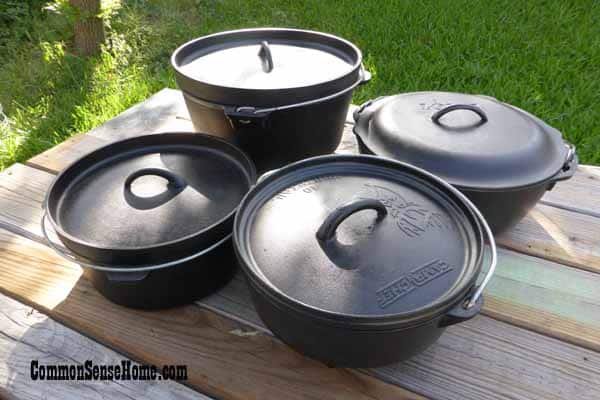 Cast iron dutch ovens come in a variety of shapes, styles and sizes. The reason for different sizes is pretty obvious, you can cook different amounts of food. However the reasons for the different styles and shapes might not be as obvious, at least they weren't obvious to me when I first started using them. Let me run through them for you.
Dutch Oven Cooking with a Campfire – Look for Lips and Feet
This dutch oven has a lid with a lip.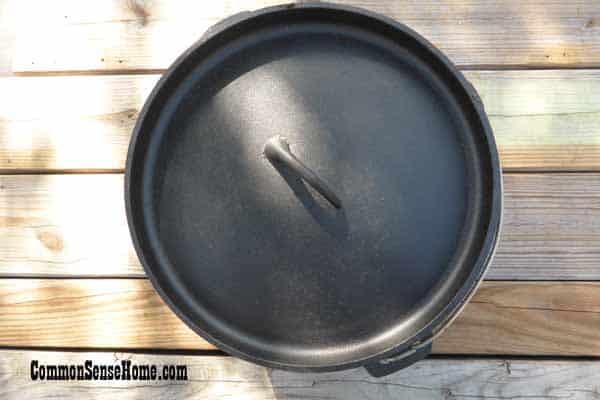 Here is a close up of it. The lip is designed to hold charcoal so that when you cook in a dutch oven you can actually turn it into an oven with heat radiating from the bottom and the top. Placing charcoal on the top of the lid is used to accomplish this and is what allows you to bake in a dutch oven.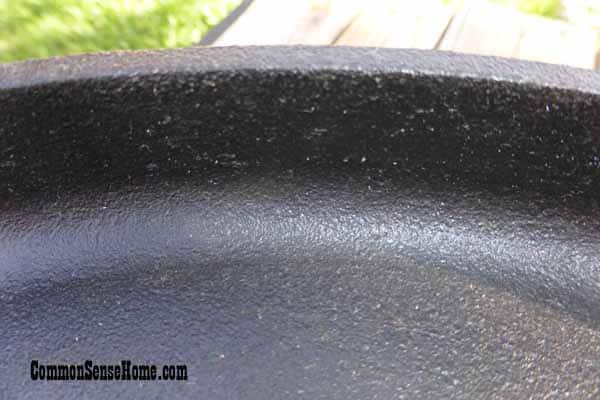 Some dutch ovens also have feet. They are designed to help you place the dutch oven in a bed of hot coals without the coals touching the bottom of the pot, which helps prevent burning. Also they make dutch ovens easy to stack so that you can cook multiple dishes with minimum heat. (See the first picture in this post to see how they might stack.) The feet make this style of dutch oven really hard to put inside a conventional oven.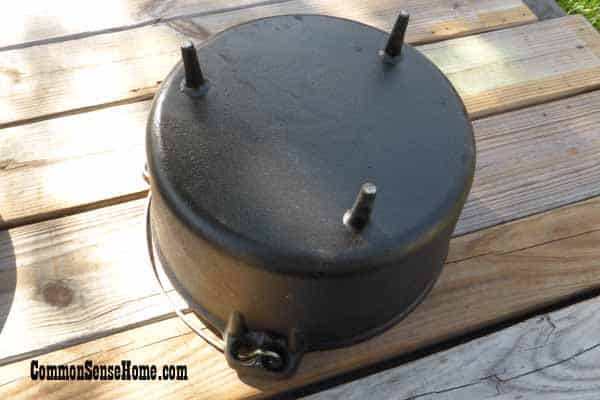 Here is a side view of the dutch oven with the lip on the lid and the feet on the bottom. These dutch oven are really designed for off-grid cooking and don't do well in conventional ovens, as I've already mentioned, but also they won't work on conventional stoves either.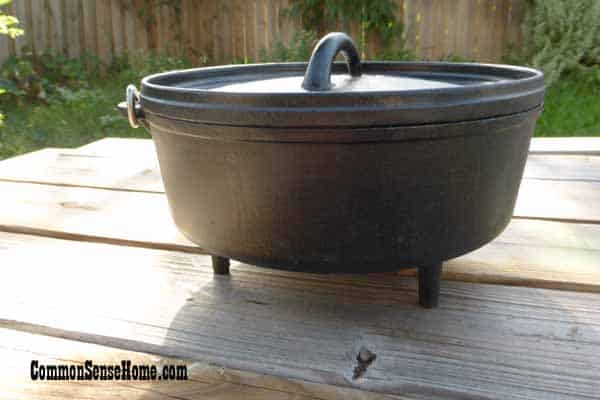 Dutch Ovens that Cook Indoors or Out – No Feet and No Lid Lip
Here is a dutch oven without a lip on the lid. It's also my favorite because I cook with it outside and inside. You can put coals on the top but it's more difficult to get them to stay. You can use a metal pie crust shield to help the charcoal stay on top in a pinch.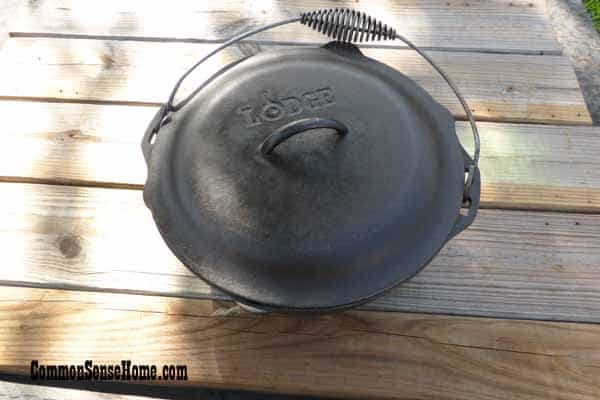 You'll notice this dutch oven does not have feet, so I can place it on my stove, too.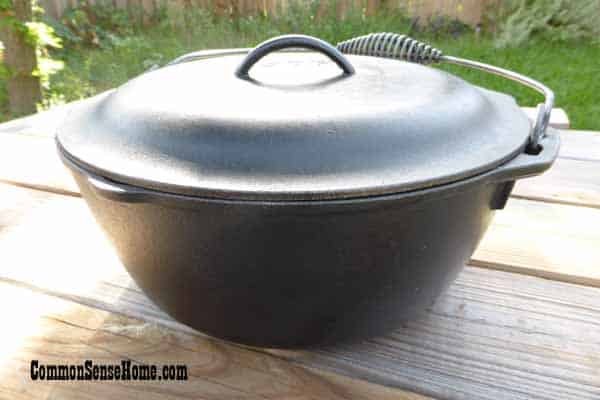 This is the inside of the same dutch oven. As you can see from the picture it needs to be re-seasoned.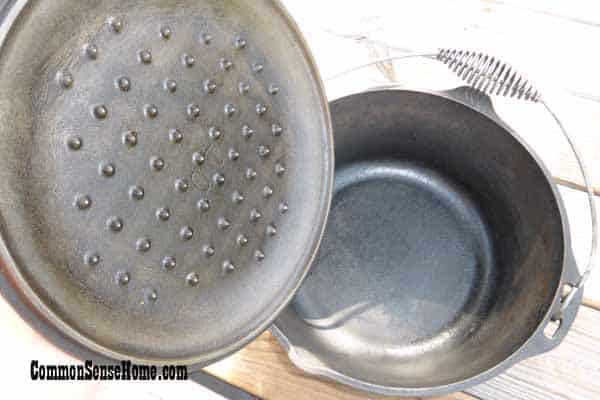 I will say that if you cook outdoors with any cast iron it's harder to keep them in tip top working order, at least it always has been for me. When I use them outdoors I am often camping away from home with less than an ideal kitchen, so by the time I can give them the attention they need many times the damage has already set-in. That's not to discourage you from cooking in a dutch oven, but I would recommend starting out cooking at home with them and cast iron in general where you can easily take care of them in your home before venturing out into the great outdoors.
Notice these spikes on the top of the lid. Those have a purpose, too. They are there so the condensation will drip back down and not stay on the lid because water will rust cast iron.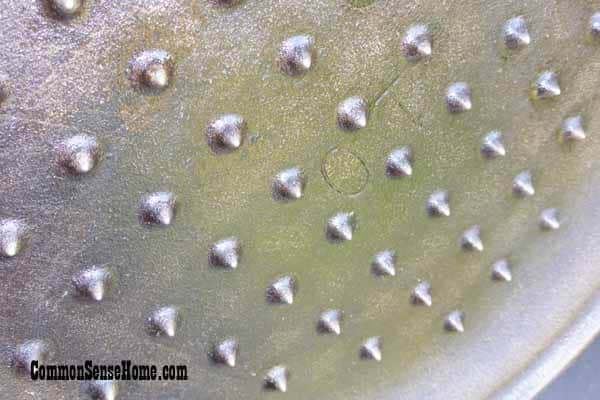 Here is a dutch oven with no feet but it has a lid with a lip. You can cook outdoors with this oven, but it wouldn't easily stack onto another dutch oven. The trade off is that it will easily fit in a conventional stove and/or oven.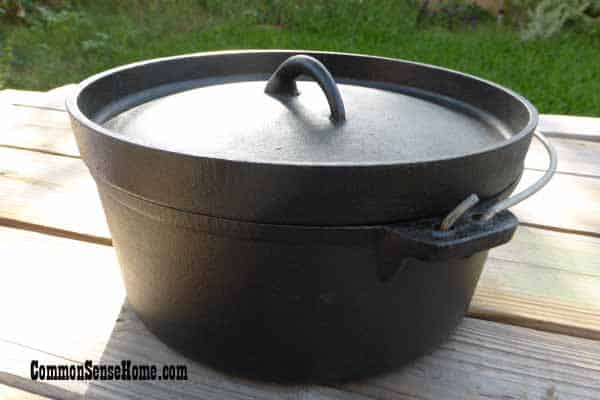 This is a lid lifter, and is a must have if you cook outdoors – at least it makes it much, much easier. Hang on, and I'll show you what I mean.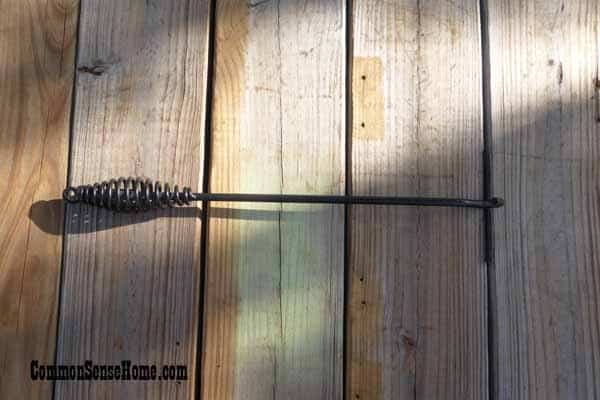 Preparing Your Coals for Dutch Oven Cooking
I love using a chimney to light charcoal because we only use all natural charcoal and I'm not a fan of lighter fluid.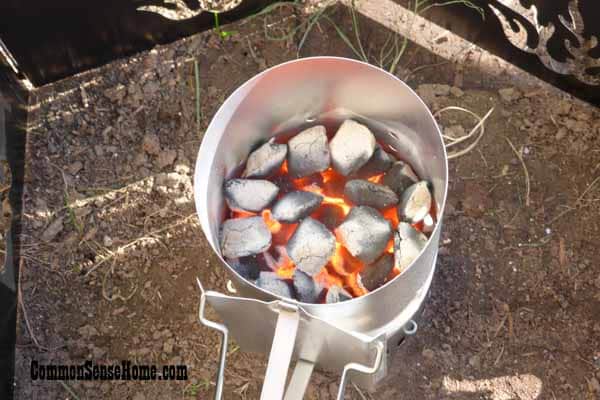 I'm about to cook "Beef" Stroganoff and a Peach Crumble here. Be careful when you dump the charcoals out. This charcoal was probably dumped out a little too soon, if it had been close to someone the wind could have sent those sparks into their face or clothes.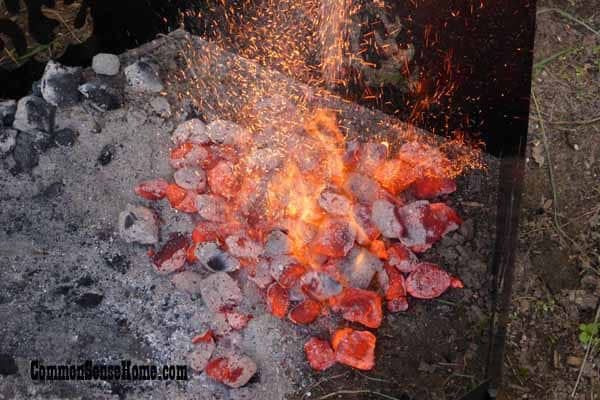 Here is how you want your charcoal to look before you place your dutch oven in on top. You'll notice that they are mostly grey, not red hot.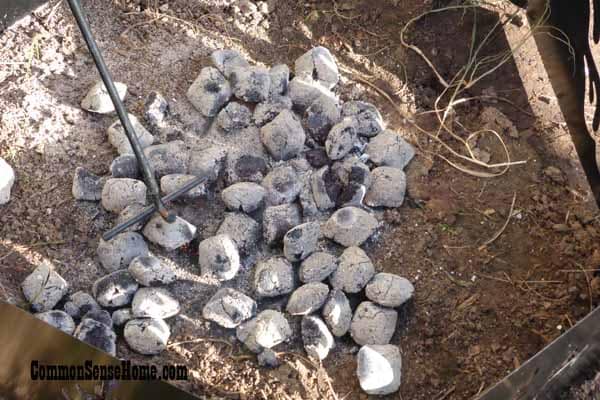 For the "Beef" Stroganoff I didn't need any top coals so I used my indoor/outdoor dutch oven. I simple set it on the hot coals.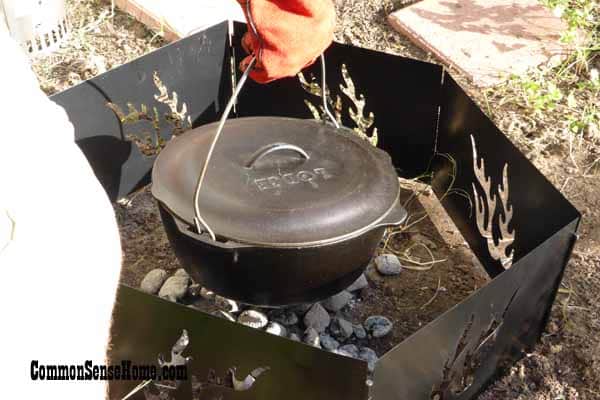 Now, let me show you how that lid lifter works. Simply hook it onto the lid.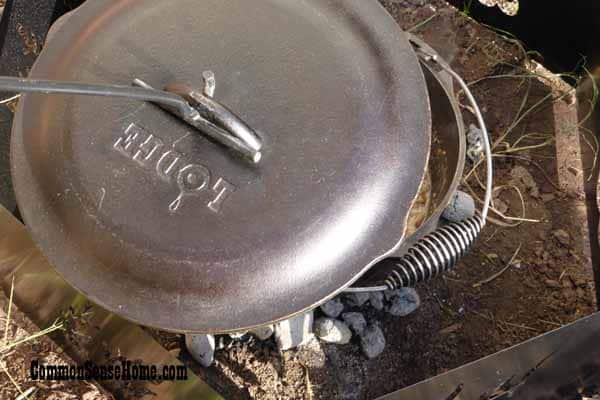 And lift the lid off. Yeah, you could do that with a glove but I'll show you why the lid lifter is so much better in a minute.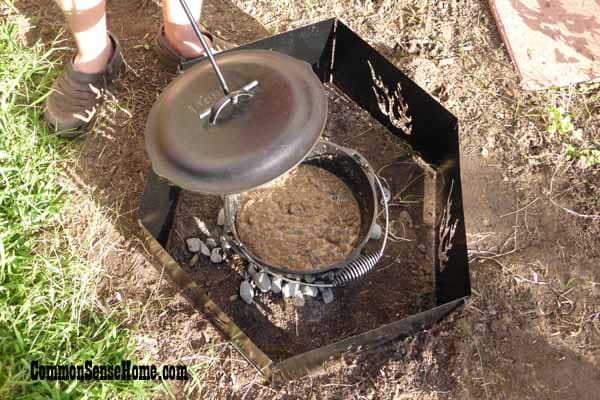 Dutch Oven Recipes – "Beef" Stroganoff
Here is a shot of the "Beef" Stroganoff. I'm not sure I've mentioned that my family and I are vegetarians so this is a mock Beef Stroganoff, but don't let that scare you. I suggest a substitution for meat lovers.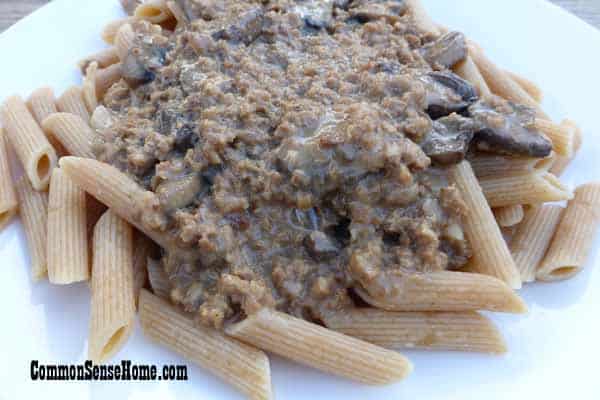 Print
Easy "Beef" Stroganoff for the Dutch Oven
2

lb tofu crumbles (you can use ground beef)

1

medium onion diced

2

cans organic mushroom soup

1 pint

organic sour cream

32 oz

mushrooms

2

packages whole wheat pasta
Saute diced onion and mushrooms in a pan.
Place onion, mushrooms, soup, and tofu crumbles (or beef)  in the dutch oven.
Place oven over 15 to 20 hot coals for about 45 minutes. Add sour cream 15 minutes before severing.
Serve over whole wheat pasta.
Dutch Oven Recipes – Peach Cobbler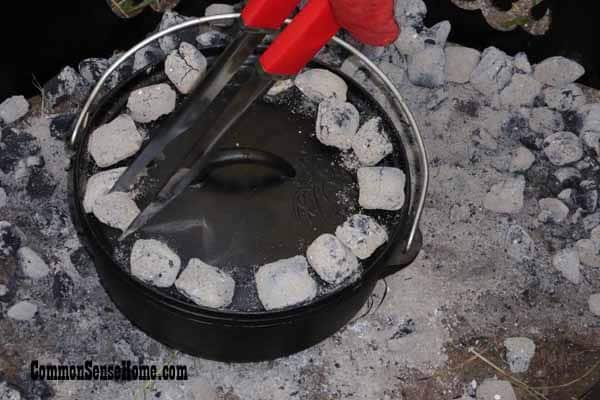 To make the peach cobbler I needed to create an "oven effect" with heat on the top for the crust. So I placed charcoal on top of the dutch oven.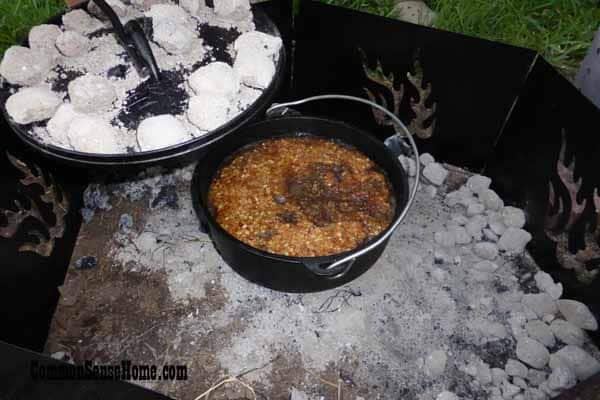 See why that lid lifter comes in handy? Even with a glove that would be dangerous to lift up to check the cobbler.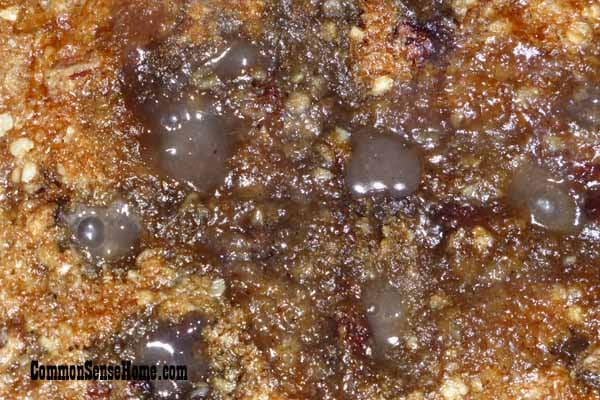 You can see the cobbler bubbling through the crust.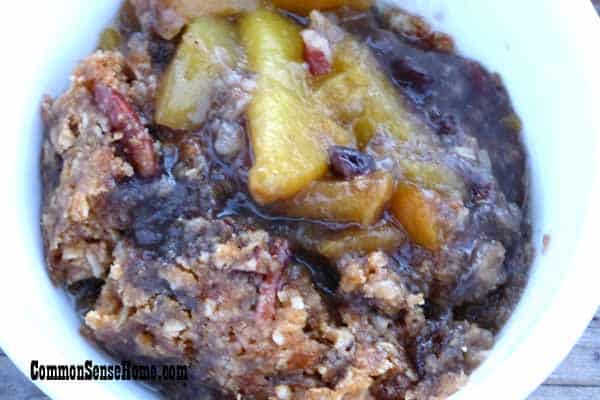 I know this turned out really good because there were no left overs! The cobbler looks a little dark for two reasons. First, I used home canned spiced peaches which contained dark cloves and cinnamon that turned the peaches a little dark and also cooking in cast iron can often turn your food a little dark.
Print
Peach Cobbler Crumble Dessert for the Dutch Oven
Delicious campfire peach cobbler cooked in a cast iron Dutch oven.
3 quart

jars of home canned peaches (you can use store bought)

1 1/2

C fresh ground soft white wheat (you can use cake flour)

1/2

C quick oats

1/4

t salt

1/2

C brown sugar

1 1/2

C coconut oil

1/2

t baking soda

1/2

C chopped pecans

1/2

t nutmeg
Place peaches in dutch oven.
Mix together coconut oil, salt, soda, brown sugar, and nutmeg.
In a separate bowl mix together oats, flour and pecans.
Mix coconut oil mixture with the four mixture.
Spread mixture over the peaches. Place dutch oven over 6 hot coals and place 15-16 on the lid. Cook for about 45 minutes or until bubbly.
Once you master Dutch oven cooking, you can cook anywhere and anyplace–literally and figuratively. You can cook indoors and outdoors, in a stove, over a fire, in a hearth, on a wood stove, even in a sun oven, which is pretty amazing.
But there is something about that knowledge that spills into other parts of your culinary life. Maybe, it's the nostalgic images of our ancestors cooking over an open flame in a dutch oven that gives you confidence that the way has been paved. Perhaps it's simply the knowledge that if you can't get it to work the way you want with one method you can find another. Maybe it's just the attitude of if they're hungry they'll eat it as people have done for centuries because what is cooking in the dutch oven is what's for dinner. Whatever the case, dutch oven cooking is a very useful skill.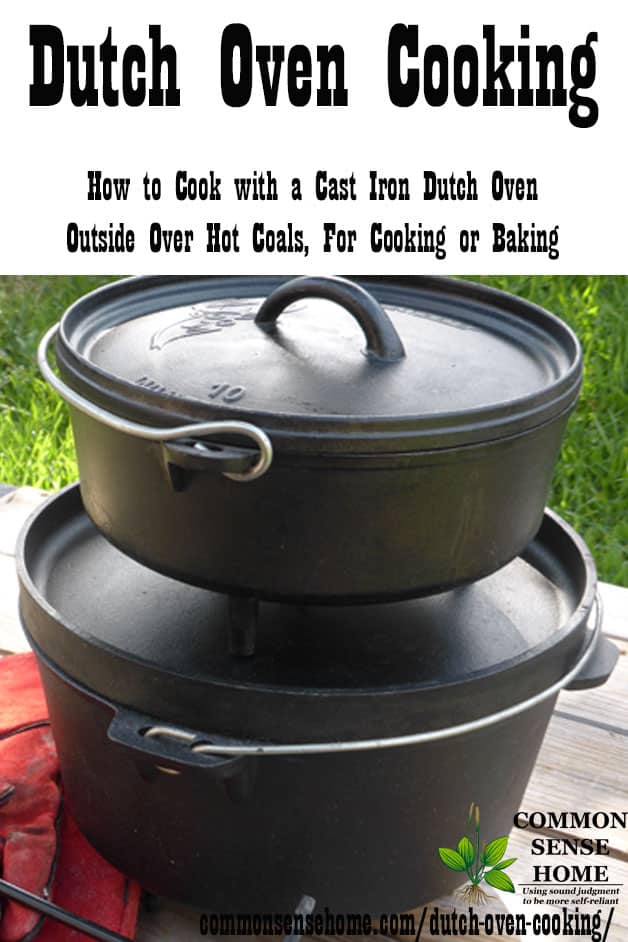 More Information on Cast Iron and Off Grid Cooking
Other posts in this series:
Other Related Posts: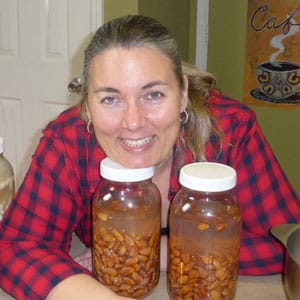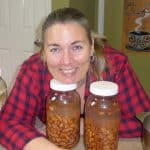 This is a guest post by Jennifer Osuch. Jennifer has been prepping, homesteading (suburban style) and pursuing a self-reliant lifestyle for over 12 years.
She is the mother of three very active and wonderful boys, but insists that as many of her possessions as possible be the color pink to remind her house full of boys there is a lady a living among them.
Jennifer enjoys writing, gardening, and the outdoors. She blogs with her husband at the Seed to Pantry School about urban homesteading and becoming self-reliant. You can also find her on Facebook, Pinterest, and Instagram
Originally posted in 2014, updated in 2018.