The Best Way to Use Up Extra Zucchini
This time of year, many gardens and kitchen counters are filled with extra zucchini. I'm still short of rain, so my zucchini plants are only puttering along, but luckily my friends have been more than willing to share their bounty of overgrown zucchinis. Last week I processed a small mountain of large zucchini, and my Facebook friends were asking what the heck I was going to do with them. So here's my not-so-secret method for using up large amounts of zucchini quickly and easily.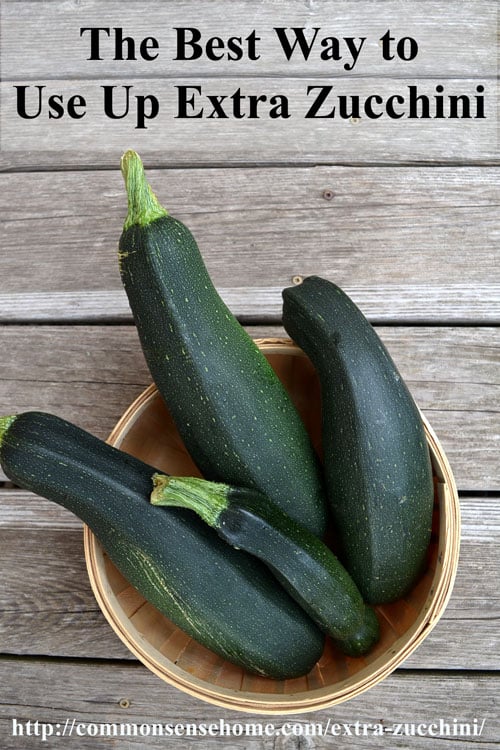 Start with Dehydrating Your Zucchini
Zucchini is 95% water, so if you shred it and stick it in the freezer (like I did in the past), you're storing a lot of excess water. That's fine is you have plenty of freezer space, but not so great if room is tight. If you dehydrate your zucchini, you can still use it in your quickbread or cake recipes. In Mary Bell's Complete Dehydrator Cookbook, she recommends that cake or quickbread batter made with dehydrated vegetables be allowed to sit for 10 minutes in the pan before baking, to mellow out the flavor. (I'll be sharing a zucchini bread recipe with dried zucchini next week.)
When I dehydrate zucchini, I only remove the skin if it is particularly tough. (This year I tried a different variety, and the skins are like leather.) Large seeds are removed, along with the center pith – I basically fillet the squash.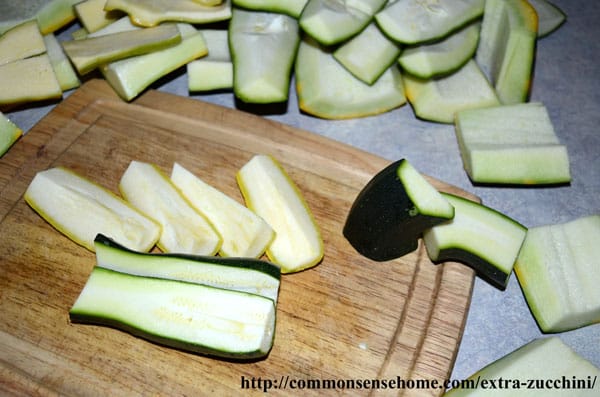 I shred the zucchini very finely with a food processor or grater – the more surface area, the better. Let strain in a colander for 15-20 minutes, squeeze out as much water as possible to reduce drying time.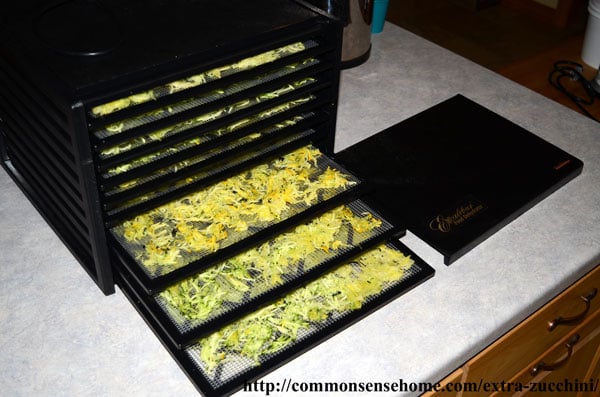 Spread the shredded zucchini on mesh drying trays (preferred), or fruit roll sheets if you only have wide mesh trays as an alternative. Dry at 125F – 135F for 8-12 hours, until zucchini is brittle and crisp. If not crisp, dry a little longer. (Sometimes if the humidity is high or the squash is very wet, it will take longer to dry.)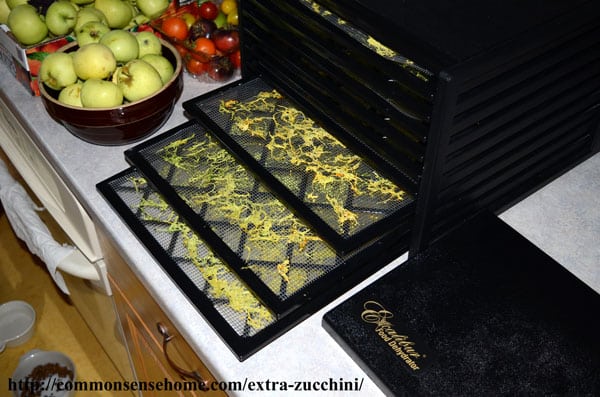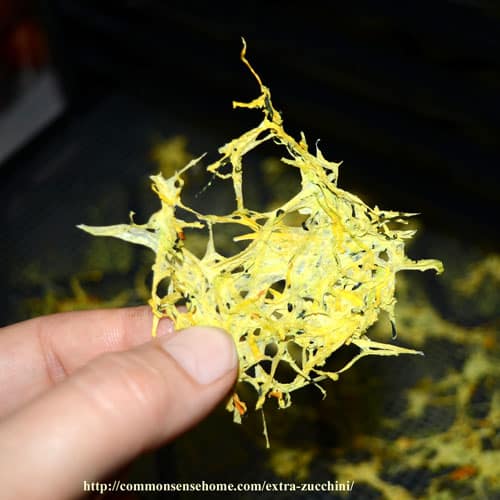 Make Sure Your Zucchini is Dry Enough!
The zucchini must be very dry to store safely – 3 to 8 percent humidity. If you want to double check your humidity levels in your dehydrated foods, you can buy a hygrolid, which is a hygrometer that fits onto the mouth of a wide mouth mason jar.
I store my dried zucchini in vacuum sealed mason jars, where it easily keeps in good condition for over a year, if it lasts that long. I love that dehydrating allows you to store a huge amount of zucchini in a very small amount of space.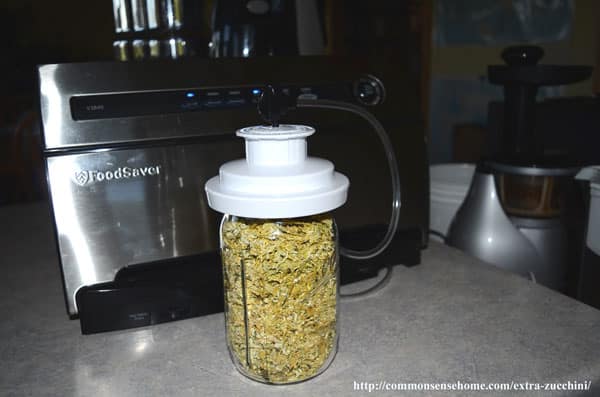 The Zucchini "Swiss Army Knife"
Now that you have your dried zucchini prepped, you can use it for all sorts of recipes. With the fine shredding, it crumbles very easily into tiny bits, or you can pulverize it into powder in a blender. I add it to spaghetti sauce for extra veggie goodness and thickening. I use it to add bulk to creamed soups, such as cheesy broccoli soup.
You can add a quarter cup into most bread or quickbread recipes without otherwise adjusting the recipe to get more veggies in. The powder can be added to smoothies, since the flavor is very neutral. You can even sneak some into no-bake cookies like cranberry-walnut powerballs. Just add to the dough like you would any other dry mix in like fruit, coconut or nuts. Easy!
Once you start using your extra zucchini this way, you might find like I did that you're even willing to take overgrown zucchini from your neighbors just so you can have a bigger stash.
If you need even more zucchini recipes, check out: