23 Common Sense Ways to Stretch Your Food Budget
There are a lot of different ways to save money on food, and we may have to get creative and use all of them in the years ahead. We'll share common sense ways to stretch your food budget with smarter shopping, creative sourcing, and thriftier food use.
It's hard to step foot into a grocery store and not notice the rising food prices. Packages are getting smaller, too, as I'm sure you've noticed if you use any older recipes that include any sort of boxed or canned item as a component.
The USDA Food Price Outlook for 2022 is grim, as supply chain issues, bad weather, rising fuel costs, and other factors hammer food costs.
23 Common Sense Ways to Stretch Your Food Budget
There is no magic bullet or one size fits all plan, but there are several strategies you can use to make food dollars go farther. I'm breaking the ideas into three main groups – grocery shopping, alternatives to the grocery store, and making better use of food.
Meal plans can be a great way to save money on groceries, but be ready to adjust your plan if needed to take advantage of unexpected sales.
Stretching Your Grocery Budget
1. Before you head out shopping, make up a grocery list to reduce impulse buying. Don't go shopping hungry if you can avoid it. Check your refrigerator and pantry, and make up at least a rough menu plan using what you have on hand with what you purchase.
2. Watch for sales and discounts on seasonal produce. In our area, market gardeners set up roadside stands, and we have some great farmers markets.
3. Use coupons only if they are items you really use. Don't buy a more expensive item "just because you have a coupon" and not end up saving at all.
4. Watch store flyers for loss leaders and stock up on items that last a long time. Compare prices between stores is a good idea, but be mindful of high gas prices. Don't spend more running between stores than you save on groceries.
5. When appropriate, buy store brands. Quality may vary, but as you try different items you'll find those that work for you.
6. Watch for discounted day old bread and baked goods. Sometimes stores will mark down other items, such as meat, that are close to their expiration date.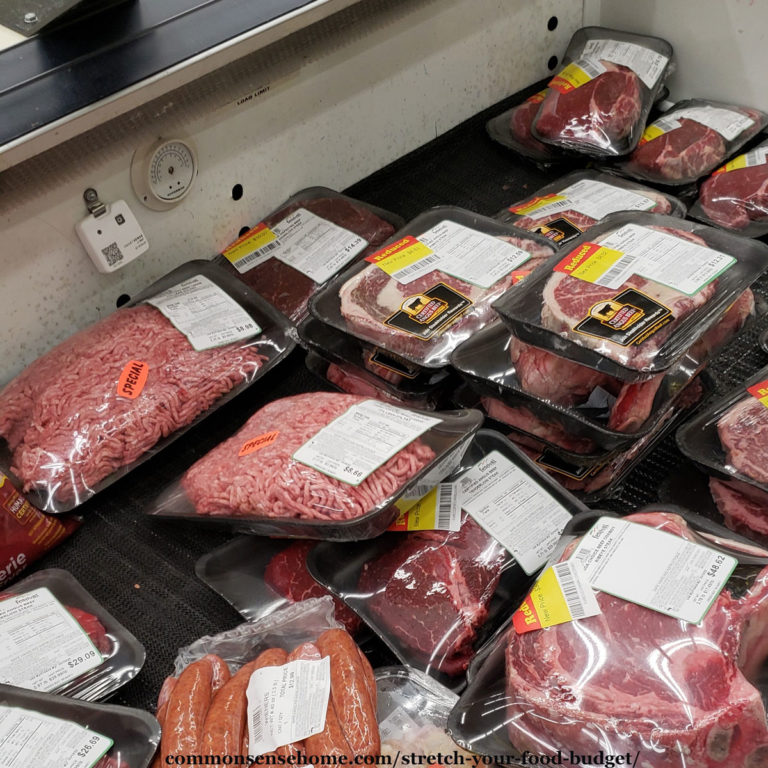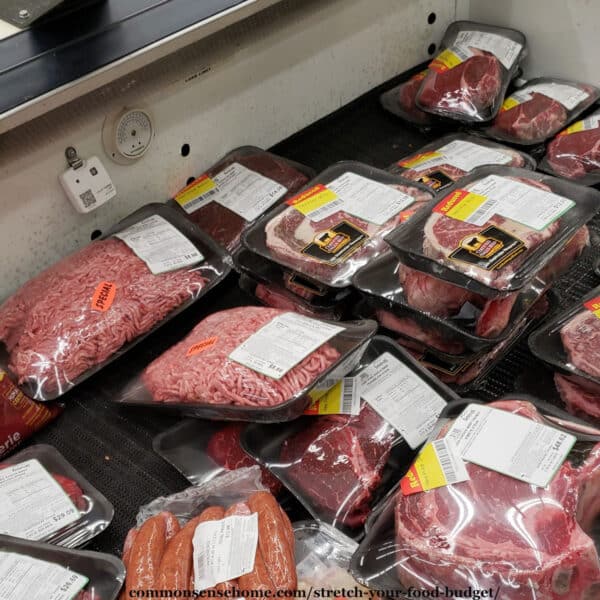 7. Choose cheaper cuts of meat, and alternative protein sources such as peanut butter or beans. Whole chickens are usually cheaper than chicken parts, or boneless skinless chicken.
8. Watch for "must sell" fruits and vegetables near the end of their shelf life. I have purchased many bags of brown bananas over the years. Slip the skins off and freeze them, and they're great for smoothies or banana bread.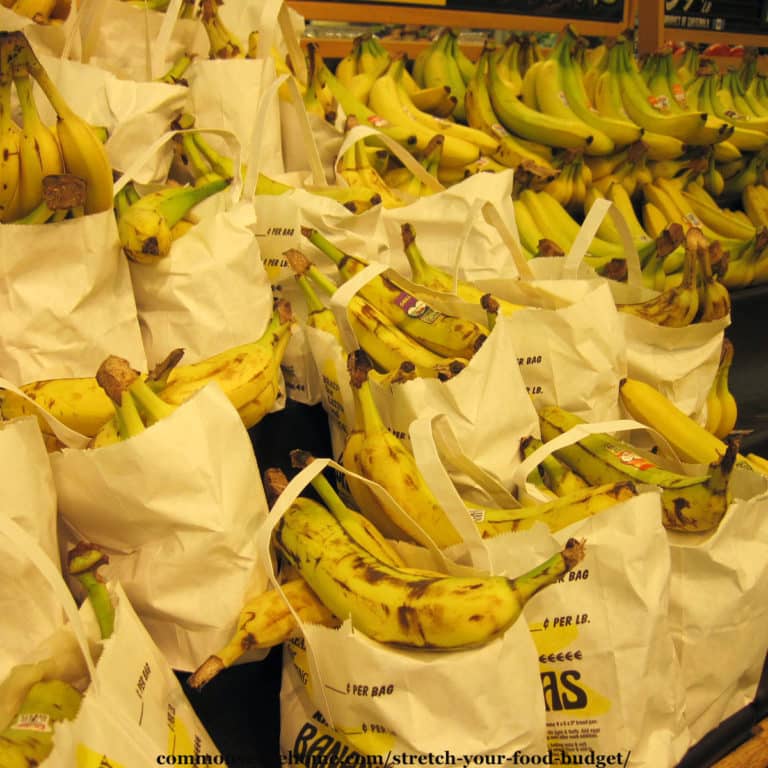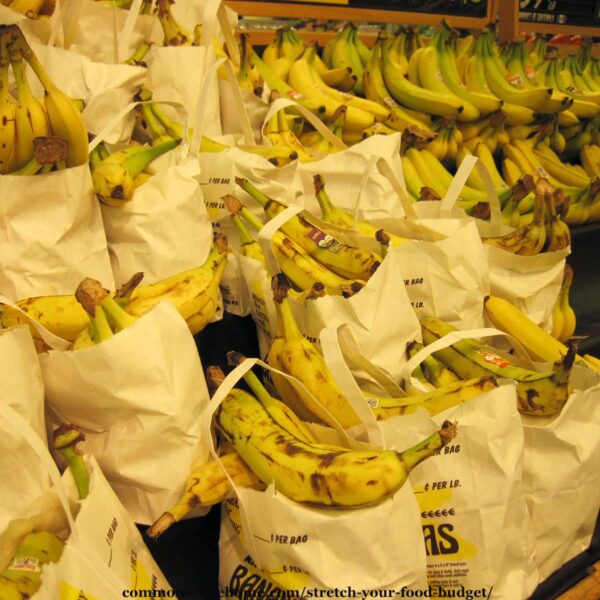 9. Buy fewer processed items and more raw ingredients. Example – whole carrots will likely be a better deal than baby carrots. A bag of potatoes provides more nutrition for the money than a bag of potato chips.
10. Buy block cheese and grate it at home. Block cheese is almost always cheaper then shredded cheese, and it keeps better and tastes better, too.
Don't Forget Food Storage
With inflation rates continuing to climb, it makes sense to buy non-perishable food items at today's prices to save money later.
11. Buy in bulk, and repack at home for serving or storage. Family and bulk sizes almost always cost less than single serving containers.
See "Best Non Perishable Foods (For Home Use or Donations)" and "Long Shelf Life Foods – What Lasts Best" for more information.
12. Look for ethnic markets to get great pricing on certain foods. Our local Asian markets have great bulk rice prices.
Stretch Your Food Budget Using Other Food Sources
13. Grow some of your own food. I've said it once and I'll keep saying it – if you can, plant a garden. We have LOTS of gardening articles on the site you help you get started, including:
14. Join a CSA or buy directly from local growers. If you really don't have time to garden or you have a black thumb, you can support people who do.
With a CSA arrangement, yYou pay up front so the farmer has money to cover expenses, and your price is locked in for the season. Some CSAs will offer a discount in exchange for help on the farm, or offer excess crops at a discount to CSA members.
When buying directly from local farmers, you can cut out the middle man. You can sometimes buy "seconds", fruit or veggies with minor blemished that are still fine for eating and preserving. We packed our home freeze dryer with apple seconds from a local orchard last fall.
15. Forage for wild edibles and unharvested surplus. There are many edible wild plants, and often folks with fruit trees will have more fruit than they can use. In our area, we sometimes have an opportunity to glean beets or carrots from fields after the harvesters have gone through.
Ask around your community, and look around on walks or when driving around. These foods are free for the picking (but always ask permission before gleaning).
You can learn more about edible wild plants on our Herbs and Wildcrafting page.
Reduce Food Waste
16. Make sure you're using as much of everything you grow and purchase as you possibly can. A great deal is not a great deal if food goes to waste. Avoiding food waste is a great way to stretch your food budget.
17. Plan meals that stretch leftovers into a whole new meal. For instance, have roast chicken one day, and then turn the leftovers into meals such as:
Dice up leftover beef roast, sauté onions and mushrooms, add beef broth and thickening, and you have beef tips and gravy. Serve it over rice, mashed potatoes, or noodles.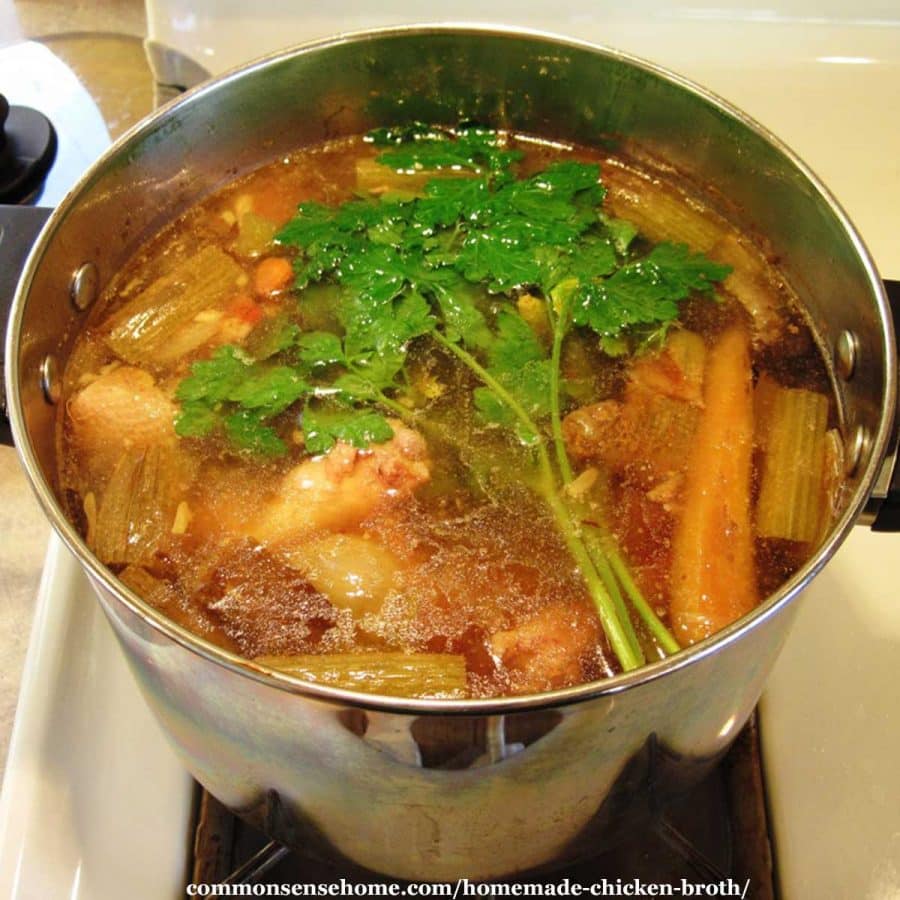 18, Save bones and vegetable scraps to make stock. If you don't have enough to cook up a batch right away, keep a small container in the freezer to collect them until you have enough.
19. Batch cook and freeze meals for busy days. You can do batch prepping, where you prep ingredients so they are ready to go into a slow cooker, or fully prepared meals ready to heat and eat.
Batch cooking makes it easier to use up fresh produce so it doesn't spoil. You can use the whole onion or whole head of cabbage instead of leaving half to roll around in the refrigerator.
20. Stretch your food budget by pairing meat with less expensive pantry items. Pair meat with pantry staples like rice and noodles, or spaghetti squash and cabbage.
My friend, Victoria, shares tips for stretching ground beef with:
Carrots
Celery
Cabbage
Mushrooms
Oats (cooked or uncooked)
Cooked Rice
Breadcrumbs
Lentils
Cooked Beans (any type)
Eggs (1 per pound of meat)
See her article "How to Stretch Ground Beef" for step by step instructions.
Eat Frugally Away from Home, Too
21. Pack lunches and/or snacks. It's almost always cheaper to do the cooking at home than to buy food at a restaurant or convenience store.
22. If you decide to eat out, drink water and skip dessert. Drinks and desserts tend to come with hefty price tags, especially mixed drinks and specialty desserts. Sticking to the basics and weekly specials will stretch your food budget.
23. Watch for money saving promotions. Keep an eye out for coupon specials, senior discounts, kids eat free, and any other promotional offers that fit your family.
More Budget Friendly Ideas
If you're ready to save some money and be more prepared, check out these articles:
Leave a comment and share your tips for saving money on food and other staples.