Homemade Deodorant Recipe Plus 8 Non-toxic Options for Less Stinky Armpits
Homemade deodorant recipes are a great alternative to standard deodorants. Regular deodorants can be pretty nasty. The aluminum and other chemicals in standard deodorant have been linked to breast cancer. Even the crystal deodorants (which I had been using recently) contain aluminum compounds.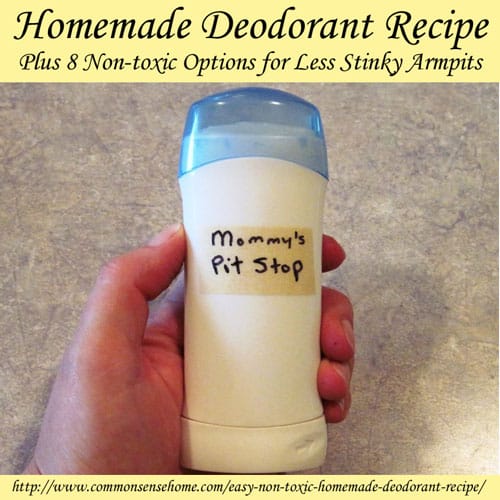 One study I saw recently indicated that the crystal deodorants may actually be more dangerous than regular deodorants. (This ticked me off when I read it, truly.) My grandmother battled breast cancer, and I lost my older sister to internal cancer, so I've been working to detox our home, diet and our personal care products.
I had seen a post over at Kitchen Stewardship a while back where she discussed how to make natural deodorant, and I decided to give it a go. Here's Katie's recipe:
Easy, Non-toxic Homemade Deodorant You Can Make At Home

Mix about 1/4 c. baking soda and 1/4 c. cornstarch or arrowroot starch in a small bowl. (Look for GMO free cornstarch.)

Add unrefined coconut oil, not melted, about a Tablespoon at a time, mashing with a fork until all the dry ingredients have been mixed in. I find it takes 4-6 Tablespoons.

Optional: If you'd like a scent, add a few drops of your favorite essential oil at this time.

You could use this mixture as is and apply with your fingertips, but it's pretty messy.

Best option: use an old deodorant container.
I used arrowroot powder because I had some on hand that had been in the cupboard a while, and 5 tablespoons of refined coconut oil. This first time around I skipped the scent, because my son was also using the same deodorant (yeah, maybe that's a little gross, but at least he's using deodorant, musty little monkey that he is).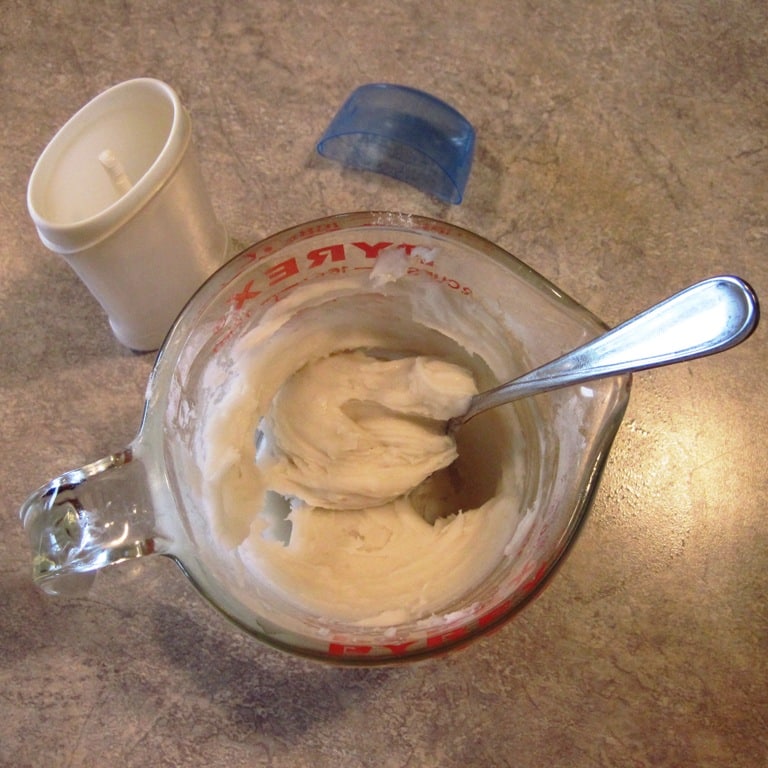 The mixing was easy. The trickiest part of the whole process was loading it in the tube. When I do it again, I may load it into a pastry bag and just squirt it right into the container. After all, every ingredient is food grade, right?
Everyone's been asking how well it works, and from what I've tried so far, pretty well overall, at least as good or better than most deodorants I've tried, "natural" or otherwise. It may stain light colored clothes because of the oil (I didn't run into this, but others have). You can use cornstarch or arrowroot or both – whatever works for you – and adjust the ratios a bit if any of it irritates your skin. I found it to be less irritating than many commercial deodorants I had tried in the past (it really didn't bother me at all, rubbing it on was a tiny bit scratchy). I do shave my armpits regularly, and did not have any problems with shaving irritation using this deodorant.
I'm gonna confess now that I haven't been using this during the worst of the summer heat. Not because I switched back to regular deodorant, but because I'm trying a little experiment. Katie did an update on her deodorant post in which she reviewed a product called Herbalix Deodorant. It really seemed to me that she didn't give the company a fair shake, and it bothered me.
I personally felt that I wanted to try a detox type product, since my mom had to have inflamed/clogged lymph nodes removed from under her arm when she wasn't all that much older than I am now, and I had a weird rash pop up on my knees recently. I contacted Herbalix and said that I would like to take their detox challenge and blog about it, and they looked over the blog and gave me a thumbs up. (They even sent mini samples for the boys to try. The boys were so tickled to try their own very special deodorant. It was pretty funny – you'd think when that box was opened and they saw the deodorant that it was some sort of much coveted video game.) I'm in my third week of detox, and haven't run into the problems that Katie did.
Yes, I have been stinky at times, but a quick scrub under the armpits with a wet washcloth in lieu of a shower does the trick (if I don't have time to shower in the morning). Everyone I've had smell the deodorant (all the scents) finds them pleasant. (I had my real food class gals do some sniff testing, and the boys said theirs "smelled like cinnamon" and "smelled like baked goods – it's making me hungry!")
The rash on my knees has cleared up (I had treated it with a variety of topical treatments, including kombucha, but nothing cleared it up entirely). Mike from Herbalix suspected that I might have some lymph blockages in my legs causing toxins to back up and reroute around my knees, causing visible inflammation, so he suggested I put the detox deodorant on my feet at night as well as my armpits. It worked! 🙂 I've also dropped a couple more pounds, which could just be a happy coincidence, but I'm pleased with it anyway.
I'll do my official review in a couple of weeks (see the review here), but I just thought I'd let you all know what was going on. If you want to learn more about all the nasty stuff commonly found in deodorants and other cosmetics, visit the Herbalix site and scroll down to the bottom of the page to the "Knowledge Center". I've been more than impressed with the depth of knowledge these people have.
As Liz and I discussed their product and the health concerns I wanted to address, she sent me a TON of information from independent studies showing just how detrimental standard cosmetics are, and how Herbalix is different. I'm fairly well read on the subject, but there was a lot of information I had never seen before. (What can I say? I dig smart people who are uber-researchers like myself.) Full disclosure – they sent me free product samples for my review, but my opinions are my own (lol – anyone who's been reading my posts for a while knows that I have a lot of them 😉 ). Read my review of the Herbalix deodorant here.
Other Homemade Deodorant Recipes/Less Toxic Options for Odor Control
*Update: I'm still using the Herbalix products, but if you're looking for some other homemade/less toxic deodorant options, you may want to consider:
Homemade Probiotic Deodorant by Frugally Sustainable
Using Milk of Magnesia as a Deodorant, as discussed at Whole Natural Life
Rubbing a slice of lemon under the armpit to kill odor causing bacteria (don't use this on freshly shaved armpits!)  My friend, Mary Jean, likes this option.
A spritz of rubbing alcohol, with or without a drop or two of essential oil and/or witch hazel added (again, not a good one to used on freshly shaved armpits).
Baking soda or cornstarch alone applied with a powder puff under the arm
Plain coconut oil rubbed in the armpit area – use sparingly and let sit a bit before getting dressed to give the oil a chance to absorb and reduce the chance of staining. Coconut oil is antibacterial and antifungal.
Kristan M. suggests,  "It's as simple as all get out (and I sweat like a butcher)- 1/3 c. organic corn starch. 1/3 c. baking soda. Add seven drops of tea tree oil. Put it in one of those funny looking flat 1-cup Mason jars, and shake it! Apply after showering/bathing with a blush pad."
Eating some sprouted fenugreek seeds in your salad. Just a small amount per day will make your armpits smell like maple syrup. 🙂  My teenage son was very impressed with this effect.
Excessive underarm odor can be a sign of magnesium deficiency.  (Read The Magnesium Miracle for more detailed information, or take a look at this post on Cheeseslave for a brief overview.) If you do find that you have very strong body odor, you may want to consider detox, dietary changes and Peter Gillhams Natural Vitality Natural Calm, Raspberry Lemon Flavor 16 oz. magnesium supplementation over industrial duty deodorant. Also, diet in general will strongly influence body odor.
So what's under your arms? Leave a comment below to share your tips or leave a link to your own personal cosmetic recipes.
Thanks for stopping in for a visit, and please share the post if you feel so inclined.
You may also find the following posts useful: