Dandelion Wine Fruitcake – Fruitcake That Actually Tastes Good!
I have been asked a number of times if you can make a fruitcake from the discarded fruit leftover from dandelion wine making. People just hate to throw it out. I can now confirm that, yes, you can make dandelion wine fruitcake – and it tastes pretty good.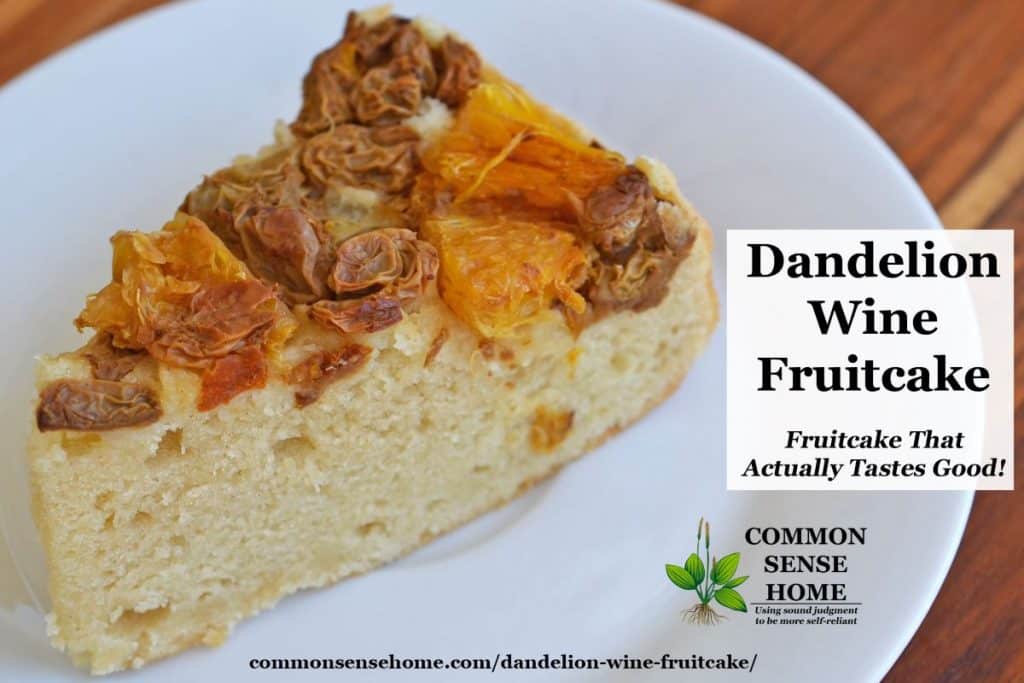 My brother gave it a thumbs up and said it was some of the best fruitcake he ever tasted. The boys were more lukewarm in their reception. They could still taste too much of the wine, and they don't care for the flavor of wine.
First, if you want to try this recipe, you need to make a batch of homemade dandelion wine. (Fruit strained from other homemade wine making forays is likely to work, too.)
When you strain the fruit out of the wine, set it aside for this recipe. It'll keep easily in the refrigerator for several weeks, if needed, because of the alcohol content. Think along the lines of "brandied cherries", except in this case we have a wine soaked citrus and raisin medley. So, without further ado – dandelion wine fruitcake.
Dandelion Wine Fruitcake Recipe
Ingredients
2 cups of fruit mash from wine making
1 1/4 cup sugar
1/3 cup butter, softened
1 egg
1 teaspoon vanilla extract (homemade vanilla extract is great if you have it)
1/2 teaspoon lemon extract (optional)
2 cups flour (a gluten free blend such as Namaste will work)
1 teaspoon salt
2 1/2 teaspoon baking powder
1 cup milk
Directions
Preheat oven to 350F. Prepare a nine inch round, nine inch square or 11×7 pan by greasing, flouring and putting a piece of parchment paper in the bottom. Spread fruit mash into bottom of pan.
In a medium bowl, cream together butter and sugar. Mix in egg, vanilla and lemon extract (if desired).
Mix flour, salt and baking powder in a small bowl. Add dry ingredients to butter mix, alternating with milk, stirring well after each addition, until all ingredients have been added to the batter.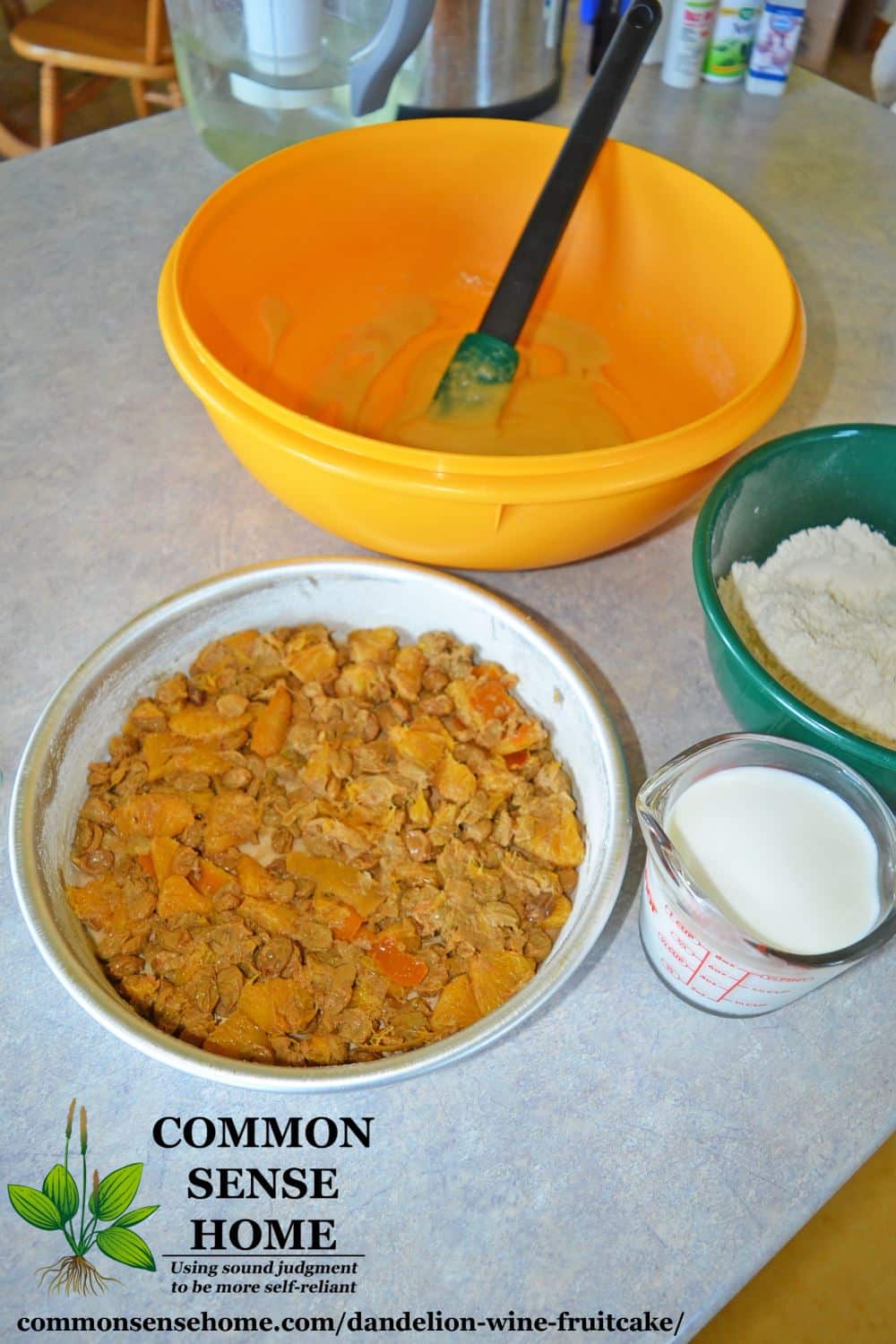 Pour batter over fruit in pan. Bake for 30 to 35 minutes, until center tests clean with a toothpick. (Gluten free flour blends will likely require at least 10-15 minutes additional baking time.)
Remove from oven and invert onto serving platter. Serve warm or at room temp. Refrigerate leftovers for up to one week.
Print
Dandelion Wine Fruitcake
A fun and easy way to use up the leftover fruit mash from homemade wine making.
2 cups

of fruit mash from wine making

1 1/4 cup

sugar

1/3 cup

butter, softened

1

egg

1 teaspoon

vanilla

1/2 teaspoon

lemon extract (optional)

2 cups

flour (a glu

ten

free blend such as Namaste will work)

1 teaspoon

salt

2 1/2 teaspoon

baking powder

1 cup

milk
Preheat oven to 350F. Prepare a nine inch round, nine inch square or 11×7 pan by greasing, flouring and putting a piece of parchment paper in the bottom. Spread fruit mash into bottom of pan.
In a medium bowl, cream together butter and sugar. Mix in egg, vanilla and lemon extract (if desired).
Mix flour, salt and baking powder in a small bowl. Add dry ingredients to butter mix, alternating with milk, stirring well after each addition, until all ingredients have been added to the batter.
Pour batter over fruit in pan. Bake for 30 to 35 minutes, until center tests clean with a toothpick. (Gluten free flour blends will likely require at least 10-15 minutes additional baking time.)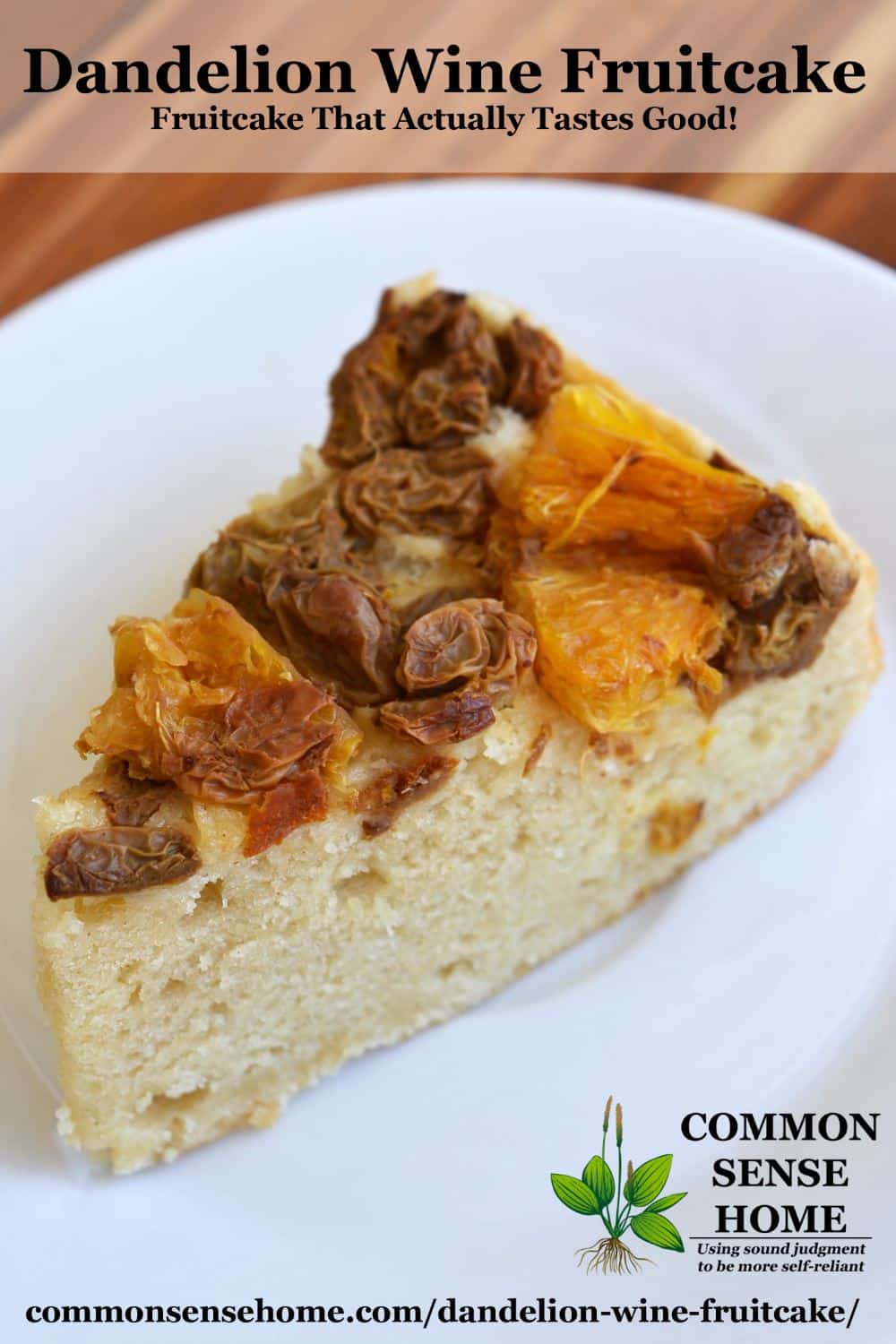 You may also enjoy: