5 Awesome Apple Dip Recipes – Caramel, Chocolate, Nuts and Cheese
One of my favorite things about fall is apple harvest – and apple dip! The thing is, last year I grabbed a container of caramel dip at the orchard without looking at the ingredients.
When we got home, popped the dip container open and tasted it, I knew I had made a big mistake. It tasted like chemical preservatives and the texture was awful.
The ingredient list took up one side of the container, and most of it was things that were hard to pronounce. We ended up tossing it.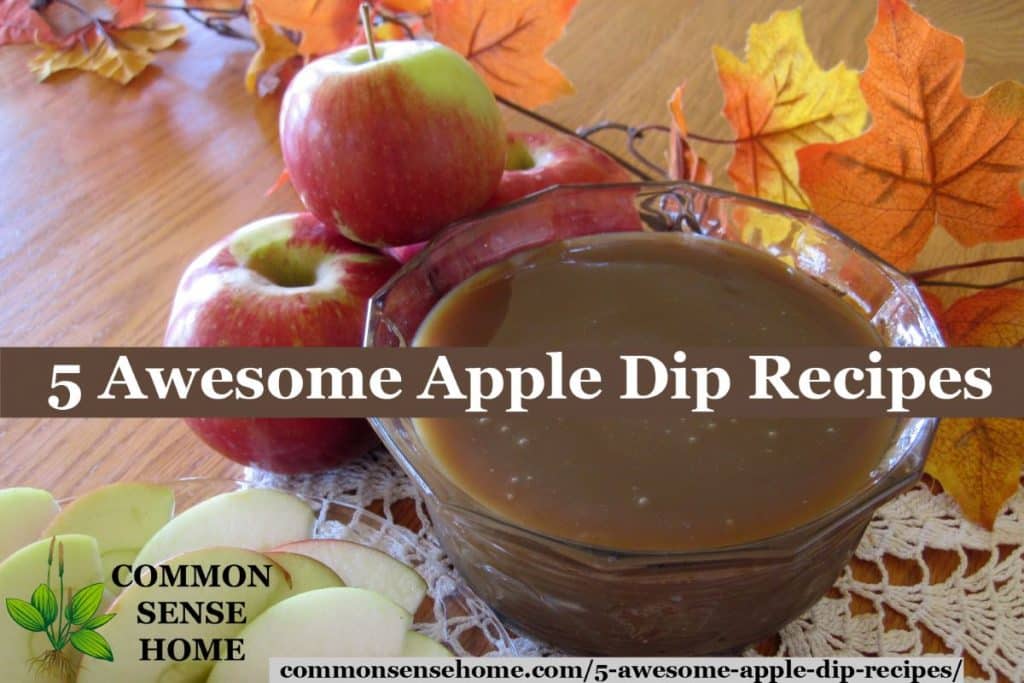 This year I'm prepared! I raided my old recipe books and did some experimenting in the kitchen, and have put together five great apple dip recipes to share with you.
We have Classic Caramel Apple Dip, Chocolate Almond, Maple Bacon, Walnut Ricotta Cream, and Pistachio and Blue Cheese.
These are great for snacking or entertaining – heck, you could even add a few more dippers and make a full meal out of dips. Since everything can be prepped ahead, this would be a great option for holiday entertaining.
So, without further ado, let's get to the apple dip recipe goodness! No chemicals, high fructose corn syrup or hard to pronounce ingredients allowed!
Note: To keep your apples from browning, dip them in lemon juice after slicing.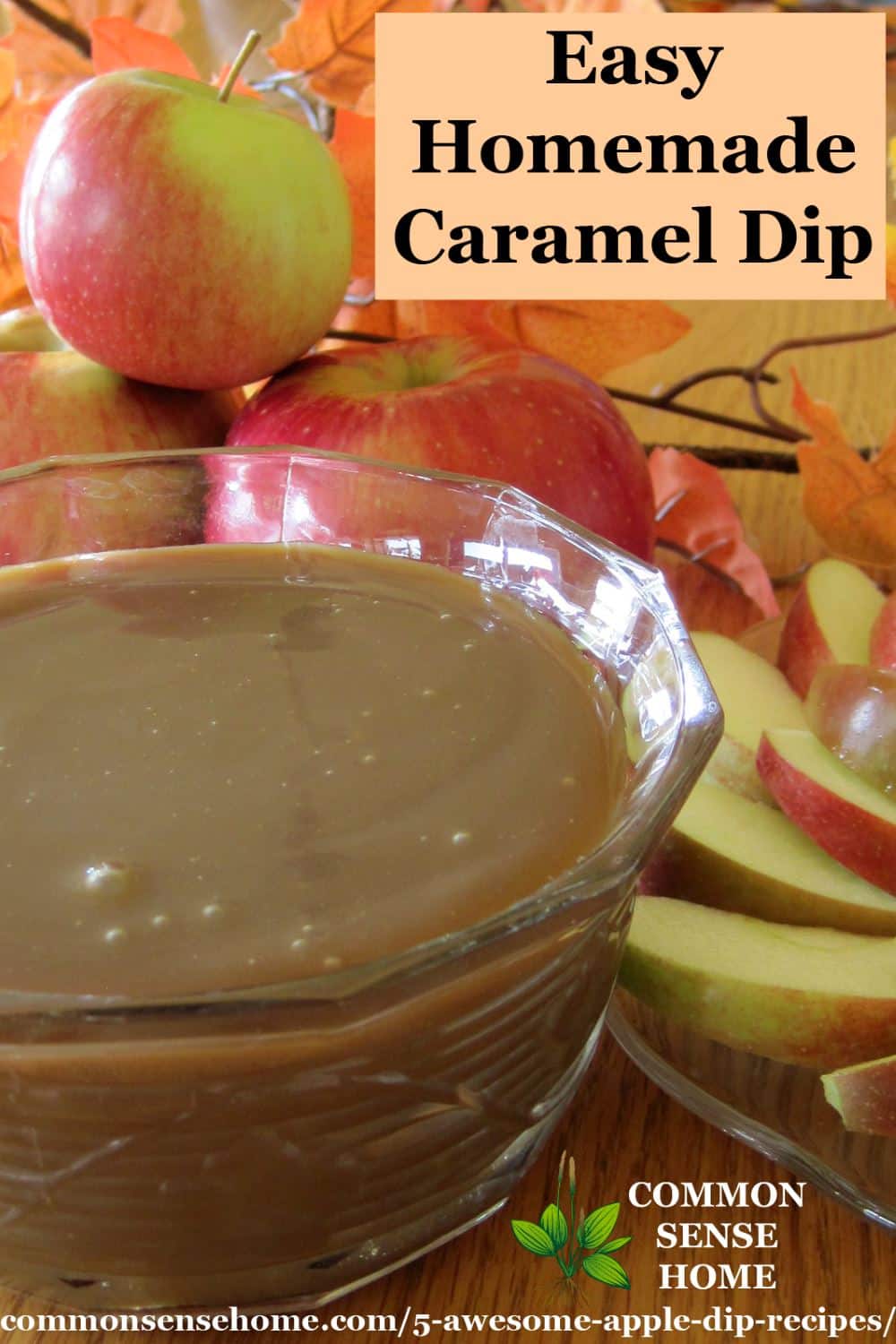 Print
Homemade Caramel Apple Dip
1

egg

1 cup

whipping cream

2 cups

light brown sugar

2 tablespoons

butter
Break egg into a double boiler or heavy bottom saucepan, whisk lightly. Add remaining ingredients.
Cook on medium heat, whisking frequently until mixture starts to bubble. Cook for a few minutes, whisking constantly, until thick. Do not boil at high heat or you are likely to overcook your egg and cream.
Pour into a heat proof container (I use pyrex); cover and refrigerate. Mixture will thicken more as it cools.
Notes
Makes around 2 1/2 cups. Keeps for about a week in the fridge. Also goes well with other firm fresh fruits such as pears or not too ripe bananas, and makes an excellent ice cream topping.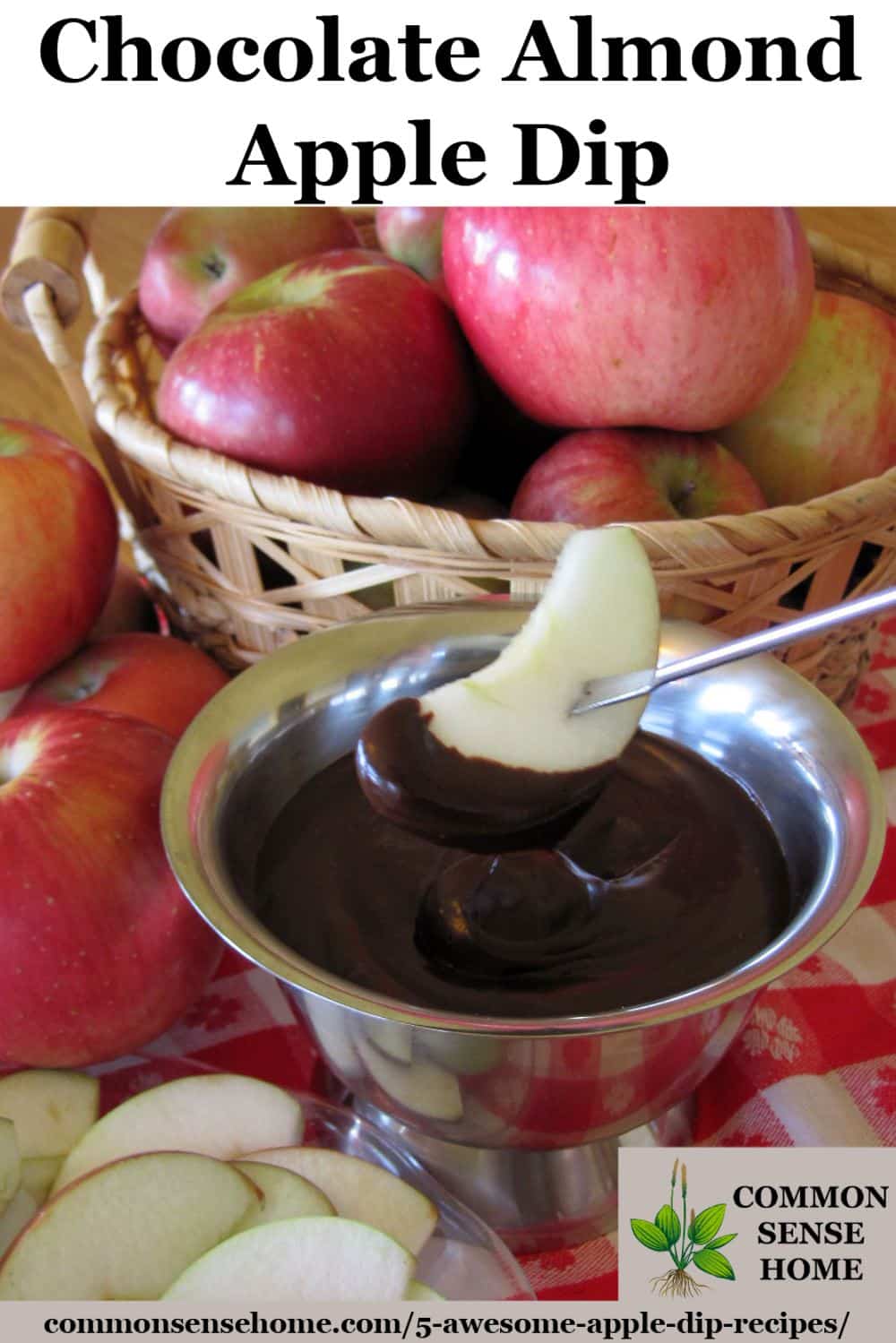 Print
Chocolate Almond Apple Dip
Note: This dip recipe should be served warm, as it will stiffen up when chilled.
Place chocolate, cream and butter into a heavy bottom sauce pan. Melt together on low heat, stirring frequently, until everything is melted and well blended.
Add extracts and mix well. Serve in a fondue pot or hot right from the stove. Makes about 1 1/2 cup. Store in the refrigerator for up to one week.
Notes
Recipe can easily be doubled or quadrupled for a crowd. Also goes well with nut halves, marshmallows, pound cake, shortbread cookies, bananas and other fresh fruit. Simply decadent over ice cream.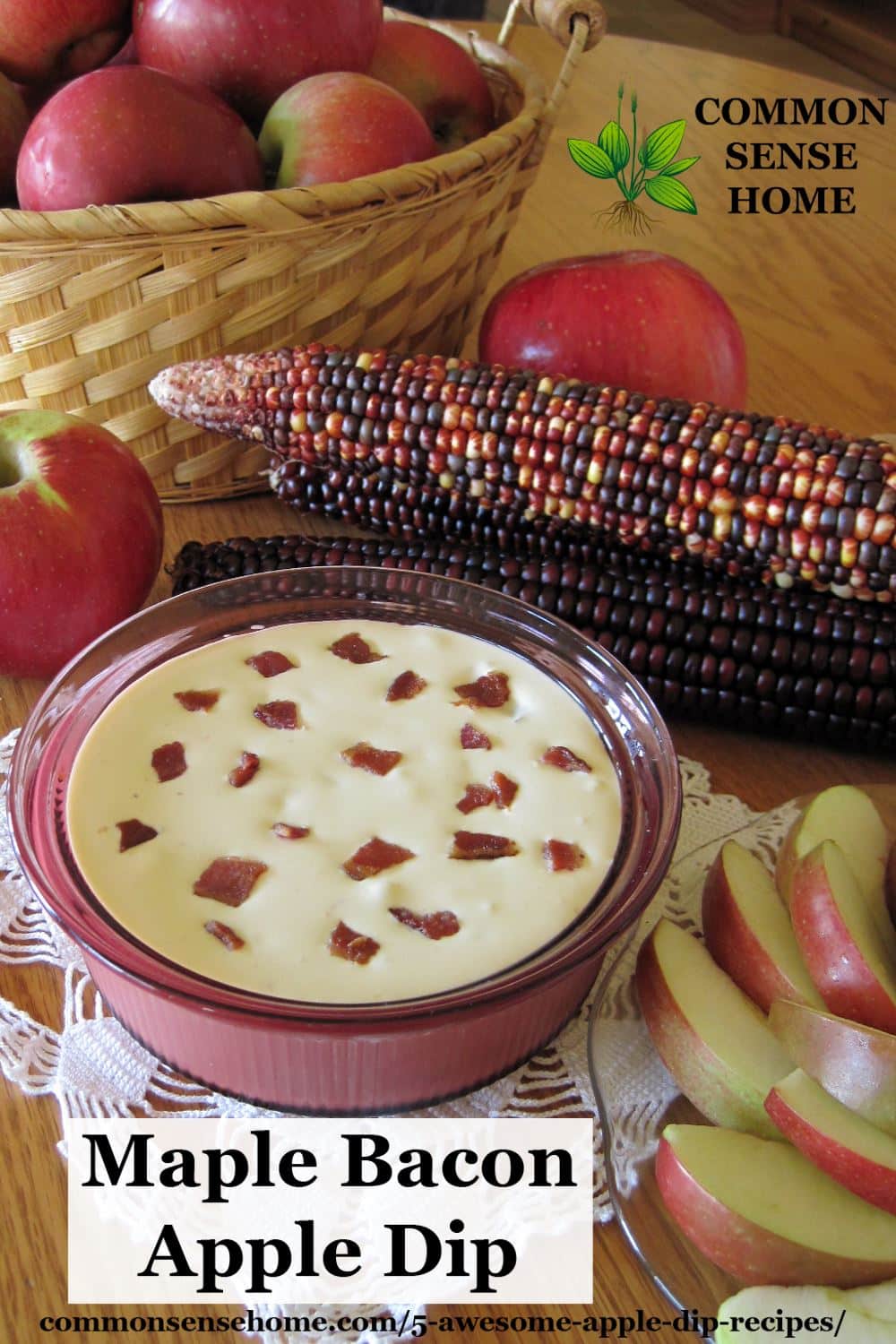 Print
Maple Bacon Apple Dip
One

8

-ounce package cream cheese, softened

1/2 cup

sour cream

2

–

4

tablespoons maple syrup

2

–

3

strips bacon, cooked and finely crumbled or chopped
This one is best whipped up in a stand mixer or food processor to make sure it gets nice and fluffy, although if you don't have either you can mix by hand – just make sure your cream cheese is soft.
In a stand mixer bowl or food processor, whip together cream cheese and sour cream. Scrape down sides of bowl and make sure they are evenly blended. Add 2 tablespoons maple syrup. Blend well. Taste. Add more if you like a sweeter dip.
Blend in crumbled bacon, reserving a small amount for garnish if desired. Refrigerate and use within one week. Makes about 2 cups.
Notes
This one would work great with apples and pears, hard bread sticks or pretzels, and possibly celery and kohlrabi strips, depending on your flavor preferences.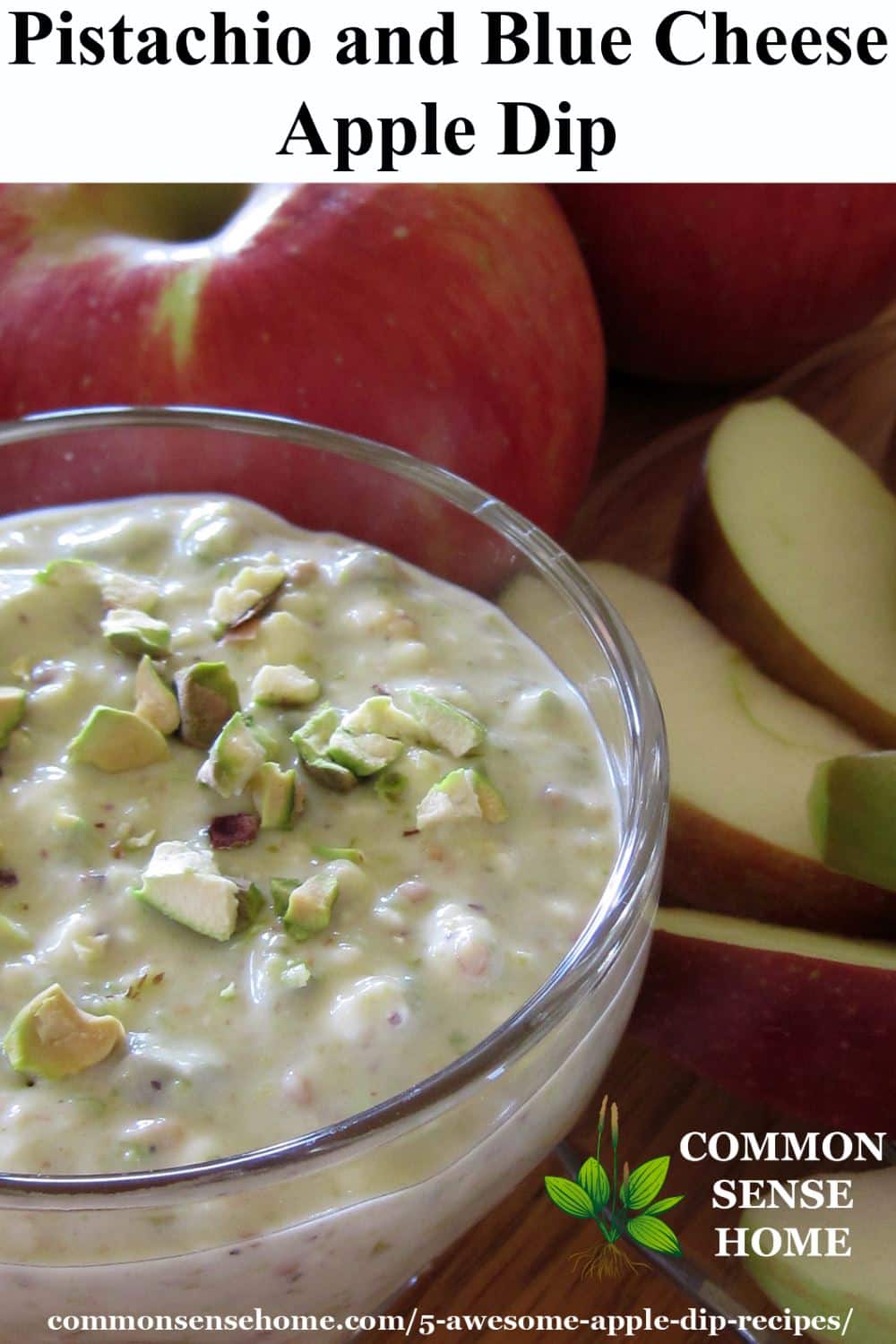 Print
Pistachio and Blue Cheese Apple Dip
4 ounces

blue cheese (crumbled is fine, since it ends up crumbled in the dip)

2/3 cup

plain yogurt (

6 ounce

container)

2 tablespoons

milk

3 ounces

pistachios
Freshly ground black pepper
Dash of salt
Add blue cheese to a medium bowl. Crumble finely with the back of a fork if needed. Stir in yogurt and milk and mix until well blended.
Shell pistachios. Rub off any excess husk/skin. Coarsely chop the nuts. Set aside a few for garnish, if desired. Mix the rest of the pistachios with the blue cheese blend. Place in storage container, cover and chill.
Notes
To serve, place dip in serving dish and garnish with reserved pistachios. Also goes well with veggies, slices of homemade French bread or pita bread. Makes a delicious and unique baked potato topping.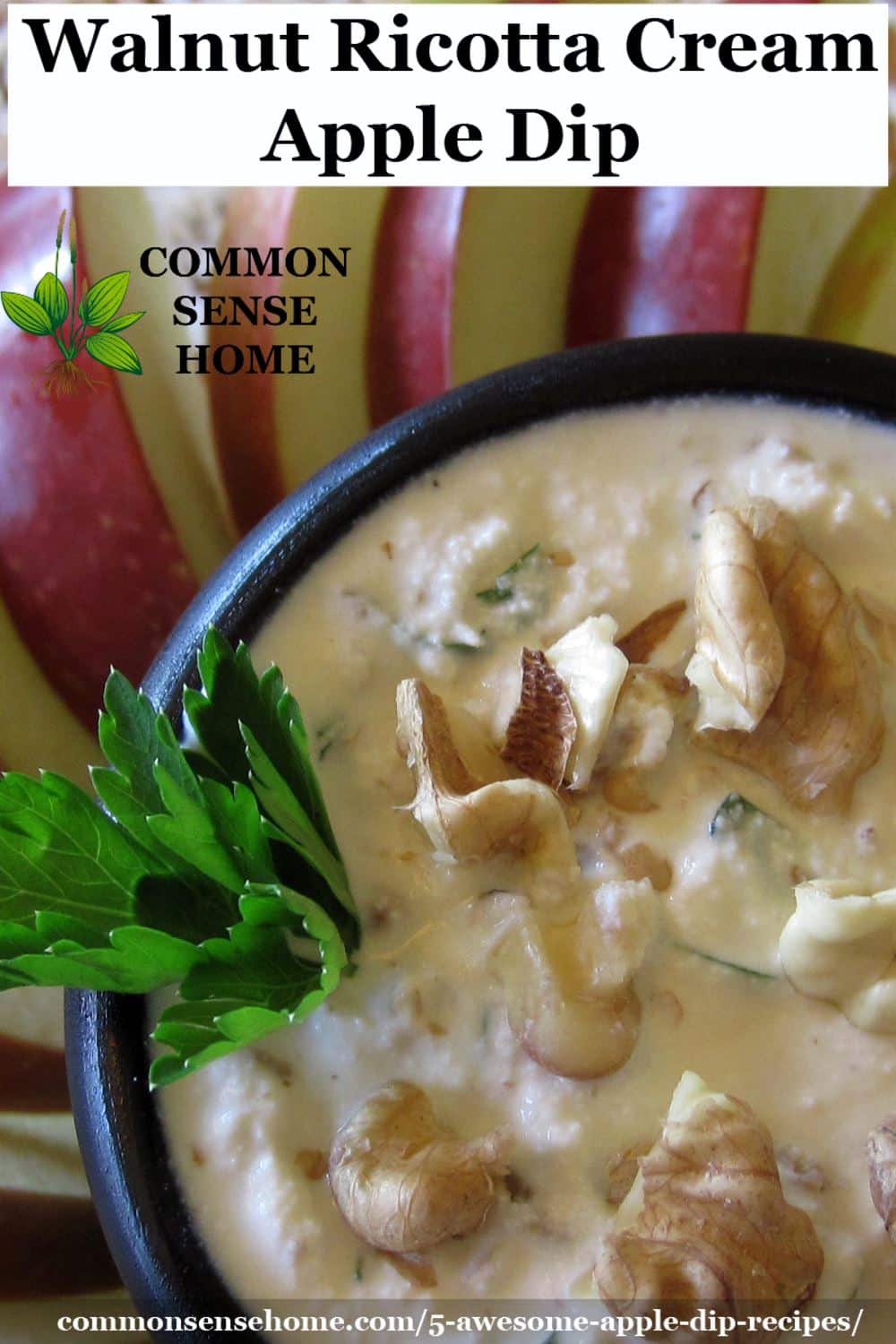 Print
Walnut Ricotta Cream Apple Dip
9 ounces

ricotta

5 tablespoons

heavy cream

1/2 cup

chopped walnuts, chopped

4 tablespoons

fresh parsley, finely chopped
Freshly ground black pepper
Dash of salt
Mix ricotta and heavy cream in a medium bowl until well blended. Stir in the chopped walnuts, reserving a few for garnish if desired. Mix in the parsley. Add salt and pepper to taste. Cover and chill. Use within one week.
Notes
To serve, place in serving bowl and garnish with reserved walnuts. Would also go well with veggies, bite sized bagel pieces or slices of homemade French bread or pita bread. Makes an excellent baked potato topper!
Now you never have to "make do" with another sub par apple dip. Don't forget to Share, Stumble or Pin. 🙂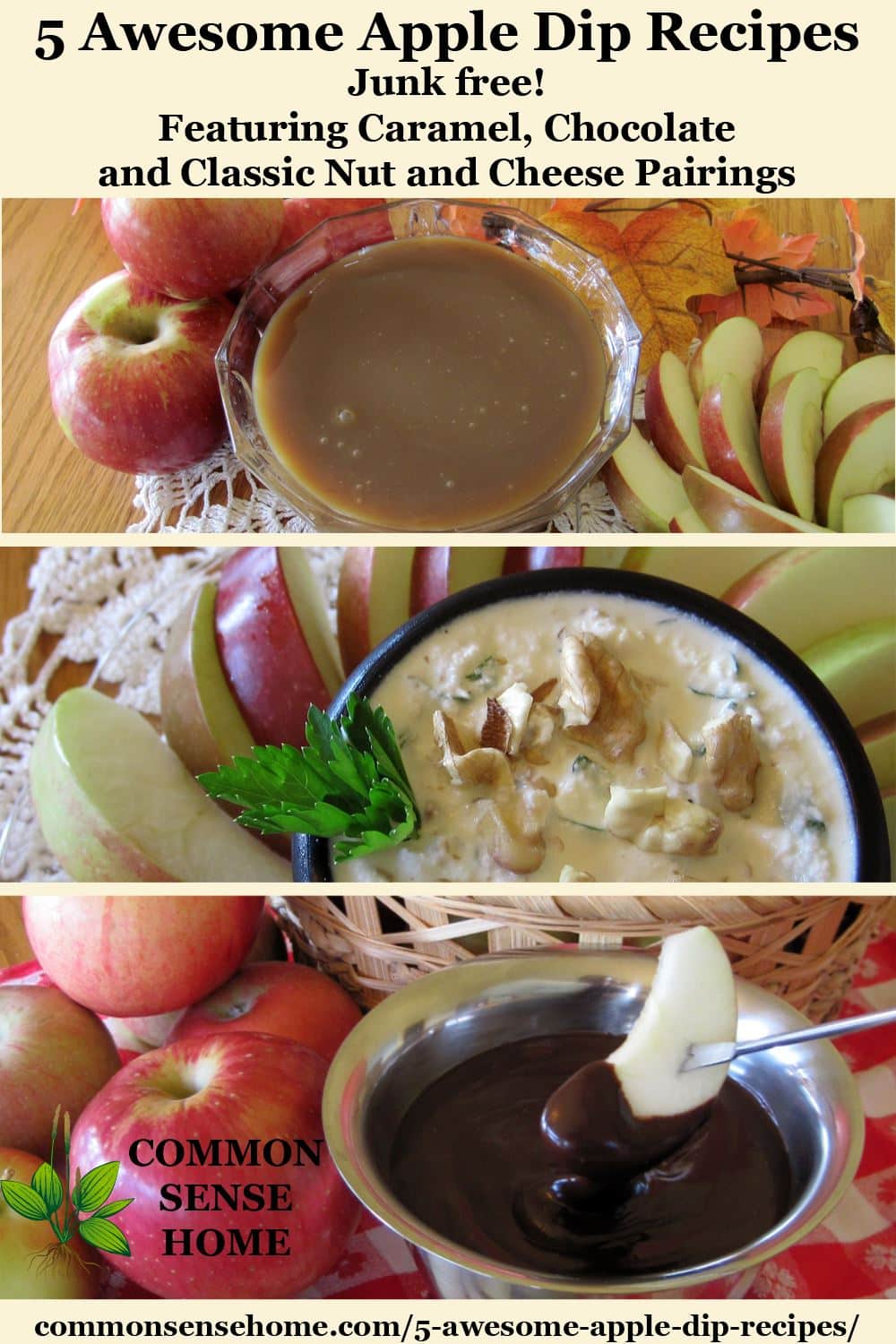 You may also enjoy:
Originally published in 2013, updated in 2016.