Build Your Own Walk In Cooler with a CoolBot Controller and A/C Unit
This is a guest post by Amber Bradshaw.
You can build your own walk in cooler for produce storage at just a fraction of the cost of commercial coolers. A CoolBot and a regular household window A/C unit lets you turn any well insulated room into a walk-in cooler. Instead of paying big money for a small commercial walk in cooler, you can save thousands with this DIY cooler option.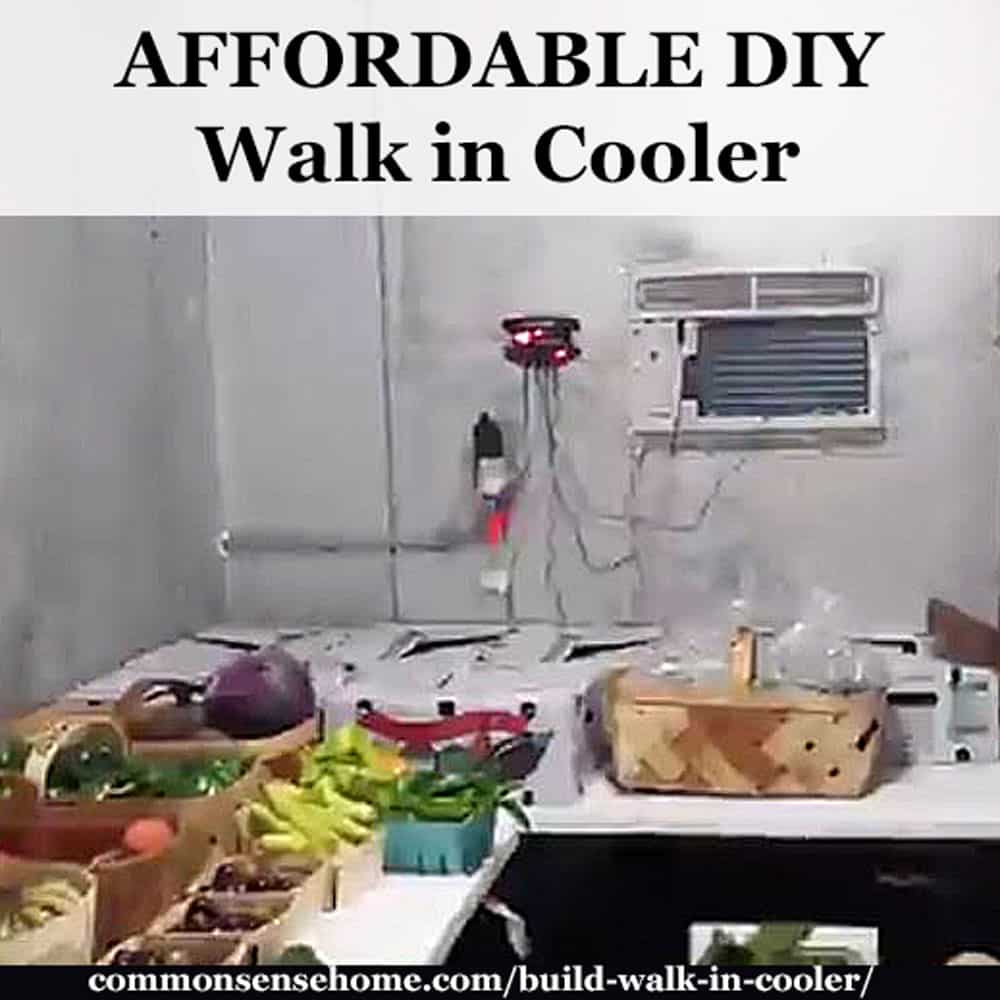 What's a Coolbot?
A CoolBot it a small (roughly hand sized) controller that allows you to use a standard window AC to produce temps in the upper 30s (°F) – great for walk in coolers. From the CoolBot website:
The CoolBot uses multiple sensors, a heating element and a programmed micro-controller to direct your air conditioner's compressor to operate in a such a way to cool the room to 36°F without ever freezing up. Additionally, our innovative interface which links the CoolBot controller to your air conditioner allows for 5 minute installations without any training, cutting, soldering or even taping.
CoolBot walk in coolers are perfect for: hunters, farmers, cheese makers, homesteaders, brewers, preppers, dairies, taxidermy, or those who want additional food storage.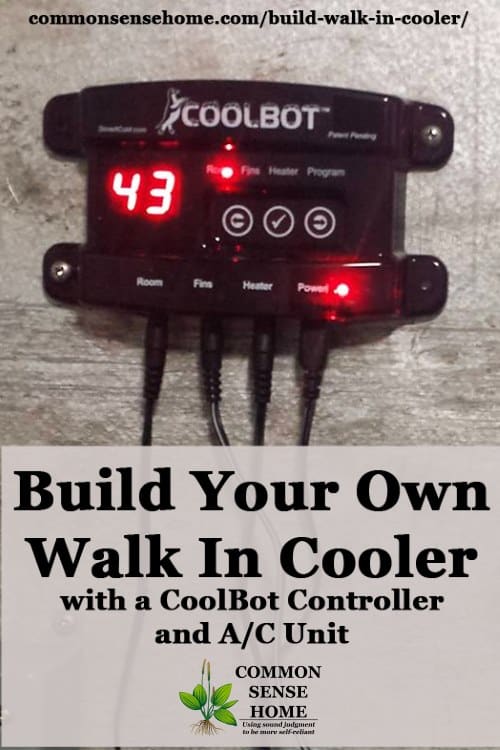 Why Build a Walk In Cooler?
I run a produce delivery service and was struggling to hold my produce. We quickly ran out of space in our traditional refrigerators, and I had a hard time controlling the temperature. Some produce would freeze and some would spoil quickly due to temperature irregularities. I was losing hundreds of dollars in inventory weekly.
A friend of mine that is a farmer and owns a local nursery recommended a product called a CoolBot. Her husband turned their storage shed into a walk-in cooler by adding a Coolbot to their window unit and double insulating the walls. After some research, we decided to add a cooler to a room in our garage.
Which Insulation is Best for a Walk In Cooler?
Standard fiberglass insulation
Fiberglass insulation proved to be the least initial expense. You would need to double it to create the recommended R-25 value (like my friend did). The down side is condensation buildup. You'll need to replace the insulation every five years or so, because it will get wet and mold over time. If you need a walk in cooler for 5 years or less, this would be the cheapest option.
Blown Insulation and Foam Insulation
Blown and Foam insulation is easy to install and works well with existing rooms. Unfortunately, it doesn't provide the needed R-Value (25 or greater), and is susceptible to the same condensation and mold buildup as fiberglass insulation.
Polystyrene
Polystyrene is the best insulation to use for cooler applications. It's what they use for commercial coolers. The down side it is hard to find and not cost effective to ship.
After much research and pricing all the options, we decided to look into used walk-in coolers. Much to our surprise, we were easily able to find a local (within a 2 hour drive) contractor that removed equipment from restaurants and grocery stores and had used walk-in coolers for sale. We bought an 8×9 Walk-In Cooler that included all the side panels, ceiling, and enough extra panels to make a door, all for $300.00.
We decided to use a room inside of our garage that hubby graciously gave up for us to install our cooler. This location was perfect because:
it had a concrete floor (best recommended flooring)
there was a power source
the a/c unit would be protected from elements and out of the sun
the garage would add to the efficiency and longevity to the cooler
Because we did have to prefab a lot of the interlocking panels to fit our space, custom build and modify a door, and run electricity to the cooler, I would give this DIY project a 4 out of 5 for carpentry skill level. If you converted an existing shed or room with electricity into a cooler using insulation and sheathing, then moderate carpentry skills could easily accomplish this project.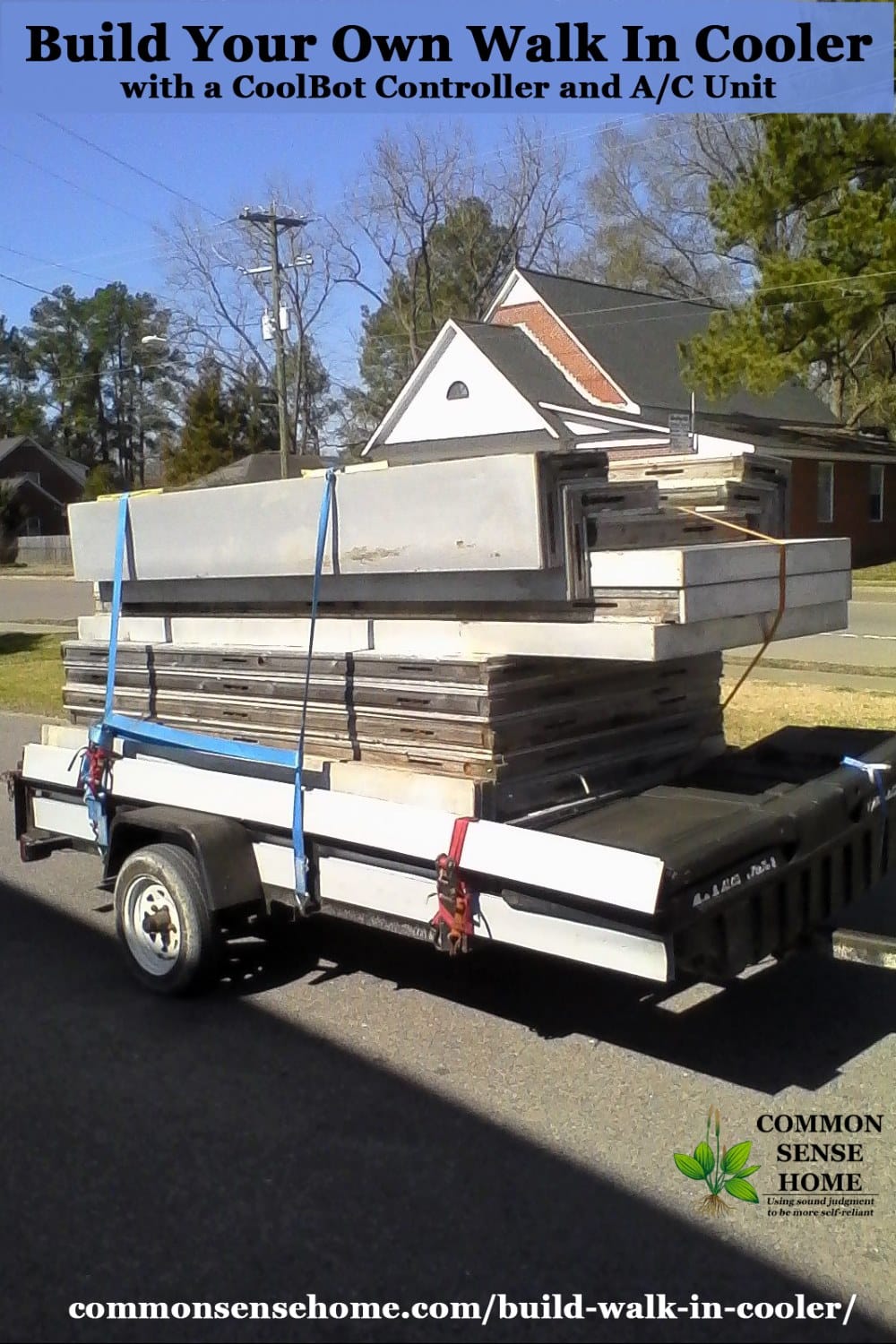 Which AC Unit Should I Use with a CoolBot?
After building the rest of the walk in cooler, we added our window unit. The size of A/C you need will depend on the size of your room.
Size of Air-Conditioner => Dimensions of the Walk-In Cooler
10,000 BTU = 6′ x 8′ x 8′
12,000 BTU = 8′ x 8′ x 8′
15,000 BTU = 8′ x 10′ x 8′
18,000 BTU = 8′ x 12′ x 8′
24,000 BTU = 10′ x 14′ x 8′
You have to have an A/C Model with a digital display, because the Coolbot will not function properly without this feature. See "CoolBot AC Unit Size and Brand Recommendations" for more information.
Once you have your room or cooler well insulated and your window A/C in place you can install your CoolBot to create your walk in cooler.
How to Connect Your AC Unit and CoolBot for Your Walk In Cooler
Installing a CoolBot with your Window A/C (from storeitcold.com):
Install any brand of window A/C unit which you've purchased separately. (See our A/C Selection Guide to make sure you have the right air conditioner for your space). Cut an appropriate-sized hole in the wall of your walk-in cooler, put the A/C unit into the hole, and then use some type of insulation, like foam sleeves for pipes, so that you can easily remove the A/C instead of having to carve it out in case you switch A/Cs in the future.

Plug the CoolBot into a standard outlet – the CoolBot uses no more electricity than a cell-phone charger, so no special electrical connections are needed.
Wiring
There are three labeled wires coming out of the CoolBot:
The first (labeled "Room") measures the temperature of the room. Let it hang free, but make sure it is not making contact with any metal and not in the direct pathway of the cold air coming from the A/C.
The second wire (labeled "FIN Sensor") is placed into the front cooling fins of the A/C unit. Gently place the sensor as low as possible, but ABOVE the first horizontal cooling tube. Use a pen or pencil to widen a space 1-2 inches up from the bottom and put the fin sensor 1/3 of an inch in so it is not touching the coolant pipes behind them. It should stay there on its own. No tape or screws. You may need to gently pinch the fins closed around the sensor, but be careful not to damage the sensor.
The third wire (labeled "Heater") attaches to the A/C's temperature sensor. The temperature sensor actually comes out of the A/C; on a new A/C the temperature sensor will be mounted on small plastic brackets in front of the fins. Wrap the CoolBot "Heater" wire up with that air-conditioner temperature sensor using a small 1/2 inch by 1 inch piece of aluminum foil (included) to ensure a good thermal connection. Allow this foil pack to hang freely away from any metal and out of the direct pathway of cold air.
The CoolBot comes pre-programmed to cool your room down to 42°F (5.6°C), however, you can set it to whatever temperature you want.
Does the CoolBot Cooler Work?
Almost one year after installation, and I can't say enough about this product. It allowed me to expand our CSA business, increased our food storage capabilities, and – as an unexpected bonus – our walk-in cooler doubled as a shelter during a hurricane.
We recently went through Hurricane Matthew here on the coast of South Carolina and we were not able to evacuate in time. Our family took shelter in our cooler as the eye of the storm and heaviest winds passed over us. With the reinforced walls, concrete foundation and sound structure, it was the perfect safe haven for us to weather out the storm.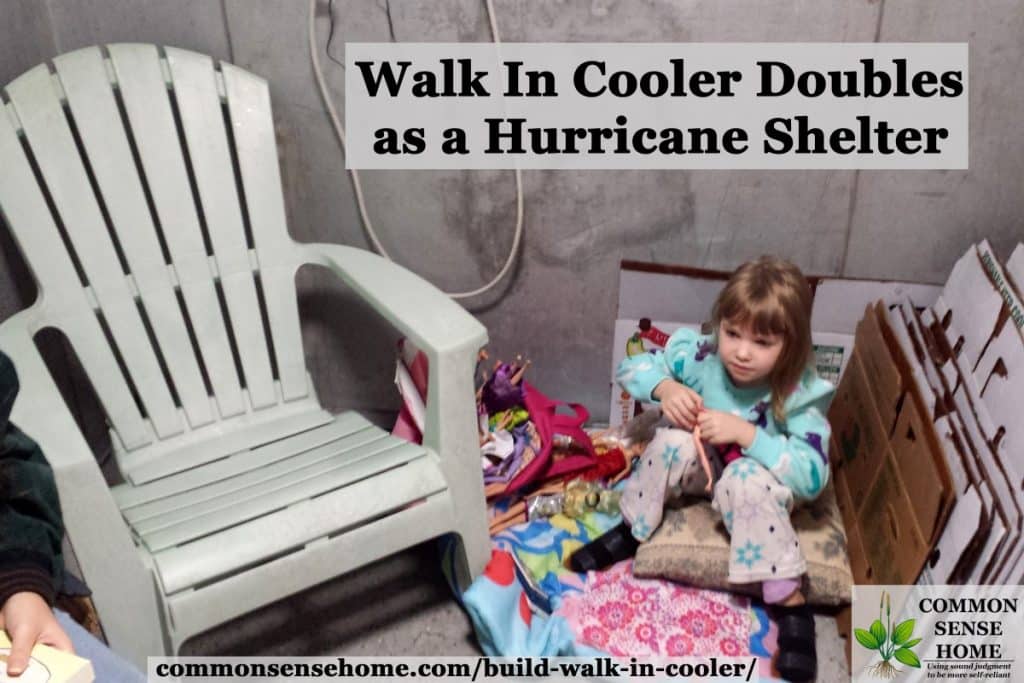 How Much Does a CoolBot Walk In Cooler Cost?
The cost of your walk in Cooler will vary greatly depending on many factors, such as:
Using an existing room or building new
Size of the room
Materials – flooring, insulation, A/C unit, CoolBot
Hiring a contractor or building it yourself
You can lower costs by watching for sales and buying seasonally. (Wood cost changes weekly, A/C are more expensive in summer than in winter and so on.)
Even with all of these factors in play, you can still build your own walk in cooler for a fraction of the cost of buying a commercial cooler by using a CoolBot. Our costs were as follows:
CoolBot – $330.00
Cooler Insulation and framing – $300.00
A/C Unit (we already had one to use) – $0
Electrical Supplies (wire, conduit, breaker, light) – $50.00
Total Cost $680.00
The CoolBot uses 40% less electricity than traditional coolers, which saves us hundreds of dollars per year. The cooler has also saved us thousands of dollars by preventing produce spoilage.
In northern climates you may be able to keep food cool in a root cellar, but for southerners and those who need to maintain a set temperature range (like commercial kitchens), a walk in cooler is a must for large scale cool storage.
If you have a bigger budget, Coolbot also offers complete walk in cooler kits on their website, ranging in price from around $4000 to $8000. They demonstrate set up of these units in the video below. The air conditioner installation instructions start at about 7:18, CoolBot installation at around 9:00.
Have you tried using a CoolBot or walk in cooler? Share your experience in the comments below.
Thinking about building a walk in cooler at some point in the future? Don't forget to Pin or bookmark this post – or share it and try to talk your friends into helping you build.
You may also enjoy: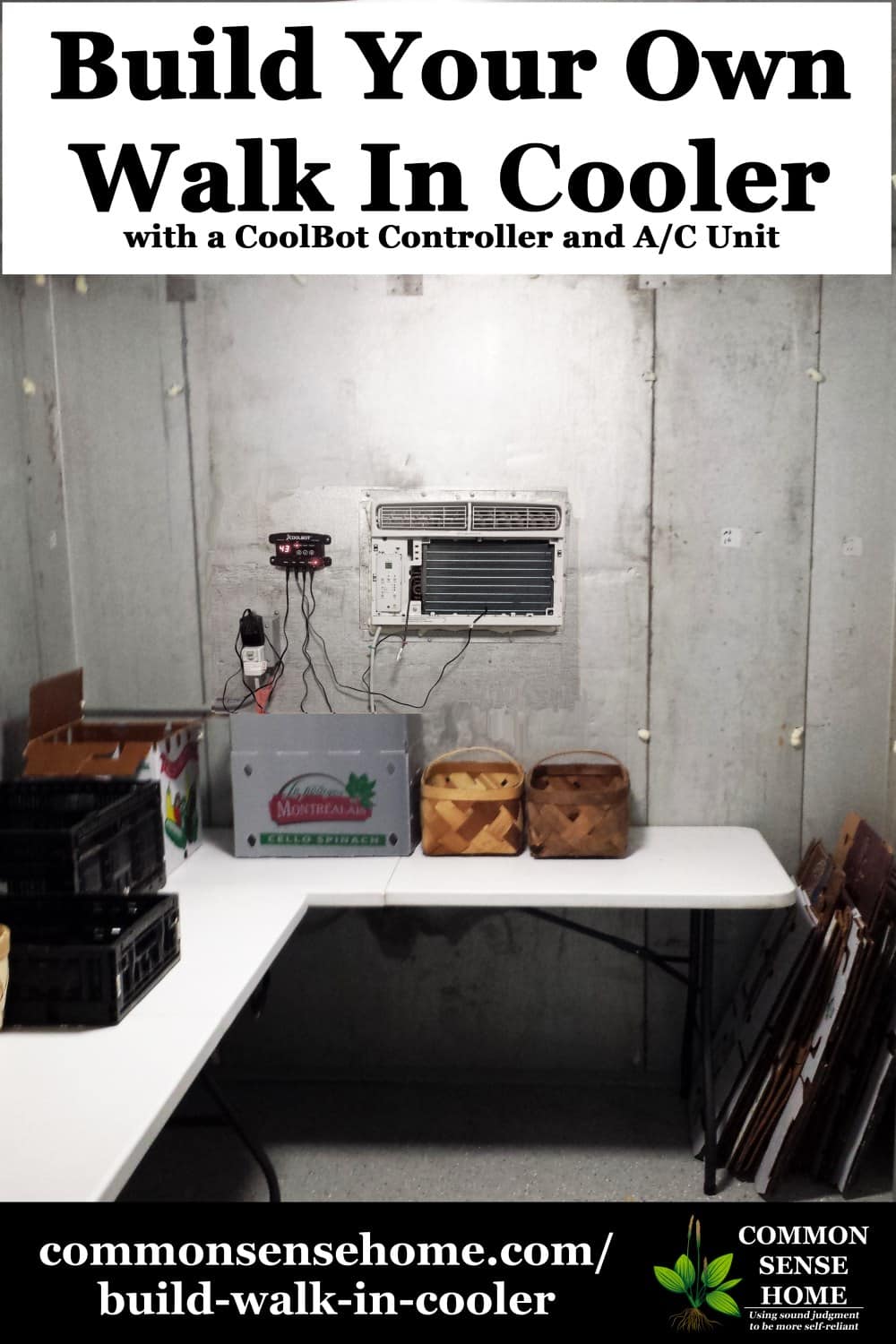 This post is by Amber Bradshaw of My Homestead Life.
Amber and her family moved from their tiny homestead by the ocean in South Carolina to forty-six acres in the Smoky Mountains in East Tennessee.
While building their off-the-grid homestead, they live like the days of old – cooking without electricity, collecting water from the creek and raising chickens, goats, pigs, turkeys, bees, and guineas. They've recently filmed their journey for a TV show on the Discovery Channel and the DIY Network/HGTV called Building Off The Grid: The Smokey Mountain Homestead.
Other articles by Amber Bradshaw:
Originally published in 2016, updated in 2018.