Plum Preserves – Spiced and Sweetened with Honey
These plum preserves are lightly sweetened with honey and spiced with cardamon. The flavor is good – tart and spicy – a bit like a chutney. We use the natural pectin in plums for gelling – no commercial pectin needed. Try it with poultry, stirred into yogurt, or drizzled over ice cream.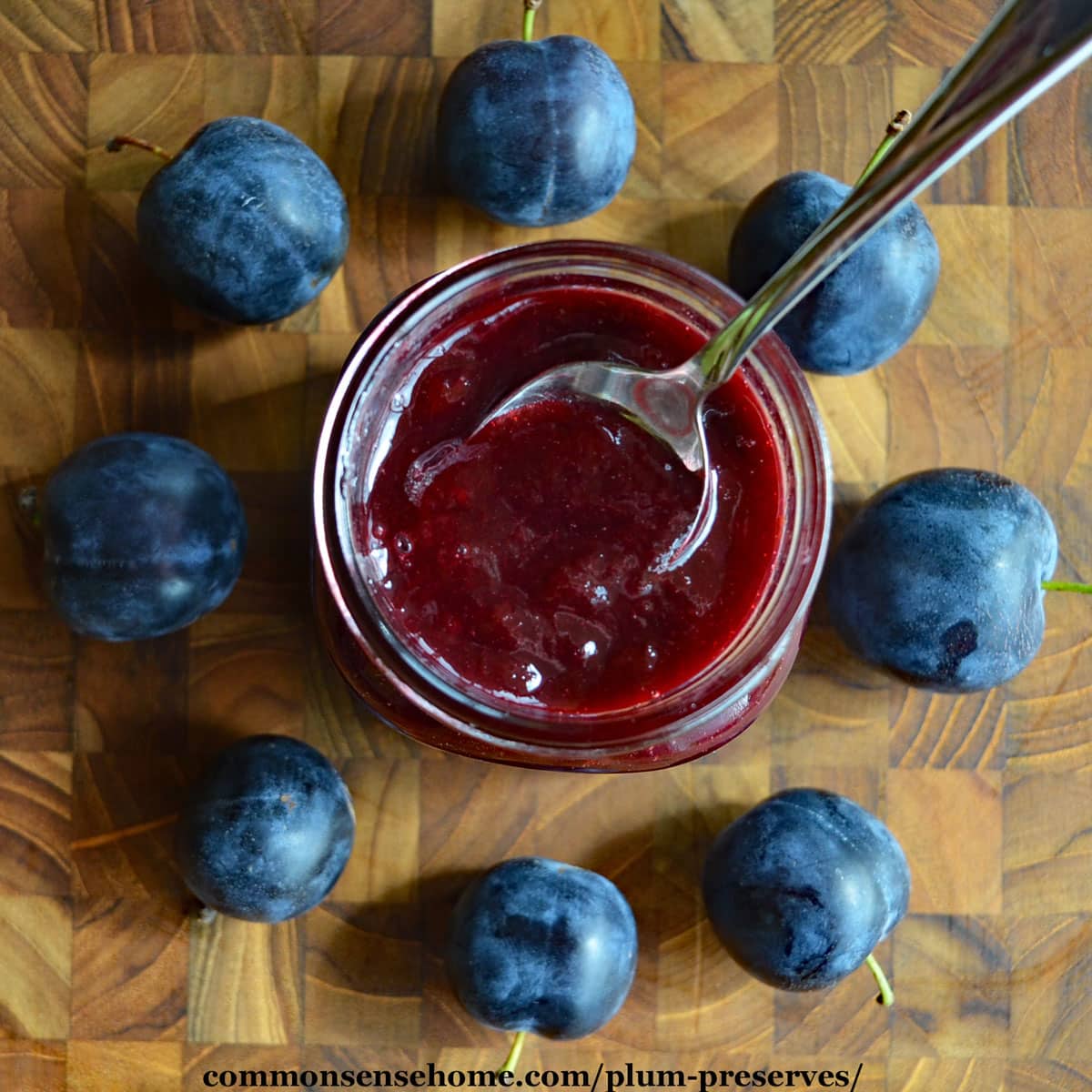 Tips for Working with Plum Preserves
Plums are high in natural pectin – especially the skins. If you prefer smooth preserves, keep the skins on, but blend your fruit in a food processor or chop finely.
The Gelling Test
To make sure your plum preserves are thick enough, do a gelling test. There are a couple of different options for this test.
#1. Place a spoonful of jelly on a cold plate, stick it in the fridge for a minute, and then run your finger through it. Jelly that has jelled should hold the shape of the finger trail for a bit, not run right back together.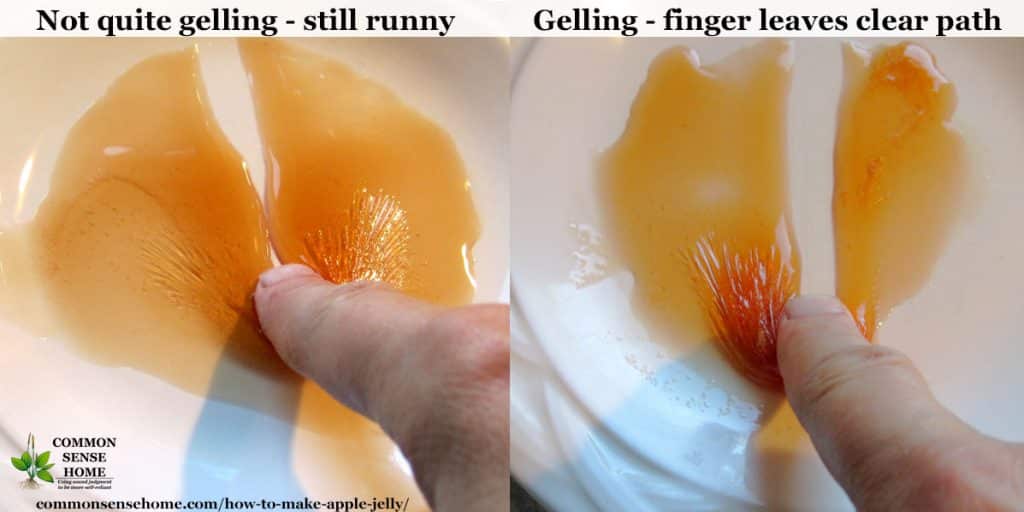 #2. Take a tablespoon of alcohol and drop in a tablespoon of the liquid you are testing. Let it sit two minutes. If a firm blob forms, it has enough pectin.
#3. Place a few spoons in the refrigerator. When you're ready to test, dip a cold spoon into your plum preserves. The preserves should sheet cleanly off the spoon.
Canning
Always keep your kitchen clean and organized, working in an orderly fashion. I like to run my jars through the dishwasher to clean them, but you can wash them in warm soapy water if you prefer.
I find it helpful to keep my lids in warm water on the back of the stove. (Don't boil them before processing or you can damage the seal.) Keep jars warm in your canning water or dishwasher. Never pack hot jam into cold jars!
Which Honey to Use for your Plum Preserves
Choose wildflower honey or other mild flavored honey such as clover honey to blend with the flavor of the citrus and spices in these plum preserves. (The National Honey Board can help you locate an apiary in your area.)
For instructions for plum jam made with sugar and more ideas for excess plums, see Plum Jam with Walnuts and Rum.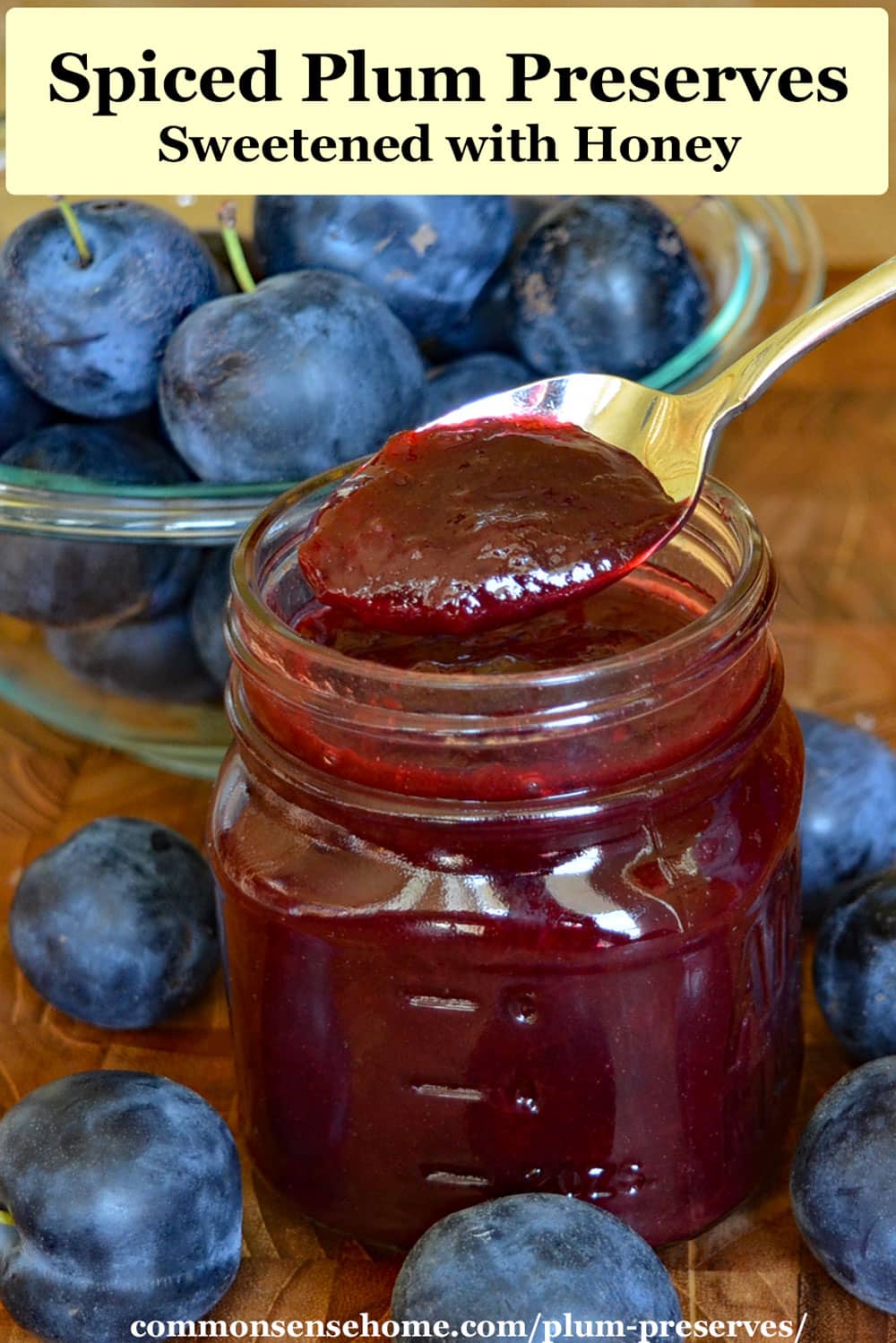 Print
Spiced Plum Preserves with Honey
Prep Time:

10 minutes

Cook Time:

30 minutes

Total Time:

40 minutes

Yield:

3 cups

1

x
Category:

Jam

Method:

Canning
5

cups

of plums, chopped and pitted

2 tbsp

of freshly squeezed lemon juice

2 tbsp

orange juice

1

cup

mild honey

1/4 tsp

cardamom powder (optional)
Instructions
Pit plums; do not peel. Chop or leave in halves. Measure 4 cups into a 6- or 8- quart sauce pot. Add lemon juice, orange juice, honey and cardamom (if desired).
Prepare jars (wash, inspect rims, clean in sink or dishwasher). Keep lids warm until ready to fill jars.
Bring plum mixture to gentle boil on medium heat, stirring frequently to prevent sticking to the bottom of the pot. Continue to cook and stir until plum jam reaches desired thickness. (Remember, jam will thicken as it cools.)
Skim off any foam with a metal spoon, if desired. (I usually skip skimming.)
Ladle quickly into prepared jars, filling to 1/4 inch of top. Wipe jar rims and threads. Cover with two piece lids.
Process jars for 10 minutes in a boiling water bath canner. When processing time is done, let rest a few minutes in the water bath, then place jars on a towel on the kitchen counter. Allow to cool completely.
Remove rings for storage. Wipe tops and test seals. Date and label and store in a cool, dark location. Best if used within 1-2 years.
Keywords: jams and jellies, plum, easy, low sugar, honey sweetened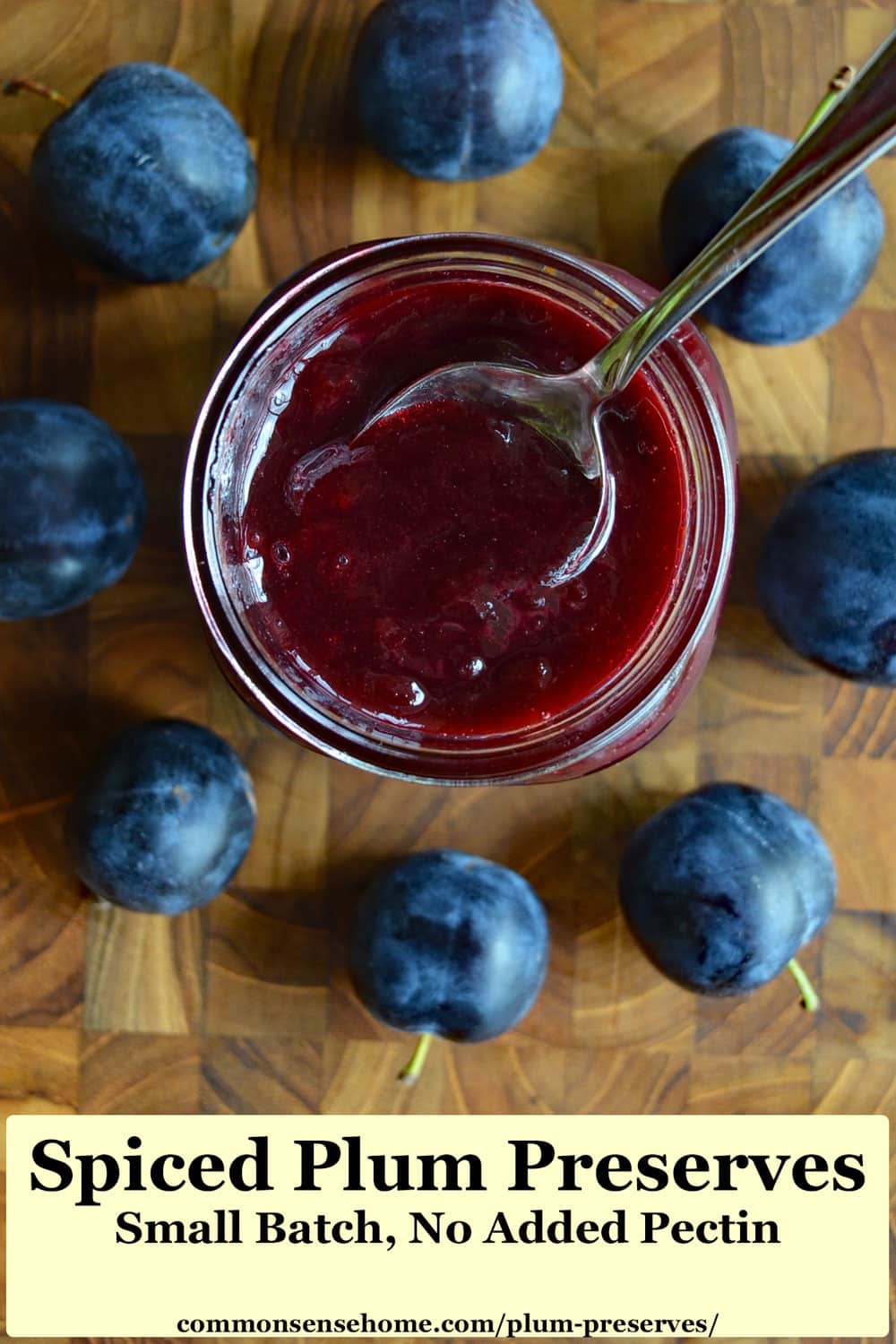 More Jams and Jellies
If you enjoy this plum preserve recipe, I encourage you to take a look at the full list of canning and preserving recipes. We have over 30 jam and jelly recipes on the site, including:
Originally published in 2010, last updated in 2019.