Elderberry Jelly Recipes – Low Sugar and Sure-Jell Options
When we had a banner elderberry harvest, my friend, Tami, and I experimented with a variety of elderberry recipes. We made wine, syrup and elderberry jelly.
One recipe is low sugar elderberry jelly, and the other is a traditional elderberry jelly made with Sure-Jell pectin.
If you don't have your own elderberries, you can buy juice, but it's expensive. We also share elderberry foraging tips here.
You can buy elderberry jam from Norm's Farms and other retailers. Norm's jam is made with the whole fruit (except seeds) and natural cane sugar, not high fructose corn syrup.
Note – the elderberry cough and cold syrup recipes now have their own post, which you can find here.
Elderberry Jelly Recipes – Low Sugar and Sure-Jel
It's important to add acid to your prepared juice when making elderberry jelly. This is because elderberries may have a pH above 4.6, making them unsafe for water bath canning.
We add lime juice in one recipe and lemon juice for the other.
The low sugar elderberry jelly recipe is based on the "Make Your Own Recipe" instructions included with the Pomona's Pectin. Calcium water is mixed up from a calcium powder that is included in the box of Pomona's Universal Pectin.
We had a little incident while making this jelly. I forgot to add the pectin into the honey before dumping it into the hot juice. Instead, I added the pectin separately. This is the result – pectin lumps.
We fished the lumps out, and I mixed another 4 teaspoons of pectin with 1/4 cup sugar. Then I mixed that into the hot liquid while stirring briskly. It worked like a charm and the jelly was saved.
After a busy day, we ended up with a nice assortment of syrups and jellies for our families.
Print
Low Sugar Elderberry Jelly
Lightly sweetened with a bit of lime juice for acidity, this elderberry jelly is sure to please.
1

quart

elderberry juice

1/4

cup

lime juice

4 teaspoons

calcium water

2

cups

honey

4 teaspoons

Pomona's Pectin
Instructions
Sterilize 4-5 8-ounce jars, keep hot. Heat lids and rings in hot water, keep warm but not boiling. Fill water bath canner and bring to boil.
In a small bowl, mix together honey and pectin powder. Don't skip this step, or your pectin will clump. Set aside.
In a large, non-reactive pot, combine elderberry juice, lime juice and the calcium water. Bring to a full boil.
Add honey-pectin mixture, stir vigorously 1-2 minutes while cooking to dissolve pectin. Return to boil and remove from heat.
Ladle hot jelly into sterilized jars leaving 1/4″ headspace. Wipe rims clean and screw on the lids. Process for 10 minutes in water bath canner (add 1 minute for every 1,000 feet above sea level). Makes around 4 cups of jelly.
Notes
Calcium water is mixed up from a calcium powder that is included in the box of Pomona's Universal Pectin.
Print
Homestyle Elderberry Jelly Made with Sure-Jell
This old fashioned elderberry is a full sugar recipe thickened with Sure-Jell pectin.
Author:
Yield:

5

–

6

cups

1

x
1

quart

elderberry juice

1/4

cup

lemon juice

4 1/2

cups

sugar

1/2 teaspoon

butter

1

package Sure-Jell pectin
Instructions
Sterilize 5-6 8-ounce jars, keep hot. Heat lids and rings in hot water, keep warm but not boiling. Fill water bath canner and bring to boil.
Place elderberry juice and lemon juice into stock pot. Stir in pectin. Add butter to reduce foaming. Bring mixture to full rolling boil (boil that doesn't stop bubbling when stirred) on high heat, stirring constantly.
Stir in sugar. Return to full rolling boil and boil 1 min., stirring constantly. Remove from heat.
Ladle into prepared jars, filling to within 1/8 inch of tops. Wipe jar rims and threads. Cover with two-piece lids. Screw bands tightly.
Place jars on elevated rack in canner. Lower rack into canner. (Water must cover jars by 1 to 2 inches. Add boiling water, if necessary.)
Cover; bring water to gentle boil. Process 10 minutes.
Remove jars and place upright on towel to cool completely. After jars cool, check seals by pressing middles of lids with finger.  (If lids spring back, lids are not sealed and refrigeration is necessary.) Makes 5-6 eight ounce jars of jelly.
How to Remove Elderberries from the Stems
My friend, Tami, saw my comment on the Common Sense Home Facebook page about elderberries, and embraced the challenge with gusto. She and her family went picking, and came home with the entire car trunk filled with elderberries.
I didn't have time to help her process them immediately, so she stuck them in the freezer. Then she tackled processing them herself.
Yes, those are FIVE GALLON BUCKETS – full of elderberries, plus the two boxes. It was a very, very long day.
Tami said that she found the fastest way to strip the berries from the stems was using a large comb.
Freezing helped loosen the berries, too. (I can't remember who suggested freezing on the Facebook page, but thanks!)
How to Make Elderberry Juice
Steam juicers are safe and easy to use if you have one. If you don't, you can cook down the berries on the stove top like we did.
Do not use juicers that leave the fruit raw to prepare elderberries for jelly. Heat deactivates the cyanogenic glycosides and alkaloids in the elderberries, which makes them safe to eat.
First, strip the berries from the stems and rinse to remove debris. Then, load the stemmed elderberries into a heavy bottomed pot.
Squish the berries with potato masher to help release the juices. Add a little water to the pot before turning the stove on low heat.
Cook down the berries until soft and remove from heat. Load them into a jelly bag, old kitchen towel or pillowcase and place over a large bowl to drain. (The berries will stain.)
Let the berries drain until juice stops dripping, usually several hours or overnight.
Discard the skins and stems and use the elderberry juice for jelly or elderberry syrup.
Why do you need to remove elderberries from the stems before juicing?
Stems, bark, leaves, and roots contain a cyanide-producing glycoside, as do the berry seeds. While the other parts of the elderberry plant can be used medicinally, it's best to keep them separate from the berries. The berries also contain the alkaloid, sambucine.
Heating deactivates these compounds, but it's better to keep the excess glycosides out of your pot in the first place.
Once the elderberries were removed from the stem, Tami cooked them down in a large pot.
After that, she stuffed them into a pillowcase, which she hung from under a stairway.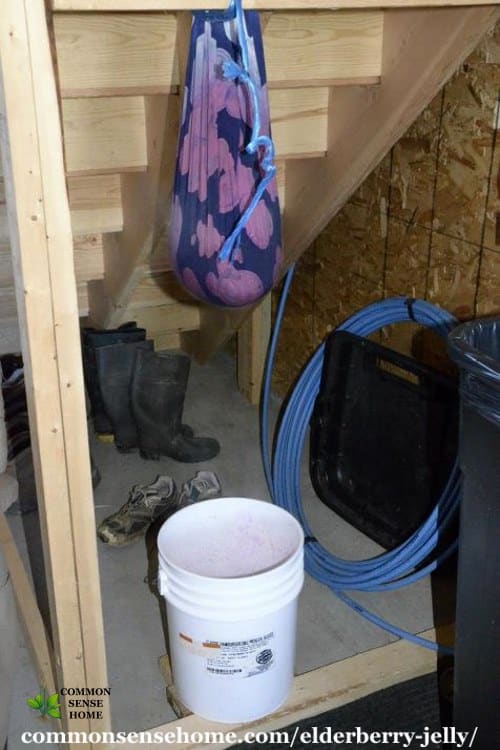 You know that pillowcase is never going to be non-purple again. There was a smidgen of fallout, too. With so many elderberries, juice ended up everywhere, even on the toilet seat in the bathroom.
I feel so honored to have a friend that's willing to completely trash her house for me. 😉 Big hugs and kisses, much love.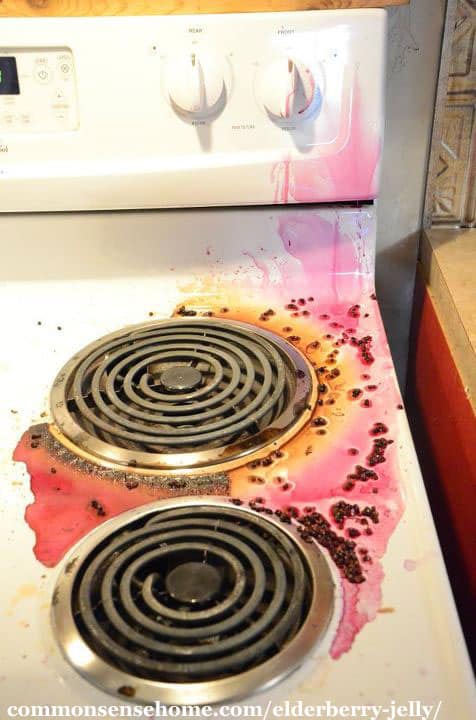 More Posts You May Find Useful
We have over 100 recipe posts on the site, including many on home food preservation. You can find them all indexed by category on the Recipes and Kitchen Tips page.
They include:
Originally published with the syrup recipes in 2011, last updated in 2020.